La La Brooks of The Crystals
On October 29th continuing the 50th anniversary of the Phil Spector-driven Philles Records label, Legacy Records will release "Phil Spector's 'Wall Of Sound' featuring the Crystals, the Ronettes, Darlene Love and Bob B. Soxx and Blue Jeans on a deluxe edition 7-CD box set.

The six label albums will be out in CD format and a new B-sides collection. A 2 CD-CD, 34 song compilation, "The Essential Phil Spector" will also be issued. The Crystals' "Twist Uptown" and "He's A Rebel" LP's will now be heard in re-mastered CD's. The Crystals were the first act signed to the Philles record label after forming in 1960.
Dolores "LaLa" Brooks is the immortal singer of the Crystals and the lead vocalist on a slew of their hits with Phil Spector, including "Da Doo Ron Ron" and "Then He Kissed Me." She is also featured on "Little Boy." Brooks was born in Brooklyn, New York. In 1962, the teenager was invited to join the Crystals during a recording date for "Uptown" that became a top 15 chart hit that year.
Los Angeles-based Darlene Love, also a member of the Blossoms, was then introduced to Spector by arranger Jack Nitzsche, who subsequently handled the lead vocal chores on the Crystals' Gene Pitney-penned "He's A Rebel."
The Crystals' next 45RPM was "He's Sure The Boy I Love" spotlighting Love and the Blossoms on the disc.
Phil then flew LaLa Brooks to L.A. for the lead vocal slot on the pulsating "Da Doo Ron Ron." Their teaming was followed by the seismic "Then He Kissed Me," and the pop gem "Little Boy," both entries guided by Brooks' convincing singing.
In 1966 Brooks left the Crystals. During 1968 she made her Broadway stage debut in the original cast of "HAIR" and sang "Aquarius" at the legendary performances.
Brooke would later appear in the Broadway show "Two Gentlemen of Verona."
From 1971-73 she reunited with members "Dolores" Dee Dee Kenniebrew, Mary Thomas and Barbara Alston as the Crystals and were booked in rock 'n' roll revival shows.
In addition, Brooks toured and recorded with Bobby Womack, Isaac Hayes and the Neville Brothers. She also resided in England.
These days she still performs the Phil Spector classic recordings. Her most recent appearance was at the Lincoln Center venue in New York.
Q: Why does the recording catalog of the Phil Spector produced artists still endure and endear?
A: The songs continue because, personally, I think it comes from the innocence, you know, the singing it. The innocence of Phil in the studio. We'd go in and not have diva attitudes. We didn't know what was coming behind it. We didn't know where it was gonna be a hit, a miss or anything like that. We just sang it from the heart and loved doing what we were doing. And it is the innocence without having other motives. Like, 'I'm gonna get this Grammy,' or 'I'm gonna out shine this one,' you know. When you put ego, attitude and pride into certain things, and the innocence is there, it shows on vinyl on the records. That is what it really is.
Q: What were your first impressions of L.A. and Hollywood when you were flown out to sing lead on several records with the Crystals?
A: When I would come in from New York to Hollywood, Phil would have Sonny Bono pick us up at the Knickerbocker Hotel. 'Are you ready to go to the studio?' Sonny would play with me and joke around. He was a regular guy. My first impressions of Phil were in New York at the 'Uptown' recording session. Barbara Alston was doing the lead and I did all the backgrounds and stuff.
"The only thing I'm not on is (the early) 'There's No Other Like My Baby.' I remember going to the studio after school and seeing Phil's first wife, Annette, walkin' the dog and lookin' sad. Because she probably thinks she married the wrong guy. Phil was so cool. He was so gentle at that time. He was very gentle and continued that until he went to L.A. I think he got a little thrown off out of the atmosphere or the cockiness. I don't know but he was very gentle in New York.
Q: The Crystals cut "He Hit Me (and It Felt Like A Kiss)," written by Carole King and Gerry Goffin, was partially inspired by their babysitter Eva Boyd, later known as Little Eva of 'The Locomotion,' who mentioned being beaten up by her boyfriend.
This century a handful of girl groups, who play instruments on record and on stage include it in their repertoire.
A: Little Eva was their maid and baby sitter and she came in after being beaten up by her boyfriend. And Carole King and Gerry Goffin used to confront her about why do you let him hit you? And she felt that he loved her. You know that twisted kind of thing that women go through? They still go through that where they'd be trippin'. Sickness in their brain. The irrational thing of thinking that he loves you. That was how it was written by Little Eva bein' abused.
"It is an overlooked song and misinterpreted. That was weird for us. We were thrown aback by the song. I'm a teenager at the time. Where you goin' with that one? And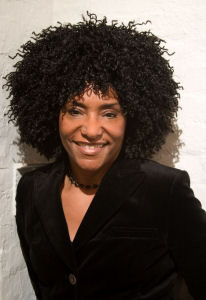 Barbara (Alston) was a little uneasy doing it. And I was trying to figure out the song and why Phil would record something like this. I knew it was sort of out the box and weird. And you go along with it. I know Barbara had a hard time with it. I think she was so turned off because in a way she was singing the lyrics and can't feel anything. Because the lyrics are so out of order. So in the studio Phil was telling her, 'Barbara…Don't be so relaxed on it.' Because she was confused.
Q: What can you recall about the "Da Doo Ron Ron" session.
A: 'Well, when I did 'Da Do Ron Ron' over and over. Phil was sort of like a perfectionist with that one. And I remember being pooped in the studio. (laughs). I wanted to run out that door so fast but he kept going over and over. 30. 40 takes. I would say, 'When are you gonna get it, you know?'
"I would initially sing with one headphone on. It was loud music and I could not sing and keep both headphones on because it would blow my ears out. (laughs).
Q: You also delivered the lead vocal on "Then He Kissed Me."
A: I was singing on some monumental things. 'Then He Kissed Me' sounded so beautiful as it was being played before I put the track down. I knew it was different. I knew it was a hit. I could feel it. I could hear the changes. I knew it was the type of song that could go all the way around. It could go pop and into movies and all that. I heard that when I was young.
"But I didn't know I was singing about my life or the lives of the listeners. I just went with the melody and the sound. I didn't focus on lyrics as much as I focused on the feeling of the music. And the wording I didn't concentrate on but the notes I concentrated on. So when I saw a pretty note in there and it was one thing that had an affect on me. Mysteriously, when I feel the notes, then when I say the lyrics it just comes together as if I am going with the lyrics and what they mean. But as a young teenager I didn't know what I was reading. I knew I was talking about love 'and then he kissed me.' But I didn't have comprehension of it.
Q: You also sang Little Boy,' a song Nitzsche would later produce with Willy De Ville.
A: I love it. I thought I sang it more like I felt it. Like, with 'Da Do Ron Ron' it was more listening to what Phil said and stopping and starting. But when he gave me 'Little Boy' the melody made me breathe with the notes. I had those ways where I could feel it. I could feel some of my gospel roots.
Q: Then there is the role of Spector's arranger Jack Nitzsche, who was always listed on the Philles Records singles and LP credits. You last saw Jack in 2000.
A: I think Jack Nitzsche's roles were very much disrespected and not recognized fully as it should have been. Even the artists on Phil's records were not recognized fully as Phil Spector is recognized. Which is totally crazy to me. For someone to focus on a producer that much. Want to know what he is doing, how does he live. All of this. The intimate part of his life, the interior and exterior. All of this nonsense and forget about the artist. And that's what happened to Jack Nitzsche.
"And I remember when I met Jack Nitzsche before he died, he said,
'LaLa. If it wasn't for me there'd be no Phil.'
Q: Although, Jack once told me in an interview, "Phil was really the artist. He knew what he wanted from me and gave me a lot of input for the arrangements. We were friends and had a lot of ways to work together. My fee was fifty dollars a song. I don't feel any bitterness about the money or payment whatsoever. The credits helped secure employment for years. Phil knew what he wanted. He put my name on many of the singles as arranger. I loved it. What an education!"
But what was it like watching the basic tracks cut live in front of you before you supplied the principal vocals on a Spector recordng session?
A: I knew as a child how important the session guys were. I never took that for granted. In fact, I used to sit and watch them play. The strings, the movement I really enjoyed. The kettle drums. They had a flow that was so captivating. So I never short changed them for one moment. I knew they were important. Definitely.
Q: What is it like singing the Spector-produced songs in 2011? Your act also includes a rendition of "River Deep, Mountain High." You just did a terrific appearance that was broadcast on a PBS-TV show.
A: I still sing the Crystals songs now on stage. Every performance is naturally different and because I am older. But when I go on stage and sing the songs things that I didn't love before about them because I was too young to understand , I appreciate, even though Phil has done what he has done, you know, whatever. And Jack is not on the planet. Nobody's perfect. I'm not perfect either.
"I think that I appreciate at the end of the day what Phil has done. I appreciate every moment where I am able to sing the songs. Even though I change them and jazz 'em up and I get funky, but it is to a sound that is for many years longevity for me. So I'm more of a grateful artist. I'm just grateful to be here and grateful to be able to do it. And the fans are fantastic to me. I am not surprised that the songs are in movies or DVD's. I'm just grateful for it all. Because you know what? I could be sitting on the side and no one says anything about the songs.
"Or, be a one-hit wonder. So every moment I'm grateful."