JOHN MAYALL's BLUESBREAKERS LIVE 1967 ALBUM RELEASED
By Harvey Kubernik c 2015
In April, Forty Below Records issued John Mayall's Bluesbreakers – Live in 1967 (Never Before Heard Live Performances), an important archival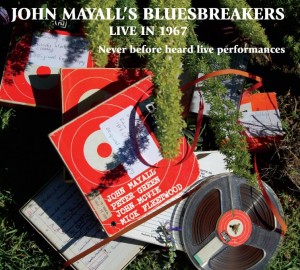 recording of one the best of the Bluesbreakers band lineups, featuring legendary musicians John Mayall (vocals, keyboards, harmonica), Peter Green (lead guitar), John McVie (bass) and Mick Fleetwood (drums).
Distributed by Sony/RED, John Mayall's Bluesbreakers – Live in 1967 showcases a band that was together for only a scant three months, yet created a lasting legacy, made an immense impact on music and led to the formation of one of the most chronicled groups of all-time when Green, McVie and Fleetwood left to form Fleetwood Mac.
The genesis of Live in 1967 came about because a staunch fan from Holland, Tom Huissen, was able to sneak a one channel reel-to-reel tape recorder into five London clubs (including the famed Marquee) in early 1967 and capture this exciting glimpse into music history.
For nearly 50 years these tapes remained unheard until John Mayall acquired them recently and began restoring them with the technical assistance of Eric Corne of Forty Below Records.
"While the source recording was very rough and the final result is certainly not hi-fidelity, it does succeed in allowing us to hear how spectacular these performances are," says Corne.
"I'd known for a decade or two of the existence of these tapes and in fact Tom Huissen had sent me a CD with 50 second teasers for some of the tracks that he'd secretly recorded at our London shows," recalls Mayall. "Last year, Tom decided he wanted the world to hear these performances and work soon began on restoring the already fine quality on the old reel-to-reel tapes."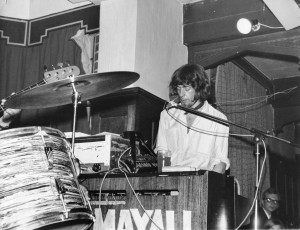 John Mayall has some fond memories about how this band came about. "Through most of 1966, Peter and John were both regular members of the Bluesbreakers and Aynsley Dunbar was the drummer," states Mayall. "However, even though Aynsley was a great drummer, it was starting to become apparent that his jazz influenced style of playing was veering away from the blues. As I recall, Peter had been close friends with Mick Fleetwood for some time and he suggested I give him a shot. And so for a short period of only about three months Mick became a Bluesbreaker."
The band's repertoire on the tracks of Live in 1967 includes some songs that were originally recorded on The Bluesbreakers first two albums, John Mayall's Bluesbreakers featuring Eric Clapton and A Hard Road (which featured Peter Green), plus the soon-to-be recorded Crusade album, which featured young guitarist Mick Taylor after Peter Green left the band.
Other songs on the new CD make their live debuts after having been recorded originally as singles in the U.K. and would later appear on Mayall's Looking Back album.
In addition, several of the songs on Live in 1967 make their first appearance in any form on a Bluesbreakers album.
Two long-time mainstay influences on John Mayall's storied career – Freddy King and Otis Rush – are acknowledged with live versions of songs long-associated with the two blues giants. "All Your Love," "Double Trouble," "So Many Roads" and "I Can't Quit You Baby" come from the Otis Rush canon of blues classics; and Freddy King's "The Stumble," "San-Ho-Zay," "Stormy Monday" and "Someday After Awhile," are given resounding treatments here by the quartet playing with a sense of energy and urgency.
"Ever since Eric Clapton joined the band, we both had a great interest in the recorded work of Otis Rush and Freddy King and many of their classic songs became part of our live performing catalogue," Mayall says about the two blues icons. "Their guitar work was always an inspiration for Eric, Peter Green and Mick Taylor in those early years."
In a 2015 comment to me, Mayall mentioned, "My 1967 live shows were largely based on the classic recordings of Otis Rush, Freddy King and T-Bone Walker who had always been some of my favorite bluesmen. Their songs were always in my set lists during the sixties especially as they were such good songs to feature Eric Clapton, Peter Green and Mick Taylor."
The music on John Mayall's Bluesbreakers – Live in 1967 documents  a band that although only together for a short time, was incredibly tight and in-the-pocket while still allowing room for improvisation, none more so than Peter Green, whose guitar work on this CD will stand as some of his best-ever on record.
Green's guitar trademarks – the stop time signatures, his incredible sustain and a hair-raising powerful tone – are heard here in all their glory, highlighting a musician who was more than able to assume the mantle as the guitar player following in Eric Clapton's well-trod footsteps as a member of one of blues music's all-time aggregations, John Mayall's Bluesbreakers.
The new disc captures a time period just before Mayall moved to America in 1968, specifically Laurel Canyon.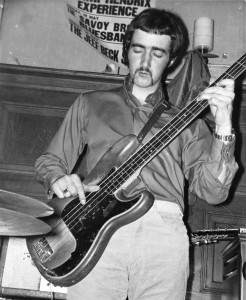 In my book, Canyon of Dreams," John discussed his relocation. "The main thing was the climate, and my whole life I'd been brought up on American culture through novels and particularly music. So it just felt right. That's how it all began.
"In the summer of 1968 I decided to go out there in my own, to Los Angeles, to roam around and feel it out. The connection with getting there in the first place, it began with Frank Zappa. I met him in 1967, in Scandinavia, when we were in Copenhagen at the same time. So that's where I met that crowd. 'If you come to America, look me up.' So I did. There was a blues heritage in town. I saw Canned Heat at the Ash Grove."
John Mayall has been a Southern California resident ever since. In 2015 Mayall paid a visit to FreakBeat Records in Sherman Oaks, California. On July 5th he'll headline at the Canyon Club venue in Agoura.
Mayall's live shows still earn kudos from a devoted audience. And this newly available album will remind everyone just how ground-breaking his short-lived 1967 outfit was.
"I recently received a copy of John Mayall's Blues Breakers Live in 1967 (Never Before Live Performances,)" stressed guitarist and www.cavehollywood.com founder, David Kessel.
"I was first struck with 'where the heck has this been?' Forty years hanging around, recorded as a bootleg on one channel, and it's an amazing musical moment captured. The recording mastering is outstanding, considering the source material. As a long time Mayall/Blues Breakers fan, I was very excited to hear what this fiery group would lay down live, and I've met with no disappointment. This album is a no nonsense gem.
"I first became aware of Mayall and The Blues Breakers when I was 14 years old. I was just getting serious about really tackling the electric guitar. Being the son of Jazz guitarist Barney Kessel," he offered.
"I was aware of the difference and dividing line between 'Playing' Guitar and being a guitar player. I was moved by the deep sincerity and ability of all these guys to lay it down," he explains.
"The kicker for me was in my mind, that it kind of legitimized white guys playing Blues. That made it Ok for me as a young white kid to set sail to the land of blues. When I was fifteen at a party with my Dad there were lots of instruments all over the place. He started a little jam session and asked me to join in, to which I said, 'Are you nuts?' Well when I started to play, he looked at me in disbelief and said, 'Son, you play the Blues.' I actually asked him if the blues was wrong to be doing and if I should be playing something else. He said 'Just keep it up/ I had no idea this was going on with you. You're not playing rock' n' roll."
"The first John Mayall's Blues Breakers album I heard was "Hard Road," which is extra cool for me as a guitar player, hearing Peter Green on this new live album," confessed Kessel.
"I've always been intrigued with Mayall's ability to assemble great bands and come up with great albums, even if they were short-lived unions. Hard Road has a deep feel. My brother and I played lots of different guitarists for our dad to comment on. He was usually not as enthusiastic about what he was hearing as we were (to put it lightly). The big surprise was when he heard Peter Green and said, 'This guy's got something going on,' which we rarely heard, even when it was jazz. He liked Peter's kind of jazz approach, but also the way Peter was hearing a basic blues structure. To me, he goes a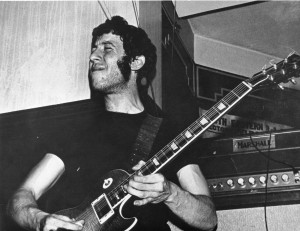 little upside down in concept working the fret board, to most blues players. Bottom Line: What Peter Green does, works.
"After Hard Road, I next listened to Crusade, Blues Breakers With Eric Clapton, Blues Alone, Bare Wires, and Blues From Laurel Canyon.  In that order. I still listen to these albums all the time," admitted David. "I respect what Mayall was doing with Turning Point. I even played the flute then, but I like it gritty. As an L.A. boy, I was 'wow. You really nailed the L.A. vibe on the Laurel Canyon LP.'
"Also of note is Mayall's organ on "Miss James" off the album. Very Jimmy Smith of him. I love all the London Record albums. All great albums, with terrific players, awesome arrangements, and some excellent production. The side benefit of hearing all these Mayall records, is I learned to play blues harmonica at an early age."
For more information, visit www.johnmayall.com and www.fortybelowrecords.com