Jimi Hendrix: West Coast Seattle Boy and Stratocaster Man
Johnny Allen Hendrix was born on November 27, 1942 in Seattle, Washington.
By 1967, he had developed a loyal and devoted fan and musician following in the U.K. after a half a decade as a performing guitarist (James Marshall) around the States with Little Richard, B.B. King, The Isley Brothers, The Impressions, and Don Covey.
Hendrix was then discovered by Chas Chandler, former Animals' bassist in a Greenwich Village nightspot New York club in 1966 while fronting Jimmy James & The Blue Flames. Chandler subsequently relocated Jimmy Hendrix, soon to be known as Jimi Hendrix, to England.
Chas Chandler produced The Jimi Hendrix Experience' debut LP, "Are You Experienced?" and subsequently propelled the Hendrix act to international fame helped by a live show booking in June 1967 at the seminal Monterey International Pop Festival in California.
"First was introduced to Hendrix at Monterey," recalls legendary stage and concert lighting pioneer, Chip Monck. "Cannot remember by whom. I think John Phillips. Jimi was obviously nervous. I don't know how obvious, but I felt it. Mitch Mitchell, was calming his concerns, in a very giving way. So there wasn't much to say. I had not seen or heard of Jimi before, welcomed him, asked was there anything I should know that would be helpful to him, noted that there was not to be any exchange between us. Mentioned, off the cuff, that 'I light all People of Colour in green. You'll look great. Nice to meet you,' and went back to work, with Al Kooper who was my stage manager for Monterey. We were both New Yorkers, and knew how to do it.
"What do I have: from Monterey, The Ronson Lighter Fluid can
that cooked the Fender Strat, unfortunately unsigned, but I know the time, the place, the what and the how, and a bit of who he was, not much, we were both busy."
Hendrix's "Axis: Bold as Love" and "Electric Ladyland" soon followed as pop chart album entries.
Hendrix closed the 1969 Woodstock Music & Art Fair (The Woodstock Festival) where Monck manned the lighting tower and served as one of the event's primary announcers.
"Our exchange, at Woodstock, was brief," Monck stresses. "Mitch, again brought, Jimi to my announce position, Down Stage Left, and with a big smile, an extremely confidant Jimi, apologized for going on so late, as it was now 7:00AM Monday morning, and 'no Green today, I imagine, right?' That's the only two times we worked.
"But I was a frequent visitor to Electric Lady Land, as it was not far from the Gate, in NYC, and watched the pieces being put together, that would soon be titled Genius."
On September 18 1970 at age 27 Hendrix died in London from barbiturate intoxication and then suffocating on his own vomit.
At the time of his physical passing Jimi left no will and legal battles surrounded control of his estate.
Initially his father Al Hendrix was sole heir of the lucrative empire. He then signed it over to other parties and global conglomerates. Eventually, the senior Hendrix wrestled the properties back. In 1995, Al established the creation of Experience Hendrix L.L.C. that administered his estate.
Experience Hendrix, L.L.C. has been managed since its inception by family members personally chosen by Al during his tenure as Chairman. It is the official family company charged with managing the music, name, image and likeness of Jimi Hendrix. As a part of its daily operations, under President and CEO Janie Hendrix, Experience Hendrix and Authentic Hendrix oversee Jimi's timeless legacy on a worldwide basis.
In 2002, upon Al's death and then after a plethora of trips through the legal system, Janie Hendrix, the half-sister of Jimi, assumed control of the Jimi Hendrix estate in 2008.
In 2010 the Jimi Hendrix estate was valued in the 80 million dollar range.
For more information, visit www.jimihendrix.com
In mid-September 2011, Experience Hendrix LLC and Legacy Recordings via Sony Music issued four new titles representing the fourth wave of releases in the ongoing Jimi Hendrix Catalog Project.
The round of titles focus on guitarist Hendrix and his electrifying on-stage prowess:
"Winterland" (a 4 Disc Deluxe Box Set), "Hendrix In The West" (Expanded), "Blue Wild Angel: Jimi Hendrix Live At The Isle Of Wight" (uncut on DVD), and "Jimi Hendrix: The Dick Cavett Show" (every Hendrix appearance on the informative talk show on DVD).
"Winterland" is culled from six stellar shows recorded over three days (October 10, 11 and 12, 1968) at San Francisco's historic Winterland Ballroom.
Jimi also covers Cream's "Sunshine Of Your Love" and Howlin' Wolf's "Killing Floor" [with the Experience joined by Jefferson Airplane bassist Jack Casady] as well his rendition of Bob Dylan's "Like A Rolling Stone."
This deluxe box set is markedly different from a single disc compilation, long out of print, that was briefly issued by Rykodisc in 1987 and 1988.
"The Winterland concerts in my view are tied with the Royal Albert
Hall February 1969 concerts; they both represent the zenith, apogee, high-watermark of the original Jimi Hendrix Experience trio on record," suggests KCPR-FM DJ Dr. James Cushing who hosts the quarterly "Jimi Hendrix's Lunch" radio program on the campus of Cal Poly San Luis Obispo.
"They take the power-trio format as far as it could be taken and suggest a next step (with the organist and flute player in San Francisco and the percussionist & Traffic members in London). They show Jimi Hendrix at his absolute mastery of his instrument (despite his grousing about amplifier trouble), his repertoire, and his audience.
"The high points for me are the versions of 'Like a Rolling Stone' with the organ and the extended 'blowing' he does on the instrumental 'Tax Free.' The vivid recorded sound is a delight. I also love hearing the way JH varies his set lists night to night and, like Charlie Parker, never coasts on recorded solos but stands up and creates something new every time. Turn it up!"
Also out in September is "Hendrix In The West."
Consisting of live material recorded at venues ranging from the Berkeley Community Theatre and the San Diego Sports Arena to the Isle of Wight Festival, "Hendrix In The West" captures singer/songwriter and guitarist Hendrix navigating new directions in sound during 1969-70 shows.
Out of print in the US since 1974 and for more than two decades internationally, "Hendrix In The West," has remained one of the most requested albums by fans to return to the commercial marketplace.
"'Hendrix In the West sounds and looks very different today than it did in January 1972 when it came out," observes Cushing. "In 72, it functioned as an overview into what many music fans expected would be a systematic reissue program of concerts, studio recordings, etc. So that the inadequacies of the LP registered less than the strengths of Jimi's music.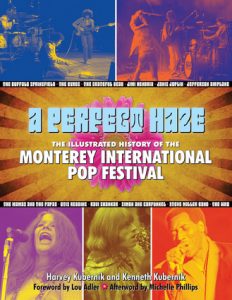 "The 'Hendrix In The West' reissue seems more like a nostalgia version of that ICON series — if you want one live Jimi Hendrix CD that has 'Red House' and 'Foxey Lady' this is the one — but I'd be happier with another previously unavailable complete concert recording," requests Cushing.
"The entire posthumous catalogue as far as handling studio stuff has been unfailingly interesting. What strikes me is the amount of previously unissued material now available. Experience Hendrix has done an excellent job bringing the music out and organizing it into some kind of coherent form."
Dr. James Cushing is also a Cal Poly San Luis Obispo English and Literature Professor and avid Jimi Hendrix music collector. He pontificates why Hendrix endures and endears.
"The recordings, the films, and the charisma which emanates from those things. He was one of the most charismatic men in popular music. Why is anybody charismatic. The word comes from a Greek term meaning 'A gift from the divine.' So right away we get into a metaphysical question. If you believe in God then there are certain people who were touched by God. And if you don't, then there are certain people who have a tremendous amount of libidinal energy, persuasive power, sex appeal, natural gifts, funk, duende.
"But Elvis had it. Jim Morrison had it. Kurt Cobain had it. James Dean had it. Barak Obama has a little of it and he got elected on it. Napoleon had it. The Beatles had it. It's charisma. And Jimi Hendrix's charisma is braided in a DNA way with the rhythmic and melodic power of his music. Which is always based in the blues but yet has own unique contribution to it rhythmically and harmonically. His music lends itself to younger people this past 40 years because of the immediate physical appeal of the music. It's loud and it's rhythmic As you get older you hear the subtleties. You hear the blues. You hear the positive ecstasy. You see the sacrificial dimensions. You learn about the connections with Charlie Parker. You see the whole musical genius plus the whole Dionysian thing. It's irresistible."
Released in September again is the DVD "Jimi Hendrix – Blue Wild Angel: Jimi Hendrix At The Isle Of Wight." It is an expanded document of Jimi's historic performance before 600,000 witnesses at the Isle of Wight Festival in August 1970.
Directed by Academy Award-winning American documentary filmmaker Murray Lerner this special reissue now runs more than 180 minutes and features a newly created special features section that allows viewers to view individual camera angles of selected performances.
Also now in retail outlets is a DVD of "Jimi Hendrix: The Dick Cavett Show" a compilation of Jimi Hendrix's celebrated appearances on The Dick Cavett Show.
"The Dick Cavett Show" marked Jimi's U.S. network television debut and this special documentary, directed by multiple Grammy Award winner Bob Smeaton [Beatles Anthology, Band Of Gypsys], features complete live performances of "Izabella", "Machine Gun", and "Hear My Train A Comin'" as well as new interviews with Cavett, Experience band members Mitch Mitchell and Billy Cox, and others.
More than 1,000,000 Jimi Hendrix albums were sold in 2010 alone.
This past spring the 2011 edition of the Experience Hendrix concert tour was presented by Fender Musical Instruments.
The recently completed limited run of select dates in May featured an all-star lineup of musicians paying the repertoire of Jimi Hendrix. This year's tour included performances by Billy Cox, Steve Vai, Robert Randolph, Jonny Lang, Kenny Wayne Shepherd, Eric Johnson, Ernie Isley and Billy Cox, who performed and recorded with Hendrix.
Musician/Producer David Kessel, who is also the founder/owner of Cave Hollywood and The Soul Kitchen Connection, in 1967 was in attendance at the Jimi Hendrix Experience legendary debut in London, England at the famed Bag O' Nails club. "It was stunning and mind blowing" says Kessel. "A whole bunch of English Rock and Blues royalty had a much enjoyed wake up call". "Jimi blew the place apart" adds Kessel. "That's when we all became experienced".
In 2011 Kessel in the Seattle, Washington area regularly jams with another renowned guitarist and songwriter, Jeff Simmons, onetime member of Frank Zappa and the Mothers of Invention. Simmons' own band Easy Chair in 1968 opened for a Hendrix concert in Seattle. Their current band together "The Orange Barrels" performs an eclectic mix of Blues and Psychedelic music with UFO interpretation, and is named after the very popular early 60's LSD "Orange Barrel". The other popular LSD at that time was "Purple Haze".
Just another example how these days the world of Jimi Hendrix still bring people and players together.
Author Harvey Kubernik talks with Janie Hendrix about the four new Jimi Hendrix-themed CD and DVD's, 2010's "West Coast Seattle Boy" box set,
the recording and business legacy of Jimi Hendrix, the link Carlos Santana maintains to Hendrix, the 2011 edition of the Experience Hendrix concert tour and the lure and the lore of Jimi's Fender Stratocaster guitar.
A portion of the Janie Hendrix interview below previously appeared in "Record Collector News."
Frank Orlando, a guitarist and songwriter, Frank Orlando, also discusses the relationship Jimi had to his Stratocaster
Q: What is it like for you to hear Jimi Hendrix on a live recording as opposed to a studio recording?
A: First of all, my dad had wonderful saying that I'll always remember. And that is, 'Jimi never played a note I didn't like.' And, so as much as you go back to the tours, the Electric Church, there's an energy that happens in a live performance that you won't get in the studio. There's nobody cheering for you, clapping and screaming, 'We love you Jimi!' So, naturally, live performances you can hear the interaction and sometimes you will hear Jimi saying something. His thoughts. And we kind of get that in the studio because him and (engineer) Eddie (Kramer) had a rapport. And we'd keep some of that as much as we can on album sets.
"And for me I get to know Jimi more and more, better and better as if I was there or he's still here everyday that I work with his music. You start to notice, 'Oh. Yeah. This version is a little bit different.' He did this, or you can kind of tell he's a little bit tired, or maybe forgot that line. Reflecting on some of things I would see when he came home. Like the funny talks at the dinner table. And that never changed when he was performing. He was him, and he's gonna show you a little bit of that while he's on stage or while he's performing in the studio. There's different energy when you are playing live. He's got an audience and he's playing for the audience. And the more excited the audience is the more it's gonna inspire you.
Q: Tell me about putting together the "Winterland" release.
A: Winterland. Six shows in three days. By the sixth show he is definitely more tired. And you can definitely hear in his playing but it's still a time in his life and you can hear his creativity, the way in which his music is going, and what he was kind of feeling at that time.
"A lot of our fans, our audience, are from the vinyl days. The tour days.
'Give me the program. The booklet. Let me hold it in my hand. Maybe I will tear out some of the photos and frame them for my wall.' We have those fans. We also have the other side. It's a balance, and it's on the computer.
Q: "Hendrix In The West."
A: It was really something that fans have said for many years was one of their favorite albums. It hasn't been put since 1974. And fans wanted to hear it. Of course we have some of the songs that were in the Hendrix box set that we put out in 2000. But it just wasn't complete as a set. And being that we're putting out "Winterland," we're putting out "Hendrix In The West," to really try and give the fans, and there's a lot of fans younger that 37 years old who haven't had any of that or the chance to acquire.
Q: You've worked again with Murray Lerner for an expanded "Blue Wild Angel" Live at the Isle of Wight the 1970 DVD.
A: "Blue Wild Angel," honestly, not too much different that the one that was put out. Being able to work with (filmmaker) Murray Lerner. Such an honor to work with him and digital re-store, get (out) all the scratches in the film and have the fans get in and a more clear, kind of like when we watch 'The Wizzard of Oz.'
Q: You have made Jimi's appearance on "The Dick Cavett Show" available on DVD.
A: I saw it when it was live in TV with my mom and dad. I remember Jimi calling to say, 'I'm going to be on Dick Cavett.' OK. There's no VHS or recording it. And we're sitting in front of the TV. 'Here it comes!' Dick was interviewing Dr. Marcus Welby (Robert Young). And finally here comes Jimi. We just soaking in every one of his words. When I was a child watching it I did not get where Dick Cavett was going. Talking about Jimi playing 'The Star Spangled Banner' at Woodstock, and 'Jimi was in the 101st Airborne.' 'So write your nasty letters to…' 'What?' It was beautiful. What was he talking about?
"When we assembled the 'Cavett' DVD together we talked and interviewed Dick on camera and talked to him afterwards. And what he had to say really made sense then. 'You know, I think a lot of people didn't know what I was doing when I was asking him this. I wasn't trying to make fun of him or putting him on the spot. I was actually trying to reveal that this man served our country, he deserves respect. He's playing this song not to turn it around or make it sac religious statement. But it's because he served our country.'
"He was in the 101st Airborne. He was a paratrooper. And he's trying to say basically to all you people that he's back in that time period when once again, blacks were second class citizens, and maybe you're looking at this kid who is rebellious and he's dressing like a gypsy, and he's playing this loud music all totally against whatever your beliefs are. That here is a man because of his service in the army we still have freedom. And we still have the right, if he chooses, to play 'The Star Spangled Banner' anyway he chooses. And then from that day on how do all the musicians and all the artists perform 'The Star Spangled Banner?' They all perform in their way their rendition and their way of feeling it, seeing it and hearing it. Whether they served in the army or not. And most of them haven't. So that was that. Being able to actually meet Dick Cavett, sit down and speak to him, and get this understanding was great for us. When we present these things we like to give a full scope.
Q: In 201O you released the highly acclaimed "West Coast Seattle Boy" box set.
A: It was reviewed marvelously, and I hope next year at the Grammies they will recognize that and we can actually have a Grammy for it. Honestly, it's a beautiful project.
"We try hard and we have a lot of connections with a lot of other eyes and ears out there that help us. 'You know I heard this person is selling a 100 photos.' 'Hey, this person have five rare photos that they took.' Fortunately, we have that going on and very appreciative of people that have come forth to us.
"Who better to tell the incredible story of a man's life than the man himself? Jimi was amazing and only his music, with tones and textures that he conjured, can capture the colorful and expansive essence of his time here on earth.
"I am enthralled with this all-encompassing new anthology which not only illuminates his years on both sides of the Atlantic and beautifully reveals his versatility as a performer, from his R&B origins to his explosion on the pop culture scene, but highlights who he was for those who knew and loved him
"This vast exploration of my brother's musical and life experiences leaves no stone unturned and is sure to broaden our understanding of who Jimi really was, not only as a legendary musician, but also as a timeless messenger of love.
Q: What are some of the late fall Hendrix products and 2012 plans for releases? I just saw a clip of "Foxey Lady" in a television commercial.
A: We had a Hewlett Packard commercial with "Foxey Lady." Well they keep the lights on. And I think that's one thing some people don't understand. And you know you want us to keep bringing you music we still have to pay bills. (giggles).
"Electric Lady is not owned by us and they cut us a great deal. (laughs). And that pays for a few sessions at Electric Lady. We have some things coming out with Sony later this year
" 2012 marks Jimi's 70th birthday. Next year we are working on the Miami Pop Festival.
Q: We've discussed this before but what have you learned since 2002 after the death of Al Hendrix and after you assumed control of the estate of Jimi Hendrix pertaining to product reissues and new items?
A: What haven't I learned? (laughs). It's like if you asked President Obama three years from now. 'What have you learned' as you entered in as his hair was all gray four years from now. You just don't imagine the undertaking. You don't imagine sometimes the battles. I think it's kind of like, which happened first: The chicken or the egg.
"The old administration really didn't handle things very well. And the audience was quite cynical and upset. And we really had to prove ourselves to the fans and the world that, number one, we can do this. There are a lot of people against us. I decided when we decided to settle and the judge saying there are three choices: You can either take all this money and walk away and never have to work a day in your life. Or, you can take choice 2 and take half the amount of money and in principal have your name on kind of be involved, or, you can just be completely involved and there may not be any money for you to take. And it's like, we take option number three and we'll take this on.
Q: I witnessed Jimi Hendrix play a 1969 music festival in Southern California. I know you saw 5 Jimi concerts. Today, we are in a world right now where 95 per cent of the Jimi Hendrix audience and consumers never really saw him in person.
However, this century, it seems that collectively, everyone is collaborating with the vibe of Jimi Hendrix. The spiritual, the catalog, the current label. Maybe it is a make up for some of the earlier ways he was treated as a first time recording artist with contracts signed during 1966-1970.
A: I don't know… I don't know if it is so much that happening because people are making a conscious effort. I think that a lot of times the present will heal the historic mistakes. And I don't think necessarily because it is that person's job. It's just like slavery or interment camps. Like any of that. After a while there's healing. After a while perhaps there is compensation or you're actually brought up to places that you deserve to be and not treated like a slave or second class citizen or a foreigner.
"As the Bible says, 'A prophet isn't always honored or welcome in his own home.'
"And that was one of the reasons we named the last project 'West Coast Seattle Boy.' Number one that is what Jimi called himself. He traveled all around the world and is from the West Coast of Seattle. And although it saddened him that Seattle didn't always embrace him, you know, here we are, 40 years later, we have a park that is named after him. We have architects that are working on that design and we have a city standing behind saying, 'Here. We're giving you $600,000.00 as a start to at least get this park going.' 40 years ago would there be a park named after Jimi?
Q: How was Jimi Hendrix able to go record and then honor these tours planned by management? The demands of recording, and all the things laid on him. I am just amazed he could make it through tours, let alone give us these recordings. Around all the business machinations surrounding him. How did he pull it off for live bookings, to deliver on stage, and some do those few studio records conceptualized and recorded during 1966-1970? Was he a sonic and spiritual messenger?
A: For him, I just feel somebody whispered in his ear, 'You have until you're 27. Go!' He always felt like he wasn't going to live past 27. And he stated that a few times. And I just think that if you knew that you had a year to live what would you do differently?
"Well, first of all, it's your core. It's who you are. And I will say whatever was in him was in him from the day that he was born. Secondly, you know, it's kind of like nurture or nature. So the type of person my father was he was all about work ethic. He was all about you commit to something you do that. And from buying Jimi's first guitar, kind of watching him, 'You're serious, you do want to play. I'll get you another guitar. OK. You're serious, I see you really do want to play, now I'll get you an electric guitar.'
"It's all about, for Jimi, once again, you know, did an angel come by and whisper in his ear, and say, 'time's ticking. You got until you're 27 to let the world hear your music and tell your message.' And what does he say in his music. The power of love. You got message to love. You got hear my music. Which he talks about. So, all of those prophetic statements, and that's just a few, there's tons, where he talks about, you know, 'Time will tell.' 'Circles of the wishing well.'
"There's all of these sayings and things that are so much deeper than we can ever understand. We can't even wrap our mind around it. And when we can wrap our mind around it maybe it's only good for that moment and for that time. And then when we hear it again it's good for that moment. Because now we've lived more life.
"His wisdom and his drive. Being able first of all, to have a recording studio like Electric Lady, that is still a viable studio that still people of this day. And artists like Stevie Wonder, Beyonce, Kanye, John Mayer. Once time we were in the studio and John Mayer had all his equipment in there. I'm like, 'Why doesn't he have his own studio?' 'Well, he wants to be where Jimi was.' Wow…
"Because this studio, that he created, that outlasts him, that still gives to the musicians, and still inspires them because of him. Those are things. How do you have that kind of vision and that kind of drive? 'I want my own studio.' 'Yeah. OK. It's gonna cost a million dollars.' I don't even know what a million was in comparison to today that would be.
"Obviously I know that when he bought that studio and put in a million dollars we had a $36,000 house. So, he had this million dollar studio and this vision to gut it all and put this great studio in there and here it is still. Not only for your use and you were in there sometimes for 14 or 24 hours recording, but then now it still exists. It's still going strong and artists still want to get in there to record. That's a vision beyond our comprehension. Beyond my comprehension.
Q: What kind of music did he listen too at your house?
A: It was the blues. But mainly my dad and Jimi making up songs. (laughs). There's a part in the Royal Albert Hall (film footage) where they are in Jimi's apartment and just kind of making up 'Hound Dog' and it was kind of like that. We would be in the music room, a big recreation room. The whole room had Jimi's posters all over it, and my dad played the saxophone at the time, so his saxophone and amps. I have this marvelous picture I took of my dad and Jimi just laughing at the very moment they were making up songs. Crazy words and making up words and beats. That's what he would like to do. But it came from listening to the blues.
"I remember Jimi saying that when he first came back to Seattle he wanted us all to move to New York and manage him. And my dad was a landscape gardener. 'I don't know anything about the music industry.' But all Jimi was saying was 'I just want family around me so I can feel secure and some sort of protection. Some sort of shield.' Sometimes to help them realize 'I'm not getting a good vibe from that person. I don't think they have your best interests at heart.'
"I pick up any magazine today. I see the style of Jimi today. Once again he changes the fashion world when it comes to musicians. Look at Prince. Look at anyone who follows Jimi's eclectic style. So you got that. You got the music and owning your own publishing. Owning your own publishing company, Bella Godiva (Music). Who thought to do that? Who thought to say, 'These are my masters. I'm going to hang on to them. I'm not going to give them to the record label.' So there's a balance.
Q: Carlos Santana is on tour and nightly actively paying tribute to Jimi.
A: Carlos Santana is on tour and he's honoring his heroes who are no longer here. Jimi is one of them. (John) Coltrane. Miles (Davis). Carlos had met Jimi was in the elevator of Electric Lady studios. And he wanted to give Jimi a medallion to protect him and he saw that Jimi had all these medallions around his neck. And he thought, 'He's protected. He has enough. I'm not gonna give it to him.' And of course Jimi goes on tour and doesn't come back. And Carlos always felt like, 'Well, if I would have given that to him what would have happened? Would it have protected him? Would he have come back?' And so consequently, you know, Carlos has always been kind of a big brother in my life. And there's nothing that he's ever told me that hasn't come to pass.
Q: He aided your crusade years ago at a '90s Woodstock show with an on stage plea about ownership regarding Jimi's music.
A: Yes. That is where it started. And since then he has helped me along in a lot of decisions in life. He'll call me up sometimes out of the blue. He's just like, 'You're in my heart. I'm your big brother. I'm watching out for you being that Jimi is not here.' So how cool is it that I have Carlos Santana?
Q: Another highly successful Experience Hendrix 2011 concert tour presented by Fender Musical Instruments just concluded that spotlighted the songs of Jomi Hendrix from the likes of Robert Randolph, Jonny Lang, Kenny Wayne Shepherd, Ernie Isley and bassist Billy Cox who first befriended Hendrix in the 101st Airborne Division of U.S. Army, played in both the Jimi Hendrix Experience and Band of Gypsys and performed with Hendrix at such landmark festivals as Woodstock and the Isle of Wight.
A: I think that's another aspect and a different engine that we use. And that's our tour. Where not only do you get to see Jimi you actually get to feel the experience through other artists. No, it's not the same. And you can argue that point but I think as far as bringing the Electric Church or bringing that feeling of feeling his music in your bones and your physical being while somebody is on stage performing it, no, nobody can compare to Jimi. But I think the love of the music that the musicians have that we have that we have on our tribute concerts are able to bring that in kind of a form to a younger audience.
A: What you see are musicians who love Jimi. I don't think I have ever met a guitarist that doesn't say Jimi was not part of their life, part of why they play music. And not just musicians. Guitar techs, engineers. All types of musicians will say the same thing.
"First of all you have all your senses going. Definitely the Electric Church is happening on stage. And you have the musicians who are performing Jimi's music from their heart and their interpretations on how they feel. Some actually almost note for note like Jimi and some are inspired by. They do what they do because of his music and his prophetic words. So they perform Jimi. It is experienced by those on stage and off stage.
"You see this coming together of this music. It's this beat, the pounding and the music created on stage with Jimi's music. And as it pours out through the Marshall amps and you can actually feel it in your bones and taste it and touch it almost. The audience is up in their seats cheering. A tornado is created. A hurricane affect.
Q: People like yourself, especially dealing with his estate and archive, reissues of recordings initially birthed when vinyl was the primary format, used to work almost exclusively with record labels before that model was pretty much dismantled. Now, with these yearly tours with Fender Music Instruments, what it is like working with an equipment company as opposed to a record label?
A: Right now we work with Fender and try and expand that capacity which we're still working on. As far as going back and working with Fender and also working with Gibson as well, us, here it is, yes, they are a music equipment company but they're more than that. Because it's not just a piece of jewelry that a musician is wearing around his neck. It's a guitar. Whether it's custom made, whether it took months or whether it takes weeks to make, there is a lot of pride that goes in that. And so when an artist is playing their instrument. Jimi played many things. An SG, a flying V, he played Stratocaster, and different songs, blues, rock required different sounds, which obviously comes across in his music.
"And so taking pride in having these companies like Fender and Gibson sponsor our tours, sponsor the back line and our rack realizing the importance.
"Yeah, sure, we could hang a Hendrix poster behind a white Fender guitar at a Guitar Center, and perhaps we would sell enough guitars to satisfy our appetite. But it is about a relationship. A relationship with a company that we help them and they help us. And I say we in the sense of Jimi. I'm not saying I am Jimi. I'm saying we as a family. And Jimi, when he picked up that Stratocaster they were getting ready to go outta business on the Stratocaster. They were getting ready to yank the Stratocaster. It wasn't selling anything. It wasn't doing anything for them. And here it is, this young kid, twenty something years old, picks up the white Stratocaster, and says, 'Wow. I like the way this sounds. I like the sound I'm getting out of it.' All of a sudden it's selling and they can't even keep up and it's now, to this day, 40 years later, their best selling guitar.
"Fender has always been a great partner for us, including a tour. I'm on
the Board of Directors for the Fender Music Foundation. My passion is education and music, and making sure kids thrive in that. Jimi's main connection with Fender and other guitars was with Manny's Music in New York where he would go in.
Frank Orlando, a guitarist and songwriter on Jimi Hendrix and his Fender Stratocaster
"I saw Jimi in San Diego at Balboa Park in 1968," offers Frank Orlando, a veteran music instructor, who formerly worked at The Guitar Center and is a proud Stratocaster owner.
"Hendrix wasn't at the top of his game that night. He really didn't feel good, he was sort of pissed off and tired. So it wasn't a mind-blowing experience. But he could overcome anything just by the sheer technical capacity that he had in reserve," Orlando recalls.
"His relationship to Fender guitars and why he used it over a lot of the other choices was based on some of the unique characteristics of the Strat. Strap it around your neck and play for an hour or more. There's an ease with that instrument that eclipses a Gibson Les Paul which is a lot heavier. The Stratocaster also lent itself a bit more to the theatrics he employed because it was lighter.
"In addition, his playing style would not have been accommodated by a guitar other than the Strat. It was different in a number of ways. It had a longer scale. The string length between bridge and the nut was slightly longer at 25 inches than many of the other brands and Fender models. Because they're longer there's more tension and less problems with string buzz.
"Also," explains Orlando, "Hendrix did not use the normal string gauge that other guitar players generally used. He pitched the guitar a half step lower. Meaning that if the guitar low string is an E he would tune it down to E flat. So it's lower and heavier. Also he would also use smaller gauge strings on the three lower strings. With the extra length things were not getting quite as muddy. The Stratocaster before Jimi started playing it wasn't a top of the line Fender. Hendrix popularized the model.
"Jimi was playing it left handed. His playing style allowed him to use his thumb to play bass notes and his fingers to play things that legitimately could give you the impression that there were two guys playing at the same time. Some of it had to do with the size of his hands. A lot of it had to do with the fact that the finger board of the Stratocaster is curved. The Les Paul is a little more flat.
"The entire thing of the way the Stratocaster was bolted together really conducts sound very well," summarizes Orlando. "And sometimes when you are doing these high volume things if you are playing at super high volume and you touch the back of the guitar or the head of the guitar to the amp, to the speaker bottom at very high volume you get all these very unusual feedback effects because of the conductivity of the vibration. They sounded great and it accommodated his playing style," Orlando reiterates.
"Jimi changed the game and brought the guitar to the rock people big time. People used to not like feedback or distortion. That was what people wanted to avoid and who used to put tape over the F holes on their guitars if you had a guitar that was hollow-body to avoid feedback. But he got the feedback under control and some of that was because he began to utilize a fuzz pedal and began to use the high volume assortment of wah-wah pedals. He provided sonic guidance. Hendrix got it under control and used it to his advantage.
"The newly issued 'Winterland' and 'Hendrix In The West' albums underscore this."
Harvey Kubernik is a Los Angeles native and a Southern California resident. Kubernik has been an active music journalist since 1972, a record producer since 1979, and a former West Coast Director of A&R for MCA Records.
Harvey and his brother Kenneth Kubernik have written "A Perfect Haze: The Illustrated History of the Monterey International Pop Festival" published by Santa Monica Press in November 2011.
Harvey Kubernik's hardcover 384-page book, "Canyon Of Dreams," his history on the Laurel Canyon musical legacy was published by Sterling/Barnes & Noble on October 2, 2009. The volume incorporates over 350 rare and unseen music-related visuals and artifacts and spotlights over 200 Henry Diltz photos. Doors' Ray Manzarek has penned the book's introduction and Lou Adler wrote the Afterword to Kubernik's endeavor.
Kubernik's debut hardcover book, This Is Rebel Music: The Harvey Kubernik InnerViews, was published in 2004 by the University of New Mexico Press. The author's second book, Hollywood Shack Job: Rock Music in Film and on Your Screen, was published in January 2007 by the same UNM Press.
Kubernik's literary work appear in several book anthologies, including The Rolling Stone Book of the Beats and Drinking with Bukowski.
In May 2006, Kubernik contributed the liner note essay for the Water Records CD reissue of Allen Ginsberg's Kaddish album, originally produced by Jerry Wexler in 1965 for the Atlantic Records label. Kubernik also wrote the liner notes on the expanded re-release of The Ramones' End of the Century CD in 2002 on the Rhino/WMG label and was project coordinator of the recording set The Jack Kerouac Collection for the same label.
In November 2006, Harvey Kubernik was a featured speaker discussing audiotape preservation and archiving at the special hearings called by The Library of Congress.
In 2007, Kubernik conducted the extensive 32-page interview with Brian Wilson utilized in his worldwide concert tour program. In 2008, Kubernik wrote the liner notes for the Sony/BMG Records release of the deluxe edition of Carole King's Tapestry album and also penned the 5,400-word liner note booklet for the Sony/BMG Records 4-CD box set, Elvis Presley '68 Special."
In 2009, Kubernik penned the feature essay and conducted the interview with Brian Wilson for the Genesis Publications book "That Lucky Old Son" collaboration with famed artist Peter Blake published in July. It is a 1,000 limited edition signed book that retails for 750 pounds in the U.K.).