JIMI HENDRIX MACHINE GUN: THE FILLMORE EAST FIRST SHOW
12/31/69 RELEASED ON CD, 2 LP 180 GRAM VINYL, HIGH RESOLUTION SACD AND DIGITAL FORMATS
By Harvey Kubernik c 2016
Experience Hendrix L.L.C. and Legacy Recordings, the catalog division of Sony Music Entertainment, have just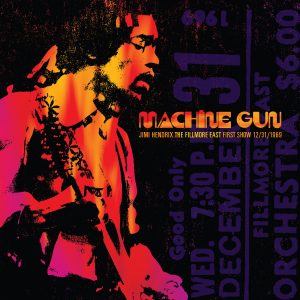 released Machine Gun: The Fillmore East First Show 12/31/69, fully documenting the debut performance of Jimi Hendrix's short-lived but eternally influential Band of Gypsys on September 30.
Hendrix's trio played four historic concerts at the Fillmore East in New York City – two on New Year's Eve 1969, and two on New Year's Day 1970.
Never before has the first of these sets been available in its entirety. The vast majority of the performances have never seen the light of day in any configuration.
"I was 14 going on 15 when I caught Jimi and The Band Of Gypsys at the early show at the Fillmore East on January 1st, 1970," recalls writer Michael Simmons. "A kids' choir called The Voices Of East Harlem opened.  Their soaring voices were the perfect way to greet the new decade and I thought it was cool that Jimi embraced the notion of community here in New York — one of his hometowns along with Seattle and London.  He emphasized his guitar playing that night and disregarded stage shtick.  We — the audience — were witnesses to Jimi's evolution as an artist and it was thrilling.  Personally, I was glad — picking with his teeth or with his axe draped behind his back was getting old.  
"I later learned that Fillmore boss Bill Graham had encouraged him to just play.  And yet he was very personable and relaxed and yapping about that New Years' Day's football scores.  Most importantly, I've never seen a guitarist — or any musician — who could equal him in technique or feel or presence.  I have friends who got to see Coltrane and Monk.  My mother — a jazz singer who dated Charlie Parker's pianist Al Haig — saw Bird.  But I saw Hendrix and he set a standard in rock that-for my taste-has never been surpassed.  Awww Jimi — though we hardly knew ye, you remain the greatest."
Promoter Bill Graham had presented Jimi Hendrix to adoring Fillmore audiences since 1967. During a previous Fillmore engagement, Graham had sternly demanded Hendrix to completely tone down his stage show theatrics and focus exclusively on the music after a frenzied set he witnessed.
Graham understood the devoted and elastic bond an entertainer could have with their song repertoire to a receptive paying public.
"Jimi Hendrix once came late for a show," Graham told me in a 1976 interview. "I'm pacing in front of the Fillmore, and he gets out of the cab, and I'm yelling at him, and he looked at me and said 'there was this great movie on in the motel…'
"Little by little, it took me years to learn this I finally realized that after the gig I could do the yelling. In the long run it's the public that has to get the good energy from them. We have always had the same goal. We want to turn people on and we want them to have a good time."
Machine Gun: The Fillmore East First Show 12/31/69 was produced by Janie Hendrix, Eddie Kramer and John McDermott, the same team who have overseen all of Jimi Hendrix's audio and audio visual releases by Experience Hendrix L.L.C. since 1995.
Kramer served Jimi Hendrix as his primary recording engineer throughout his lifetime and the newly mixed Machine Gun: The Fillmore East First Show 12/31/69 from the original 1" 8 track master tapes. The album was mastered by Bernie Grundman and will be simultaneously issued on CD, 2 LP 180 gram vinyl, high resolution SACD and digitally
Machine Gun: The Fillmore East First Show 12/31/69 marks the first ever Jimi Hendrix SACD and high resolution digital release. Additionally, Experience Hendrix is also releasing People, Hell & Angels on the same day. People, Hell & Angels, a collection of previously unreleased studio recordings, peaked at #2 on Billboard's Top 200 Album chart in March 2013. The album features studio versions of many of the songs featured on Machine Gun: The Fillmore East First Show 12/31/69.
Over the course of four extraordinary years, Jimi Hendrix placed his indelible stamp upon popular music with breathtaking velocity. Measured alongside his triumphs at Monterey Pop and Woodstock, Hendrix's legendary Fillmore East concerts illustrated a critical turning point in a radiant career which boasted of indefinite possibilities.
The revolutionary impact Jimi Hendrix, Billy Cox, and Buddy Miles had upon the boundaries and definitions of rock, R&B, and funk can be traced to four concerts over the course of two evenings on New Year's Eve and New Year's Day.
These performances were first celebrated by Band Of Gypsys, which featured six songs from the two January 1, 1970 concerts including "Machine Gun," the album's dramatic centerpiece. Issued in April 1970, Band Of Gypsys challenged and surprised the guitarist's wide following with its extended arrangements and vibrant mix of rock and soul. Nonetheless, the album proved to be a runaway commercial success and sadly, with his death in London in September 1970, would become the last album Jimi Hendrix personally authorized for release.
East concerts. This set presents an assortment of fresh, exciting new songs such as "Earth Blues," "Ezy Ryder," "Stepping Stone," "Burning Desire," and "Machine Gun"—none of which had ever before been issued on disc. Moreover, nearly all of the group's material had never been performed before an audience.
"We decided that we couldn't do any songs that had already been released," explains Billy Cox. "We wanted to give them something different. So we went at the project in a joyous, creative posture and ultimately developed the repertoire of the Band of Gypsys."
While promoter Bill Graham had advertised the concerts as 'Jimi Hendrix: A Band Of Gypsys', few could have anticipated what Hendrix had in store. "We had two shows New Year's Eve and two shows New Year's Day," remembers Cox. "We didn't know what to expect from the audience and the audience didn't know what to expect from us, but from the time we hit that first note, they were in awe. You had Jimi Hendrix, a drummer who had been with the Electric Flag and Wilson Pickett, and I was the new kid on the block."
With the anticipation of the sold out Fillmore audience heightened to fever pitch, Hendrix led his trio through a scintillating, seventy-five minute opening performance. None of the eleven songs presented had yet to grace an Experience album. In the place of signature songs like "Purple Haze" and "All Along The Watchtower" were confident renditions of "Power Of Soul" and "Hear My Train A Comin.'"
Jimi generously extended center stage to Buddy Miles, providing a showcase for "Changes" and a charged rendition of the Howard Tate R&B hit "Stop". "We had rehearsed "Changes" and a few others for Buddy," explains Cox. "All of the songs we performed had been rehearsed. We didn't look at it as Buddy's part of the show. We were all there to give. We were all there to help and material went on whether it was written by Jimi or not." Hendrix's scalding version of Elmore James' "Bleeding Heart" is the set's only other cover, underscoring the new band's emphasis on the blues.
As the Fillmore audience roared with approval, the Band Of Gypsys left the stage confident that they had validated Jimi's new music before his loyal followers. "After the gigs were finished, Jimi was quite relieved," remembers Cox. "We felt the concerts went well. I might add that in previous gigs with the Experience he had used a fuzz face [tone control pedal] and a Wah-Wah pedal, then at Woodstock he used a fuzz face, Wah-Wah pedal and Uni-Vibe, but at the Fillmore East he used a fuzz face, Wah-Wah pedal, Uni-Vibe and Octavia and it was incredible. In fact you could hear all of it kicking in on 'Machine Gun.' It was incredible. There were people in the audience with their mouths open."
"Machine Gun" stands as one of Hendrix's finest and most influential compositions. Hendrix pushed Delta blues into places its pioneers could not have imagined, fusing his extraordinary instrumental skills within his passionate expression of man's inhumanity to his fellow man. "Machine Gun" endures as a classic amongst the already classic-drenched Jimi Hendrix canon
Long sought after by the guitarist's worldwide following, Machine Gun: The Fillmore East First Show 12/31/69 presents the complete performance in its original sequence.
Machine Gun: The Fillmore East First Show 12/31/69 documents the first of the group's four legendary Fillmore East concerts. This set presents an assortment of fresh, exciting new songs such as "Earth Blues," "Ezy Ryder," "Stepping Stone," "Burning Desire," and "Machine Gun"—none of which had ever before been issued on disc. Moreover, nearly all of the group's material had never been performed before an audience. "We decided that we couldn't do any songs that had already been released," explains Billy Cox. "We wanted to give them something different. So we went at the project in a joyous, creative posture and ultimately developed the repertoire of the Band of Gypsys."
"The Band of Gypsys turned the world upside down," enthused Bill Cox to me in a 2015 interview. "Jimi was at his peak then. He had done [earlier] albums and then I came on board with a lot of the things we had. He called them 'patterns,' but they're just riffs. We played around with them and a lot of times he'd say, 'If people heard us play this stuff they'd lock us up.' But we were completely free musically.
"So the Band of Gypsys Jimi was at his peak. Buddy Miles! Oh man! What a guy. No restraint. The Band of Gypsys was a trend-setting group. We didn't know that. But it has been said that the Band of Gypsys inspired reggae, free-form rock, portions of rap. Jimi wrote about 90 percent of that stuff. And Buddy had Them Changes. We did some stuff that we put together that we enjoyed which had a rhythm feel to it."
"The Band of Gypsys concerts, along with Bob Dylan's 1965 Newport Folk Festival electric performance," suggests Dr. James Cushing, a radio host on KEBF-FM in Morro Bay, California, "represent possibly the most courageous actions ever taken by a rock star at the highest level of fame: to book a series of concerts in a famous venue on a high-stakes weekend and use them to debut and record a whole new band and a whole new set list.
"Jimi Hendrix, Billy Cox and Buddy Miles are clearly demanding to be heard as artists, not as mere entertainers, and this seriousness elevates the music to the level of jazz improvisation. For a certain kind of person, Band of Gypsys is the best Hendrix album; the risks the group takes are as high as their accomplishment.
"This new release – Machine Gun: The Fillmore East 12/31/1969 (First Show) – preserves the first moments when a sold-out audience heard Jimi Hendrix avoid all his greatest hits to play brand-new songs and the blues. This edition is less rough sonically than the version on that 6-CD Box of Gypsys bootleg many Hendrix fans may already own, and hence worth buying for hard-core fans. More casual listeners' familiarity with other takes of 'Machine Gun' or 'Them Changes' is part of the point here: these alternate takes are every bit as developed, thoughtful, as full of pulse and soul as the 'masters.' High points include a beautiful reading of Elmore James' blues 'Bleeding Heart' and a nine-minute 'Burning Desire' that closes the show on a note of mystery."
"Jimi recorded so many great live shows," volunteered engineer/producer Eddie Kramer to me during a 2007 interview.
"I never had the opportunity to record Jimi live but I always did all the mixing with him of course.  Starting with Band of Gypsys which we did together and was very interesting.
"There is a history there of working together. I know what is needed to make it sound right. Certainly in today's market you want it to not only have the vintage feel but it's gotta punch, you know.
"Billy (Cox), I think, is probably one of the great rock R&B bass players. Billy is a whole different other scene. He's so solid. When he and Mitch [Mitchell] lock in it's incredible. They really respected each other. And that's not to say Buddy Miles didn't lock in with him too."
"You do get a different Jimi on tape if the venue is indoors.  What happens at the Fillmore East, or Berkeley 1970, or wherever there is a great theater with fabulous acoustics, he's like a sax player. A great jazz sax player would walk around the room and just blast to find the best place for that sound to come back.
"I think Jimi reacted to audiences and areas of the country, wherever they were," concluded Kramer, "with a different attitude because the audiences were different. Jimi was a guy who fed from the audience. And if the audience was receptive and giving back."
Lauded by critics and fans alike, the multi-artist Experience Hendrix Tour is set to return in 2017 to celebrate the music of Jimi Hendrix, long hailed as the genre's greatest innovator.
This latest edition of the annual tour will be the most ambitious one to date, encompassing 29 performance dates in February and March, including a special engagement in Seattle, Hendrix's hometown, at the city's historic Paramount Theater.
Now in its second decade, the tour celebrates the musical genius of Jimi Hendrix by bringing together a diverse array of phenomenal musicians, ranging from blues legend Buddy Guy to Black Label Society and former Ozzy Osbourne guitarist Zakk Wylde, as well as Jonny Lang, Kenny Wayne Shepherd, Dweezil Zappa, Keb' Mo', Doyle Bramhall II, Ana Popovic, The Slide Brothers, Mato Nanji from Indigenous, and Beth Hart will also be featured among many others.
Billy Cox, bassist for both the Jimi Hendrix Experience and Band of Gypsys, anchors a rhythm section that provides the foundation for exciting renditions of numerous signature Hendrix favorites such as "Purple Haze" and "Little Wing."
The new tour comes on the heels of the 2016 Experience Hendrix Tour, which sold out nearly every one of the 27 venues that hosted it.
(Harvey Kubernik has been a music journalist for over 44 years and is the author of 8 books. During 2014, Harvey's Kubernik's Turn Up the Radio! Rock, Pop, and Roll in Los Angeles 1956–1972 was published by Santa Monica Press.
In September 2014, Palazzo Editions packaged Leonard Cohen: Everybody Knows, a coffee—table—size volume written by Kubernik, currently published in six foreign languages. BackBeat/Hal Leonard Books in the United States.
Harvey and Kenneth Kubernik wrote the text for photographer Guy Webster's award-winning first book for Insight Editions published in November 2014. Big Shots: Rock Legends & Hollywood Icons: Through the Lens of Guy Webster. Introduction by Brian Wilson.
In March, 2014, Kubernik's It Was 50 Years Ago Today The Beatles Invade America and Hollywood was published by Otherworld Cottage Industries.
In November of 2015, Back/Beat/Hal Leonard published Harvey's book on Neil Young, Heart of Gold).
During 2017, Sterling will publish Harvey Kubernik's 1967 Complete Rock Music History on the Summer of Love).