Jimi: All Is By My Side
By Harvey Kubernik c 2014
OutKast's André Benjamin stars as Jimi Hendrix in the Jimi: All Is By My Side biopic from Oscar winning writer-director John Ridley (U-Turn, Three Kings, 12 Years a Slave).
Jimi: All Is By My Side debuted at the 2013 Toronto International Film Festival and had a U.S. premiere in 2014 at SXSW in Austin, Texas, just after Ridley won the Oscar for the Best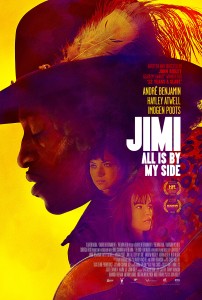 Adapted Screenplay for his work on 12 Years a Slave.
In mid-October JIMI was distributed theatrically around the U.S. and in 100 theaters. An October 24th opening is scheduled in the U.K. Plans are for a January 2015 opening date in Japan.
The movie covers a year in Hendrix's mood-changing life from 1966-67 as an unknown backup guitarist playing New York's Cheetah Club to making his mark in London's music scene up until his Monterey International Pop Festival triumph.
The Benjamin (Idlewild, Smokin' Aces, The Great Gatsby) and Ridley celluloid collaboration also stars Hayley Atwell (Captain America: The First Avenger), Imogen Poots (28 Weeks Later), Andrew Buckley (Borgia), and Ruth Negga (World War Z).
"'Mesmerizing!' is how Kenneth Turan, of The Los Angeles Times described Ridley's film, while Peter Travers of Rolling Stone proclaimed, 'Electrifying! Andre Benjamin's magnetic performance is a star-spangled triumph.'"
"As a lifelong Jimi Hendrix fan and obsessive vinyl collector, I had been tracking this film since the script stage," volunteered Barry Gordon, CEO of XLrator Media. "Once we saw how John Ridley had executed his amazing story from the page to the screen, coupled with the depth of Andre Benjamin's performance at the 2013 Toronto Film Festival, we knew we had to try and get this amazing film for our company to distribute in North America."
André Benjamin had been approached with various Hendrix filmic options over the years. "That was very cool," says Benjamin. "When I was 23 or 24, I got a few scripts about Hendrix, but they were true biopics. I'm glad it took this long because this approach is a little more interesting. You kind of get a slice of his life. Sometimes it's hard to stuff someone's whole life into two hours.
"Hendrix to me is the greatest performer that ever lived, not just in rock, but period. He's the greatest performer and artist that walked the planet. Since he stepped on the planet, until now, there's no one who has trumped what he has done.  He threw his whole self into what he was doing.
"People don't just come out of the sky and be Hendrix. Hendrix would sit on the side of the stage and watch other people do things. All the tricks Hendrix did – the teeth, the guitar – other guitarists had done that before him. Chuck Berry and all those guys.
"He was a kid when he was doing it, but he knew how to soak up everything and make it his own.  Nobody on this planet is an island. Everyone is influenced by somebody but Hendrix put it all together: musicianship, passion, style, sexuality. The women loved him. It was everything. As an artist, that's what you dream of. You dream of being a great writer, you dream of being a great musician, you dream of attracting the people you want to attract.
"That's what you dream of. And he was that."
"I met Jimi Hendrix the first time in 1966," offered record producer and songwriter Kim Fowley earlier this decade. "I produced the Soft Machine previously in England, who like Jimi Hendrix, were managed by Michael Jeffreys, who also had the Animals at the time. In 1966 I was his neighbor in England in Bayswater.
"In our first 45 minute meeting in the hotel lobby, I was literally the first person Jimi met when he got off the plane from New York. We talked music, and he said he wanted to 'play science-fiction rock 'roll," continued Fowley.
"In 1966 or early '67, I was the one who told Warner/Reprise label head Mo Ostin about Jimi and that it would be a good idea to sign Hendrix to the label for North America. An hour later Brian Jones and Jack Nitzsche visited Mo in Burbank and confirmed what I said. We all knew that Jimi would be great acquisition for the label in America.
"I knew Jimi would take over in summer 1967 in America because he had chitlin circuit experience, and he knew how to work a crowd in the chicken wire chitlin' world. He was an experienced performer and everyone else were suburban white kids trying to be English or black.
"I was the record promo man for 'Tall Cool One' by the Wailers from his [Seattle] neighborhood, since I was tall and cool. I was a producer of L.A. based Richard Berry, who wrote 'Louie, Louie,' who wrote 'Half Love Will Travel,' that were regional hits, and Jimi knew them.
"We bonded in trivia over singer Gail Harris. 'I Idolize You.' I said I knew she played the Spanish Castle venue. And he replied, 'Did you fuck her?' 'No, did you?' 'I wanted too…'
"She was on Carlton Records. She had Janis Joplin's voice and was good looking. Gail was like a sensual stewardess with a Janis voice. So, when he walked into that Hollywood party in June 1967, and saw Janis Joplin, I said, 'Jimi, she's got a Gail Harris voice.' And off they went together…"
Multi-instrumentalist and www.Cavehollywood.com website owner David Kessel witnessed the debut of the Jimi Hendrix Experience in London during 1967.
"In a circumstance of being at the right place, at the right time, and having inside connections, I was able to see the debut of the Jimi Hendrix Experience gig at The Bag Of Nails club in London.
"I was going to school in Switzerland, along with my brother Dan. Our dad, Jazz guitarist Barney Kessel was touring Europe and England and suggested we all meet up in London. By sure luck our Dad had a connection at Polydor Records, and were able to persuade (mild terminology) them both that it was imperative that they arrange for us to get into see Jimi at the club.
"The magic atmosphere of the who's who of the English Rock world, only intensified the atmosphere. Jimi 'blew the roof of the sucker,' completely wowing the room filled with musical royalty. This was a game changer in that Jimi was bringing on something that was 'here to fore non-existent.'
"Here's this black guy going crazy on the guitar and owning the stage, with these two frail looking white English guys holding up their end quite excellently. Having grown up around the Jazz guitar and Jazz in general, it was easier to assimilate what was happening. Jimi had great showmanship, but I could see he was channeling a new guitar vision for Rock and Blues music.
"It also stood out to us that Mitch Mitchell was playing from a Jazz drummer's mindset. The bottom line here is this was a jaw dropping, mind altering musical UFO landing. The kind of thing that gives you actual goose bumps, and makes you have to rethink a lot of things.
"Jimi had it all going. The clothes, vibe, vision, and support of swinging London's finest. He was given the confidence and encouragement to take his 'trip' all the way. All this, with a Mod, Psychedelic glowing aura, was incredibly stunning and inspiring.
"In the very early Summer of '67 (The Summer Of Love), just before Jimi's introduction to the U.S. at the Monterey International Pop Festival, I had a chat with blues guitar great Michael Bloomfield. He was rehearsing the Electric Flag in Sausalito California, for their first gig at The Filmore West. We were staying on a house boat one minute away from the airplane hangar he was using as a rehearsal space.
"It was during a break, and he was giving us the time of day, because we were Barney's kids. We were only very recently back from Europe and couldn't understand why nobody knew who Jimi was. I innocently asked him if he was hip to a guy named Jimi Hendrix and what he was doing with his Stratocaster and Marshall amps. Bloomfield instantly kind of recoiled, turned a little sweaty, and said 'Oh man, that cat is scary.'
'Mike had the kind of attitude that the secret had finally got to this part of town."
"I saw Jimi's debut at Monterey and then was around him at Gold Star recording studio, L.A. concerts, parties, table conversations and talking inside his Sting Ray car," remembered KROQ-FM deejay Rodney Bingenheimer. "This Hendrix movie was amazing. Andre Benjamin was terrific at playing Jimi in London during 1967. And, it was shot on real film stock, not video. Plus, hearing the real master recordings in the soundtrack of the Small Faces, Bob Dylan, the Seeds, Buddy Guy, the Animals, Spencer Davis Group, the Creation, and the Yardbirds, blew my mind."
Filmmaker and writer John Ridley was born in Milwaukee, Wisconsin and resides in Sherman Oaks, California He is the author of seven published novels.
Q: "A lot has happened in two years," as you said introducing the movie premiere in Hollywood at the Arc Light Theater. What drew you to the saga of Jimi Hendrix to write and direct a picture on him covering a year in his life from 1966-1967?
A: I've been very fortunate to be a writer in Hollywood for a good number of years.  And it is one of those stories that in different forms people would either ask you to come in and pitch on or various versions to try and write it. To a degree they were serviceable ideas. Back in the day they tended to be the cradle to the grave kind of bio pics that people were doing. For a long time that was the way stories were told. But I think audiences have matured, their expectations and tolerance for more depth of story-telling as opposed to greatest hits versions of the story has evolved.
"And for me as someone who thought he was a Hendrix fan, when it got to the point that I really started to explore this particular year and these events and the rapidity that these events happened. One after another. Meeting Chas Chandler,  Noel Redding, Mitch Mitchell. Eric Clapton, playing for the Beatles, it really felt there was an emotional velocity to this story. As well as an opportunity to look at some key relationships that a lot of people may not be aware of.
"So, all of that to me together there just came a point where it was less about me trying to figure out a story and a story that was there that was really dictating the way it was told.
Q: What was it like being the screenwriter and director?  Easier or harder in the duality of wearing both hats?
A: It was unique because I think it was both of those things. I really believed I had a powerful script that was put together. And people were obviously attracted to it. But this time was my opportunity. I really wanted to come to it with a strong vision for these characters, a vision for their emotional drive and a vision in terms of the style of filmmaking. The language of cinema. I believe if I can do those things and keep the focus on all of them that there was a story here that people can relate to.
Q: So much has written about the movie's lack of securing original Jimi Hendrix recordings but, even at his June 1967 Monterey International Pop Festival return to the States big moment, five of his nine numbers in his live set were cover versions. I saw Jim in 1969 and only then was his stage repertoire just about all original.
I found it refreshing in your movie to see Jimi's 1966 world where he was still doing covers and writing his first songs and not the constant usage of "Purple Haze" and "All Along Watchtower."  I'm on your side on this one.
A: I do appreciate that. I think a lot of people appreciate that and the history of music and where it came from. Whether it be Jimi or the Beatles and where they start somewhere and take these other songs and really make them their own. Jimi, more than anything, was an artist who could do that as well with 'Hey Joe,' 'All Along the Watchtower." People are gonna come to it and expect a greatest hits version of that and I get it. Because those hits are hits for a reason.
"But I do hope folks like yourself who have a deeper richer understanding of the whole process will have an appreciation of songs that we were able to use in the film. 'Mannish Boy' to 'Hound Dog' 'Wild Thing' to 'Sgt. Pepper's Lonely hearts Club Band.' Not having a piece of music was not a limitation.
Q: You take us into the 1966 and early summer '67 world of Jimi in London. The people are really part of his orbit and not auxiliary friends.
A: Honestly, I don't think the people around Jimi were auxiliary in any sense. These folks really informed the Jimi that we came to know. Whether it was Linda [Keith] meeting him and introducing him to Chas, who had a real understanding of both sides of the music business, having been a player, and at that point being a nascent manager and wanting to treat acts as people rather than dollar signs. Kathy [Etchingham] and the time they spent together, even going to the park and listening to the Salvation Army Band, Jimi being fascinated by the uniforms.
"Ida in this version is a representation of depth, and the reason I call her Ida yet  they had not met at the time. But I thought it was very important to be additive with his girlfriend who had a real Afro-centric perspective on him and their relationship. And how it was different than with Linda and Kathy. So I think all of these individuals helped inform the Jimi we came to know.
"Jimi at age 24 he had played with Ike & Tina Turner, the Isley Brothers, Little Richard and really hadn't found great success with them. So to speak, a little bit washed up and playing as a backing artist in a band. He probably could have gone on to be very successful but were it not for these key relationships we have the Jimi Hendrix we mostly identify with. It's hard to say.
"So it was very important in this story to show these people as people, hopefully complicated people and try and delve into these relationships as possibly could.  Honestly it remains these personal connections.
"One of the things I always thought was the strength was the connectivity of these characters and the very quiet and thoughtful nature of someone like Jimi. To be able to take someone who so many of us revere 'cause of his outside personality on stage, and to be able to take quiet moments where people are just sitting in clubs and or in a room laying together. Sometimes some of these scenes are worth it for emotion, intent and they move together.
"That to me to be able to feel that from the early stage of discovering the story and then watch the film playback time and time again and still feel that and be able to translate that from the inception of the idea to the words on the page to how we filmed it to the final edit, that to me is the most powerful thing.
Q: Do you write to music?
A: Yes I do. Sometimes I like to write in a quiet space but it can be distracting listening to music. Certainly the song that sent me on this journey was "Send My Love to Linda." [from a Record Plant session in summer1970]. That was a song I listened to over and over again. Not just when I was writing but when I would go for a run and put it on my ipod and just play it over and over again.
"Because I want to be reminded about the passion and the emotions I felt the first time I heard that song. A lot of times it's more when I'm out running or doing other things, driving a car, because I'll start thinking about scenes and moments that I want to try and express. And it's a way to really keep me on point with the story.
Q: What did you learn as a screenwriter from 12 Years a Slave that you applied to your Hendrix movie?
A: Well, a couple of things. One thing I learned in general it's not about the words on the page. When you're a young writer, at least for me, you're in love with your own words because you're a writer. You got to write as much as possible.
Q: Well, as James Baldwin said, "If you're not writing you're not doing anything."
A: You're not doing anything. And, as Miles Davis said, 'sometimes it's the notes that you leave out.'
"That to me is hopefully where I've matured a little bit in about leaving words out and letting the moment play itself. And I think you see some of that in 12 Years a Slave as well. In Solomon's memoir it is so nuanced, so rich, and rich in its environment there are places where it wasn't about the words but hopefully creating a scene that had its own power.
"For me, again, I can only hope that it's a level of maturation as a writer to be confident in all aspects of both the material that I've been able to work as well as all the other artisans working on the film that it doesn't have to be all about words. And I certainly believe with the Hendrix film I found a way to express that.
Q: Tell me about working with Andre Benjamin who portrayed Jimi. I saw Hendrix in concert and Andre really delivered in this screen portrayal.
A: I can't say enough about Andre. As a person, as an artist. His work ethic. This is someone who put in months, seven or eight months into the entire process.
From originally sitting down with me. He lives in Atlanta and came out to Los Angeles tow work with me and talk about cinema, to talk about the kind of story we wanted to tell. He worked with a guitar and vocal coach and put himself on a diet. There was so much that he put into it as a performer as an artist, as an actor, building the chemistry between the two actresses, Imogen and Hayley, and that's really to me exceptionally important.
"You can write what you think are terrific scenes. You can find interesting ways of hopefully direct those scenes but if the actors don't have a certain chemistry, particularly in a film like this, which is so much about connectivity, you end up with a whole lot of nothing.
"So for Andre Benjamin, who has afforded himself a place in life where he can do pretty much whatever he wants to choose to not openly be involved in this project but to really decide that he was going to be honorific in the approach to it that's pretty special. It really is. In that regard what he put into it was just phenomenal. I believe the movie works in general but I would say if it works at all it's because of Andre and the connection he has with Imogen, Hayley and Ruth as well.
A very small portion of this article was published in the October 2014 issue of Record Collector News in the United States.
(Harvey Kubernik has been an active music journalist for over 40 years and is the author of 6 books, including This Is Rebel Music (2002) and Hollywood Shack Job: Rock Music in Film and on Your Screen (2004), published by the University of New Mexico Press.
   In 2009 Kubernik wrote the critically acclaimed Canyon of Dreams: The Magic and the Music of Laurel Canyon, published by Sterling, a division of Barnes & Noble. In summer 2012, the title was published in a paperback edition.   
    He is also a writer of That Lucky Old Sun (2009), a Genesis Publications limited-edition title done in collaboration with Brian Wilson of the Beach Boys and Sir Peter Blake, designer of the Beatles' Sgt. Pepper's Lonely Hearts Club Band cover. 
    With his brother Kenneth, Harvey co-authored the highly regarded A Perfect Haze: The Illustrated History of the Monterey International Pop Festival, published in 2011 by Santa Monica Press.
   Otherworld Cottage Industries in February 2014 published Harvey Kubernik's book It Was Fifty Years Ago Today: The Beatles Invade America and Hollywood.  
   During April 2014, Harvey's Kubernik's Turn Up the Radio! Rock, Pop, and Roll in Los Angeles 1956–1972 was published by Santa Monica Press.
   In September 2014, Palazzo Editions published Leonard Cohen: Everybody Knows, a coffee-table-size volume written by Kubernik. 
   Harvey and Kenneth Kubernik have just written for Insight Editions, Big Shots: Rock Legends and Hollywood Icons The Photography of Guy Webster, with a Foreword by Brian Wilson, published in October 2014).