IZZY CHAIT By Harvey Kubernik
Vocalist Izzy Chait was born in Germany, moving to America and California with his family when he was age three. He grew up in the Los Angeles area, and was always attracted to 1950s standards, Pop, and the Rhythm & Blues and Doo Wop he heard on radio station KGFJ.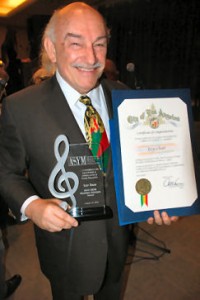 "I sang in temple as part of the choir in synagogue for many years and also with the glee club in school. But the first major singing that I did in public was after I joined the Marine Corps in 1966. I sang with a little band in Viet Nam where we exchanged songs for beers," he volunteers.
At the time, Izzy was primarily singing rock & roll and doo wop but he was also inspired by Billy Eckstine, Johnny Hartman and Oscar Brown Jr, and learned a countless number of standards.
After Chait was discharged from the Marines, he studied anthropology and ethnomusicology at UCLA.
"During the late 1960s while going to school, I sang at many clubs around Los Angeles including quite a few piano bars. I did that for about three or four years and made pretty good money for those days, performing standards," remembers Izzy.
It was at this period when Chait developed a fascination and preoccupation for Asian antiques (along with Eastern philosophy and religion). While in the Marines, Izzy started buying and selling antiques as a hobby, realizing after college that he could make a living with his expertise.
At that point, he was at an early cross roads and had a career decision to make.
"I decided to quit singing music because the lifestyle of playing clubs until 2 a.m. and having customers buying me drinks all night long conflicted with my building up a business. So for 25 years, I didn't sing in public," Chiat offers.
Izzy started up an Asian art and antiquities shop in West Hollywood, then developed into a top auctioneer, and eventually opened up his highly successful I.M. Chait Gallery in Beverly Hills.
It was in the late 1990s when Izzy Chait revisited his past.
"I was on a cruise in the Caribbean and some of the guys in the ship's band approached me. They had heard that I used to sing and wanted to know if I would perform a few songs with them. I sang a blues in G and it was such fun that I realized I really missed singing. I started singing now and then at little parties for friends and was part of a casual band for awhile. Finally I decided that since I had a successful business and was getting a little older, I could afford to work on building a musical legacy," he stated.
Izzy's first step was to record his debut CD "Once Upon A Time." It was
co-produced by Chait with Howard McCrary in 2001. The album has Izzy singing some of his favorite standards including "All Of Me," "Blues In The Night," "All The Way"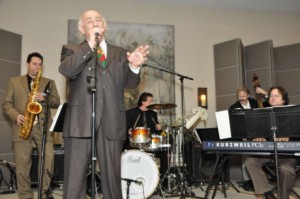 and a medley of Gershwin songs.
His next recording, "Love Is Here To Stay," was a live album recorded on Valentine's Day in 2005 at the legendary Jazz Bakery, one of Izzy's favorite clubs. He was joined by a sextet that included pianist Mike Strickland, trumpeter Steve Huffsteter, guitarist Jamie Findlay and Linda Moss on harmonica plus two background singers. .
Later in 2005 in another live concert from the Jazz Bakery Izzy explored Christmas songs on "Live For The Holidays" while joined by a sextet featuring pianist Sergio Minervini, Findlay and Moss.
Then came 2008′s "If I Can Dream," which was a change of pace since it showcased Izzy adapting pop songs into jazz settings. That collection also included some of his favorite inspirational tunes. "If I Can Dream" spotlighted compositions by John Lennon, Michael McDonald and Elton John ("The Bridge") plus such songs as "Change Gonna Come," "Wade In The Water," "Nature Boy" and his original "Callin' All Angels."
A couple of years ago, Izzy Chait's third live CD from the Jazz Bakery, "For Your Love," found Izzy, his sextet and background singers Lisa Vaughn and Lynne Fiddmont performing standards from the swing era (including "Night And Day," "The Nearness Of You" and "How Deep Is The Ocean"), lowdown blues, "Moondance," and more recent tunes ("All That I Am" and "Sea Of Love") adapting from versions by Elvis Presley and Tom Waits. .
In 2011, Concord Records and Izzy (through I.M. Chait Gallery in Beverly Hills) joined forces on a new CD, "Jazz Holiday Party Volume 2," now garnering radio airplay, especially in the Southern California area on KJazz 88.1, a leading jazz and blues station in America.
The disc features "Santa Claus is Coming to Town," from Frank Sinatra, "A Child is Born," by Bill Evans and Tony Bennett, Mel Torme's "The Christmas Song," the Ray Charles offering of "Rudolph the Red Nosed Reindeer," and Chait's own rendition of "Let It Snow."
In the last quarter of 2011, Izzy began recording with producer Don Peake, a multi-talented musician who has worked as a guitarist, arranger, record producer, and film music composer. The sessions took place at Peake's studio in North Hollywood, California.
Peake played for many of the legendary performers bring produced by Phil Spector. He was featured on hits including The Righteous Brothers – "You've Lost That Lovin' Feeling", Ike and Tina Turner – " River Deep, Mountain High", as well as other recordings with Mahalia Jackson, Billy Preston, Cannonball Adderly, Marvin Gaye, and Diana Ross. Peake also did some live dates with songwriter Eden Ahbez, who penned "Nature Boy," who he met at Gold Star recording studios in the early 1960s.
Don Peake was the first white guitarist to play with the Ray Charles Orchestra, touring with Charles, and recording with him for ten years. During that time, Peake studied guitar with legendary jazz icons Barney Kessel, Howard Roberts, and Joe Pass.
Peake is also the lead guitarist for Marvin Gaye "Let's Get It On," and on all the Jackson Five's original hits, "ABC", "I Want You Back." Donalso played on the Commodores, Smokey Robinson, The Supremes, The Temptations, and many more Motown Artists' records as a staff guitarist for Motown. He also performed on John Lennon's "Rock and Roll" album that Phil Spector produced. Peake is heard on many Barry White's hit records, some of which he also arranged.
Peake has additional arranging credits for recordings by Roy Orbison, Kenny Rankin, The Monkees, Minnie Riperton, The Fifth Dimension, Sonny and Cher and many others.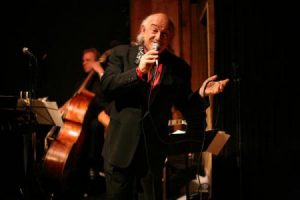 For his production of Izzy Chait's album, Peake has brought in members of the last Ray Charles touring band, along with guitarist Gonzalo Bergbergera, violinist Scarlet Rivera (heard on Bob Dylan's "Desire" album) and pianist Ellis Hall.
Izzy and Don are concluding sessions for this album slated for release in spring 2012.
The project includes Izzy's renditions of "I'm So Lonesome I Could Cry," "September Song" "Brother, Can You Spare a Dime?" and a re-working of Peake's own arrangement of "If I Was A Carpenter," that was initially recorded by Bobby Darin. The duo have also cut "America The Beautiful," a standard Peake once recorded with Ray Charles in 1972.
"Izzy sits out on some tunes for spaces. He's a narrator. He's a raconteur. And, at times, like on 'Brother, Can You Spare a Dime?' he's the voice of America," suggests Peake. "Izzy is the real deal. He's a bit of a musicologist about songs and who recorded them. On stage and on record, we draw from the great American songbook. I played them with Bobby Darin on stage. I did one date with Sammy Davis, Jr. And then Ray did some of those songs," explains Don.
Chait and Peake are also collaborating with Scarlet Rivera in the studio on a medley arrangement of Bob Dylan's "Lay Lady Lay" and "I'll Be Your Baby Tonight," earmarked for a projected late January or early February release to coincide with some Valentine shows Chiat is planning in the Southern California area.
---
Harvey Kubernik and Izzy Chait Interview 
Q: You are a graduate of Fairfax High School from the early '60s. And you were exposed
to R&B through singers like Nat King Cole in Los Angeles. 
A: The songwriter Phil Sloan, (P.F. Sloan) went to Fairfax. I saw "The Johnny Otis" TV weekly program in 1960, 'The Perry Como Show.' And, I also watched 'You Hit Parade.' And they would cover the latest stuff out there in the airwaves, and most of the stuff is what we would consider today the Great American Songbook. And my parents watched it religiously and I did too.
Q: You are a graduate of UCLA in Anthropology. 
A: Yes. And, I took classes as well in the Ethnomusicology department, like music of Japan, Java, Bali, China. And we got to play in Japanese chord style in group and we did an all night Indonesian gamelan of the Ramayana.
Q: I know you eventually performed in Vietnam, but did the classes at UCLA bring you
into Eastern culture? 
A: Being in Asia, especially South East Asia, and Okinawa, brought me into Southeast Asian culture. I fell in love with Asia. With the people, with the food, with all the various languages and art. I didn't get to UCLA until I was out of the military service.
Q: And it was in Asia you sang Top 40 tunes and oldies. 
A: Because, it's interesting about Asia, and that period of time, even now, in the major
cities, not Vietnam, where people went and military took leaves. In Hong Kong, there were bands playing in all the bars. The groups were usually South East Asian musicians. And they all played oldies. So the music was like 5 years out of present time. I was in Vietnam in 1966 and I would be doing stuff from 1962 and '63… A lot of Do Wop. It did help me as a singer. And I didn't get into Do Wop until I was in the Marine Corp. in Vietnam. And there were a couple of Italian guys from Brooklyn, and the Bronx, and a couple of black guys and we all used to sit around and sing. For instance, I knew about "Earth Angel" by the Penguins from KGFJ along with "I Only Have Eyes For You."
Q: And, it did put you in front of an audience. 
A: Absolutely. We played enlisted Men's Clubs and people liked it. And it was good for the small group of players because we got free beers. And that was important.
Q: You also performed in the late '60s around Los Angeles. 
A: At bars and cocktail lounges with a piano player. Doing pretty much standards because I could do Sinatra, and do anybody who was around at the time and sound pretty good. And the money was real good and we got the tip jar and would split it. $150.00-$200.00 bucks a night. And people were buying us drinks all night long. So, not only were we getting paid, we were getting plastered. (laughs).
Q: And now, in 2011, your stage repertoire still includes songs from the Great American songbook, Harold Arlen and Johnny Mercer, along with Bob Dylan. Did you always know this 1940's and '50s music could still reach an audience? 
A: Yes. I knew that music had messages for people. That could tell them stories about the life of the writer or about their own life or point them at a certain direction. And make them feel better about life, or just make them feel better because somebody might have felt worse at one time.
Q: For your live dates, and for recording, what is your philosophy in choosing material to interpret? 
A: The philosophy basically has to do with who may have sung the tune, or made it popular, and how I felt about that individual. For example, there's been some obscure Elvis Presley tunes we have done with a Latin beat, changed around and done some things. And I draw from the great voices. Johnny Hartman and Billy Ecksteine. And the great woman voices like Sarah Vaughn and Ella Fitzgerald who inspired me.
"Then I looked at the songs that they were singing and what did they have to say? And they had to say what I considered and still consider really important things. And that's why I think those things will endure. And maybe it's a little selfish, but I wanted to become part of that endurance. Part of that legacy that is gonna be left behind when I'm gone. I want to put as much out as possible so people can hear and want them to be hearing it for the next 100 years.
"My viewpoint on music is that it never has to be exactly the same twice. There are all kinds of songs that are available out there that can be done in styles that I am comfortable with without detracting from the originals. I've even been singing a Prince song, "Kiss," in a jazz style. I want people to understand the nature of the great American songbook, and realize that it can include both non American tunes and songs that were written much more recently; it all depends how it is performed
Q: You are a successful businessman, but music in your life has never been a hobby. 
A: Even when I was retired from singing I used to sing in the shower. But I got to the point where I had to express myself through song. And, with my business, I had some time, and it was at a point where it afforded me the luxury of having a day job that could take care of me where I didn't have to worry about making my daily bread. And, with a lot of the cover versions I do I'm aware, if they are recorded, income is going to songwriters. And I'm not the principal writer of original material or the music publisher. I don't have those concerns but I have some original songs out there. Songwriters deserve the money. They absolutely do. They've inspired me and I hope to take those songs and inspire others. It feels like I'm doing an important thing.
"And you also have to remember that part of my day job is being an auctioneer. So I have the ability to be on the auction block or up on stage and talk for four or five hours straight and communicate to an audience. And I think that affords me also what I believe is a real good stage presence.
Q: You also embrace the duality of art as commerce as well as your music career. Do the
two worlds meet or inform each other? Can you explain your business world life? 
A: It's an auction company and we've been doing this for over 42 years. It specializes in the arts of Asia. Primarily China. And I'm actually what people might consider an expert in Chinese antiques. I've been telling my children for a very long time, I know a lot about some things and I know a little about everything just having been around for so long. So there isn't any art or antique that I don't know something about.
"And I've actually been on TV in China a dozen times, a program that is a cross between "The Antique Road Show" and "The Gong Show." Where people bring real things and fakes and I appraise them, which one is real or fake, and the last time earlier this year, the host of the show, as it has turned into "'China's Got Talent" also, with singers and dancers, the guy heard I was a singer and handed me the microphone. "Go sing a song." So I got up in front of the small TV audience, maybe 150 people, but it is watched by 30 million people all over the world, mostly in China, and I sang a song acapella to them, the 1929 song "You Were Meant For Me"
Q: How did your art career begin in the field of collectibles and auction house 
A: It was an interesting development. Because I was going to UCLA in 1968 and '69, and a lot of my classes were being cancelled because they were taking over the Administration building from protestors.
"And I didn't need to protest the war in Vietnam because I had already been there. So I got with UCLA Extension and they would send me all over the city where lectures were going to be taking place and I would go sell tickets. For me it was great. I was living at home and making money at night singing three nights a week and I was making money when most of my classes were being cancelled.
"I'm singing all around town and driving past antique stores. And places and pop in. So on the way to a lecture, let's say, in Long Beach, I walk into an antique store. Here's something for sale that looks interesting to me at $20 or $50 bucks or $100.00 and I have money in my pocket and I buy it. Then I got a little overstuffed with stuff so I start running some ads in 'The Los Angeles Times' Classified section and start selling things over the weekend. Then I go to some shows and do them. And I say to myself, 'from this I can make a living.'
Q: And, you embraced Asian culture, items from China and Vietnam, when consumers and some collectors were shunning these items. 
A: Exactly. If I only knew then what the market would be now….
Q: In 1970 when I was in graduate school at UCLA, I opened up a small store and I knew it would take 2 or 3 years to build so I could make a living after I got a degree, but I'm already sort of making a living now. So I found a place on Melrose, 800 square feet, pretty small, borrowed some money from my father, got some used showcases from a place on Wilshire Blvd., rented a truck, and opened up a store. 
"A lot of actors and people from Paramount Studio would come in. Sometimes they would want to use something in a movie. Then we would never get the piece back because they would say, "OK. Charge us an outrageous price and then we'll pretend we are renting it and lost it. And we will pay you anyway."
Q: And even in 1970 you noticed Asian culture was not being shunned or relegated away
from movie sets. 
A: Exactly. Very soon afterwards, in 1970 or '71 MGM Studios had their auction. I was sitting right behind Judy Garland when she bought the ruby slippers from "The Wizard of Oz." The stuff was incredible. And the furniture was very funny because they had taken all the marble tops off the French furniture and replaced with painted wood to make it look like marble because it was easier to move around. There were great things for sale.
"I then quit singing. I had performed at a clubs on Sunset like Sherry's and Paul's Steak House.
Q: So, you made a decision to leave the singing and concentrate on business at your
I.M. Chait Gallery in Beverly Hills. 
A: Right. That was primarily based on an incorrect evaluation because it had something to do with people buying me drinks and it was a little hard to get up the next morning to function properly. I said, "I don't think I can hack this lifestyle." And, in the last 10 years, more clients started happening and a lot of the big guys want to collect things like natural history items such as dinosaurs. Because a lot of those guys want to collect things no one else has.
Q: Then in 2001, you decide to start singing again. Why? 
A: I had this epiphany because I realized, and always thought, that in order to be in front of an audience and in order to sing to an audience, and communicate to them, I had to have a glass of Scotch in my hand. The epiphany was saying, 'I don't need that. I just have to communicate to them. I know how to communicate to people. I've been around for a long time. I can do that'
"And then I had a little family band with my son for a while. It was called The Chait Family Band when our kids were little. My wife played the bass, my oldest son the keyboards, my middle son the guitar and my youngest sons the drums. And I sang. We sang at their schools and charity events. I was covering some of the songs I do in my current show but also stuff my kids liked. My youngest son liked Axl Rose. Everybody loved the Beatles and we did their tunes.
Q: Did you then have any thoughts of recording or going back deeper into music and singing? 
A: Not until I met a guy named Howard McCrary. His family used to be Gospel singers. He said to me let's make an album. 'OK.' So we went to record in Studio City, Chaka Kahn was his sister-in-law, and her studio Howard was using.
"I starred singing around town. Vitellos. Catalinas, the original room and their new venue, The Mint, Billboard Live, Harvelle's, The Jazz Bakery, House of Blues, BB King's.
Q: What was the next step? 
A: I thought I should be recording live and did a live album at The Jazz Bakery. And I felt there was also an audience hungry for these songs and copyrights. But I could slip in a Bob Dylan or Motown song. I'm my own A&R guy.
"I look at a song and check to see if it has been covered by anybody or everybody to the point where it's not fresh or new any longer. And then I look more importantly at what message does that song give? What does it say? And if I'm singing it what does it communicate to the people who are listening? Like, I chose a Dylan song from his Gospel period, 'I Believe In You.' A love song to God. And a very spiritual feeling. It just felt very good. Even "Nature Boy," that Nat King Cole sang, is performed at Christmas shows. Because who is that little boy they are talking about? It could be Jesus or could be me.
Q: You are currently working on an album with producer Don Peake that has members of the Ray Charles touring band on three numbers. How did you meet Don Peake? 
A: He was recommended. As a great guitar player who was with Ray for 10 years and knew everybody. And this is somebody I should meet. I had some encounters with some potential producers and when I met Don it was like I found my long lost brother.
Q: On stage have you ever done a Ray Charles song? 
A: Yes. I very frequently do "You Don't Know Me," "Georgia," "Am I Blue." And his rendition of "America The Beautiful" that he popularized. I actually met Ray in 1964. I was going with a girl and Ray was going out with her sister. So I met him at their house. We double dated. Out to dinner and a movie. I drove. (laughs).
"And then also one of Ray's kids was running this car service about ten years  ago, where they come to your house and clean cars. And I said to him, 'say hi to your dad and tell him that I'm doing music.' And Ray communicated back. Ray then got sick and died.
Q: You play occasionally at the Hollywood Bar & Grill on Sunset Blvd in Gower Gulch. 
A: A few years ago I met the manager and from time to time when they have an opening I book it. I also many charity things that don't get coverage, like the American Society of Young Musicians. Museum events where people need a band for dinner music or an opening before a fund raiser. Earlier this year I did an opening for Edgar Winter, Stanley Clarke, Isaac Hayes, before he died, who became a real good friend of mine. Chick Corea is a pal, and his wife Gayle Moran Corea sang on my first record. My current band has been with me for 2 or 3 years and have toured and recorded with many geats. The piano player is the music director who helps with the arrangements.
You can hear Izzy's music at these websites:
www.myspace.com/izzychaitmusic 
And you can see Izzy's music videos on YouTube at:
www.youtube.com/user/izzychaitmusic
You can order Izzy's CDs at
amazon.com
cdbaby.com
itunes.com
izzychait.com