Indy Spotlight: Prima Donna Rocks!
L.A. Based Quintet Re-Energizes The Roots Of Rock n Roll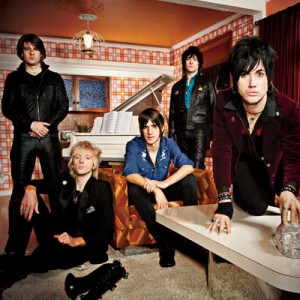 Take a pinch of Faces, add just a dash of T. Rex, essence of Mott The Hoople, a dollop or two of New York Dolls, and an incredible amount of talent, energy and drive…and you've got Prima Donna.
The irony of reviewing this "up and coming" band lies in the fact that they've been hard at work for a decade perfecting their sound and wowing audiences in the U.S. and abroad where they have developed a huge European following. This hard working rock and roll band tours nearly non stop, having just completed a 43 city Summer tour opening for Adam Ant, and had toured with Green Day on the European leg of their 21st Century Breakdown tour  in 2009. They will be embarking on another European tour in 2014. Their version of Rock and Roll is Dead was  recently chosen as The Coolest Song In The World by Steven Van Zandt on his Sirius XM Satellite radio show, Underground Garage. They have also received praise and airplay from KROQ's Rodney Bingenheimer.
Live and In Charge
I caught them at a small club outside Los Angeles last year and was blown away by what I saw. All of their hard work most certainly pays off in their live shows where, from start to finish, they are consummate professionals. The band, fronted by lead singer and guitarist Kevin Preston, is tight and in sync. Songs leap from one to the next as if the band thinks and acts as one unit. Fans follow them everywhere, singing along to every lyric Kevin puts out. If you walked into their show not knowing who Prima Donna was, you most certainly will by the time they finish their set.
Records Capture Their Essence, As Well As Their Energy
Sometimes one of the biggest problems that can befall a rock and roll band is their lack of ability to capture their live energy on record. Listening to their latest Acetate release, Bless This Mess, alleviates any concerns that fans may have that their essence may not shine through. A crisp, sharp mix brings out the energy Prima Donna exerts on stage, along with a well-crafted production makes this one of the best Indy records I've heard all year.
A Band On Their Way
Filling out Prima Donna's sound are Keyboardist and Sax Player Aaron Minton, guitarist Erik Arcane, bassist "Lights Out" Levine, and drummer David S. Field. You can find out more about them by visiting their website, or by joining them on Facebook, and of course, Twitter.