Happy 50th Birthday to Revolver
Beatles LOVE Show Now in 10th Year in Las Vegas;
The Beatles: Live At The Hollywood Bowl released for the first time on CD September 9th
Ron Howard's authorized documentary feature film about The Beatles' phenomenal early career The Beatles: Eight Days A Week – The Touring Years has U.S. theatrical release date for September 16th, 2016
By Harvey Kubernik c2016
I first heard caught 'Love You To' from the Beatles' Revolver LP in July 1966 previewed on radio station KRLA from Pasadena California during deejay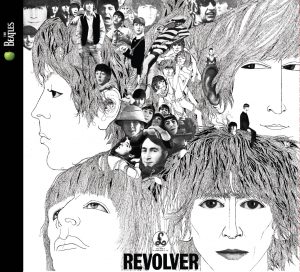 Dave Hull's shift.
He back announced the album selection and touted George Harrison's vocal and sitar instrument on the Harrison-penned tune, along with referencing the Indian classical musician Ravi Shankar.
"Love You To" was very spooky. This was by the Beatles? It sounded like something from the 1952-1954 black and white television series Ramar of the Jungle starring Jon Hall.
The first week of August '66 I purchased my monaural copy of the album at the legendary Frigate Record shop at the corner of Crescent Heights Blvd and 3rd Street in Los Angeles.
In June of '66, the Monkees had done a photo session for a September issue of TV Guide at the Frigate 3 months before their television series premiered. My mother Hilda worked for Raybert the Monkees' production office at Screen Gems-Columbia studios in Hollywood as a secretary and in the stenographer pool, and my brother Ken and I along with mom assembled the first Monkees' yellow colored press kits on our 5th Street kitchen table.
The Frigate was a mile from the immortal World Pacific Studio where Shankar recorded in the sixties for Richard Bock's prestigious World Pacific label, now part of the Universal Music Group.
In 1965, George Harrison initially discovered the sitar around the set of Help!  Later that same year, he would record with it on John Lennon's "Norwegian Wood (This Bird Has Flown)."
In 1997, I conducted an interview with Harrison published in HITS magazine.   George recalled his earliest attempt at playing the sitar with the Beatles as "Very rudimentary. I didn't know how to tune it properly, and it was a very cheap sitar to begin with. So 'Norwegian Wood' was very much an early experiment. By the time we recorded 'Love You To,' I had made some strides."
Harrison further elaborated on his own sitar playing.  "I'm not a very good one, I'm afraid.  The sitar is an instrument I've loved for a long time.  For three or four years I practiced on it every day.  But it's a very difficult instrument, and one that takes a toll on you physically.  It even takes a year to just learn how to properly hold it.  But I enjoyed playing it, even the punishing side of it, because it disciplined me so much, which was something I hadn't really experienced to a great extent before."
Harrison recollected about his initial meeting with Ravi Shankar in 1966 at a dinner party for the North London Asian Music Circle.
"His music was the reason I wanted to meet him," continued George. "I liked it immediately, it intrigued me.  I don't know why I was so into it — I heard it, I liked it, and I had a gut feeling that I would meet him.  Eventually a man from the Asian Music Circle in London arranged a meeting between Ravi and myself.  Our meeting has made all the difference in my life."
During September of 1966 Harrison travelled to Bombay and became a student of Shankar.
In 1997, I visited Ravi at his home in Encinitas, California and he described his relationship with George.
"He's a very rare person. It is something so special.  There are many other people who could do what George does, but they don't have that depth.  He's so unusual.  What has clicked between him and me, what he gets from me, and what I get from him, that love and that respect and understanding from music and everything, is really the most important thing.  It's not the money, or he helping me to record, that's not the main thing.  But it's the very special bond between both of us."
Revolver took over 300 hours of Abbey Road studio time to produce. The fourteen tracks anticipated and birthed new subgenres from electronica to punk to Baroque rock.
Besides direction, technical guidance and the pioneering sonic production employed on Revolver by (Sir) George Martin, the hidden hero informing the sound of Revolver is engineer Geoff Emerick, who was the full-time recording and remix engineer under Martin.
"Tomorrow Never Knows" was Emerick's first session with the Beatles. Geoff was behind the console until midway through the recording of the Beatles' White Album.  He later returned to engineer Abbey Road.  Emerick is, with Howard Massey, the author of Here, There and
Everywhere: My Life Recording the Music of the Beatles.
"I hear music in colors," Geoff explained to me last decade inside Hollywood's Capitol Records landmark Studio B. "Bass and drums are always my favorite," he added. "And just building stuff around that, from color textures in my head upon what's happening in the studio."
Geoff's drum and bass sounds have motivated generations of musicians. His recording techniques and innovations include automatic double-tracking; backwards guitar solo and loops, and real-time varispeed manipulation that infused John Lennon's signature vocal echo.
Revolver straddled the line between topping charts and exploring new avenues, giving them more time in the Abbey Road confines to explore darker themes in their writing without risking obscurity.
Revolver: How the Beatles Reimagined Rock 'n' Roll by Robert Rodriguez is a crucial and timely print exploration-and the strongest argument to date—for what is now being reconsidered as the Beatles' most important record.
Richard White, who published the book, Come Together: Lennon and McCartney in The Seventies, summarizes the Revolver period Lennon and McCartney team.
"While The Beatles clearly had no real interest in replicating or writing with their live sound in mind in the studio, the Revolver sessions began with one eye clearly on the future with 'Tomorrow Never Knows' and ended with another of Lennon's partly nostalgic 'She Said She Said.' Lennon was still pouring energy and invention into his music, whilst beginning to confront or drawing on his pain for the good of his art. Despite McCartney's superior compositional phase of songs of string-laden astringency nestled beside warm amorous classicism, the previously strong bond in Lennon and McCartney's song writing relationship was now showing signs of tension: Revolver would provide a final full gasp of old-fashioned Beatle unity."
"More than any other record of the time, Revolver was responsible for turning millions of people onto LSD," proposes Roger Steffens, author of The Family Acid and the forthcoming So Much Things to Say: The Oral History of Bob Marley.
"If you wondered what a trip would be like, all you had to do was put on earphones and close your eyes and wonderment abounded. Stunning new instruments inserted into the pop panorama; harpsichord and tablas and sitars and tapes spun backwards into a Delhi rave up. prompting acidic reflections, feeling hung up but not knowing why, who cares as long as we can drift in this pill-shaped undersea craft and maybe find some of that Sunshine acid, John closing it all out in his submarine skipper voice. No doubt this is their finest most consistent and innovative work, a quantum leap forward."
David Leaf, an adjunct professor at UCLA's Herb Alpert School of Music, was the writer and producer of the documentary, "You Can't Do That: The Making of 'A Hard Day's Night" and co-wrote/directed/produced the feature documentary, "The U.S. Vs. John Lennon."
David Leaf: Less than a year after 1965's landmark Rubber Soul, which remains the Beatles album that changed my life the most, came Revolver, a record that unlike its predecessor was much more diverse sonically (ranging from the classically infused 'For No One' to the wildly experimental 'Tomorrow Never Knows'), an album that in retrospect is a microcosm of what would come next (meaning Sgt. Pepper) and perhaps indicative of the creative directions (and differences) the group would fully express two years later on The White Album.
"That said, in 1966, before there was a national American rock press, we were all way too innocent to know or understand that at the time, the Beatles were growing up, not to mention ingesting the mind-altering substances that would come to define the rock world in the mid-late 1960s.
"As a 12 or 13-year old, that was all beyond my experience. I only knew how the music made me feel, and I loved it. A lot. With their touring/live performing days almost completely behind them, on the verge of beginning to grow apart personally, the Beatles were still artistically in sync as a group, especially in their desire to fully explore new musical worlds, to truly embrace the recording studio as an instrument to be mastered and used to express the ideas swirling around their fertile creative brains. Producer (Sir) George Martin and engineer Geoff Emerick (his first album with the Fabs) were only too happy to do everything within their power (and that of the new electronic gear) to bring those sonic explorations to fruition.
"With the benefit of hindsight, it's also easy to hear that Revolver's diverse song and soundscape was the key step from the instrumentally almost-folkish, stripped-down Rubber Soul to Sgt. Pepper, which all sounds of a piece. And with the knowledge we now have of the division of duties within the group, the album also reveals the different musical directions that John and Paul were exploring as songwriters, the change in the balance of writing (Paul becoming equally if not more prolific than John) and with its lead-off track ('Taxman') by George, an indication that he was beginning (with two songs!) to really come into his own as a songwriter.
"With Revolver at its center, these three albums  (remarkably composed, recorded and released in less than two years) remain the Beatles most musically influential, important and arguably greatest three consecutive albums. That kind of states the obvious.
"Revolver was a turning point, released in the wake of the Brian Wilson-produced classic Pet Sounds and Bob Dylan's Blonde on Blonde, the hallmark of an era of growth in popular music where the industry itself was evolving from the 45 RPM single as the most commercially important format to the moment when the album (as represented by 1967's Sgt. Pepper) became the key frame for artistic expression in popular music.
"For me, as I've grown up and older, my love for and appreciation for Revolver has exponentially expanded. The compositions, arrangements and recordings have more than stood the test of time. I now get how great this album is. Still, regardless of what your favorite cuts were/are on Revolver (my Top 5 have basically remained the same for decades: 'Got To Get You Into My Life,'  'Eleanor Rigby,' 'I'm Only Sleeping,' 'For No One,' and 'Here There and Everywhere'), the album finds the Beatles on the brink of bringing their musical revolution to the masses."  (copyright DLP, Inc. 2016)
Rodney Bingenheimer: Revolver is my favorite album by the Beatles. 'And Your Bird Can Sing' is the track I love the most. It reminded me of the Byrds."
In re-visiting Revolver 50 years on, I asked other authors, poets, musicians, writers, filmmakers, engineers, recording artists, and deejays to comment on it.
Dr. James Cushing: Here's something important that's easy to forget: in 1966, in the USA, Yesterday and Today came out on June 20 and Revolver came out August 8. Revolver, that is, entered the world while Yesterday and Today was just coming off from five weeks at #1.
"It was impossible in 1966 to hear Revolver outside the context Capitol had established for it by releasing this earlier package, now remembered more for the 'butcher cover' controversy than for its effect on its millions of American listeners.
"Y&T was an 11-track mishmash LP cobbled together by Capitol from tracks that had been released as singles and that appeared on the UK editions of Help, Rubber Soul and Revolver – yes, American turntables spun 'I'm Only Sleeping,' 'And Your Bird Can Sing' and 'Dr. Robert' seven weeks before British turntables did. However, this honestly-titled hodgepodge almost makes sense as an album when heard as a companion piece to the far more important, band-authorized Revolver. Y&T jumps between genres almost as easily as the later album would, mixing hard rock, soft rock, psychedelia, country-western, and a string quartet on one 27-minute platter.
"Even as a teenage Beatle fan in 1966, I heard Y&T as transitional, a souvenir of last year's hits ('Day Tripper') and a sign of things to come. Revolver made the transition sharply clear even before I slit the shrink-wrap: here was a black-and-white art-collage on the front cover, on the back cover an inky-black photo of the band wearing shades indoors, no promo man's liner notes, no little ads for Something New or The Beatles' Story. Then, despite the familiar Capitol rainbow label, the disc delivered lyrics about income taxes, lonely people dying, making love all day long, knowing what it's like to be dead. There's something that sounds like a children's record in there too. And that's just side one.
"The teen I was couldn't know, of course, that 1966 was the year the three creative forces in the Beatles developed their own musical identities to the point that only the eclectic could be reasonably expected.
"Two years later, 'this same group' gave us a self-titled double album with 'Honey Pie' and 'Revolution 9' on the same side. But who was this group, these formerly lovable mop-tops we thought we knew, who seem now to be in the middle of so much controversy? Revolver is remembered as the first time this question became relevant, and that album performed a miracle. But Yesterday and Today was the dress rehearsal for that performance."
Steven Van Zandt: It was extra notable by being the first album to have three George songs while we in America (as usual) lost three of the coolest tracks ('I'm Only Sleeping,' 'And Your Bird Can Song,' and 'Dr. Robert'-the second coolest after 'She Said She Said!') as the American company continued to turn every two albums into three. Oh, and one more thing we should mention, they wouldn't decide to stop performing live until the next disastrous tour a few months later but they may have had a premonition at that point which undoubtedly opened their minds to even more adventurous artistic exploration."
Clem Burke:   As I sit here in my office listening to the Beatles' album Revolver on my laptop while holding the vinyl in my hand. Yes it occurs to me that just by looking at the cover art you already knew the LP would be different, and it was! As much as Rubber Soul influenced everyone from Brian Wilson to The Byrds and on, Revolver was the real experimental leap forward for the Beatles. Here is where they really began singing about things other than love and girls. Songs like 'Taxman,' 'Eleanor Rigby,' and yes 'Yellow Submarine' were taking their inspiration from a very different place. Both lyrically and musically they were provocative, and who exactly was 'Dr. Robert?'
"Having Ringo play along to a tape loop for 'Tomorrow Never Knows' was extremely inventive and unheard of at the time, not to forget the use of horns and strings and sound collage as well.  This is the Beatles pop art album, from the multimedia cover to the eclectic points of reference in the sound and lyrics it is in my opinion the sound of things about to change not only in music but in the world as we knew it."
Burton Cummings: You've got to remember that Revolver starts with George's 'Taxman.' The album rocks hard. There were more ballads on Rubber Soul. We [Guess Who] did a television show 1966-1968 for the CBC [Canadian Broadcasting Company] Let's Go. Sometimes we had to learn 12 covers in an adjacent radio studio that were then broadcast. We did 'Got to Get You Into My Life.' Later I sang 'Yellow Submarine,' complete with a megaphone. We later did 'Hey Jude' and some of our originals like 'No Time.'"
Gary Pig Gold: "Don't let the cover art fool you. Klaus O.W. Voormann's perfectly pop-artfully black-and-white bandscape houses sounds inside which are absolutely nothing but full-sonic-scale widescreen Technicolor in their breadth, depth and scope. Thanks in no small part to newly-hired recording engineer – make that recording pioneer, in fact! – Geoff Emerick, George Martin was suddenly able to refine then enhance Paul McCartney's, and especially John Lennon's aural imaginations as never ever before.
"No less an authority as G. Harrison always claimed Rubber Soul and Revolver as Parts One and Two of the same album. But while the former was certainly a giant step for mankind as the once mop-tops wound down their big bang, one listen to the first ten seconds of, for example 'Tomorrow Never Knows' – the first track the band tackled in '66, believe it or not! – we realize that, once again, those Beatles were leading us down all new paths.
"Revolver also marks the start of Lennon and McCartney – and yes, Harrison now too – establishing their own individual, not to mention highly individualistic approaches to not only song writing, but song crafting. The lilting Spoonful of 'Good Day Sunshine' and the wholly Pet Sound-ing 'Here, There and Everywhere' must surely be our old pal Paul, through and through. But the tart, sharp, cynically trebly 'She Said She Said' and 'And Your Bird Can Sing?' That can only be the Chief Beatle …post some heavy Psychedelic Experience reading, that is. Oh! And lest we forget, the hitherto Quiet tax-evading Beatle brings all things Indian finally to the fore on 'Love You To'; the sitar no longer being mere Norwegian wall decoration.
"All in all? Not at all bad for a band who not that many months earlier, were still content with Merseybeating the world into submission.
"Now, for younger and/or less adventurous listeners out there, none other than The Monkees magically appeared scant weeks after Revolver's release to keep that happy-go-spunky spirit of A Hard Day's Night alive and well up the charts. But for those ready and willing instead to float upstream as it were, the Beatles' latest thirty-four-minutes-forty-three served notice that the future was to come in twelve-inch as opposed to seven-inch slices, songs were to sing more – much more – than strictly 4/4 girl/boy, and you just might want to leave Shea Stadium far, far behind in preference to the nearest private, darkened room and a set of quality headphones.
"After all, It is knowing."
Richard Bosworth: The Beatles leapt to the future with the release of Revolver. During this period they began utilizing studio technology and orchestral instruments to expand their sound beyond the standard electric and acoustic guitars, bass guitar, drums and vocals.
"Although a string quartet had been introduced on 'Yesterday' (U.S. single release) and flutes complement 'You've Got To Hide Your Love Away' (Help!  LP) the Beatles embraced symphonic musical instruments and world music elements in a big way during sessions for Revolver and continued to do so with every subsequent album they created. Paul McCartney's songs got the new approach with the heavy brass of 'Got To Get You Into My Life' and French horn as the solo instrument enhancing his 'For No One.' McCartney and George Martin doubled down on the strings using an octet for 'Eleanor Rigby,' the first of the group's recordings not to include a Beatle on musical instrument.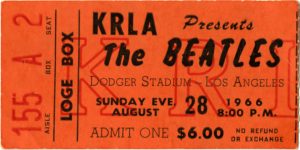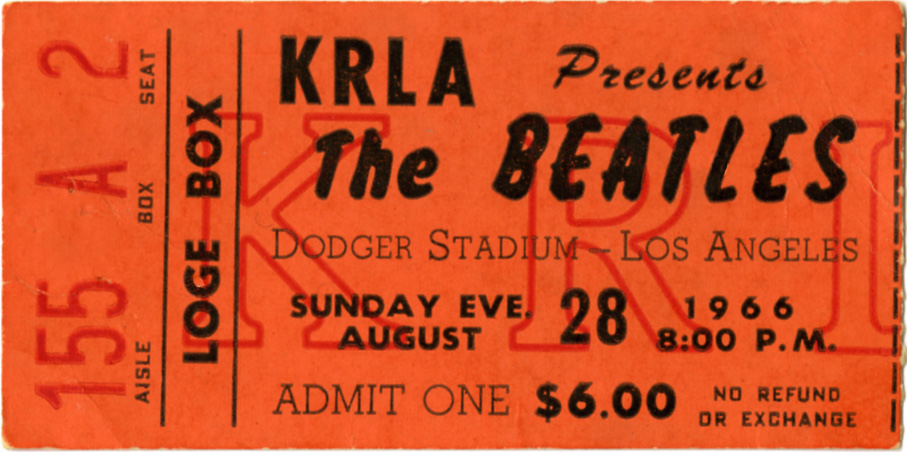 "George Harrison had gained much proficiency playing the sitar since it's 'Norwegian Wood' debut from the Rubber Soul LP and his 'Love You To' features the sound of classical Indian music, musicians and instruments (tabla, tamboura) for the first time in the group's canon. Harrison had made great strides as a songwriter since his first composition 'Don't Bother Me' from the 'With The Beatles' LP and on Revolver he has an unprecedented three songs with 'Taxman' as the stunning album opener.
"Technically Revolver added a much more liberal usage of the audio compressor via the Fairchild 660 and Altec 436 (both American manufactured). Electric guitars, bass guitar and vocals, pretty much everything but particularly the drums were intensely compressed and limited. Ringo Starr did some of his best work on Revolver. Highlights include 'Paperback Writer' (US single release), 'Taxman' and my personal favorite 'She Said She Said.' Ringo always mentions 'Rain' as his ultimate performance.
"It's interesting to note that the first song recorded for Revolver was 'Tomorrow Never Knows.' John Lennon always set the direction and tone of Beatles albums as his songs were invariably attempted at the initial recording sessions.
"I worked with The Hollies at Abbey Road Studios and Studio Manager Ken Townsend personally walked me through how he invented ADT (automatic double tracking) while he was Chief Technical Engineer at Abbey Road during the bands entire recording career. This was first implemented on Lennon's vocal track and on the final verse the vocal was additionally processed through a Leslie rotating speaker (normally used on the Hammond organ) giving the performance an otherworldly quality. The first time in history the device was used for this purpose.
"Another new gadget introduced on Revolver was the VSO (variable speed oscillator) and the Beatles used this to great effect for the duration of their recordings. It involves adjusting the speed of the capstan motor of a tape machine during recording, playback or both and it greatly changes the timbre of the music. On 'Tomorrow Never Knows' it can clearly be heard on John's vocal to give a thinner boyish sound. This was also used to an even greater degree on 'Rain' (single release from the Revolver sessions).
"The use of backwards recording made its first appearance on the band's records during Revolver as well. George Harrison's brilliant backwards recorded lead guitar solos on 'I'm Only Sleeping' and 'Tomorrow Never Knows' and the use of tape loops (both forward and backward recordings) during the mix down process on a typically recorded Beatles basic track made 'Tomorrow Never Knows' and Revolver their most innovative pop record to date."
Michael Fremer:  The warmth of Rubber Soul—cover art and music— replaced with cold, hard, pen and ink, black & white psychedelia-evoking isolation and alienation on the front cover (other than George's out of synch cowboy get up) and an acid trip eavesdrop on the back one, signaled an album of schizophrenic impulses. What other '60s rock group could start an album with a rich man's complaint about the British tax code, follow it up with a string drenched song about old age and loneliness and then move seamlessly on to a trippy, dreamy, ground shifting one infused with disorienting, backwards guitars , followed by a sitar and tabla slathered call to love making? What other group could then  latch together a sublime ballad lifted by McCartney's finest melody ('Here, There and Everywhere') with a delightful, child's fantasy ('Yellow Submarine') followed by a side-ending song describing what it's like to be dead?
"And that's just the first side of the Beatles best album (U.K. tracking). The second side is equally epic and brilliantly at odds with itself, beginning with another slyly trippy number, centered with another song of alienation followed by a bitch about the British health care system! (who else could manage this and keep the feet tapping?) and ending with a song that leaves one in a cold, disorienting sweat every play, even after fifty year's worth! And please let's not forget one of George's most intriguing songs that also served as a shout out to be heard above the Lennon-McCartney duopoly.
"1966 was the year when the ground gave way, the old order crumbled and as usual during that decade, The Beatles led the way musically and stylistically.
"On a personal note, I was struggling to not get thrown out of Cornell, trying to switch colleges under a tension filled 'you have one semester in the division of unclassified students to get at least a B average or you are out proviso,' overseen by a dean whose last name was Rideout. I was living with two kids I didn't particularly like, in the living room of their apartment, not because they wanted me there, but because they couldn't afford the rent themselves. Though at that point my life sucked on every level, Revolver provided the barbed musical salve that got me through a tough time.
"Revolver for me, is still the musical door that swings on one side to the joyous, post-Kennedy assassination release provided by The Beatles and on the other side, to the darker, drug drenched post 'Summer of Love' era that was still a Sgt. Pepper's Lonely Hearts Club Band away."
Alex Del Zoppo: It was mid 1966 – The hot, sticky air in south Mississippi was stifling.  Indelibly tattooed on the inside of my brain, this one Saturday afternoon stands out among my most vivid memories.  I was on active duty in the U. S. Air Force, the lesser of military draft evils during the Viet Nam War era.  But I had a band, made up of a few other Airmen and a Lieutenant, which made it all tolerable. We were all abuzz over the new, cleverly-titled Beatles release, Revolver.
"That afternoon, someone brought the album in.  We all studied the cover as it began to play on the rec-room player.   The cover was astounding!  It had no words on it other than that title – but it needed none, as the entire world knew who the collection of drawn and photo-copied faces on the cover were.
"We had already heard a few of the tunes on the radio and were delighted that the first cut was 'Taxman,' a song we had already tackled, and could now perfect, having the lyrics.  Brilliant in its simplicity, biting, and true whichever side of the world one was on, and rocked like an earthquake.
"'Eleanor Rigby' tore me up upon first hearing it. Primarily because every few words painted such sorrowful portraits of sad, helplessly forlorn people, stuck in their self-limited worlds, but also because of its beauty.
"Then, I was struck by the thought that the Beatles must be from outer space, otherwise, how could these young rock musicians have crafted such a perfect piece!  I gasped that, as composers, they were far beyond anyone else in the pop world, hands down.  They had truly become adults!
"'Here, There and Everywhere' was another beautifully constructed song – just perfect. "'Yellow Submarine' seemed goofy at first, but somehow grew on every one of us, an underwater trip down the rabbit hole.  For months following this day, we'd all spontaneously sing the chorus from time to time.
"'She Said She Said' was completely unique, both in its message and composition.  It circled back musically, as it did lyrically, just as life does. We spent hours discussing and arguing about reincarnation after hearing this, but they were not wasted.
"'Good Day Sunshine,' both simple and complex in its rhythmic changes set us all back on our asses. The collective thought was that these guys were boundless in their creativity.  Each song on this album took the listener in another direction. 'For No One' is another delightfully assembled song of the seemingly pointless journey that we were all on.
"George's 'I Want To Tell You' was different yet, from all the others, as if each song was doing its damndest to be more interesting than the thers.  Harmonically and rhythmically, this was another mind-twister.  Harrison was most definitely carrying his own weight as a writer – we were all impressed.
"'Then "Got To Get You Into My Life' comes on, and it was like a cross between an R & B song and a Jazz standard, differing again, from all of the others, or anything that they'd ever put together, for that matter.  We reeled, 'Who ARE these guys?'
Ending the record with 'Tomorrow Never Knows' was a shrewd choice, as the world itself was in a constant state of flux at that time. Some of our fellow servicemen were coming home in body bags, or worse!  Not knowing what we'd be facing in the next few weeks and months hit home, and this song made us all feel it too!
"As morose as some of the songs were on this album, if we hadn't known it by this time, Revolver solidified it: The Beatles were making serious statements, deadly serious.  Pop music would never be the same, and neither would we."
Mark Guerrero: John Lennon once said that Rubber Soul was the pot album and Revolver the acid.  Whatever part the psychedelic substance played it's obvious the Beatles' music and consciousness took a quantum leap on the latter record.
"Revolver introduced many sonic and musical innovations such as Lennon's voice through a Leslie speaker, backwards guitars, tape loops, microphones placed deep into the bells of horns, and a track using all Indian instruments and musicians on a pop record.  The songs and performances on Revolver are fantastic and so is the sound of the album.  I love the tone of the guitars and bright splashing cymbals on 'She Said She Said,' as well as the unorthodox time changes.  Some of McCartney's greatest songs were on Revolver such as 'Here, There, and Everywhere,' 'For No One,' and 'Eleanor Rigby.'  George Harrison's harmony guitar parts on 'And Your Bird Can Sing' that weave their way through the chord changes are brilliant.  George also asserted himself with one of my favorite Beatle songs, 'Taxman,' which powerfully opens the record.
"It's mind-boggling that in a mere three years the Beatles evolved from the innocence of 'I Want To Hold Your Hand' to mature songs even profoundly confronting the subject of death.  Their previous album Rubber Soul gave us a first glimpse of the rock & roll album as an art form.  Revolver brought the concept to fruition.  Revolver is the album that set the stage for Sgt. Pepper widely regarded as the Beatles' greatest album.  For me Revolver reigns supreme."
Celeste Goyer: Wrapped inside my primary memories of the Beatles' Revolver, which I came to as a teenager in the mid-70's, is an image of a brightly colored portable turntable sitting on a chair in the bedroom of my brother's best friend. In the autumn of 1966 I was five, and some clear-sighted person in marketing had realized the sales potential of releasing 'Yellow Submarine' as a single aimed at the hipper parents of the under-12 demographic. My little friends and I listened to this track repeatedly, with relish, (but never to my recollection turned it over to hear 'Eleanor Rigby').
"I was a late bloomer in the 'inner exploration' realm, but once in high school, Revolver's surreal collage cover was a clear invitation to utilize it as a soundtrack for such journeys of the head. What a departure from Yesterday and Today's bored, put-upon Beatles in a cheesy pose they clearly thought was rubbish. The fuse is lit in Revolver for the artistic, creative individuating bomb that would carry them, and us, both deeper into our own trips and further out into the wider world. It's impossible for me to listen to Revolver now without recalling sunny mornings in my first apartment at the time of one's life when everything is better with a toke, and without feeling especially grateful for George Martin's adventurous arrangements—hello, backward lead guitar and electric sea birds!"
Gene Aguilera: So maybe Eleanor Rigby is really my favorite Beatles song.  McCartney ups the ante on the meaning of loneliness which takes me to the graveyard every time.  Ray Charles' version is just as good as the original, which is not an easy thing to do.  'The Quiet Beatle' George Harrison gets a bigger taste this time around–more vocals and more sitar.  And when did the Beatles ever open up an LP with a George Harrison song?  You can hear the Beatles maturing lyrically and musically on Revolver, setting the stage for Sgt. Pepper's arrival the following year."
Mark Ellen:  I remember hearing Revolver for the first time the week it came out, when I was 12, and being thrilled by the exuberance of 'Taxman,' 'Got To Get You Into My Life' and 'Good Day Sunshine' but now – five decades later and so familiar with the overall picture – my ear tunes to the tiny mesmerizing details, the sitar and tambura, the harmonium, the clavichord, the tape loops, the inward-looking mysteries of tracks like 'I'm Only Sleeping' and 'Tomorrow Never Knows': still fresh, comforting and wildly experimental."
Michael Macdonald: I didn't fully appreciate the Beatles Revolver until I was in my early 20s – because it was ostensibly music made by adults for adults. The Beatles had gradually developed into album artists and Revolver was where barriers were smashed. The love of American music was still present, but Buddy Holly, Little Richard and Chuck Berry had been overtaken by Dylan, The Byrds, Motown and Phil Spector.  Yet, a song such as 'Eleanor Rigby' seemed defiantly British. Although predominantly Lennon and McCartney, the other half contributed much more than filler. George Harrison could hold his own with 'Taxman' and while 'Yellow Submarine.' catering for Ringo's limited vocals, may have been slight it certainly wasn't charmless. Revolver also saw the Beatles fully embrace psychedelia and lay the groundwork for Sgt Pepper- Pop music would never be the same. Oh yeah, the cover art was cool as well."
David Pepperell: Revolver is the album the critics kind of missed. It's the perfect Beatle album – every track is wonderful and the majority of them are masterworks. I have always felt that all the critical fuss over Sgt. Pepper was because the commentators somehow missed Revolver's significance and decided to go all out on the next Beatle album to cover up their error.
"From the might of 'Taxman' with its awesome Paul McCartney guitar solo to the majesty of John's true masterpiece 'Tomorrow Never Knows,' Revolver is a trip into the future carrying everything before it. The production techniques, years ahead of their time, the perfect singing, the exquisite songs make Revolver not just the greatest album of the sixties but the greatest pop LP of all time. The cover art set the template for all future album art and made the age of exotic album covers possible. With Revolver the Beatles confirmed their status as the musical benchmark all later groups would have to reach. None ever did."
David Kessel: What a great leap in pop music production and concept. A variety of guitar tones, tape loops, backwards recording, and the heavy East Indian influence. A definite apex of the London Mod Psychedelic scene and the West coast Sunset Strip/San Francisco music scene vibe. This album created a portal into a whole new musical and recording studio consciousness."
Paul Body: Revolver is 50. Talking about the Revolver import with extra songs. Came out the Summer of LOVE, the band of course on the Sunset Strip. The Beatles growth period had really started with Beatles For Sale then Help! then Rubber Soul and now an album named after a gun. It was a louder than Rubber Soul. There were always these rumors that the Beatles were going to record in Memphis, that never happened but there were soulful horns on 'Got To Get You Into My Life.' The horns were cool but Macca's bass line was something else.
"Revolver was lot more sexy than Rubber Soul. Just listen to 'I'm Only Sleeping,' slinky like Monica Vitti walking near the Trevi Fountain, all backwards guitars and stuff with Ringo's steady drumming. Revolver might have been George's album. It was the album in which he bloomed. 'Love You To' was World Music before it had a name.
"Another reason why Revolver was cool was because it came out the year I graduated high school. I wasn't an adult but I wasn't a school kid anymore either. 'Here, There and Everywhere' always made think of one of my major crushes, man did I have it bad for Evelyn Grimes. SUMMER. Then there is the jingle jangle of 'She Said She Said,' very Byrds like.
"My favorite on Revolver has always been 'And Your Bird Can Sing.' It's perfect, more jungle jangle but you can just about do the Funky Chicken to it, propelled once again by Macca's bass line. Of course the Summer of '66, will also be remembered because that was when they did their last shows. At this point, they weren't following, they were laying the road map for others to follow. What great song 'For No One was.' So was the Rockabilly bounce of 'Dr. Robert.' We found out later that Dr. Robert had those special pills.
"The First time I heard 'I Want To Tell You,' George's song, it knocked me for a loop. By this time the Beatles were out of the suits, they were totally Carnaby Street. Just check out the back cover of Revolver, granny glasses, puffed sleeve shirts and George looking a bit like Keith Richard. 'Tomorrow Never Knows,' more world music from the Beatles, Indian influence. My dear old great aunt couldn't wrap herself around 'Tomorrow Never Knows.' It wasn't mop-top music."
Paul Ingles: It's an old cliche, but Revolver really is the 'Desert Island Disc' if you had to pick just one album to represent the Beatles' greatness. You have five completely essential McCartney songs, especially 'Eleanor Rigby.' 'For No One,' and 'Got To Get You Into My Life.' You have three songs that capture Harrison's emerging strength in 'Taxman,' 'I Want To Tell You,' and the full on Indian raga rocker 'Love You To.'  Lennon fully leads the band's turn to psychedelia with 'She Said She Said,' 'I'm Only Sleeping,' and the landmark 'Tomorrow Never Knows.'   Plus you hear Ringo sing the song that wound up virtually assuring that generation after generation would have a way-in to The Beatles on 'Yellow Submarine.' It's hard for any other Beatles album to match all that significance, when you are honest about it.
"When I started doing radio specials on Beatles albums, I started with Revolver because if I was only going to manage ONE special, THAT was the one I wanted to explore, elevate and celebrate the most.   To me, it totally surpasses Sgt. Pepper, Abbey Road and Rubber Soul in the debate over best Beatles album- for its eclecticism, its balance among the band's writers, and the excellence and inventiveness of the sound."
Bill Mumy: Revolver changed everything. Again. As the Beatles had been doing on a regular basis for a few years already.  I bought the album for $2.83 from Ben who owned Do Re Mi Records on Pico Blvd in West L.A. I rode there on my purple Schwinn Stingray bike.
"The Klaus Voorman cover was stunning and led to hours of close inspection. The photo on the back of the Fab all wearing sunglasses was somewhat spooky yet full of positive vibes at the same time. Those DRUM SOUNDS! The punchy BASS SOUNDS. The swirling vocals and biting guitars… George Martin's arrangements and production… All FAB to the max.
"But it really boils down to the songs. And I can't think of another album in history that has better ones! To this day it shines as a brilliant project by the greatest and most magical band in the history of the universe!  It is, in my opinion, quite probably the best album ever made."
Heather Harris:  Stories of the Beatles' 'origins' had osmosed to fans sufficiently by 1966 that most recognized the name Klaus Voorman when it appeared as the graphic artist responsible for the Revolver front cover. It seemed a nice gesture as well as nice design. What I've most appreciated was Voorman's persistence in the industry, eventually designing Scandinavian Leather for my faves Turbonegro in 2001."
Daniel Weizmann: I was born in '67 and pushed on the swings to Revolver–back then I thought their hair on the cover was spaghetti! But now it doesn't seem like a coincidence that Revolver has that black and white neo-realist album cover. The album–which starts with Taxes and ends with Eternity–faces adulthood head on, and plays like little b&w vignettes of Kitchen Sink drama.
"Death is ever-present here, from 'Eleanor Rigbys' lonely urban graveyard scene to the death-wish come-on in 'Love You To' to the final repudiation of death itself on 'Tomorrow Never Knows.' 'Yellow Submarine' is WW2 turned inside out, and 'She Said She Said' introduces a whole new kind of masculine wound–unbirth without even the knowledge of death. You're even advised to declare the pennies on your eyes before you hit the casket–yeah it's wit, but it's also the recognition of civilization's grave demands. Then there's the title of the album, a play on the LP and the pistol, an instrument of Life and an instrument of Death.
"The Beatles would always be great, of course, but for my money they struck a daring balance between Hard Truths of Reality and the Visionary Beauty of Soul here that they never topped."
Apple Corps Ltd. and Universal Music Group are pleased to announce global multi-format release plans September 9th for The Beatles: Live At The Hollywood Bowl, a new album that captures the joyous exuberance of the band's three sold-out concerts at Los Angeles' Hollywood Bowl in 1964 and 1965. Originally recorded by Voyle Gilmore, a Capitol Records executive, and produced by George Martin and issued in 1977 on vinyl and cassette format, the long out of print album will now with have four additional, previously unreleased recordings from the momentous concerts. "You Can't Do That," I Want To Hold Your Hand," "Everybody's Trying To Be My Baby" and "Baby's In Black."
"A few years ago Capitol Studios called saying they'd discovered some Hollywood Bowl three track tapes in their archive," says producer Giles Martin. "We transferred them and noticed an improvement over the tapes we've kept in the London archive. Alongside this I'd been working for some time with a team headed by technical engineer James Clarke on demix technology, the ability to remove and separate sounds from a single track. With Sam Okell, I started work on remixing the Hollywood Bowl tapes. Technology has moved on since my father worked on the material all those years ago. Now there's improved clarity, and so the immediacy and visceral excitement can be heard like never before. My father's words still ring true, but what we hear now is the raw energy of four lads playing together to a crowd that loved them. This is the closest you can get to being at the Hollywood Bowl at the height of Beatlemania. We hope you enjoy the show…"
Johnny Echols, the guitarist and co-founder of the influential L.A. band Love attended the 1965 Hollywood Bowl concert by the Beatles.
"We liked the Beatles from the time Billy Preston came back from Europe and knew about them. I had played with Billy before Love and he was a good friend and I met them in 1965. They sent us backstage passes for the Hollywood Bowl show. I went with a fantastic jazz musician Michael Boliver.
"It was loud. And we saw this fantastic thing that we had not expected. At that time there was this thing happening with the audience and the musician but never like this. I mean, this was over the top. And that was the point and I had to tell Arthur [Lee] about it. 'This is where we want to go, man.' We wanted to leave the chitlin' circuit and whatever that's gonna be behind. And we want to move to this circuit. 'Cause this is where the money's at and this is where all the happenings are. 'Cause they can play the kind of music they want, out of respect, be revered, loved and have this huge audience. That was where we wanted to go.
"I knew we were not doing disposable pop music. Because that was the thing about musicians then. There was this kind of this competition to do the best that you could do. It wasn't just for the money. We also wanted to actually push the envelope. We wanted to play music and we were listening to people that were serious musicians. And we wanted play rock music and do it as serious music like the Beatles were doing. It wasn't just a C to A minor to F to G. They were playing chords that actually flowed with the music. And that's what we were trying to do. A different chord structure. Stuff that actually fit the songs and also to try and have an effect on how it was recorded."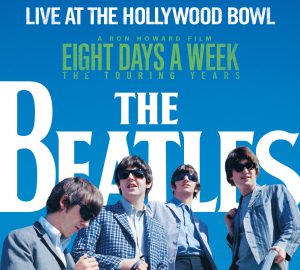 Ron Howard's authorized and highly anticipated documentary feature film about the Beatles' phenomenal early career The Beatles: Eight Days A Week – The Touring Years has set its US theatrical release date for September 16th, 2016, it was announced this past June by Imagine Entertainment, White Horse Pictures and Apple Corps Ltd.
Hulu will be the presenting partner for the theatrical release of the film in the US where the film will become available to stream exclusively to Hulu subscribers on September 17th.
The Beatles: Eight Days A Week – The Touring Years is based on the first part of The Beatles' career (1962-1966) – the period in which they toured and captured the world's acclaim. Ron Howard's film will explore how John Lennon, Paul McCartney, George Harrison and Ringo Starr came together to become this extraordinary phenomenon, "The Beatles."
The film will explore their inner workings – how they made decisions, created their music and built their collective career together – all the while, exploring the Beatles' extraordinary and unique musical gifts and their remarkable, complementary personalities.
The film will focus on the time period from the early Beatles' journey in the days of The Cavern Club in Liverpool to their last concert at Candlestick Park in San Francisco in 1966. Included is footage of the Beatles' Hollywood Bowl performance of "Boys" now featured on The Beatles: Live At Hollywood Bowl.
As Music Director for The Beatles LOVE, Giles Martin is still at the epicenter of a sonic revolution in the musical legacy of the Beatles.  Last decade he worked side-by-side with his late father, Sir George Martin preparing the opening of the June 30, 2016 Cirque du Soleil/Apple Corps collaborative production of LOVE at The Mirage in Las Vegas, Nevada. Dominic Champagne is the writer and the director of LOVE.
The international cast of 60 performs high-energy fusions of urban, freestyle dance, aerial exhibitions in this visual and musical feast. LOVE is presented in a custom-built 2,000 seat theatre at The Mirage featuring 360˚ seating and advanced high definition video projections with 100-foot digital, moving images and a panoramic surround sound system.
This past July, the LOVE show celebrated a tenth anniversary after 8 million people attended 4,500 performances, now has evolved with updated technology enhancements and some slightly revised numbers in the act.
Apple Corps Ltd. released the LOVE album through Capitol/EMI Records on November 20, 2006.  The album is the first Beatles album available in 5.1 Surround sound.
During 2006, I met Sir George Martin and his son Giles at the landmark Capitol Records building inside their renowned Studio B. It was a media gathering and playback unveiling for the Beatles' LOVE album that day.
"Our first mission was to try and achieve the same intimacy we get when listening to the master tapes at Abbey Road Studios," volunteered Giles.  "The last thing we wanted to create was a retrospective or a tribute show.  The Beatles, above all else, were a great rock band.  With the manipulation of the tracks and the huge number of speakers in the theatre, the audience will feel as though they are actually in the room with the boys.
"We wanted to make sure there are enough good, solid hit songs in the show, but we don't want it to be a catalog of 'best of's',' reinforced Sir George Martin. "We also wanted to put in some interesting and not well-known Beatles music and use fragments of songs. The show is a unique and magical experience."
In 2006 I interviewed Giles Martin about LOVE.  
Q: Talk to me about developing the sound of LOVE
A: I think the first key was to try and get the show to work as a music piece, and that was the first step in January 2006. I'm so familiar with it after three years of my life with Dominic and my dad kind of overseeing it, really coming up with the heartbeat on how this is going to work, being familiar with the show, there's not a second where I don't know what's going on, because we have to do that. More than anything else that strikes me this time around is the continued energy in the Beatles' performances. They are doing this twice a night, five nights a week for 90 minutes. They are young kids with exuberance. It doesn't seem to tire them in any way. I have to watch and criticize, and it's the renewed enthusiasm everyone seems to find for the show. And I think it's because it's been so successful.
Q: Can you just enjoy the LOVE show in Las Vegas and forget your involvement with it?
A: Yes. What strikes me about the show in Vegas is the feeling that people get from the Beatles, Very much to do with the music and its people leave the show much happier than when they arrived. That's a great thing. And they think about love and all the good things in life, and it sounds very hippie, but it's true, because we're in a place where there's not much of that going on, So that's an achievement and a huge sense of pride.
Q: We're also seeing and hearing LOVE in 5.1 Surround Sound.
A: The funny thing was, I wasn't really a fan of 5.1. Because, I remember being at AIR Studios mixing, and someone came in, maybe from Dolby, with a demonstration of 5.1 of 'What's Going On' by Marvin Gaye. And I heard it and it didn't seem right. What didn't seem right about it was the fact that it was too 5.1. They had the guitar in your back right, the voice was central, but everything else was flayed around. And I said to them 'You never see a band like this. Marvin Gaye wouldn't have a band sound like that. Why would you do that?'
"So, it was interesting doing this 5.1 is that I've now worked it out. I always keep the main vocal in the center of the speaker, and on occasions, background vocals round the back, like on 'Come Together' I did that. In the main, it's like 5.1 should be seeing a band you love, or hearing the music you love, with reflections going on that envelope you, not being a novelty thing. Because otherwise, you sit in the wrong place and hear the wrong music.
"So, I think 5.1 is an incredibly valid form now. It's interesting seeing my dad's reaction. Even though his hearing is not great, he relishes in the chance of 5.1 and I suggested to Apple and Paul (McCartney) that we have a look about doing some other Beatles 5.1 stuff. Because I think now we have worked out a way of sorting out the four-track situation. It's a great way of hearing the band. It's a great way of hearing the performances. And I think part of making records or doing anything is trying to get across the humanity of things.
Q: Does the employment of Waves plug-ins technical equipment, particularly seeing sound patterns on screens, aid recording and mixing in your production?
A: It's actually very useful as far as editing goes. I was editing in the beginning of a bit where I 'mashed-up' as we say, the end of 'Cry Baby Cry,'  'Eleanor Rigby' strings, and then 'Day In A Life' come in, before 'Revolution.'  And I was re-doing that for the theater . I thought I could make it sound better.
"One of the problems I had with Paul's vocal if I had the guitar on its own I still had Paul's vocal leaking, so I was trying to find beats with Paul's vocals on it. Without questions, being able to see the wave is fantastic for that. The pattern really aided me. But when you are just listening and making things sound good, you shouldn't be looking at the screen.
"What Waves does, half of what they do, is the simulation of stuff. The simulation of material that existed before hand. And in order to understand how good it is, or how to use it properly, its quite handy to know what the original did, and how and what Waves is trying to do in replicating that. And I think the temptation, and you hear it on records with Pro Tools and digital stuff, is to let the plug-ins control you, opposed to you control them. It's a funny thing. Moving something on screen is much quicker and takes la lot less work than turning around, walking out to a device, plugging it in and turning it. I think working in the box is fantastic
Q: What about the implementation of Waves compressors?
A: We started using Waves because Waves always made some of the best virtual EQ's and compressors in Pro Tools so I bought them. And, we were using them. And the LOVE show had to have good sound. I had to say to everyone, I don't care what anyone says this has to be the best sounding show in the world.
"For a start we have the huge advantage of playing great source material through to begin with. It's not although you have singers who have to sing twice a night. We should be able to make this sound better than anything in the world, even though we are in the round. So, we're mixing off Pro Tools in the box for the theater. No way we're gonna move Abbey Road to Las Vegas. So I wanted the best stuff, and Waves made the best stuff.
"Waves became a companion. Waves compression EQ's is what we use in the theater. With the Waves stuff we used for the record were many audio restoration tools. Occasional 360 reverbs.
"It's funny actually, because I was concerned we were going a bit too bright and dry. Paul Hicks at one stage was going very bright with it and we played around using Waves' stuff in the theater and I was concerned. But he was right, as usual. (laughs). That dry brightness suits the Beatles' sound. And we didn't want to go too lush in a way. My dad has great voicings and you need to hear them. I have speakers I always use and I like to compare stuff. And I couldn't listen to the album on any other speakers because I couldn't take anything out of the room. It sounds all right.
Q: You had constant involvement with the remaining Beatles, Paul and Ringo, and Olivia Harrison and Yoko Ono as the recording developed and produced.
A: The Beatles were very encouraging, after the initial demo thing they made me feel part of the process. And that sounds like a stupid thing to say but it's difficult with being there working with a legacy that is 40 years old, and having to make creative decisions. And they allowed me to do that and they were incredibly kind. And enthusiastic about hearing stuff. That was the thing. When they came around to the studio I was always very nervous. 'Cause a lot of work goes into each thing. Their attitude was that they were really looking forward to hearing it. OK. It wasn't like an A&R guy coming down.  It was really with bare faced enthusiasm for their own music. So that enthusiasm brushed off.
"Like Paul, 'Cool. What's this?'  'That's great.' I remember sitting down at the theater actually listening to the Waves' mixes with Paul and he'd go 'My voice in 'Lady Madonna' is less middly.' It's different. The thing about them is that they are all very bright, it's not like they're kind of hippies going 'Cool. Let's go to the pub.' (laughs). They know their stuff. The same with Yoko (Ono). She came to Vegas a few times. I would go to New York, It was always one on ones and I spent a lot of time flying with drives in my pocket. I had a secure drive that had a key and I'd go and see Yoko, or Olivia would come to Abbey Road. Paul came to Vegas and Paul came to Abbey Road. And Ringo both as well.  So it was really a question of being one on one. There was never a CD approval.
"With both Ringo and Paul, my main memory, my biggest fondest moment, of the whole thing, was nothing to do with me, both Paul and Ringo said to me that I had been so sensitive with our material and really taken it in, and that means a great deal, but the thing that struck me was at Abbey Road was listening to 'Come Together' with them both and individually, they weren't together at the time, 'God, we were really good on this day. I remember this day. We really nailed this.' For them to appreciate their own craft, without any of the politics, or any of the hyperbole, or the other stuff that goes on, it's four guys in the room listening by two mates themselves, and really just remembering what a great time they had.
(Harvey Kubernik has been a music journalist for over 44 years and is the author of 8 books. During 2014, Harvey's Kubernik's Turn Up the Radio! Rock, Pop, and Roll in Los Angeles 1956–1972 was published by Santa Monica Press. 
In September 2014, Palazzo Editions packaged Leonard Cohen: Everybody Knows, a coffee—table—size volume written by Kubernik, currently published in six foreign languages. BackBeat/Hal Leonard Books in the United States.
Harvey and Kenneth Kubernik wrote the text for photographer Guy Webster's award-winning first book for Insight Editions published in November 2014. Big Shots: Rock Legends & Hollywood Icons: Through the Lens of Guy Webster. Introduction by Brian Wilson.
In March, 2014, Kubernik's It Was 50 Years Ago Today The Beatles Invade America and Hollywood was published by Otherworld Cottage Industries. 
In November of 2015, Back/Beat/Hal Leonard published Harvey's book on Neil Young, Heart of Gold).
During 2017, Sterling will publish Harvey Kubernik's 1967 Complete Rock Music History on the Summer of Love).