GOLDENVOICE PRESENTS AN INTIMATE EVENING OF SONGS AND STORIES WITH GRAHAM NASH
IN LOS ANGELES OCTOBER 11, 2018
By Harvey Kubernik c 2018
Singer/songwriter/photographer/author and two-time Rock and Roll Hall of Fame inductee Graham Nash will be returning to downtown Los Angeles on  Thursday, October 11th for his intimate song and story tour at The Theater Ace Hotel. Doors open at 7:00 pm, show starts at 8:30 pm.
Guitarist/vocalist Shayne Fontayne and keyboardist/vocals Todd Caldwell join Nash in the stage lineup.
Graham selected the concert repertoire from his catalog which incorporates tunes from the Hollies, Crosby, Stills and Nash, and his solo career.
The tour debuted in his hometown of Salford, England earlier this summer.
Rapt audiences have been devouring musical treats from his stellar songbook:  "Wasted on the Way," "Bus Stop," "King Midas in Reverse," "I Used to Be a King," "Sleep Song,"  "Myself at Last," "Military Madness," "Wind on the Water," "Marrakesh Express," a medley of "On a Carousel / Carrie-Anne," "Immigration Man," and a cover of the Beatles' "Day in the Life."
Graham Nash was born in the seacoast town of Blackpool England, and raised near Manchester.
Overlapping his seventies life with Crosby, Stills, Nash & Young,  Nash's solo career began with Songs For Beginners (1971), whose "Chicago/We Can Change the World" and "Military Madness" were fueled by the trial of the Chicago Eight, and the ongoing Vietnam war. Songs from that LP have remained in Nash's concert appearances for years including "I Used to Be a King" and "Simple Man."
In 2009, Nash's own recording journey was issued in the three-CD retrospective box set Reflections.
2011 marked the DVD documentary release, The Hollies: Look Through Any Window 1963-1975 which featured live performances, vintage television appearances, and new interviews with the group.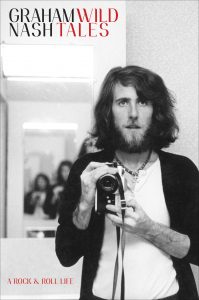 In September 2013, Nash published his autobiography Wild Tales: A Rock & Roll Life by Crown/Archetype. The book landed him on The New York Times Best Sellers list, and was issued in paperback in late 2014.
In recognition for his contributions as a musician and philanthropist, Nash was appointed an Officer of the Order of the British Empire (OBE) by Queen Elizabeth.
Graham Nash is a recent recipient of the Americana Music Association's Spirit of Americana: Free Speech in Music Award that was held at the group's annual award show at Nashville's Ryman Auditorium.
During 2009 and 2013 I conducted interviews with Graham Nash about musical endeavors with Crosby, Stills, Nash & Young, Wild Tales, and his songwriting career.
Q: In 1966 you wrote "Marrakesh Express" for the Hollies. And another of your compositions, "King Midas in Reverse" was penned initially for the Hollies. And still do these songs in your shows.
A: I knew "King Midas" was a good choice. It works. You know, the truth is, a song has got to live if I am sittin' you down in the kitchen and playing it to you on one acoustic guitar. It has to live.
Q. By 1969 you were exiting out of the Hollies and embarking on a new expedition with David Crosby and Stephen Stills.
A:  I think that my time with the Hollies was done. And I knew that instinctively. That was a little tense. I left them on December 8, 1968. On December 10th I was in Los Angeles with David (Crosby) and Stephen (Stills). I end up at Cass Elliot's house. Cass' house was kind of a central point for a huge amount of very bright and very colorful people. Basically, I was hanging out with David, Stephen and Cass. I didn't know many people. I knew Henry Diltz, since he took photos of the Hollies in 1966.
Q:  How did it feel being the only Brit in a group with two Americans.
A: I felt pretty good about it. Because, you know, I have a decent sense of humor and I have a decent understanding of how the universe works. And I was faced by these two, and they really were Americans.
"Crosby was so fucking American. American attitudes. American ego. And Stephen was the same. I admire Stephen and love him dearly, but Crosby is a different animal on this planet. And I recognized it from the very first moment I ever met him. Which of course was through Cass. I was with two real Yanks. Absolutely. I was with two Americans of doom.
"I felt fantastic. I know that because of the British invasion and what British music was doing to the American scene, and how admired British groups were by American groups, I felt pretty confident in myself. You know, I happen to believe, and this is not ego talking, I'm pretty good at what I do.
"You gotta understand. David, Stephen and I came from harmony bands. I mean, we were harmony freaks. So although, as I've said before, CS&N never had any claim on any of the notes that we sang. It's just when that sound happened it was instantly recognized by me, David and Stephen as something stunning.
Q: Your first encounter with Neil Young.
A: When we finished the CS&N album we realized that we would have to go out and play live. We knew it was going to be a hit when we walked out of the studio and gave the two-track to [Atlantic Records] Ahmet Ertegun. We knew it was going to be a smash. We just knew. Ahmet got it immediately. He listened to that music and said, 'Ah fuck…I want.' But we realized we would have to go out and play live. OK.
"So, we're talking about this. And, Stephen says, 'Man, I really need to spark off somebody. You and David are pretty good rhythm guitar players but man, I wish we had another…Somebody, maybe an organ player that I can jam with and solo.' We talked with Stevie Winwood. We talked with Van Dyke Parks. We needed somebody just to keep Stephen on his game and competitive and on fire.
"And I think basically that Stephen and Ahmet came up with the idea of or maybe it was Ahmet to Stephen, was getting Neil on board.
"I was the only one reluctant to bring Neil into the band. And the reason was that we had spent the last few months making this incredible record and developing this beautiful harmonic sound, right. But Neil wanted to be more than a musician for the road show. I know who Neil Young is.
"One of my favorite songs is 'Expecting to Fly' from Buffalo Springfield that he did with [arranger/producer/keyboardist] Jack Nitzsche. Listen to it.
"But I said 'I can't commit to this until I meet Neil. I gotta sit down with this cat. I wanna know who he is. I wanna know if I can go on the road with him. I wanna know if I want him to be a part of my life.' And, that made sense to them.
"So, at a coffee shop on Bleeker Street in New York I went and had breakfast with Neil. After that breakfast I would have made him the President of Canada.  When we talked about this band, Neil replied, 'Well, have you ever seen me and Stephen play together?'
"He was incredibly funny. He had an incredibly dry sense of humor. He always had a bunch of songs that I loved. And at the end of that breakfast and walked down to the Village Gate where we were rehearsing and I said, 'OK.'
"It was obvious that this man was as serious as a heart attack about his music. It was obvious by hanging out with him that he was destined for great things. And it was obvious by hanging out with him that he could put a fire under Stephen that we needed.
"We rehearsed for the first tour on the Warner Bros set of They Shoot Horses, Don't They in Burbank. So, it was pretty obvious from the sounds I was listening and the way that Neil was affecting Stephen that this would be a really great thing.
Q: There is CS&N and then there is CSN&Y.
A: It was a different band when Neil joined. Crosby, Stills, Nash and Young is a completely different band than CS&N. And not a lot of people understand that. They think it's just an added voice. But it's not. It's an added attitude. Neil brings a sharper edge. I was gonna say a darker feeling but I don't mean that in a negative way. He brings this edge to us that we don't have. And, of course, you have to take into account his ability to play lead guitar against and with Stephen.
Q: As your book documents and as we look at the legacy and mythology of CSN&Y, I know as a child your family in England in the forties were bombed by the Germans in World War II. So I guess that prepared you for a life and strife in rock 'n' roll, let alone dealing with the personalities that make up CSN&Y. Band tensions, politics, and Neil Young's isolationist stance.
What is the secret of surviving within this band? On stage and on recordings it's harmonious. But you've taken some real silly crap dealing with these self-centered musicians and careerists.
A: That's right. And so what. You know, it's whatever it is. I let people be who the fuck they want to be. And Neil sometimes is a difficult man to deal with. And sometimes he's a very easy man to deal with. But I respect him completely.
"It doesn't matter what we're going through. We all realize that the most important part of our relationship is the music. And it is the music that drowns out all the other shit.
"We knew we had the magic. We've always known. We've always know our music speaks to people's hearts. We've always know it's been as real as possible. We've always know that we've taken incredible chances. We've always known that we do things that are not normal for a band.
"I mean, a great example is my song 'Teach Your Children' going up in the top twenty and Ahmet Ertegun telling me I was 'going to have a number one hit.'
"Then there's the killing of four students (shot by National Guardsman) at Kent State (in Ohio).  And we do Neil's song 'Ohio.' And we think America killing its children is more important than us having another hit record. And so I told Ahmet to pull 'Teach Your Children,' and put 'Ohio' out. We decided on 'Find the Cost of Freedom' as the B-Side.
"We've always known that we've been completely in control. Once you sell millions of pieces of fuckin' plastic you have control.
"I say in my book that in the early days of recording with the Hollies we weren't allowed to even touch the board. If I wanted more bass I'd have to ask Ron Richards (producer) who then would have to ask Peter Bown (engineer) to bring up the bass. After we'd had hit records that all changed. Because they began to realize that these guys who were not wearing white lab coats really knew what they were doing. And we never lost the ability to do what we do. We always wanted to be winners and not victims.
Q: I seem to remember when you were rehearsing for the CSN&Y 1974 tour at Neil Young's Broken Arrow ranch in Northern California you wanted to include "When You Dance I Can Really Love" from Neil's After The Gold Rush album in the set.
A: I wanted to open with that song! There are lots of Neil Young songs I want to do. I want to do 'Expecting to Fly.' Are you kidding! I brought it up in the CSN&Y 2006 tour. 'Can we do 'Expecting to Fly?' And he looked at me and said, 'Ahhh. I don't think you can sing the high part.' And I thought, 'You fuck! You know damn well that if I'm asking you to do it I have my fuckin' part down.'
Q: Can you give me a memory of the Woodstock 1969 music and arts festival? The 50th anniversary is in August 2019.
A:  I could never figure out why Neil didn't want to be a part of the Woodstock film. My memory of Woodstock was that it wasn't that good. Except I was just with (engineer/producer) Eddie Kramer, who has done the 5.1 mix for a Woodstock record. I listened to 'Marrakesh Express' and it was quite good.
"Woodstock. The rain, and the mud, and the getting together of a half a million people that thought the same way that we did.
"Landing in the helicopter that had a couple of problems. Hanging out backstage in John Sebastian's tent, and, of course, John breaking out his best stash, and then realizing that nobody there has ever seen our band. And this is the Grateful Dead, Richie Havens, The Band, John Sebastian, Santana. None of them had ever seen us. They loved the record and they were all going, 'well, you know, fuckin' show us. Shit or get off.'
Q: I love "Sea of Madness" on the subsequent Woodstock soundtrack, even though it was culled from a CSN&Y 1970 New York concert.
On the late 1969 and '70 CSN&Y tours the group would play political-themed songs: "Chicago-We Can Change the World,"  "Ohio," "Military Madness," and "Long Time Gone," along with many new tunes. Do the older songs somehow resonate even deeper today because more history is attached to them?
A: That's because the history has never changed. You could take the word Vietnam War and replace it with Afghanistan and IRAQ. You can take a song like 'Great Concern,' that I wrote about Washington during the Watergate hearings. It's the same thing going on now. History has not changed.
"We have refused to learn. Holy shit, with the Afghanistan war.  If fuckin' Genghis Kahn and the British and the Russians can't fuckin' defeat this country, who the fuck can say that America can do it? It was absurd. It was insane. And it's been proven to be insane. Humanity still doesn't learn…
Q: I always felt some of your songs like "Military Madness" were supposed to help us end wars or at the very least educate people about the war game. You know the experience of being bombed during World War II and then seeing your neighborhood reduced to rubble. War is still happening globally.
A: I know. It's very depressing. What's going on is what was always going on. This world is controlled by the media and the businessmen that make profit from war. It's the same fuckin' story. It's awful and it's criminal.
Q: What is it like to re-visit songs on recordings four and five decades after they were first cut? I know how popular the CSN&Y catalog is and recordings are downloaded. Many are still relevant. What have these songs become to you right now?
A:  It's the same thing, kid. If I can sing you a song with my guitar and piano and knock you on your ass it's a great song. And it doesn't matter how many people you are playing it for. The essence of the song and what the song says still lives to this day.
(Harvey Kubernik is the author of 14 books, including heralded titles on Leonard Cohen and Neil Young. His 2017 volume, the acclaimed 1967 A Complete Rock History of the Summer of Love was published by Sterling/Barnes and Noble.  His Inside Cave Hollywood: The Harvey Kubernik Music InnerViews and InterViews Collection, Vol. 1 was published in December 2017, by Cave Hollywood.  Kubernik's The Doors Summer's Gone was published by Other Cottage Industries in March 2018.
On November 6, 2018, Sterling/Barnes and Noble published Harvey's book, The Story of The Band From Pig Pink to The Last Waltz, written with brother Kenneth Kubernik).