FRANK ZAPPA HOLOGRAM SPRING
UNITED STATES AND EUROPE TOUR TO WORLD PREMIERE NEW MUSIC WITH FORMER BANDMATES ON THE BIZARRE WORLD OF FRANK ZAPPA    
FRANK ZAPPA'S BELOVED LIVE DOUBLE ALBUM ZAPPA IN NEW YORK CELEBRATED WITH SUITE OF 40TH ANNIVERSARY RELEASES INCLUDING DELUXE BOX SET, EXPANDED 3LP AND DIGITAL
5-DISC COLLECTION FEATURES OVER THREE HOURS OF UNRELEASED PERFORMANCES FROM THE LEGENDARY 1976 FOUR-NIGHT STAND PLUSEXCLUSIVE MATERIAL FROM ZAPPA'S VAULT  AVAILABLE ON ZAPPA RECORDS/Ume;
By Harvey Kubernik
©
2019
In 1976, Frank Zappa played four historic sold-out concerts at The Palladium in New York City the week between Christmas and New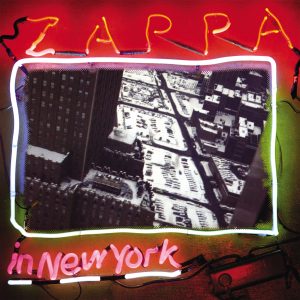 Year's. These thrilling shows – described by band member Ruth Underwood as "theatrical, outrageous and raucously funny, but also filled with startling and gorgeous music, dating from Frank's 1960s output to literally the moment the curtain went up"— served as the source material for the live double album Zappa In New York which was constructed from the best-played performances with overdubs later recorded in the studio. Originally slated for release in 1977, the album was delayed for a year due to record label censorship issues, mostly over the controversial song "Punky's Whips," and finally released in 1978.
One of Zappa's most beloved collections of songs, the now classic album included a live version of "Sofa" alongside nine new compositions, including the complex percussion-based piece "The Black Page," which has become infamous in the drum community as the ultimate challenge, the Devilish comedic sendup "Titties & Beer," and the notorious aforementioned "Punky's Whips" about Punky Meadows, the guitarist for the band Angel.  
In celebration of its eventual release in 1978, Zappa In New York was released on March 29 via Zappa Records/UMe as a suite of expanded anniversary editions to commemorate the album's recent 40th anniversary.
Overseen by the Zappa Family Trust and produced by Ahmet Zappa and Vaultmeister Joe Travers, the expanded versions are available as a 5CD box set, 3LP on 180-gram audiophile grade vinyl and digitally.
A March 2019 press release describes the product.
"The 5-disc collection is housed in a limited-edition metal tin shaped like a NYC street manhole cover and includes a replica ticket from one of the shows, consists of the main album in its original mix, newly remastered by Bob Ludwig in 2018 and available for the first time since its debut.
The four additional discs are loaded with Vault nuggets and more than three hours of unreleased live performances from the New York City Palladium concerts, representing every composition played during the concerts and the best alternate performances of every tune Zappa picked for the original album, all newly mixed in 2018.
The 3LP set, pressed at Pallas in Germany, features all-analog mastering of the original album mix, unavailable since first issued. Plus, an additional LP of select bonus content from The Vault. The digital release marks the debut of the original mix.
To achieve the highest-level sound quality, the Zappa audio team went back to the original two-inch 24-track multi-track master tapes and transferred every reel at 96kHz 24-bit wavs."  
 "We are excited to bring you this new Deluxe version of Zappa in New York: an opportunity to re-examine and celebrate the source material of a great album while exploring the events of Frank's life in late December 1976, Collections like these really show of the work ethic of a musical genius," suggests the Zappa Family Trust in the album notes. 
The collection showcases some of Zappa's most masterful guitar playing and electrifying arrangements as he leads an exceptional band featuring Ray White on vocals and guitar, Terry Bozzio on drums and vocals, Eddie Jobson on keyboard, Ruth Underwood on percussion and synthesizer, Patrick O'Hearn on bass and vocals and David Samuels on timpani and vibes. Don Pardo provided "sophisticated narration" and the brass section, featuring jazz duo the Brecker Brothers with Randy Brecker on trumpet and Michael Brecker on tenor saxophone, was rounded out by the SNL players: Lou Marini on alto sax, Ronnie Cuber on baritone sax and Tom Malone on trombone.
Zappa In New York includes expanded packaging which features previously unseen live photos by Gail Zappa alongside extensive liner notes by band members Ruth Underwood and Ray White (who were part of Zappa's band for these shows) as well as an insightful essay by Joe Travers with Australian writer Jen Jewel Brown.
Underwood also contributes a solo piano version of "The Black Page" that has been newly recorded for this special edition. "'The Black Page' has proven to be one of Frank Zappa's most intriguing and enduring compositions. It is performed in many kinds of venues all over the world. It is taught and studied in schools. Perhaps most exciting is that it is adaptable and lends itself to a variety of orchestrations and re-workings, as FZ himself demonstrated. I am proud that after forty years, mine is finally among them. It is my love letter to Frank and Gail," Underwood writes in the liners.
Zappa In New York capped off a terrific year for the ever-prolific and always-moving musician which included shows around the globe including his second Australian tour and one and only Japanese jaunt, the release of his album Zoot Allures and Grand Funk Railroad's record Good Singin' Good Playin, which he produced, a string of Halloween shows and a performance on Saturday Night Live which ended up having a profound impact on the Palladium shows.  
Following an on-air collaboration with SNL's announcer Don Pardo and the show's house band, Zappa invited them to be a part of the shows after three of the horn players so loved playing with Zappa that they asked if they could be involved.
As Travers and Brown write in the illuminating liner notes: "Out of nowhere, the concept of adapting horns to the scheduled concerts became a reality. Frank was immediately swept up in the pleasure and challenge of writing and arranging parts for the existing material."
Live music's premier hologram production company Eyellusion has announced that a who's who of Zappa fan favorite musicians will support The Bizarre World Of Frank Zappa hologram tour which will make its debut this April in the U.S.  The nine U.S. shows begin Friday, April 19, with seven European shows in May to follow. Additional dates will be announced in the coming months.       
Eyellusion holograms is represented by Steve Martin of APA, who books Eyellusion's hologram tours, including metal icon Ronnie James Dio and the upcoming Glenn Gould tour.    
In 1974, Frank Zappa, the wizard of Laurel Canyon, transformed his Los Angeles rehearsal space into a sound stage and cranked out some unbelievable performances seen and heard only by the camera operators in the room. The audio from these performances–locked away in the Zappa vaults for 44 years–will serve as the basis for what will be the world's most ambitious hologram tour to date.  The "can't miss" concert spectacle is being produced in close cooperation with the Zappa Family Trust.  
The Bizarre World of Frank Zappa hologram tour band is comprised of former ZAPPA bandmates for this monumental series of shows.  The touring unit boasts guitarists Ray White and Mike Keneally, bassist Scott Thunes, multi-instrumentalist Robert Martin, percussionist Ed Mann, and drummer and Zappa archivist Joe "Vaultmeister" Travers.
"As a futurist, and hologram enthusiast, Frank fearlessly broke through boundary after boundary as an artist and in honoring his indomitable spirit, we're about to do it again, 25 years after his passing," said Ahmet Zappa, EVP of business development for Eyellusion and co-trustee of the Zappa Family Trust in a press release.    
"We're excited to world premiere a handful of Frank Zappa compositions; these mind-melting concerts we're putting together celebrate the music, often surreal imagery and humour synonymous with Frank. We will be pushing the limits of what anyone has seen holographically on stage before in a live venue. Circumstances, objects, places and subject matter from Frank's songs and imagination will be brought to life for the first time on stage.  We are anthropomorphizing Frank's music utilizing various visual techniques, art styles, classic imagery from his album artwork and characters from his songs, culminating in one extremely bizarre, live music experience.
"My father and I actively discussed 3D and 'holography' and it was a concept he actively engaged in. He actually devoted half a chapter of his The Real Frank Zappa Book to this subject.
"This is a love letter and a journey celebrating the genius artistry of Frank Zappa. On a personal note, I feel like I am finishing something my father started years ago.  And let's not forget, Frank himself will be rocking his fans, alongside his bandmates like nobody's business."
The Bizarre World of Frank Zappa is unlike any other hologram-driven musical event you've ever read about or witnessed.     
In 2019 Ahmet gave me a preview viewing at the Zappa offices in Los Angeles.   
It's a blend of music, technology, video, film, eye-popping animation and sonic explorations.      This isn't a music and screen show tribute booking at a venue re-creating familiar Top 40 hits and parading catalog. The stage repertoire features plenty of un-released '70s footage and unheard Zappa music.      
The Bizarre World of Frank Zappa further demonstrates that Frank was at the forefront of employing studio digital technology and state-of-the art recording now exhibited in this new platform.  
Once again, Frank Zappa and veteran Zappa tour band members have re-defined sound and vision mixture in a theatrical presentation. The Bizarre World of Frank Zappa is a bold landmark multi-media adventure which ushers the hologram-driven experience past the goal posts.
"Machines don't get loaded, drunk or evicted," Frank wrote in his 1989 autobiography, The Real Frank Zappa Book.
As a teenager I caught Frank Zappa in The Mothers of Invention during May of 1968 in a dance concert at The Shrine Exposition Hall in Los Angeles, California. And today his work and image after a half a century continue to inform music collectors, fans and cultural creatives.       
U.S. tour dates are as follows:
| | | | |
| --- | --- | --- | --- |
| DATE | | CITY | VENUE |
| Fri | 4/19 | Port Chester, NY | Capitol Theater |
| Sat | 4/20 | Rochester, NY | Kodak Center Theater |
| Mon | 4/22 | Red Bank, NJ | Count Basie |
| Wed | 4/24 | Long Island, NY | Paramount Theatre |
| Fri | 4/26 | Boston, MA | Shubert |
| Sun | 4/28 | Albany, NY | The Palace Theatre |
| Wed | 05/1 | Wilkes Barre, PA | Kirby Center |
| Thu | 05/2 | Collingswood, NJ | Scottish Rite Auditorium |
| Fri | 05/3 | Baltimore, MD | The Modell Lyric |
The European shows are:
| | | | |
| --- | --- | --- | --- |
| DATE | | CITY | VENUE |
| Thu | 5/9 | Edinburgh, UK | Playhouse |
| Sat | 5/11 | Gateshead, UK | Sage |
| Sun | 5/12 | Manchester, UK | Bridgewater Hall |
| Mon | 5/13 | Birmingham, UK | Symphony Hall |
| Tue | 5/14 | London, UK | The Palladium |
| Thu | 5/16 | Ostend, BEL | Kurssal |
| Fri | 5/17 | Amsterdam, NLD | Rai Theater |
The Bizarre World of Frank Zappa is also scheduled for the Doctor Music Festival in Cataluna, Spain during July 11th-14 along with King Crimson, Chris Robinson Brotherhood, Jimmy Cliff, Primal Scream, and the Smashing Pumpkins.       
Ahmet Zappa is the son of Frank and Gail Zappa. He's an entrepreneur, author, film and television screenwriter and producer.
Ahmet currently runs the extensive Frank Zappa estate through the Zappa Family Trust as co-Trustee. As a Co-Trustee he manages and administers all assets of the Frank Zappa business. This includes recordings, publishing, name image and likeness as well as furthering the Zappa business and trademarks in the marketplace.
Harvey Kubernik Interviews Ahmet Zappa
Q: Tell me about your roles running the Frank Zappa estate?
A: Over the years if my mom ever needed help I would help out. And when she got sick, we were in the hospital and she said, 'Look. I can't fight for my life and fight for the business.' And she asked me to step in. And I did.
"A big part of that was preserving the music, saving the music, re-structuring a lot of deals and stuff.
"I was born in 1974. At an early age I left the house and when I was age eighteen or nineteen and started my own businesses.
"My dad is Frank. But I don't have this connection of 'being the son of.' It's not something I'm aware of. I think I was naturally trying to do things but not trying to avoid my legacy. I was just pursuing my own interests and really not involved with the family business.
"And then diving in when you suddenly have to do all the day to day and trying to figure everything out it becomes really clear and remarkable the level of passion from Frank's fans. Their commitment to the music and how much they care. It's totally inspiring.
"We have the podcast room that we can talk to the world that is anything Zappa-related. Like [the official] Frank Zappa Podcast I do with Scott Parker, who I met thru Joe Travers. www.podcastgarden.com/podcast/cappacast.   
"Any circumstance that I get to meet people who are so passionate, like Scott, for example, he always tries to do things that we would be aware and comfortable with. He's very respectful. I think that is what's key. And it's not just a 'Zappa thing.' 'Cause I'm sure, you know, lots of people like to think of my mom as this like Zappa cop. Some people have negative feelings about that. Like 'Set the music free.' I read some things.
"I don't think those people truly understand from a family perspective and from a business perspective what actually goes into the reasons why things happen the way they happen. It's probably things boring to people but it's still a business and needs to be run the right way.
Q: Tell me about your Zappa-centric work.
A: No one likes to think about that stuff and I understand that comes with even the role I now have and what peoples' misconceptions are about what I do. It is what it is. Time will tell. My whole agenda when I was asked to kind of step in is that I kind of went with my gut. Which I assume fans want more of what they like and want it sooner and want to feel closer to the content and I want to try to create new ways and new experiences for people to experience music but also try to get a younger generation into the music.    
"Look, I was not there day-today when my mother was doing things. And to be honest, I've known Joe a long time and he worked with Gail trying to do the same thing. I just think the only real difference with coming into this, I know what I know by being the son of and living in the house and I have my own recollections and stories, but the music and day-to-day, and Joe has been at it for so long, and we do try and listen to what the fans want online. That's important to us and that's the kind of access that they want.
"I just like to approach it as let's have fun. Let's try to pull in as many assets as we can visually to support as much audio around a certain moment in time that we can. And a lot of the reason we can do more of what I think we are doing is some of the first steps that we took was put things into a content management system so we have all these assets. They sit there in a drawer and you don't know exactly what they are until you go through them (laughs). Right? We're still a mom and pop business. There's five or six of us.
"My reality is I have my own businesses and my world changed and it's really sad when my mother passed away. It was a new reality. And I kind of looked at, 'well there's people who are very passionate and very fortunate that everyone in the organization loves' but also I happen to love them. It's a good hang all the time. We are talking about stuff that I care about. I mean I really feel blessed. People who have lost their parents I get to see things and connect with it and it turned into something from 'how am I gonna do this' to a blessing.
"My mom cared. Joe cares. We all care. Working with Universal initially was a Herculean effort, getting everything ready and so much of it all at once.
"I am standing on my mother and father's shoulders right now. They set the compass of 'how do we do things?'  Before Frank passed away there was a lot of unfinished stuff. How he did things and what he liked and didn't like. Gail understood that. We're in a place where as Frank would say, 'if it smells right put the eye brows on it.'         
Q: And this spring there is The Bizarre World of Frank Zappa tour.
A: I used to have conversations with Frank all the time where he wanted to stay home and send a hologram out. In fact, there are tons of audio with him talking about holograms and I actually used it in one of the audio promotional piece that we use to advertise that we're about to go out on the road. And he inspired me, honestly, with the way that he talked about technology and the things he was interested in became my interests. And it really shaped the businesses I really got into.
"I was working at Disney and early on I was trying to figure out how we'd take a physical product and have this digital story-telling component to it. Going back ten years. Gail brought me into all these hologram conversations.  We now have partners. I met people who matched my musical enthusiasm.              
Q: Let's discuss the new Zappa In New York  
A: Hearing the releases and Zappa In New York, it kind of fucks with me, actually. Certainly the  1973 Roxy Live release because you are so used to…I've worn these records out. So when you hear the other tapes and the other elements I'm actually conflicted by 'what was the choice between this or that?'
"So it's like a scavenger hunt that you're never gonna get the answers for.
"What I mean is that we don't have Frank right now to ask why didn't you do X, Y and Z? But it is really fun and the way I try to answer the questions like if Frank was here. He was picking a selection of music that could fit on a record. And being able to distribute music has changed so much and so I like to think, for completists,  at least my point of view, is I don't want to hold anything back.
"I'm too anal and when we know what we have, 'Oh. Well let's organize it in a really awesome way. Let's try to have as many pictures that can be associated with it and who was there for liner notes?' Sorry to say or repeat some things all of the time because they are all kind of emotional to me, 'cause they are.  
"But Zappa In New York particularly, for me, as an art standpoint, and you met my mother, she had such a creative eye, and working on all the art work, and having an understanding of packaging, and how we put that together. And I find myself enjoying the same role that she filled is the same thing I'm doing now. And I love it. From a design perspective it was really fun coming up with how this is going to advance.
"So I know my mother enjoyed that. But what is unique about this new Zappa In New York is really it's her photography. So not only her creative eye but a lot of these pictures are really awesome. She should have pursued photography in my opinion. As an early boy I remember her always having a camera around her neck.         
"What do I think of when I think of New York? I think of manhole covers. Looks like a size of a CD. 'Let's see if we can put it all in there and make it cool Zappa.' Maybe it's a very simplistic approach but I wanted it to feel grubby and of the moment but the way I think of New York in some ways. Or think of New York in that time, having been exposed to the music and the footage.
Q: One thing in the Zappa In New York 1978 LP and this 2019 expanded offering is that several Frank Zappa song titles are not politically correct and user-friendly in today's current climate for radio airplay and music media reviewers. For example, Zappa compositions "Titties & Beer," "I Promise Not To Come In Your Mouth," "Big Leg Emma," "Penis Dimension" and "Dinah-Moe Humm."
I met Frank in 1985 at a book store discussion on censorship in Santa Monica, California. I now find it refreshing Zappa In New York arrives to the 2019 marketplace without compromise or concerns about subject matter, titles, language or censorship restriction.
A: You are pointing out what some would say is explicit language but I feel there is nothing really shocking about it to me in the sense that these are things that certainly people still say or express. And I think from that perspective I think Frank was actually a very honest practical straight to the point call it like he sees it. I don't think he ever was thinking about 'I need to shy away from…'
"I think he was writing about experiences and not picking a title of a song 'You know what? I think people are really going to react to this.' I think it was really as simple as to him it's funny. He wasn't trying to trick you.
"I know some other people philosophically don't share that point of view but for me it was natural. We had that freedom. It's such a non-issue by taking the shock value out of it. It is kind of baffling when people get in an uproar. Frank didn't care what other people thought."    
Since 1995, drummer/archivist and Vaultmeister Joe Travers along with the Zappa Family Trust has over seen and worked diligently maintaining Frank Zappa's audio and visual vision with an on-going series of retail releases. There are 50-plus Zappa posthumous releases credited to Travers' his name since 1993.
The Zappa Family Trust has been partnered with the UMe record label since 2015. Over the last few years, their reissue schedule has included a handful of Frank Zappa's most endearing work: Lumpy Gravy, Weasels Ripped My Flesh, We're Only In It For The Money, Absolutely Free, and Zoot Allures. Travers is also involved in the Frank Zappa Podcast.   
And while we're on the subject of recent Zappa-driven album re-releases and expanded configurations the last few years, poet and KEBF-FM deejay Dr. James Cushing proudly proclaims "We're Only In It For The Money has gone down in history as one of the most essential rock albums of our time. With its scathing messages, use of parody, musique concrète & DADA-ist tendencies, there truly is nothing like it.
"The integrity may be inseparable from the craziness. Personally, Lumpy Gravy will always represent the secret surrealism of the San Fernando Valley, especially Ventura Blvd between Sepulveda and Laurel Canyon (Encino, Van Nuys, Sherman Oaks, Studio City, North Hollywood). Zappa's music provided me with a spirit-map of the area when I first moved here in 1967, and continued to do so with the next few albums."  
Harvey Kubernik Interviews Joe Travers
Q: Tell me about your life as the trusted Vaultmeister and working in the Frank Zappa world the last quarter of a century.
A: In the early days Gail Zappa was focused on releasing things Frank had already finished. But we have the opportunity to go into the vault and start mining through it and finding things. And me, being a fan I come from a fan's perspective first. What hasn't been exploited? What are the most wanted things? What are the things I would like to see? And then I collaborated with Gail.
"We were legally bound in the beginning to do certain projects owing to a contract thing.
What Gail was doing was releasing Zappa Records via mail order. That was one way she was able to get things out that would help supplement the company that wouldn't interfere with the contracts with the other things that were happening.
"In 2012 we got everything back and decided to do the full scale re-mastering simultaneously by then we were starting to release more things from the vaults: More concert releases, more specialty items like the Joe's Corsage series. And once the full scale re-mastering of the catalog happened it wasn't long after that Gail passed.
"Now the way things are working, is I'm in charge of all of that and Ahmet and I collaborate. And Ahmet likes to be the one to help out with. Making final decisions, artwork and art design. Things like that. But I'm the guy in the vault all the time getting the materials out for future projects.
"It's different now. But I still feel the same excitement and the same goosebump type things. And the same things from Frank that I did when I was with Gail. And it was hilarious. She would bring things to my attention
"We're excited to world premiere a handful of Frank Zappa compositions; these mind-melting concerts we're putting together celebrate the music, often surreal imagery and humour synonymous with Frank.
Q: Along with the Zappa Family Trust you've also made available rare items and mono mixes geared for events like Record Store Day. The next one is April 13, 2019.  
A: As for Record Store Day, I remember Gail embracing it when it was infancy and first starting. I'm a music nut. I grew up with vinyl so I am very aware with the resurgence of vinyl. And to celebrate Record Store Day, the Zappa Family Trust wanted to participate and prioritize some specific items because we knew we had things we could offer for these formats.
Q: Take me through the process of developing and issuing 2019's Zappa In New York   
A: As for the new releases, like Zappa in New York, in particular, a lot of the stuff we've been doing lately has been with anniversaries in mind. Because that's one of the things I'm noticing Ahmet likes to prioritize. Especially with the vinyl reissues as well. For Zappa in New York, obviously the shows were in 1976, and we had already passed that, but the eventual release of the record was in '78.
"So last year was 2018, the 40th anniversary. So I said 'there is absolutely a massive project that we can do from the remaining material from those concerts.' And, we have amazing pictures from Gail. 'Cause she shot it. We had the radio advertisements that Don Pardo did. We wanted to make this a real special one.
"Now in the case of this box set a lot of the collectors that want full shows. In the case here the performances are sort of loose in spots on some stuff. You had a horn section that didn't have much time to rehearse. And Frank literally the night before was making horn arrangements and bringing them in the next day.
"You have to remember too that up until this point with this band, and with the inclusion of the horns there really wasn't that many instances where Frank had this kind of expanded lineup.  In this instance you've got a full-fledged horn section, and you've got [percussionist and synthesizer player] Ruth Underwood back, and this was the last time that she participated with Frank. So that alone is historical.
"Then you've got Terry Bozzio, an exceptional drummer. And Ray White who can sing his ass off. And he was brand new at the time. Keyboardist Eddie Jobson from Roxy Music and bassist Patrick O'Hearn. It was his first tour. David Samuels on timpani.
"They had only toured a little bit. But they were hungry. And then this horn section. It was a special moment in time for Frank. It was a band that only lasted for these shows if you think about it.
Q: The label is also active in issuing mono and vinyl recordings. It's part of your restoration work.  
A: Mono is an art form. And you really have to know how to blend and where to place everything so that it's not getting hidden in the depth field.      
"There's an experience with vinyl that you don't get with anything else. Because everything is much more intent behind it. You have to focus on that twenty minutes and have turn the record over because you want to hear it. You also have real estate. You have great packaging that you can check out as well as liner notes and pictures. It's big. You can hold it. It's part of an experience that you don't get with the other formats. My family exposed me initially to vinyl.
"Even though vinyl is a pain in the ass when it comes to mastering for sound and all that stuff, and because of its limitations, there are things about digital that actually are very welcome. And I know Frank loved bringing them into the digital world because finally he didn't have to deal with the shit he was dealing with in the analog world.  
Q: In your vault endeavors and recording tape investigations what are the type of things that became evident to you discovering Frank Zappa's creative life?
A: When you are in the vault you can see why a lot of what was in his brain as far as selecting the best performances, things that he liked.  You can see the trail of tape that he left behind. The build reels and the way he worked. So I can see all the things that he prioritized over the years that didn't make it out to the market and things that didn't.
"Frank was aware of documentation. He was doing that when he was able to afford a tape deck. I mean, back way before he was in his first studio. He was making field recordings and interviewing his friends and he would roll tape in the middle of his living room when people were just hanging out.
Q: Do you at times feel the vibe or guidance from Frank or Gail when you are doing research and preparing tapes earmarked for longtime fans and new ears?
A: Yes, but it's more like signs I get from them. For The Bizarre World of Frank Zappa hologram tour we're doing right now one of the things that Ahmet wanted to do was find a song, that was a rare song, that no one really knew that featured Frank and a special guest.
"So I found this one song, and it might be in the hologram show. And here's an example. As I was listening to the song, there's a section in the song where you can hear the vocals, and  Frank says 'wanna see a hologram 1,2 3?' This was recorded in 1975. And I found this song. Oh my God. I played it over the telephone to Ahmet. 'Listen to what he just said!' It's things like that that used to happen with Gail and I in my office.
Portions of this article were published during March 2019 in Record Collector News magazine.   
Harvey Kubernik is an author of 15 books. Frank Zappa was profiled in his critically acclaimed Canyon of Dreams: The Magic and the Music of Laurel Canyon published by Sterling/Barnes and Noble in 2009.    His literary and music anthology Inside Cave Hollywood: The Harvey Kubernik Music InnerViews and InterViews Collection Vol. 1, was published in December 2017, by Cave Hollywood. Kubernik's The Doors Summer's Gone was published by Other World Cottage Industries in February 2018.   
The Doors: Summer's Gone has been nominated for the 2019 Association for Recorded Sound Collections Awards for Excellence in Historical Recorded Sound Research.
During December 2018, Sterling/Barnes and Noble published Kubernik's The Story of The Band From Big Pink to the Last Waltz.   
This century Harvey penned the liner note booklets to the CD re-releases of Carole King's Tapestry, Elvis Presley The '68 Comeback Special, The Ramones' End of the Century and Allen Ginsberg's Kaddish.      
Kubernik's writings have been printed in several book anthologies, including The Rolling Stone Book of the Beats and Drinking with Bukowski. He is the project coordinator of the recording set The Jack Kerouac Collection.   
In November 2006, Harvey Kubernik was a featured speaker discussing audiotape preservation and archiving at special hearings called by The Library of Congress and held in Hollywood, California.