Forty Below Records Sets May 6 Release Date for John Mayall's Bluesbreakers Live in 1967 – Volume Two CD
Second Edition of Previously Unreleased Live Recordings Feature John Mayall, Peter Green, John McVie and Mick Fleetwood
By Harvey Kubernik c2016
Prompted by the critical and commercial success of the 2015 release of previously unavailable live recordings from newly-elected Blues Hall of Fame inductee John Mayall and his classic 1967 Bluesbreakers band, Forty Below Records has announced a second batch of recordings to be released on May 6. Titled John Mayall's Bluesbreakers– Live in 1967- Volume Two, the new CD continues the archival blues path blazed in Volume One that captures heralded performances of one of the best of the Bluesbreakers band lineups, featuring iconic musicians John Mayall (vocals, keyboards, harmonica), Peter Green (lead guitar), John McVie (bass) and Mick Fleetwood (drums).
Distributed by Sony/RED, John Mayall's Bluesbreakers – Live in 1967 – Volume Two showcases a legendary group of players who while only together a short three months, created a lasting legacy, made an immense impact on music and led to the formation of one of the most acclaimed groups of all-time when Green, McVie and Fleetwood left to form Fleetwood Mac.
Produced by John Mayall (who also did the cover package photography, artwork and design) and Forty Below's Eric Corne from one channel reel-to-reel original tapes recorded by Tom Huissen, John Mayall's Bluesbreakers– Live in 1967- Volume Two contains performances recorded in the Spring of 1967 at such well-known London venues as Bromley, The Marquee Club, The Ram Jam Club and Klook's Kleek.
"I am so happy that the remaining usable tracks from these London club dates have been released as a follow-up to the well-received Volume One," says John Mayall about the new album.
"Peter Green as before is on fire throughout and this set includes a great instrumental based on his composition, 'Greeny.' There are a couple of Otis Rush tracks that were included on the first volume, but they are from different venues and totally different.  I couldn't possibly let these slide.  Also, there is another version of T-Bone Walker's 'Stormy Monday' that is sung by Ronnie Jones, who would frequently sit in at our gigs. John McVie gets in a great bass solo on 'Chicago Line' and Mick Fleetwood drives the whole set with his unique and powerful drumming. With these new tracks added to the collection, it pretty much features all the material we had in our repertoire at that time and I'm very glad that you can now enjoy this great piece of rock/blues history."
Volume Two showcases three John Mayall originals including the opening track, all-time blues classic "Tears in My Eyes;" "Chicago Line;" and "Please Don't Tell," a great example of the power blues sound The Bluesbreakers were revered for around the world. These historical performances were captured for all time and largely unheard for almost fifty years until John Mayall recently obtained the tapes and began restoring them with the technical assistance of Eric Corne. Speaking about the tapes, Corne says, "While the source recording was very rough and the final result is certainly not hi-fidelity, it does succeed in allowing us to hear how spectacular these performances are."
The Bluesbreakers live sets at the time of these performances included songs that had originally appeared on the first two band studio recordings with Eric Clapton and Peter Green, respectively, holding down the guitar chair in the group, as well as some that would soon be recorded for the third LP, Crusade, by which time Green, McVie and Fleetwood had left to start Fleetwood Mac and the new guitar player was a young, then-unknown Mick Taylor, who would later go on to further fame and glory as a member of The Rolling Stones.
Of the new album's 13 tracks, three are songs that first appeared on Volume One, although these new tracks included here were recorded on different nights and ably demonstrate how improvisational the band could be infusing a different feel and tone from night-to-night. Of particular interest is the inclusion of the version of "Stormy Monday," which features special guest vocalist Ronnie Jones, a former American serviceman and original member of  the first incarnation of Blues Incorporated, a contemporary band to the Bluesbreakers, which included Alexis Korner, Cyril Davies, Jack Bruce and Ginger Baker during its lifetime. Another highlight is the Peter Green instrumental, "Greeny," which perfectly states the case for why he is still revered as one of the best-ever guitarists.
John Mayall's Bluesbreakers– Live in 1967- Volume Two – Track Listing
TEARS IN MY EYES                                       7:31
Mayall/Warner/Chappell Music Ltd (PRS)
YOUR FUNERAL AND MY TRIAL             5:32
Williamson/Arc Music (BMI)
SO MANY ROADS                                           8:18
Marshall/Arc Music (BMI)
BYE BYE BIRD                                                 5:02
Dixon-Williamson/Arc Music-Hoochie Coochie Music (BMI)
PLEASE DON'T TELL                                    4:08
Mayall/Carlin Music (PRS)
SWEET LITTLE ANGEL                               6:10
King-Taub/Universal Music (BMI)
TALK TO YOUR DAUGHTER                     3:00
Lenoir-Atkins/BMG Platinum Songs obo Arc Music (BMI)
BAD BOY                                                           5:08
Taylor/Conrad Music (BMI)
STORMY MONDAY                                        8:21
Walker/Gregmark Music-Lord & Walker (BMI)
GREENY                                                           6:36
Green/Unichappell Music (BMI)
RIDIN' ON THE L&N                                     2:22
Hampton-Burley/Trio Music (BMI)
CHICAGO LINE                                              4:34
Mayall/ Carlin Music (PRS)
DOUBLE TROUBLE                                       6:35
Rush/Conrad Music (BMI)
Harvey Kubernik Talks to John Mayall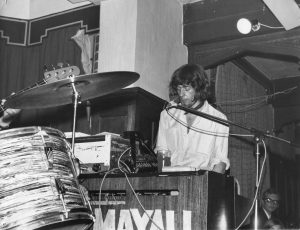 Q: Tell me about hiring Mick Taylor into your band.
A: After the guys left to form Fleetwood Mac, I hired Mick Taylor for the guitar position and decided at that time to add horns to the lineup, which broadened the scope of the songs we played live and enabled me to extend the blues catalog. Horn players usually have a jazz background, and this was a helpful element to add to the quartet format.
"The British musical press at this time wasn't giving enough attention to some of the American great bluesmen, and I wanted to give the fans clues as to where to broaden their knowledge of great but sometimes neglected performers. It was a way also to make the British press aware of what was going on under their noses.
Q: What was the audition process like?
A: First of all, I don't hold auditions for anyone I hire. I generally go by gut instinct, and in Mick Taylor's case, I had heard him play a year or so earlier when he sat in at a club gig on a night when Eric Clapton didn't show up. Mick also got on very well with a horn-section direction in my band.
Q: The Crusade LP really garnered a lot of airplay in the U.S. in 1967.
A: U.S. FM stations were playing; it wasn't really a factor. I was of course aware that stations were playing my records, which all helped to spread the word about what I was doing for the blues. Probably helpful for me to be in demand enough to do my first U.S. tour in January 1968.
For more information, visit www.johnmayall.com and www.fortybelowrecords.com
Harvey Kubernik has been a music journalist for over 44 years and is the author of 8 books.
During 2014, Harvey's Kubernik's Turn Up the Radio! Rock, Pop, and Roll in Los Angeles 1956–1972 was published by Santa Monica Press. In September 2014, Palazzo Editions packaged Leonard Cohen: Everybody Knows, a coffee—table—size volume written by Kubernik, currently published in six foreign languages. BackBeat/Hal Leonard Books in the United States. Harvey and Kenneth Kubernik wrote the text for photographer Guy Webster's first book for Insight Editions published in November 2014. Big Shots: Rock Legends & Hollywood Icons: Through the Lens of Guy Webster. Introduction by Brian Wilson). In November of 2015, Back/Beat/Hal Leonard  published Harvey's book on Neil Young, Heart of Gold.