Filmmaker D.A. Pennebaker on his Bob Dylan movie "Don't Look Back."
By Harvey Kubernik c 2016
"An audio visual Walt Whitman of our musical heritage."– -Andrew Loog Oldham
The Morrison Hotel Gallery at the Sunset Marquis Hotel in West Hollywood opened an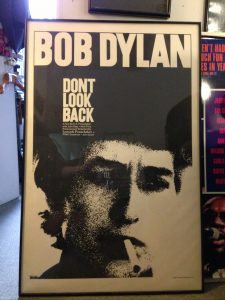 exhibition on June 11 th celebrating the 50th anniversary of the Bob Dylan film "Don't Look Back," directed by D.A. Pennebaker. It hangs through the summer. The exhibition, with the cooperation of Pennebaker and Dylan, who share rights of the documentary, are working with the New York events company Arthouse 18, who have created a limited number of photographic prints that will be for sale. New photos have been generated directly from the movie's negative.
Pennebaker is also the subject of a new book, "D.A. Pennebaker: Interviews," edited by Keith Beattie and Trent Griffiths, recently published by University Press of Mississippi.
A 2012 interview I conducted with the legendary and still influential 90 year old filmmaker is included in the book. The title, "Don't Look Back" was not pinched from the 1959 British movie "Look Back In Anger," or a song lyric courtesy of Bob Dylan, but a quote taken from historic Negro League baseball pitcher and later Major League baseball hurler Satchel Paige who quipped: "Don't look back, something might be gaining on you."
Director Pennebaker and his acoustic music-making sprouting subject Dylan collaborated on their joint '65 U.K. trek to further Pennebaker's already established cinema verite style of filmmaking. His hand-held camera method and "fly on the wall" technique framed Dylan and offered concert performances and intimate moments. Over the last 40 years Pennebaker's "Don't Look Back" has influenced music documentaries that have followed his path.
Bob Dylan's tour of England in 1965 originally captured by Pennebaker and released theatrically in 1967, is integrated into a wonderful deluxe retail product edition which also features a full-length audio commentary by Pennebaker and Dylan 1965 tour manager ;Neuwirth, as well as a new "Bob Dylan 65 Revisited" commentary by the pair that incorporates never-before- seen archival footage, Additional bonus material includes an alternate version of the now-famous "Subterranean Homesick Blues" cue-card sequence, and the original theatrical trailer, a D.A. Pennebaker filmography, a Bob Dylan discography, in addition to cast and crew biographies. "Originally when I made the film 'Don't Look Back' I wanted to be sure it wasn't about music that it was about Dylan," remembered Pennebaker in a late 2006 interview with me. "What you see now that maybe it should have been more about music. And Neuwirth always thought that and cautioned me, 'look out.' But in a way, Dylan was what everybody wanted to know about. And the music they could get on the records. You had to see the music performed. The film took possession of me. I was in the zone for 'Don't Look Back.' Maybe Dylan was in the zone. I knew that once I got started I just had to roll and not plan anything. I didn't try and be smart about anything. I never asked him a question. I didn't want to know anything. The whole thing was a walking tour, like walking up a mountain. Your feet take you there and when you get off the train you made sure you had a new roll of film there."
Also "starring" in "Don't Look Back" are Dylan's manager/confident Albert Grossman, trend-setting record producer Tom Wilson, charming booking agent Tito Burns, folk singer/activist Joan Baez, the Animals' keyboardist Alan Price, U.K. songbird Marianne Faithful and then-budding protest and pop music minstrel Donovan. In 1998, "Don't Look Back" was nominated to the prestigious National Film Registry.
D.A. (Donn Alan) Pennebaker was born July 15, 1925 in Evanston, Ill and is a graduate of Yale. His head-turning body of work has always had a strong relationship to music especially rock 'n' roll. Pennebaker made his filmmaking entry with the 1953 short "Daybreak Express" reflecting his love for Duke Ellington.
In 1959, Pennebaker, along with Richard Leacock and Albert Maysles, joined Drew Associates, a group of filmmakers organized by Robert Drew and Time Inc., which was dedicated to expanding the use of film in journalism. Leacock and Pennebaker formed their own company in 1964 and in '65, Bob Dylan's manager, Albert Grossman, asked them to film Dylan's '65 that year. "Don't Look Back" was released theatrically in 1967. That same year he filmed "Monterey Pop" about the Monterey International Pop Festival. "Monterey Pop" opened in 1969. Over the last 40 years his work, along with partner Chris Hegedus collaborating with him since 1976, Pennebaker imbued and shaped the formation of the documentary movie form.
Pennebaker was given a Lifetime Achievement Award Independent Feature Project- Gotham Awards in 1992, and The John Cassavetes Award from The Denver International Film Festival in 1998. In 2012 Pennebaker received a Lifetime Achievement Oscar from the motion Picture Academy.
D.A. Pennebaker shot 20 hours of film of Bob Dylan in less than a month on their collective landmark UK '65 tour. D.A. lensed the film himself in a "cinema verite" style that he and his peers at Drew Associates introduced. It was a direct cinema technique and style that incorporated fully portable 16mm synchronized camera and sound system. Greater access to the subject was garnered by this unobtrusive method of filming that employed hand-held cameras and veered away from established narration-driven documentaries.
In December 2006, I talked to Pennebaker again at length over the telephone from his office in New York City and he discussed the new "Don't Look Back" bonus footage and complete "outtake" sequences that constitute an hour disc produced with his son Frazer.
"I started to look at the outtakes as 'evidence' of something new. As I looked at them I thought, 'those things look so great in the black and white you can put them upside down.' The fact is that the black and white looked kind of marvelous in its simplicity. The outtakes are like old girlfriends. And you have a kind of nice memory but when you see them they're grannies, ya know.
"It's hard to remember what it was that struck you about them at the time. A film that
you do, like 'Daybreak,' one of my earlier films, I see it now almost the way I see someone else's film. The uncut performances had an effect on me," Pennebaker reveals.
"When I did 'Don't Look Back' I was sure I knew what I was doing. I edited it in 2 or 3 weeks. It was like walking across the Peruvian Andes on a rope and I had to move fast and not take time to think about it. Well, when I looked at the stuff now, the complete songs, I realized first of all the things that worked really were the love songs. Not the protest songs. The songs when you hear 'em now complete, from beginning to end, what strikes me is the guy, at that time, the music was everything. The music accounted for everything he had to offer in a way," marvels D.A., "There was no myth or legend yet. It was so incredible. Dylan had such an amazing kind of mercurial sense that translated to people. And when I see these full songs I think, 'shit, I made the wrong film.' I mean, it really hit me like that. And I thought, 'No you can't just listen like that,' because a lot of something went into it and it worked."
For "Goldmine" Magazine over a half decade ago, Pennebaker told me why "Don't Look Back" has kept finding a new audience. "It kind of makes you feel like you did something right once. (laughs). It doesn't make me feel bad at all. It interests me that people have the same fascination with Dylan that a lot of people had without being able to quite understand it. I know how I feel about Byron. I think he's an important person in our culture and why everything is derived from what Byron set forth. Dylan I think in a hundred years will have some kind of same quality that people will look back and say, 'oh that's where that came from.' So it interests me now that people see it in the movie that when it was made it was all a guess."
In another phone conversation interview I had with Pennebaker a few years ago, I asked him about displaying "Don't Look Back" on big movie house screens in addition to the DVD format. He once even released a laser disc version. Did you welcome the home video product initially for "Don't Look Back" knowing there would be a small screen reduction at least in the visual aspects of the presentation? "I think it's kind of a Zen thing. Your mind is able to deal with it on any size. Big is nice, especially if you have bad eyesight, big is terrific in a theater. And we've made a 35mm blow up of that. I love seeing it in 35mm and we show it at some festivals and it looked great.
In addition, Pennebaker remembered the first time he screened "Don't Look Back" for Bob Dylan. On the DVD audio commentary track he said Dylan brought along a big yellow pad to the initial viewing. "Yeah. I didn't know what was going to happen. But I knew that room was full of people that I hated. I didn't know where they came from or where they went. Two nights. At the end of the first evening Dylan said, 'we're gonna do the same thing tomorrow.' It was a terrible screening anyway. It was out of synch and I was really depressed. And then we were going to figure out how to change it, or whatever he was going to do. And then the next night, ya know-bang! 'It's fine. That's it.' He had an empty pad. So I thought well this guy is an amazing person and I was really not only lucky to be able to film but to have his mind contemplating its release."
These days Pennebaker occasionally attends Dylan concerts, and yes, Dylan has viewed the "Don't Look Back" DVD. "Yeah. We're partners. We deal with Jeff (Rosen) in his office all the time. But Dylan came over and he looked at some footage on the DVD and said at one point, 'how did you get that great sound?' I said, "well Bob, you're gonna be surprised at this. It's all mono.' 'Mono…I gotta tell the guys down at Sony about this…'"
In 1968, "Don't Look Back" won Outstanding Film Of The Year at The London Film Festival after release. Yet, as the Mods and Rockers Film Festival in July of 2007 honors Pennebaker with a fitting three-day retrospective, in 1967 Pennebaker couldn't initially find a distributor for the just finished "Don't Look Back" outing. D.A. had to actually open the movie in San Francisco. The precious New York art movie house circuit and the entire domestic distribution network world didn't want to give him a taste, either.
Dig this. Here was D.A. Pennebaker hawking a movie about Bob Dylan in 1966 and 1967 who had charted and broken top forty AM radio with "Like A Rolling Stone," and had massive critical acclaim for years, and Pennebaker couldn't convince even Dylan's label Columbia Records to help place the film product.
"There's always a delay between the people at the gates and the public," he told me in that "Goldmine" interview. "I still have the letter of rejection from a guy at Warner 7 Arts. It's very funny. Finally he took his daughter to see it in San Francisco and at the end of the letter he said, 'the funny thing was my daughter really liked it.' It opened at The Presidio in San Francisco. I was desperate. Because I showed it to a lot of people and took it out to places like Milwaukee and showed it at civic centers and the place would be filled with people who afterwards would come up with tears in their eyes. And I said to myself there's an audience. Why can't I get the local theater to run it? They wouldn't even look at it. Theater owners don't look at films. Usually they go by their distributors. So I was stuck.
"Then this guy walked in one day and said, 'I'm told you have this film about this singer.' He didn't know who Dylan was. 'I represent a bunch of theaters out in the West called Art Theater Guild and we run mostly… I think he meant porno films, and was looking to clean up his act. So I showed it to him and he said, 'ya know, it's exactly what I'm looking for. It looks like a porno film but it's not. I'll open it in The Presidio.' I didn't know where The Presidio was at all. Somebody later told me 'that's a wild porno house out in San Francisco!" Ricky (Leacock) and I came up after Monterey and I was so pleased we had gotten it in a theater finally that I didn't want to tell Ricky what it was.
We stayed over in North Beach and the next day with a very heavy heart I said 'let's go see how our movie is playing.' It had played two or three weeks there. So we went to the theater and I said to Ricky, 'watch this.' And Ricky was very nervous about money in general. He saw the big long line outside and thought 'we're just making money for the theater and they're never going to pay us.' So I said, 'Ricky, watch.' So I went up to the place, this old falling apart porno house and said to the guy 'would you give me some money?' 'How much?' And I said '$500.00.' And he made me sign a note and Leacock just died. That was a great moment for the two of us. We totally recognized that we could make movies. We didn't have a 35mm print. San Francisco had my answer print. It played in San Francisco for almost a year in 16mm. Then New York came around came four months later when it showed at the 34 th Street East. The company didn't even have to run ads."
Docurama, founded in 1999 by parent company New Video Group Inc., has made available legendary director D.A. Pennebaker's landmark movie "Bob Dylan: Don't Look Back 65 Tour Deluxe Edition" in spring 2007. This compelling 2007 black and white DVD set includes the digitally re-mastered classic "Don't Look Back," a new Dylan film from Pennebaker, uncut performances, commentary by Pennebaker and Dylan's 1965 tour manager Bob Neuwirth, a stellar reproduction of the first edition "Don't Look Back" 168-page companion book, a "Subterranean Homesick Blues" flipbook and more. The "SHB" flipbook provides a frame-by- frame journey at what many feel to be one of the first director and recording artist teamed-birthed rock 'n' roll music videos. This two-disc collector's item carries a $49.95 list price.
There is a single DVD release of "Bob Dylan: Don't Look Back," priced at $19.95. This reduced marked item offers consumers the new digitally-remastered version from the "65 Tour Deluxe Edition," minus the two vintage collectable photo-laden books and second disc. Information: www.docurama.com and www.newvideo.com
In 2012, I interviewed Pennebaker again to discuss his 1966 tour film work with Dylan after his retail release of "Blonde on Blonde."
Q: After your 1965 black and white movie with Bob Dylan, "Don't Look Back," in 1966 you worked with Dylan again on a color music movie that was commissioned for ABC- TV, "Stage '67," that initially you titled "But You Know Something Is Happening." Later Dylan edited that movie footage as "Eat The Document." A few years ago half an hour of the footage was sequenced into Martin Scorsese's "No Direction Home."
A: After "Don't Look Back" Dylan said, 'I want you to shoot a film and I'm going to direct it and it will be my film. You have your film and this will be mine.' That was the kind of handshake arrangement. We didn't have anything signed or no papers about it. We went off. I only knew how to film one way. I didn't change the way I filmed. And Dylan really didn't know how to direct and nor did I. It kind of stumbled along. We were moving around a lot. Sweden, France, England. It just wasn't a tour of English music halls.
"And I think that Dylan got really intrigued by the kind of locals he was in. And how they responded to him. And then John Lennon came in and we sort of got involved with John. At no time did I think I'm gonna capture this movie and do it myself. Although I could sort of see how to do it because it was different than 'Don't Look Back.' Dylan was playing on stage with 4 or 5 musicians and having a great time doing it. I mean, it was so much more interesting than what he had been doing all by himself. And he kind of took to it. And I could see by shooting the stage performances were really an important part of it. At one point I actually got out on stage with the band and he didn't know I was gonna be there and when he saw me he really cracked up. Because it was such a funny idea that I was just like the band. "There was no difference in shooting Dylan in color than black and white. By then I was sort of interested in shooting color and I liked the fact you could make scenes. The contrast between one scene and another you could make much stronger. Whereas in black and white it went from black and white to black and white. But you could make sky blue turn into blue velvet. And that was sort of interesting but it did not affect the storyline.
Q: Then this footage sort of morphed later into "Eat The Document."
A: Well, you see, Dylan had the motorcycle accident. The thing was done for ABC-TV. And so Albert (Grossman) came and said, 'We gotta give them something. Can you guys cook up something?' So Bob Neuwirth and I cooked up the beginning of "But You Know Something Is Happening." But then Dylan said he wanted to edit "Eat The Document." And then he and Robbie (Robertson) kind of had a competition about doing that, which always soured Dylan on the film. And so that film got made but ABC didn't want any part of it.
"So the film just sat and was in limbo. And my film was kind of in limbo. I wasn'ttrying to compete with Dylan at all. And I showed it to the critic in San Francisco. Anyway, he wrote a review of it, which was unexpected, and Albert took not kindly to it.
Because Dylan thought we were playing games with him. But I never had any intention of releasing that film and haven't. But I have it because I think we were on to something that was really interesting and I don't think anybody else knew it and did anything with it at the time. I hated to see the film go down the toilet.
Q: However, portions of what you shot were utilized in "No Direction Home."
A: Yes. I turned it all over to Marty (Scorsese). That was the only way it was gonna get released. Someday my version will get released but it doesn't really matter. Because all the work was done on the first film, "Don't Look Back." And that's what people remember. And the rest is just kind of, you know, throwing pictures on the sides of the pages of the book.
Q. What was the biggest change you noticed in Bob Dylan as an artist and songwriter when you filmed the 1966 European tour that is revealed in his cut of "Eat The Document?"
A: Well, I felt that he was really writing music sort of with Robbie (Robertson) and for Robbie. He was trying to show Robbie how to write music. There was something going on that drove him so that he would stay up all night. I filmed him endlessly where he'd write many songs during the night and Robbie would play along. Robbie made him somehow do this. And on the first tour there was nobody doing that. Neuwirth never made him do that. He never felt competitive with Dylan.
(Harvey Kubernik has been a music journalist for over 44 years and is the author of 8 books. During 2014, Harvey's Kubernik's Turn Up the Radio! Rock, Pop, and Roll in Los Angeles 1956–1972 was published by Santa Monica Press.
In September 2014, Palazzo Editions packaged Leonard Cohen: Everybody Knows, a coffee—table—size volume written by Kubernik, currently published in six foreign languages. BackBeat/Hal Leonard Books in the United States. Harvey and Kenneth Kubernik wrote the text for photographer Guy Webster's first book for Insight Editions published in November 2014. Big Shots: Rock Legends & Hollywood Icons: Through the Lens of Guy Webster. Introduction by Brian Wilson. In November of 2015, Back/Beat/Hal Leonard published Harvey's book on Neil Young, Heart of Gold).