David Bowie and Space Oddity: 50 Years On
By Harvey Kubernik c 2019
On February 20, 1969, singer/songwriter David Bowie recorded an early studio version of "Space Oddity" for his 1969 promotional film, Love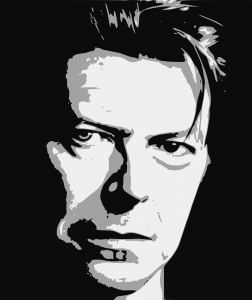 You Till Tuesday.
After departing Deram Records, Bowie then signed to Mercury/Phillips Records in London in the late spring of 1969 by manager Kenneth Pitt to record producer and label executive Lou Reizner.
The Mercury/Phillips studio recording of "Space Oddity" was then cut on June 20, 1969 at Trident Studios in the UK produced by Gus Dudgeon and arranged by Bowie and Paul Buckmaster.
"I met Gus Dudgeon while preparing some arrangements for a female vocalist," explained the late arranger, conductor and composer Paul Buckmaster in a 2014 lecture at the UCLA Herb Alpert School of Music Songwriters On Songwriting: Killer Hooks, Essential Songs & Songwriters of the Rock Era class taught by Professor David Leaf.  
"It wasn't an audition for her so much as for me.  Tony Visconti hired me to work on [David Bowie's] 'Space Oddity.' 
"I was obsessed with Kubrick's 2001. I saw it at least a dozen times and really tried to bring that quality from the movie's score, which featured Richard Strauss and in particular, Gyorgi Ligeti.  Unfortunately, that cheesy mellotron swamped my strings and you can't really hear my work."  
Ken Scott engineered the Trident session.
"First and foremost I couldn't see that he'd ever be as big as he turned out to be," Scott told me in a 2014 interview. "He was a nice guy and had a certain amount of talent. That was it. It wasn't until we started to get Hunky Dory together that he was starting to find his own way. I suddenly saw a unique talent."     
Space Oddity initially appeared on David Bowie's Man of Words, Man of Music, produced by Tony Visconti, first released by Philips in 1969 was reissued as Space Oddity by the RCA Victor label in 1972.  
Musicians collaborating with Bowie's 12-string guitar and vocals on his label debut include bassist Herbie Flowers, Rick Wakeman on mellotron and electric harpsichord, drummer Terry Cox and guitarists Keith Christmas and Tim Renwick.    
"Space Oddity," was originally released as a 45RPM single on July 11, 1969 to coincide with the Apollo 11 space mission moon landing. The record was eventually spun on BBC Radio but only after the crew of the Apollo 11 had safely returned back to earth.  
"Space Oddity" was subsequently featured by BBC-TV in its television coverage of the lunar event.
Bowie then performed "Space Oddity" on an October 2, 1969 episode of Tops of the Pops and shown the next week on October 9th.   
"Space Oddity" garnered an Ivor Novello award from the Songwriters Guild of Great Britain for the most original song of the year.  
The song's enigmatic protagonist, Major Tom, has become a recurrent theme that informed Bowie's work and career, and was revisited in the song "Ashes To Ashes."
Dr. James Cushing an English and Literature Professor at Cal Poly San Luis Obispo in Central California and a deejay fixture on KEBF-FM in that area is a longtime David Bowie record collector and scholar.
'"Space Oddity' — the song — is another situation-drama but with effective backing (Stylophone, strings referring to 'Day in the Life' liftoff, 12-string guitar, strong drums) and the alien character that DB ran with during his most creative period — Ziggy, Aladdin, Thin White Duke Who Fell to Earth, the Lodger strung out on heaven's high.
The Bo Diddley 12-string riff in the middle is always a surprise in such a European art-song context. The ending refers to 'Purple Haze.' A real work of art.
'"Space Oddity' is timeless because it's only 'about the 1969 moon landing' at one level – it's a deeper level it's about loneliness, the longing for connection, and the acceptance of isolation as an existential fact — which is also the emotional level of 'Ziggy and 'Station to Station' and 'Man Who Fell to Earth.' Imagine if John Lennon's 'Isolation' came equipped with a cool metaphor and a cool Bo Diddley figure in the middle!
"The lyrics enact a kind of play w/ 2 main characters: 'Ground Control' and 'Major Tom.' The plot of the play is the loss of their connection — and in 1969, the loss of connection (between generations, between the Now and history, between American values and American policy in Vietnam) was topic #1.
"The Apollo 11 landing was a giant step within the context of disbelief in the possibility of taking giant steps, a Cold War victory inside a guerilla defeat. 'Planet Earth is blue' literally (the photo) and figuratively (blue mood), And there's nothing I can do' — there's the ambiguity. The victory of highly organized American military activity finds form in a confession of impotence.
"That's a very revealing period for Bowiephiles," suggests Cushing.   
"It provides the transition between the 1966-67 Pye/Deram Anthony Newly-ish material and The Man Who Sold The World, Hunky Dory, to The Spiders From Mars. They all share that Brit theatricality, the sense of a song as a 3-minute drama with a character singing out of a situation he's in and the music existing to give an aural correlative to the situation. It's Broadway minus Broadway!
"David Bowie's Man of Words, Man of Music, first released by Philips in 1969 was re-packaged as Space Oddity by RCA Victor in 1972, which is how and when I first heard it.
"In a daze from the Ziggy Stardust concert at Winterland the previous late-October night, I insisted that my friends stop at a record store on our way back to Santa Cruz so I could get all four Bowie LPs: Space Oddity, The Man Who Sold the World, Hunky Dory, and the newest and best of the batch, The Rise and Fall of Ziggy Stardust and the Spiders from Mars," Cushing remembers.  
"I listened to little else but these four LPs for the rest of that autumn, amazed that such an artistic vision could actually exist. I had the same reaction when I first discovered Dylan: his music provided me with a new knowledge of reality. 
"By coincidence, Bowie and Dylan share that weak-first-album syndrome their later careers make everyone forgive and forget. On Bob Dylan, only 'Song to Woody' really takes off on a life of its own.
"On Space Oddity, the hit is the best thing. It has separate production and arrangement credits and clearly belongs to another sound-world. The lyrics suggest private loneliness in the context of a world-historical event, and leave just enough unsaid.
"The brevity of 'Letter to Hermione' also fits its gentle melody very well. But on the rest of side one, the 22-year-old Bowie's lyrics fall into a declamatory, Dylan-derived loquaciousness that has not worn well, especially on the nine-and-a-half-minute endurance test 'Cygnet Committee' and the instrumental sound is not fully cooked.
"Side Two is simply all over the place. 'Janine' and 'An Occasional Dream' suggest Paul McCartney collaborating with Anthony Newley after spending 24 hours listening to Dylan albums. 'The Wild Eyed Boy from Freecloud' hams up the stage of a West End musical, and 'God Knows I'm Good' busks straight at you from a London tube station. 'Memory of a Free Festival' has a fresh blast of noise in the middle, but ends with a coda that blatantly reruns 'Hey Jude.' Where's David Bowie? The answer: he won't fully appear until the next album…" 
In 1975 I interviewed David Bowie in Los Angeles at the CBS TV studios on Fairfax Ave. and Beverly Blvd., when he taped the Cher TV show, for a story later published in the now defunct Melody Maker.
CBS's Television City was just down the street from Cherokee Studios where Bowie was recording Station to Station. One late night I was around a mix playback of "Rebel Rebel," a track Bowie played drums on.  
Our brief talk around the stage included comments on the recently completed filming of his feature-length movie, The Man Who Fell To Earth.  
It was clearly obvious that David had already departed visually, musically and psychically from the self-imposed world of Ziggy Stardust and plunged into his recent cinematic journey.
"The difference between film acting and stage acting is enormous. On stage you are in total control, whereas in a film the actors are instruments of the director. I think a stage performance is more of a ceremony and one plays the high priest. But in a film you are evoking a spirit within yourself. You feel a tremendous responsibility of having the power to bring something to life. For example, Major Tom in 'Space Oddity.'"
Current Sirius XM deejay, Rodney Bingenheimer in 1970 and '71 played a crucial role in introducing David Bowie's "Space Oddity" and his first two Mercury Records albums to the U.S. airwaves, especially on the West Coast.
"In November of 1969 I bought the album Man of Words, Man of Music as an import album on the wall at Lewin Record Paradise on Hollywood Blvd," recalled Rodney Bingenheimer in a chat in West Hollywood during September 2019.
"I first really heard of Bowie from a local fan, Al Hernandez," Rodney volunteered.   "Who had been in London at this Roundhouse gig and touted Bowie on top of what I read in the UK music papers.
"I had mentioned Bowie and 'Space Oddity' in GO music magazine in my column in '69.  Big news around the first moon landing. I loved the song when I first heard it. It was a long story telling tune. It was different. Very soothing stories."  
"In 1970 I was working for Mercury Records label in Hollywood doing radio promotions and drove David to radio station KYMS-FM out in Orange County. On that visit we talked rock 'n' roll. He liked Lulu and Cilla Black," Bingenheimer disclosed.
"I took David to Lewin Record Paradise, and they were an English import shop," he continued, "and the owners flipped out when I took David Bowie inside.   Autographs. The whole thing. The shop was down the street from Mercury Records. The owners had their minds blown.
"David was looking at the Beatles' sealed albums on the wall and photos behind the glass case. It was owned by English people. His LP on Phillips the UK label was on display," enthused Rodney.    
On his label job, Bingenheimer steered Bowie to then-influential FM radio stations in Southern California, including a visit to KMET-FM, whose DJs and staff employees in 1971 were suspect of Bowie's wardrobe, long hair and platter he was peddling circa '71.
Rodney still arranged however for Bowie to spin some records on his influential KMET-FM radio station stop, including tracks by The Velvet Underground and The Stooges.
Only 18 months later KMET would actively support Bowie's monumental Ziggy studio long player on RCA Records, and subsequently co-sponsored his local 1972 live concert that eventually resulted in a 2008 CD and vinyl retail release.
"I set up the radio visits," Rodney reiterates, "and I must say, most of the program directors or music directors called me back as I coordinated Bowie's promo week in L.A.  But when we went to some of the stations, a few deejays and people around the radio would yell 'Jim Dandy,' or 'Black Oak Arkansas' at Bowie when we actually did the radio interviews for The Man Who Sold The World album.
"When he played 'Space Oddity' they all paid attention. Bowie loved America. When we went to Ollie Hammond's for an omelet on La Cienega Blvd., it took a while for us to get service. And girls did not want to talk to us.  
"Over the years I have played 'Space Oddity' on my radio show," Rodney proudly boasts. "It has become his signature song."  
(Harvey Kubernik is an author of 15 books. His literary and music anthology Inside Cave Hollywood: The Harvey Kubernik Music InnerViews and InterViews Collection Vol. 1, was published in December 2017, by Cave Hollywood. Kubernik's The Doors Summer's Gone was published by Other World Cottage Industries in February 2018.
Harvey's The Doors: Summer's Gone has been nominated for the 2019 Association for Recorded Sound Collections Awards for Excellence in Historical Recorded Sound Research.
During December 2018, Sterling/Barnes and Noble published Kubernik's The Story of The Band From Big Pink to the Last Waltz.     
This century Harvey penned the liner note booklets to the CD re-releases of Carole King's Tapestry, Elvis Presley The '68 Comeback Special, The Ramones' End of the Century and Allen Ginsberg's Kaddish.      
In November 2006, Harvey Kubernik was a featured speaker discussing audiotape preservation and archiving at special hearings called by The Library of Congress and held in Hollywood, California).  In spring 2019 he will be writing an essay on the topic of The Band by The Band for the Library of Congress and their National Recording Registry annual twenty-five recordings that are permanently archived in the nation's library.