CRITICALLY ACCLAIMED, SOLD-OUT BROADWAY ENGAGEMENT OF Once Upon a Dream Starring The Rascals
CRITICALLY ACCLAIMED, SOLD-OUT BROADWAY ENGAGEMENT OF
Once Upon a Dream
Starring The REAL ORIGINAL BAND MEMBERS
FELIX CAVALIERE, EDDIE BRIGATI, DINO DANELLI & GENE CORNISH TOURS OCTOBER AND NOVEMBER 
Producers Steven Van Zandt and Maureen Van Zandt, and Marc Brickman, are delivering the celebrated sold-out Broadway engagement Once Upon A Dream Starring The Rascals to excited audiences across the U.S. for October and November. 
Once Upon A Dream Starring The Rascals, premiered on Broadway at the Richard Rogers Theatre this past spring selling out 15 performances.
That began a string of highly praised U.S. dates that now include upcoming October and November shows: October 10th in Los Angeles at the Greek Theater; October 11th and 12th San Francisco; October 14th, 16th, 19th and 20th in Phoenix; November 15th at the Fox Theatre in Detroit; November 29th at Borgata's Event Center in Atlantic City and a Holiday season return to the New York Broadway stage December 16th-January 5th.
The show is directed by Steven Van Zandt and Marc Brickman, with music by Felix Cavaliere and Eddie Brigati. Once Upon a Dream Starring The Rascals employs stage, video and lighting design by Brickman and has music production and is written by guitarist and songwriter Van Zandt.
For more information go to RascalsDream.com, visit the show's Facebook page at Facebook.com/RascalsDream,
A hybrid of a rock 'n' roll concert and a Broadway show, Once Upon A Dream Starring The Rascals marks the first time the Rascals, America's classic blue-eyed soul band, have played together since 1970.
Original band members (keyboard & vocals), Eddie Brigati (vocals), Dino Danelli (drums) and Gene Cornish (guitar) will present a complete concert performance including songs that captured the spirit of America in the 1960's, such as their poptastic hits "Good Lovin'," "Lonely Too Long," "It's a Beautiful Morning," "How Can I Be Sure" and "Groovin'."
The production also features the history of the iconic group told through archival footage, narration, and dramatic film segments viewed on the latest LED screen technology.
The Rascals, formerly known as the Young Rascals, are one of the most influential, and artistically important American bands in Rock and Roll history. Felix, Eddie and Gene had previously been members in the Joey Dee and the Starliters comeback band in 1964.
In a time dominated by the English rock acts of the British Invasion, the Rascals not only survived but thrived. The post-twist New York, New Jersey, and Long Island club scenes bred the band, an outfit whose sound grew more sophisticated as time went on but stayed rooted in the blue-eyed soul that was its first reason for being. At first a hard-hitting band reminiscent of the early Animals, the Rascals drew from the same well that fed the then-burgeoning garage rock scene. They would go on to lead the way for Blue Eyed Soul to Folk Rock to Protest to Civil Rights, blending white Pop melodies with black soul and R&B muscle. Though they never brandished their politics like some bands, the Rascals truly lived theirs, fighting discrimination by demanding that a black act appear on the bill at each of its concerts.
Their music would span the entire decade from the early Go-Go dance parties right through the psychedelic era – and beyond. The band released numerous top ten singles in the mid- and late-1960s, including "How Can I Be Sure", "Come On Up", "You Better Run", "I've Been Lonely Too Long", "Beautiful Morning", and the #1 hits "Good Lovin'", "Groovin'", and "People Got to Be Free". They went their separate ways in the early 70's, finally reuniting for one night in May of 1997 when Steven Van Zandt inducted them into the prestigious Rock and Roll Hall of Fame. And now the day music historians never thought would happen, The Rascals' original lineup have reunited for their first public performances in 40 years with Once Upon A Dream, a combination concert/theatrical event.
"To brand this band, and their sound, as strictly 'blue-eyed soul' is far, far too limiting a sonic pigeonhole" in the opinion of Gary Pig Gold, whowas an extremely young rascal himself when 'Good Lovin' first blasted out of his Canadian six-transistors in '66. "I always considered Felix, Dino, Eddie and Gene together created a perfect blend of Chicago, Memphis, Brill, Miami, with even echoes of show-band and later San Francisco in their sound. Plus, crucially, their roots, as do those of all our greatest songwriters and performers, embraced without fear or prejudice a remarkable, fully romantic wide-screen stew of influences.
"No, they may not have been first to fully liberate your local Top Forty, but the Rascals certainly lead the march to tear down any remaining walls between socio-musical genres …and somehow still had lots of hot, healthy hits in the process! Seldom if ever on this side of the Atlantic label or elsewhere have four men produced such a wealth of innovative, yet ruggedly ever-lasting material. And their return now may have been long, long, long overdue, but it could not have come at a better time for us all."
'Since the Rascals re-united for a benefit I've dedicated any time I've had to getting them back for real," volunteers human rights activist, founding member of Bruce Springsteen's E Street Band, original principal cast member of The Sopranos, and SiriusXM DJ, Steven Van Zandt. "Their music was unique. Not only in its greatness but through their hit singles it told the entire story of the sixties. The rock and soul of the band's beginnings to the Brill Building, folk rock, the civil rights movement, jazz rock, the psychedelic era and Vietnam. All expressed in their fantastic records.
"Their place in history is also unique. The higher their success they were one of the first bands that demand there be black opening acts with blue eyed soulful singing of their two extraordinary lead singers and have as much success on the black charts as the white. And of course, 'People Got To Be Free' is one of the anthems of the civil rights movement.
"To give justice to their importance, I've written a show for them that is as unique as they are. Once Upon a Dream. It's a combination of a rock concert and a Broadway show that includes a live performance by the original four Rascals, Felix, Eddie, Dino and Gene, and complimented by film segments and news footage. And it's a show they can take all over the country. The lighting and stage design is by one of the greatest designers of all time. Marc Brickman.
"Marc was Bruce's first light man and then went on to do Paul McCartney and Pink Floyd. He's incredible.
"The show will be an uplifting inspiration to you fans who have been waiting all these years praying for a Rascals comeback," he predicts. "For those of you who are younger
we'll get a real taste of the sixties that missed the first time around."
Maureen Van Zandt (Producer) is co-founder of the With Out Papers Theatre Company, where she produced and acted in numerous productions. She appeared as Gabriella Dante in the HBO series The Sopranos for six seasons. She is also the creator and choreographer of the dance group Garage Girls A Go Go, who have worked extensively in video, TV and onstage. Maureen served as dance supervisor on the David Chase film, Not Fade Away
Marc Brickman (Producer/Director/Staging/Video/Light Design) is recognized as a cutting edge creative force and innovator in the industry, Brickman's awards and accolades include Emmy Awards and Cable Ace Award nominations for production design and best director. His work with Pink Floyd is legendary having been viewed by millions worldwide. Other projects include the worldwide expansion of the Blue Man Group. Artists Keith Urban, Paul McCartney, Bruce Springsteen, Cirque Du Soleil "Viva Elvis," and the Black Eyed Peas all have called on Brickman's talent.
"This show has proven to be the greatest challenge of my career," admits Brickman. "Being given the opportunity to place the audience in a time capsule so they can experience in the moment the greatest music of that period being performed as if it is 1970. It's the fountain of youth!"
"I felt incredibly lucky to work with the band's catalog at Rhino Records," adds Gary Stewart, a former VP of A&R at the label. "I'm reminded of the dilemma I had around what to leave off a 2-CD set, as an example of a band that is so much more than their greatest hits. They were equally (and increasingly) adept at garage rock, Italian American pop, flower power inspired jams and blue-eyed soul. Steven Van Zandt did a public service bringing them back and re-making a case for them as a major player in the 60s and not a best of only thing

 "The remarkable thing about Once Upon A Dream is the distance it goes beyond the tired oldies show/revue experience that pervades seeming similar pursuits. Yes you got the greatest hits (hey, we're talking still stunners like 'People Got To Be Free,' 'Groovin',' and 'How Can I Be Sure' for starters) but also second level (but no lesser) hits like 'What Is The Reason' and 'Love Is A Beautiful Thing' that oldies radio-on the west coast at least- seems to have forgotten along with should-have been bigger defining/expectation defying album sides.
"The 28 songs that comprise the show (as opposed to the dozen or less you you've become to expect form tacky oldies shows to which this bears no resemblance) reminded me of how many great singles, album cuts and how much strong work informs the Rascals far from ignored but still massively under-appreciated legacy. That many of my favorites weren't included ('Silly Girl,' more cuts from the titular Once Upon a Dream) shows how much quality work they had to choose from."
One satisfied customer who witnessed the Rascals live reunion in Toronto, Canada this past August is record producer, author, and SiriusXM DJ, Andrew Loog Oldham, who enthused in an email, "Rascals great. You think you know all the hits. You see the show and then there are more."
"I bought the hits CD in the theatre lobby and played it last weekend on my way to my semi-jungle abode back in Bogota, Colombia.
"'Groovin'' must be the perfect poolside tune. In the show the Rascals talk about how they wanted to produce themselves and a wise Ahmet Ertegun said 'okay' and placed them with engineer Tom Dowd and arranger Arif Mardin. That is as a great a combo as the Beatles with George Martin, Norman Smith and/or Geoff Emerick. What magic those Rascals managed to vinyl up in less than two and one half minutes should be taught in music schools today."
The Rascals Talk to Harvey Kubernik
"This thing started three years back when Stevie invited us to play a cancer benefit for the Kristien Ann Carr Fund," says Gene Cornish. "We had performed together in 2007
at the Rock and Roll Hall of Fame induction in 1997. His wife Maureen prodded him to give it one last shot. He has tried over the years. As Eddie says, 'He's a psychologist. He's a psychiatrist and an alligator wrestler.'
"Stevie came up with a script. 'The songs you know. The story you don't know.' And he gave us a chance to come to really come to terms with each other. It's been so gratifying from both sides of the stage. Stevie describes us as the first black white band. Even Dino on his drum stool was all over the place. It was animated. There was showmanship. It was time to do this. The Rascals were not just about love and peace. They were about civil rights, family and R&B music. A lot of good substantial reasons for a band to make music. Our catalog of music is so deep. We had the blessing of Felix Cavaliere and Eddie Brigati writing our hits
"I can brag about Felix and Eddie. Those songs give me chills today. Because of the craftsmanship. And all four of us had a lot of input. It wasn't just lyrics and melody. The feel. The emotion. Those songs came from experiences we had together. A good song is like a good ring. It doesn't rust. I've always said the Rascals were a family. Our records were our children. And those children grew up really well. And the people loved them and we're proud of them and we get to present them all over again. Like showing off our kids. These are ours and we have them to share. And we deliver them the way they should be shown.
"Eddie is the spirit of the Rascals. He's there. Felix is the rock. He's the voice and Eddie is the other voice. And Dino. Oh my God! Drummer's drummer," proclaims Gene.
"The Beatles changed my whole life. Before I heard them or saw them, when I was a guitar player it was to be behind the singer in the background. Las Vegas was maybe one of the places you would up at. Maybe the guitar player on some tour behind Freddie Cannon. Now, all of a sudden, the Beatles come out and I can walk up front. There were no sidemen in the Beatles. There were no sidemen in the Rascals. There's no sidemen in the Rolling Stones. Or the Who. It was us. I could stand there and wait for my solo. But it wasn't just the solo. I added to the rhythm. We were a four man team. And then the Beatles wrote their own music. We could sing it and play up front and it wasn't just the lead guy singing up front. It was no longer, 'mind your own business and stay in the back.
"The last time we played Los Angeles was the Hollywood Bowl. The same week 'People Gotta Be Free' was number one around the world. And we broke the attendance record at the Hollywood Bowl. We had 'em in the trees. In Southern California we played West Covina. We played the Forum, the Anaheim Convention Center. Now the Greek Theater. We were on the Devonshire Downs '69 Newport Pop Festival in Northridge. We are looking forward to seeing our brothers and sisters in L.A this fall."
"When we first did the benefit there was no idea of this show," clarifies Dino Danelli. "Steven didn't know if it was gonna work or get along with one another. To play and do all of that stuff. It was such a magical evening and we all had this epiphany. This is nuts. All of us not playing together for 40 years. We have to do this again in some way and keep it going. It's too special. When the four of us play together there is a certain magic that happens that nobody else can create. We just saw the reality of it all and the potential. I told Stevie I didn't want to go out as a classic oldies act. He spent some time writing this thing. And we took it out. We didn't know if it was gonna go. The multi-layered visuals and all of the stuff we are doing just hadn't been done. We didn't know it was gonna work or if people would sit through it for two hours and fifteen minutes. No intermission. People got to really commit to it. To stay and listen. 'Cause it's not song after song or just a greatest hits. You've got all this stuff going on in between surrounding our music," underscores Danelli.
"In the Rascals everyone left me alone and luckily enough I came up with different things that always fit and always enhanced. I was always conscious of working with singers and always wanted to embellish what they were doing. To hear their interpretation and try and just make it better. And not try and fight for anything. But I always come at it from a different angle.
"About the Rascals legacy, I would compare 'How Can I Be Sure' to (Paul) McCartney's 'Yesterday.' It's classic and gorgeous. Felix wrote one of the most beautiful melodies in a rock situation I can remember. And Arif wrote a beautiful arrangement for it. Everybody just clicked on it. Eddie's performance was outstanding. You could not fight that song.
"Our records are still on the radio, soundtracks and movies. I can't explain the magic of the music but there was a chord that struck and connected our music with people. The common person. It's gone through an American kind of feeling. Our music is very joyous. No heavy angst or anything. It's all very positive and you leave the show really feeling better than you did when you came in. 'Cause that's what we do.
"When we played live I always looked at myself as a front man behind the drums. Playing with Lionel Hampton, New Orleans. Dance bands helped establish my style which was kind of different from everybody's else. And it was just very helpful in making us unique. I just perform like I'm the lead singer.
"I am playing in a band where the Hammond B-3 is a principal instrument. Joey Dee and the Starliters did that and a few isolated jazz players brought the Hammond B-3. Jimmy Smith, Jimmy McGriff. But Joey Dee's band was a big influence on the Rascals," acknowledges Dino.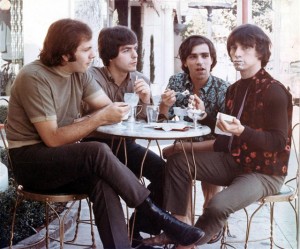 "As a young musician coming up Steve got the message we were trying to portray," states Felix Cavaliere. "He got it. And he portrays thatback to the audience that there is no doubt what we were trying to project. It's one thing to make hit records and have hits. I always felt we had a different purpose out there. You know. The show reflects that. And I see people going through their past. And their healing processes and their memories of those years. And they start crying. What I see are people reaching out for what I call that 'sixties' positive energy.' We get clobbered in the media for the sixties but you know what? There were good causes out there," Cavaliere suggests.
About his Hammond B-3 organ, a predominant instrument in the Rascals lineup, Felix explains, "When I saw an organist playing and singing he was doing bass, rhythm, lead vocal. And I said, 'this is really encompassing a whole part of the music spectrum.' One of the beauties of the Hammond is that it sort of fills in the sonority area where the voices are. So when you have singers and Hammond there is a blend. It really fills a room with this beautiful sound. That's what turned me on. The overall orchestration of the instruments. The Rascals had studio bassists on the albums, jazz session men. Like the Doors who employed a bass player on their albums.
"The band happened after hearing the Beatles…To me it was 'I could do this.' The first time I saw them early they were a band playing and singing live. They had not really done what they did with George Martin. I know they had great singers and the players are OK. But they were starting to write their own songs. They had great songs. I thought. 'I can do this.' And I wanted to get the best guys I could find. The best singers and musicians. And it worked. From inception to record deal was six months.
"That's unheard of. Ahmet (Ertegun) courted us. So did Phil Spector. Seriously, I wanted to produce the group. Ourselves. That was the goal. I didn't want anybody to take hold of this. The good luck was that Atlantic put into the room these geniuses, Arif Mardin and Tom Dowd. We opened Arif up to what he was capable of doing. The freedom was there. We had unlimited studio time. And our second record, 'Good Lovin', was number one.
"Initially when we were presented with "Ain't Gonna Eat Out My Heart Anymore' I kind of had a crazy reaction to the songwriters coming in. 'Cause I wanted to write our own songs. But we hadn't gotten to that point yet where we could start demanding stuff. The songwriters on 'Ain't Gonna Eat Out My Heart Anymore' had a nice soulful thing and were Motown writers. 'Hey, I'm a kid. Let me learn here and take it to the next step.' I wanted to do our own thing and from the beginning that was my plan. And again, it was Beatles-stimulated. No question about it. All those English groups really opened the door for us and everybody. .
"There is a different kind of pecking order once you have a big hit," explains Felix. "All of a sudden they have to listen to you a little bit more, you know. It was interesting and a bit pre-mature. In those days the only way you could work in a club was if you did other people's songs. There was no way in New Jersey or New York you were gonna go in there and play originals. They'd throw you out on your heels. That was it. It was my job, our job, to come up with songs that were songs on the radio. And we had to fight for some of them like 'Mustang Sally.' They never heard that. But they were legitimately on the black radio stations and we brought them to the gig. What a place to test songs.
"When we played 'Good Lovin'' people got up and danced. So you kind of knew instantly what could be a hit record. If in fact it ever got to that level. You could see it and hear it. You had a built in Nielsen type rating thing. But we had all covers. After that the spotlight was on us. And we had to follow a million seller. That's not easy. The so-called sophomore jinx. So I really put my foot down, 'You know damn it. We're gonna write now. No more bringing outside stuff in.'
"We had a tough time. 'You Better Run' and 'Come On Up' came out. And, thank God, this woman came into my life and we started with 'I've Been Lonely To Long.'
"And, with 'I've Been Lonely To Long' and 'Groovin'' at that point in my life I fell in love and I found a muse. It was just gaga land. I was gone. All of those love songs were about this one particular person. And it was so interesting and the culmination was 'How Can I Be Sure.' And then it was over. Things happen for a reason and the reason was to write those songs. That is what she was there for. The word muse is real. The stories were genuinely about being in love.
"There's a certain divine thing that happens in every group," posed Felix. "And Gene just fit. Initially he wasn't funky but he learned. Dino was a wild horse drummer. And between (arranger) Arif Mardin and (engineer) Tommy Dowd they calmed it down. I didn't have my recording chops together but Tom did. We overplayed, like all young kids and learned to chill.
"The thing about Atlantic Records was that it was not a corporate entity. The studios were open to anyone. No signs to keep out. One day Otis Redding sticks his heads in and says, 'My God! They're white!' Which I loved. That was cool.
"At Atlantic everyone was jealous of us because we had eight track. Can you imagine that? This is where you put the genius of Tommy Dowd. Forget it. He just knew and had tricks they had developed on the four tracks that we kind of inherited and learned. I learned from watching Tom.
"For example, you put the low bass and the high tambourine on the same track. And you can kind of make a change with EQ's rather than overdubs and all that. Because we didn't have any tracks. Where to put stuff and how to blend.
"And don't forget, stereo came in during that period of time. I found out that John F. Kennedy used to fly Tommy to the White House to do his press conferences. 'Cause he was so enamored with his idea of stereo.
"As for the current tour, it's an older crowd but I love people who weren't born when we made this music who come to the show. And in L.A. it's great that we will have our Chicanos at the Greek Theater."
Be there or be square. 
"This is kind of a miracle and a wonderful opportunity," presents Eddie Brigati. "Steven, and then bringing Marc Brickman in. Steven's sincerity and his power. He has no brakes or reverse. His integrity. And the power was something I lacked in the Rascals. I was the youngest member. I lost a vote and my vote was divided up between everybody. But he gave me my corner, so to speak. He added singers, he embellished the vocal department. And he's a good referee and a champion of equality. I love him.
"Steven and Marc are artists. True artists. And we all are. The Rascals have never been treated like this integrity and professionalism. What we were lacking from the onset was lack of true management. Music direction. Being treated properly. And the music super seeds that. Young people having a good time being all inclusive, and that's what we're re-visiting now. This is vindicating and validating and these songs have marinated for 40 and 45 years.
'As far as the longevity of the music, given where we live in this war profiteering society, speaking for myself, I sing from my mother's heart. I sing from the female. And that it's female nurturing. Listen to the vocals of my brother David and I the female nurturing and the sweetness of it. And we're singers. We had wonderful bass players, masters from the jazz world. Rascals are different than anyone else. When we talk about dance it's rhythm and blues with a little Latin from our DNA. That brings it to a whole other hybrid of music. My brother and I were the glaze on the vocals, and we didn't get much time to do it. A lot of things are blended and ducked in the background," mentioned Eddie.
"God bless Arif Mardin. He went from hall to hall with his arrangements. And Tommy Dowd was the physicist. He was the technical guy. He said, 'when they put the last screw in the console it's obsolete.' The Rascals is an international effort. Ahmet and Neshui Ertegun were international entities and they were also party dolls.
"Los Angeles always extended itself to the music of the Rascals," reinforces Eddie. "Rudy Rodriguez, the brother of (photographer) George Rodriguez, was my guide when we played in Hollywood. The first time was at the Whisky a Go Go. Rudy brought Thee Midniters to out shows. I then went into East L.A. 'Eddie don't go to that club.' 'Eddie watch out for that girl over there.' Rudy was my guide. I wanted to know where his people went to. They call them Chicanos but in their hearts they are Native Americans. They took me to the most beautiful places. Music was our vehicle and a universal thread.
"My brother and I were fans of the Flamingos, the Heart Beats. The harmony blend, the emphasis on rhythm and blues. That was different than rock and roll. These were prayers. These people prayed. The harmony blend. They were articulate. Their passion, their pleas and prayers to each other, their love songs were about being articulate. And as far as vocals and the articulation on our songs, that's where that comes from. And the other rock and roll thing is the street.
"And the writing factor," Eddie delineates, "Felix had the incentive. I created the lyrics in this way. I said, 'Felix. What does this tell you in a word?. Or in a sentence? What does this yell you? What do you want this to say. Where do you want this to go?' It only worked one way. I offered lyrics a lot of times and they were never really worked on. It would work on when the music was developed and I stood around while it was being developed. I influenced it. We collectively, Dino gave us 19 different versions of heartbeats for the songs. Gene was a lead player and a rhythm player, he picked up the bass lines. It was really an integral effort. The cooperation thing. No two Rascals songs are alike.
For more information please visit RascalsDream.com, and visit the show's Facebook page at Facebook.com/RascalsDream.
(A portion of this story appears in the October issue of the West Coast Record Collector News Magazine).
---
Los Angeles native Harvey Kubernik has been an active music journalist for over 40 years and the author of 5 books, including "This Is Rebel Music" (2002) and "Hollywood Shack Job: Rock Music In Film and On Your Screen" (2004) published by the University of New Mexico Press.
In 2009 Kubernik wrote the critically acclaimed "Canyon of Dreams The Magic and the Music of Laurel Canyon" published by Sterling, a division of Barnes and Noble. In summer 2012, the title was published in a paperback edition.
He is also a writer of "That Lucky Old Sun," a Genesis Publications limited edition (2009) title ($900.00 signed ) done in collaboration with Brian Wilson of the Beach Boys and Sir Peter Blake, designer of the Beatles' "Sgt. Pepper's Lonely Hearts Club Band" cover.
With his brother Kenneth, he co-authored the highly regarded "A Perfect Haze: The Illustrated History of the Monterey International Pop Festival" published in 2011 by Santa Monica Press. They have also teamed up for a book with photographer Guy Webster for Insight Editions, slated for summer 2014.
This century Harvey penned the liner notes to the CD re-releases of Carole King's "Tapestry," Allen Ginsberg's "Kaddish," the "Elvis Presley '68 Comeback Special" and the Ramones' "End of the Century."
He is the Contributing Editor of Treats! Magazine and Record Collector News.
In 2013, Kubernik was seen on the BBC-TV documentary on Bobby Womack, "Across 110Th Street," directed by James Meycock and lensed for the upcoming Neil Norman-directed documentary about the Seeds.