Columbia/Legacy Set to Release on November 11th Bob Dylan: The 1966 Live Recordings
A Monumental 36 CD Box featuring Every Known Recording from the Artist's Mythic and Controversial 1966 Tour of the US, UK, Europe and Australia
By Harvey Kubernik c 2016
Bob Dylan: The 1966 Live Recordings- a highly-collectible 36CD box set containing every known recording from the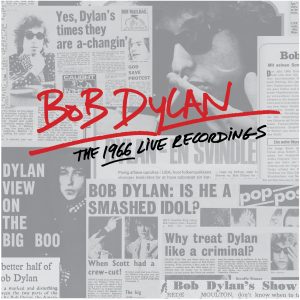 artist's groundbreaking 1966 concert tours of the US, UK, Europe and Australia–will be issued on Friday, November 11 by Columbia Records and Legacy Recordings, the catalog division of Sony Music Entertainment.
The collection commemorates, in stunning sonic vérité, the 50th anniversary of the electrifying live performances that would forever change the sound and direction of rock and pop music around the world.
"While doing the archival research for The Cutting Edge 1965-1966: The Bootleg Series Vol. 12, last year's box set of Dylan's mid-60s studio sessions, we were continually struck by how great his 1966 live recordings really are," said Adam Block, President, Legacy Recordings in a press statement from the Columbia/Legacy label.
"The intensity of Bob's live performances and his fantastic delivery of these songs in concert add another insightful component in understanding and appreciating the musical revolution Bob Dylan ignited some 50 years ago."
Meticulously researched, curated and restored for this extraordinary compilation, Bob Dylan: The 1966 Live Recordings is drawn from three main audio sources: soundboards, CBS Records mobile recordings and audience tapes.
The Columbia/Legacy missive further stresses, "With the exception of the Manchester concert (May 17, 1966) released as Bob Dylan Live 1966 – The Bootleg Series Vol. 4 (Columbia/Legacy) in 1998, a pair of songs appearing on the 1985 Biograph product and a smattering of others, the overwhelming majority of tracks and performances on Bob Dylan: The 1966 Live Recordings are previously unreleased in any format–official or bootlegged–and are being made available now for the very first time."
All the songs on The 1966 Live Recordings were written by Bob Dylan (vocal, guitar, piano, harmonica) with the sole exception of "Baby, Let Me Follow You Down," a traditional song arranged by Bob Dylan for concert performance.
Dylan is accompanied on these recordings by Robbie Robertson (guitar), Rick Danko (bass, backing vocals), Richard Manuel (piano), Garth Hudson (organ) and Mickey Jones (drums). (Sandy Konikoff plays drums on the White Plains and Pittsburgh shows only.)
"There was a thing that happened between Bob and the Band that when we played together that we would just go into a certain gear automatically," Robbie Robertson explained to me in a 2004 interview. "It was like instinctual, like you smelled something in the air, you know, and it made you hungry. (laughs). It was that instinctual. And the way we played music together was very much that way. And whether, we were playing in 1966, or 1976, or when we did the tour together in 1974, we would go to a certain place where we just pulled the trigger. It was like 'just burn down the doors 'cause we're coming through.' And it was a whole other place that we played when we weren't playing with him. It was a whole place that he played when he wasn't playing with us, so it was like putting a flame and oil together, or something. I don't know.
"When we did the Dylan and Band tour in '74, where we went and did a lot of the same things we did back in '66, and the peoples' response was 'this is the shit and I knew it all along.' It was like you weren't really there all along.
"It's really a very interesting experiment to see, or go from something that people were so adamantly against this music, and that we didn't change nothing, and the world revolved, and everybody came around and said 'this is brilliant.' That was very interesting to see everything else change around you."
Liner notes for Bob Dylan: The 1966 Live Recordings were penned by Clinton Heylin, a consultant on the project and author of JUDAS!: From Forest Hills to the Free Trade Hall: A Historical View of Dylan's Big Boo, the definitive written account of Dylan's historic and pivotal 1965-66 world tours.
Columbia/Legacy is also scheduled to issue Bob Dylan's performance at the Royal Albert Hall from May 26, 1966 as an album entitled The Real Royal Albert Hall 1966 Concert.
For decades, Dylan's performance in Manchester was incorrectly labeled "The Royal Albert Hall Concert."
Now, for the first time, the REAL Royal Albert Hall concert–originally recorded for a live album by CBS Records–is finally being released, mixed by Grammy-winning engineer Chris Shaw.
This item will be released as a 2CD collection on December 2 with a 12″ 2LP edition of the album arriving on November 26.
Each of the individual CDs in Bob Dylan: The 1966 Live Recordings is housed in a custom sleeve featuring stills from color film shot by D.A. Pennebaker, whose footage from Dylan's 1965 and 1966 tours became the cinéma vérité classics Don't Look Back (1965) and Eat The Document (1966).
I've conducted six interviews with the Oscar-winning D.A. Pennebaker over the last 15 years.
In 2014, one of our dialogues was published as the closing chapter in D.A. Pennebaker:  Interviews, Conversations with Filmmakers Series, edited by Keith Beattie and Trent Griffiths, published by University Press of Mississippi.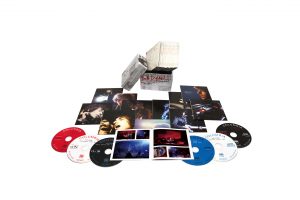 During a 2012 interview, D.A. Pennebaker and I discussed the 1966 tour footage he shot around several of these now available Dylan concert recordings
Q: What was the genesis of your 1966 Dylan movie endeavor?
A: After Don't Look Back Dylan said, 'I want you to shoot a film and I'm going to direct it and it will be my film. You have your film and this will be mine.'
"That was the kind of handshake arrangement. We didn't have anything signed or no papers about it. We went off. I only knew how to film one way. I didn't change the way I filmed. And Dylan really didn't know how to direct and nor did I. It kind of stumbled along. We were moving around a lot. Sweden, France, England. It just wasn't a tour of English music halls.
"And I think that Dylan got really intrigued by the kind of locals he was in. And how they responded to him. And then John Lennon came in and we sort of got involved with John. At no time did I think I'm gonna capture this movie and do it myself. Although I could sort of see how to do it because it was different than Don't Look Back.
"Dylan was playing on stage with 4 or 5 musicians and having a great time doing it. I mean, it was so much more interesting than what he had been doing all by himself. And he kind of took to it. And I could see by shooting the stage performances were really an important part of it.
"At one point I actually got out on stage with the band and he didn't know I was gonna be there and when he saw me he really cracked up. Because it was such a funny idea that I was just like the band.
"There was no difference in shooting Dylan in color than black and white. By then I was sort of interested in shooting color and I liked the fact you could make scenes.  The contrast between one scene and another you could make much stronger. Whereas in black and white it went from black and white to black and white. But you could make sky blue turn into blue velvet. And that was sort of interesting but it did not affect the storyline.
Q: Then this footage sort of morphed later into Eat The Document.
A: Well, you see, Dylan had the motorcycle accident. And so Albert (Grossman) came and said, "We gotta give them something. Can you guys cook up something?" So Bob Neuwirth and I cooked up the beginning of "But You Know Something Is Happening." But then Dylan said he wanted to edit Eat The Document.
"And then he and Robbie (Robertson) kind of had a competition about doing that, which always soured Dylan on the film. And so that film got made but ABC didn't want any part of it.
"So the film just sat and was in limbo. And my film was kind of in limbo. I wasn't trying to compete with Dylan at all. And I showed it to the critic in San Francisco. Anyway, he wrote a review of it, which was unexpected, and Albert (Grossman) took not kindly to it. Because Dylan thought we were playing games with him. But I never had any intention of releasing that film and haven't. But I have it because I think we were on to something that was really interesting and I don't think anybody else knew it and did anything with it at the time. I hated to see the film go down the toilet.
Q: However, portions of what you shot were unitized in No Direction Home.
A: Yes. I turned it all over to Marty (Scorsese). That was the only way it was gonna get released. Someday my version will get released but it doesn't really matter. Because all the work was done on the first film, "Don't Look Back." And that's what people remember. And the rest is just kind of, you know, throwing pictures on the sides of the pages of the book.
Q: What was the biggest change you noticed in Bob Dylan as an artist and songwriter when you filmed the 1966 European tour that is revealed in his cut of Eat The Document?
A. Well, I felt that he was really writing music sort of with Robbie (Robertson) and for Robbie. He was trying to show Robbie how to write music. There was something going on that drove him so that he would stay up all night. I filmed him endlessly where he'd write many songs during the night and Robbie would play along. Robbie made him somehow do this. Neuwirth never made him to that. And on the first tour there was nobody doing that. He never felt competitive with Dylan.
In a 1996 I did an interview with poet Allen Ginsberg. We talked about Dylan. Ginsberg is seen in Don't Look Back
and his lyrical influence along with beatific Jack Kerouac underscores Bob Dylan: The 1966 Live Recordings.
"Wouldn't it be interesting if you went to a concert by Dylan and he dated each piece?
"We were being more candid and truthful than most other public figures or writers at the time.  We were switched over to writing a spoken idiomatic vernacular, actual American English, which turned on many generations later.  Dylan said that Kerouac's 'Mexico City Blues' had inspired him to be a poet.  That was his poetic inspiration.
"I knew him in the 60's.  He taught me the three chord blues pattern.  So he was my instructor.  I began singing in India, Mantra, and in the great 60's. I began transferring the sacred music idea to Blake, and began transferring that to folk music, and then got together with Dylan.
"I don't think I would have been singing if it wasn't for younger Dylan.  I mean he turned me on to actually singing.  I remember the moment it was.  It was a concert with Happy Traum that I went to and saw in Greenwich Village.  I suddenly started to write my own lyrics, instead of Blake.  Dylan's words were so beautiful.  Dylan delivers.
"The first time I heard them I wept.  I had come back from India, and Charles Plymell, a poet I liked a lot in Bolinas, at a 'Welcome Home Party,' played me Dylan singing 'Masters of War' from Freewheelin' Bob Dylan, and I actually burst into tears.
"It was a sense that the torch had been passed to another generation.  So there's always, every generation, somebody comes along and knocks your heart open."
(Harvey Kubernik has been a music journalist for over 44 years and is the author of 8 books. During 2014, Harvey's Kubernik's Turn Up the Radio! Rock, Pop, and Roll in Los Angeles 1956–1972 was published by Santa Monica Press. 
In September 2014, Palazzo Editions packaged Leonard Cohen: Everybody Knows, a coffee—table—size volume written by Kubernik, currently published in six foreign languages. BackBeat/Hal Leonard Books in the United States.
Harvey and Kenneth Kubernik wrote the text for photographer Guy Webster's award-winning first book for Insight Editions published in November 2014. Big Shots: Rock Legends & Hollywood Icons: Through the Lens of Guy Webster. Introduction by Brian Wilson.
In March, 2014, Kubernik's It Was 50 Years Ago Today The Beatles Invade America and Hollywood was published by Otherworld Cottage Industries.  In November of 2015, Back/Beat/Hal Leonard published Harvey's book on Neil Young, Heart of Gold).
During 2017, Sterling will publish Harvey Kubernik's 1967 Complete Rock Music History on the Summer of Love).