CAVEMania
THIS SHOW IS ABOUT MUSIC AND MUSIC HAPPENINGS FROM EDISON TO OUTER SPACE, including Punk, Rock n Roll, Jazz, and all things Hollywood.
Some Background: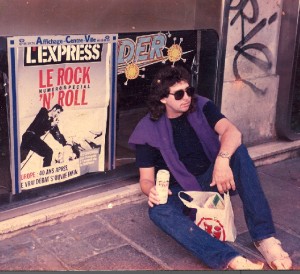 Born in Hollywood, California, David Kessel and brother Dan Kessel are the sons of legendary Jazz guitarist and music producer, Barney Kessel. David and Dan have worked steadily with Phil Spector Productions for more than twenty-five years, during which time they have been extensively involved in Spector's record production, publishing, songwriting and music business administration. David and Dan have performed as session musicians and background vocalists on countless Spector produced recordings, including John Lennon, Bob Dylan, the Ramones, Cher, Leonard Cohen, Harry Nilsson and Celine Dion.
In the late 1970s, David and Dan became immersed in the Southern California punk music scene. The Kessel Bros. produced numerous unique recordings with many Classic, Punk, & New Wave bands and artists including the Ramones, Go-Go's, Blondie, The Alley Cats, The Wigs, Blake Xolton, Rodney Bingenheimer, The Ventures, Frankie Avalon & Annette Funicello, and co-productions with Brian Wilson of "The Beach Boys", to name a few.
The Kessel Bros. produced and arranged the Ramones song, "Slug" (available on the CDs All the Stuff (And More), Vol. 2, and Rocket to Russia, as well as on Rhino's 2005 box set Weird Tales of the Ramones) and, along with their pal, radio personality Rodney Bingenheimer, introduced The Ramones to Phil Spector. David and Dan helped put the deal together and played on The Ramones' Spector produced "End of the Century" album.
In the early 90s, David Kessel became involved in the world of multimedia and the new digital music technologies. Kessel was Chairman of the Board of IUMA, the Internet Underground Music Archive, the pioneering music website. He also produced a multi-media enhanced CD titled "Crunchy Smacks from the Internet Underground Music Archive", which was the first ever CD released in association with the Internet.
Kessel has subsequently been a consultant to several high profile new media music companies, been an active guest speaker and moderator at music technology seminars, in addition to being profiled in many books and documentaries on subjects as varied as the Ramones, to new media.
Combining the musical worlds of punk, rock n roll, jazz, new media technologies and entertainment, David has set out to combine all of these fascinating elements into documented stories and conversations.
During the IUMA period a decade ago, Kessel saw the promise of the iPod and related technologies. "I saw the prototypes of the digital download world. Now watching the iPod become the number one item on the college campus over beer is impressive", says Kessel. "My ultimate career goal as a child was to be a game show host," Kessel concludes, "and CaveMania is the logical extension of that destiny."
Country Music Legend Jack Greene
The Ventures Rock n Roll Hall of Fame
Harvey Kubernik on Brian Wilson