Turn Up The Radio!
Love's 1967 Masterpiece Celebrated With A 4CD/DVD/LP Collection Packed With Various Mixes Of The Original, Rare And Unreleased Tracks, Plus A 1968 Promo Video
By Harvey Kubernik C 2012, 2017
Love's FOREVER CHANGES is the psychedelic R&B folk-rock pioneers' finest achievement. Mostly overlooked when it was released in 1967, today the album is considered an indispensable masterpiece.
In 2008, it was inducted into the Grammy Hall of Fame, and – in 2012 – the Library of Congress added it to the National Recording Registry.
Rhino Entertainment has touted the acclaimed album's golden anniversary with an extensive 4CD/DVD/LP collection housed in a 12 x 12 hardbound book that features a newly written essay and track-by-track notes by music historian Ted Olsen.
The package features the CD-debut of a remastered version made by its original co-producer and engineer Bruce Botnick, as well as the first-ever release of the mono version on CD.
Also included are alternate mixes of the album, as well as a selection of rare and unreleased singles and studio outtakes. Botnick's stereo remaster of the original album also makes its vinyl debut on the LP included with this set. It was cut from high resolution digital audio by veteran audio engineer Bernie Grundman at his Hollywood facility.   Continue reading →
Harvey Kubernik provides an amazing history of the evolution of rock and roll.
Combining oral and illustrated history with a connective narrative, Turn Up the Radio! captures the zeitgeist of the Los Angeles rock and pop music world between the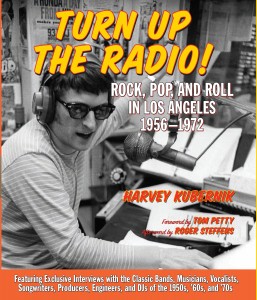 years of 1956 and 1972.
Featuring hundreds of rare and previously unpublished photographs and images of memorabilia, this collection highlights dozens of iconic bands and musicians, including the Doors, the Beach Boys, Buffalo Springfield, the Byrds, CSN, the Monkees, the Rolling Stones, Ike and Tina Turner, Elvis Presley, Eddie Cochran, Ritchie Valens, Neil Young, Joni Mitchell, Frank Zappa, Thee Midniters, Sonny and Cher, and many others.
The book also digs deep to uncover the studio musicians, background vocalists, songwriters, producers, and engineers who helped propel the Los Angeles rock and pop music scene to such a legendary status, such as Bones Howe, Barney Kessel, B. J. Baker, Merry Clayton, Jack Nitzsche, Jerry Leiber, Mike Stoller, Bobby Womack, and Kim Fowley.
Finally, Turn Up the Radio! pays tribute to the DJs who brought the music of Los Angeles to fans throughout Southern California—and, ultimately, the world—including Art Laboe, Dave Hull, the Real Don Steele, and Dave Diamond.
Packed with exclusive interviews, this one-of-a-kind keepsake is a must-have for any music fan.
Listen to Harvey Kubernik's interview with Dave the K on The Rockin' Surfer Show