The Soul Kitchen Connection
By Harvey Kubernik © 2017
Joni Mitchell Live Scheduled for 2018 release is a Murray Lerner documentary about Joni Mitchell, Both Sides Now: Joni Mitchell Live at the Isle of Wight 1970.
Oscar-winning filmmaker Murray Lerner passed away on September 2nd in New York City at age 90.
Born in Philadelphia Pennsylvania on May 8, 1927, raised in New York City, and a graduate of Harvard University English major in 1948, Lerner's award-winning and trend-setting musical documentaries include examinations of Isaac Stern, Miles Davis, Bob Dylan, the Newport Folk Festival, the Moody Blues, Jimi Hendrix, the Doors, Jethro Tull, the Who and Leonard Cohen.
Scheduled for 2018 release is a Lerner's documentary about Joni Mitchell, Both Sides Now: Joni Mitchell Live at the Isle of Wight 1970.
Also allegedly readied for February 2018 is Lerner's complete one-hour film of the Doors' set at the 1970 Isle of Wight.
On September 12th, Criterion will release a director-approved special edition of Festival! It's a new reconstruction and remastering of the monaural soundtrack utilizing the original concert and field recordings and presented uncompressed on the Blu-ray DVD.
The disc will also feature When We Played Newport, a new program incorporating archival interviews with Lerner, music festival producer George Wein, Joan Baez, Judy Collins, Buffy Sainte-Marie, Pete Seeger, and Peter Yarrow. In addition, there's also a new feature Editing Festival, with Lerner, associate editor Alan Heim, and assistant editor Gordon Quinn.
There's also a selection of complete outtake performances, including Clarence Ashley, Horton Barker, Johnny Cash, John Lee Hooker, and Odetta. Package booklet text has an essay by critic Amanda Petrusich and artist bios by folk music expert Mary Katherine Aldin.
Over the years I interviewed Lerner a few times. Continue reading →
By Harvey Kubernik c 2009 c 2011 c 2017
Walter Becker, songwriter, guitarist, bassist and co-founder of Steely Dan with Donald Fagen has died this past Sunday at the age of 67. No cause of death was announced.
Fagen wrote a posted tribute to Becker, stressing, "I intend to keep the music we created together alive as I can with the Steely Dan band."
In 1977, one night I co-hosted a late night radio program on KPFK-FM in North Hollywood with deejay and music writer/critic Richard Cromelin, then with The Los Angeles Times, and we actually debuted Steely Dan's Aja tracks over the radio.
Steely Dan's Donald Fagen and Walter Becker drove over from their Malibu pads and chatted for a couple of hours, happily whipped out their acetate test pressing of Aja and the phone lines lit up. The duo spun "Black Cow" and "Deacon Blues" and some vintage jazz library selections during the world premiere of Aja.
A decade ago I conducted a phone interview with Walter Becker. His solo album 11 Tracks of Whack had just been released while Steely Dan's Alive In America, was just about to be, as was the band's Citizen Dan box set. Continue reading →
Otis Redding's legacy continues and expands as the immortal singer and songwriter enjoys a visibility and retail renaissance.
By Harvey Kubernik c 2017
Redding was previously inducted into the Rock and Roll Hall of Fame, Georgia Music Hall of Fame, Songwriters Hall of Fame, and has been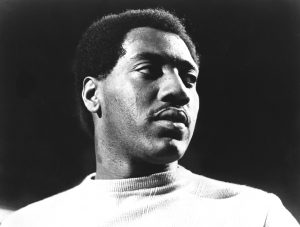 honored with a U.S. postage stamp.
In 2016 a mural was unveiled which reads "Try a Little Tenderness" in Madison, Wisconsin honoring Otis Redding by regional artist Henrique Nardi, with Cyla Costa and Jackson Alves. Nardi teaches graphic design and is a lecturer at the University of Wisconsin-Madison's Art Department.
Last September at the Macon City Auditorium, Steve Cropper of Booker T. & the MG's along with additional acts Chuck Leavell, Eddie Floyd, Robert McDuffie, St. Paul & the Broken Bones, and a Reddings Reunion with Dexter Redding, Otis Redding III and Mark Lockett performed at the An Evening of Respect Tribute Concert coinciding with what would have been Otis Redding's 75th birthday.        Continue reading →
© 2017 Harvey Kubernik
"Ronnie Schneider we'd known. He's Klein's nephew but he broke away from him. He's a smart cat. I dig Ronnie. He'd been on a lot of tours with us handling business and hung around with us. He was the only cat we knew in '69 who could handle the Stones tour that everybody knew, that we could leave to get on with it till we got there."
—Keith Richards to Robert Greenfield Rolling Stone magazine August 19, 1971
On November 8, 1969 I saw two Rolling Stones' concerts at the Inglewood Forum in Southern California. Also on the bill were Terry Reid, B.B. King, and Ike & Tina Turner. There had been interminable delays in covering the Forum's hockey rink, home of the Los Angeles Kings, in preparing the stage. The Stones' first show started around 11:45 p.m. The second one ended at 5:15 a.m. Continue reading →
© 2017 Harvey Kubernik
I'm blowing the shofar ram's horn for Rumble: The Indians Who Rocked the World. The dazzling feature documentary from Montreal, Canada-based Rezolution pictures about the role of Native Americans in popular music history.
In Rumble, director and Rezolution co-founder Catherine Bainbridge and co-director and director of photography Alfonso Maiorama examine the journey of Native Americans on record and stage. They expose a critical and profound missing chapter, revealing how indigenous musicians helped influence audio culture.
The on-screen participating contributors in Rumble are a list of music artists, historians, family members, and experts who acknowledge Native musicians that helped shape the soundtracks of their lives: Buffy Sainte-Marie, Robbie Robertson, Martin Scorsese, Tony Bennett, Steven Tyler, Iggy Pop, Buddy Guy, Taj Mahal, Cyril Neville, Ivan Neville, John Trudell, Steven Van Zandt, Corey Harris, Jesse Ed Davis, Alvin Youngblood Hart, David Fricke, Guy Davis, Monk Boudreaux,  Quincy Jones, Jackson Browne, Martha Redbone, James "Hutch" Hutchinson, Joy Harjo, as well as Pat Vegas (Redbone), Wayne Kramer (MC5), Slash (Guns 'N' Roses), Dan Auerbach (The Black Keys), Marky Ramone (The Ramones), Taylor Hawkins (Foo Fighters), Pura Fe Crescioni (Ulali), Rhiannon Giddens (Carolina Chocolate Drops), Mike Inez (Alice in Chains), George Clinton, Robert Trujillo (Metallica), and Taboo (Black Eyed Peas). Continue reading →