The Soul Kitchen Connection
APTLY-
TITLED ALL-STAR FOUR-
DISC BOX
SET
THE FOUNDER OUT ON DECEMBER 7
TH
VIA VERVE/UME  
BY HARVEY KUBERNIK c 2018
In jazz circles, few names command more respect than Norman Granz. Although he wasn't a musician, Granz (1918-2001) was as
responsible as any individual for popularizing jazz and promoting the careers of many of the genre's greatest artists.
Granz's incredible half-century career first took off with his creation of the groundbreaking Jazz at the Philharmonic concert series. But Granz was equally influential for the series of record labels that he launched in the 1940s and 1950s: Clef, Norgran and Verve. 
Those companies became home to many of jazz's most important and influential artists. And, unlike many of his contemporaries, Granz combined his love for the music with a passion for social justice, championing African-American musicians at a time when those musicians were often exploited and disrespected.
Now, in honor of the hundredth anniversary of Norman Granz's birth, Verve/UMe has assembled The Founder, a four-CD/digital box set celebrating his remarkable life and career. The historic package features a massive chronological assortment of music spanning Granz's remarkable career and featuring music by most of the great musicians he recorded. Continue reading →
REISSUED ON VINYL AHEAD OF 60TH ANNIVERSARY
 By Harvey Kubernik ©  2018
Chester Arthur Burnett, (June 10, 1910-January 10, 1976) better known to blues fans as Howlin' Wolf, remains one of the essential
exponents of the electric blues. With a raw, booming voice and explosive guitar and harmonica styles to match, the Mississippi-bred Wolf made music that was unmatched in its primal ferocity.
In the process, he, Muddy Waters, Bo Diddley, Chuck Berry, Buddy Guy, Fontella Bass, Billy Stewart, Etta James and others helped to put the Leonard and Phil Chess owned Chess Records on the map as America's preeminent blues label.
Now, just in time for the 60th anniversary of Moanin' In The Moonlight's original high-fidelity release, Geffen/UMe has made available a special vinyl edition of the mono album. 
Remastered from the original flat master tape, this new edition features a high quality 150-gram black vinyl pressing housed in a printed sleeve with scans of the analog tape box and comes in a distinctive tip-on jacket reproducing the album's distinctive original cover artwork by
Don S. Bronstein. The LP displays the 1959 liner notes from Billboard editor Paul Ackerman.    Continue reading →
AVAILABLE ON SUPER AUDIO CD DECEMBER 7 FROM ABKCO RECORDS;
ROLLING STONES ANNOUNCE SPRING 2019 US TOUR
By Harvey Kubernik © 2018
On December 7, ABKCO Records will release The Rolling Stones Beggars Banquet (50th Anniversary Edition) on limited edition hybrid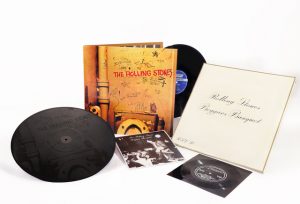 Super Audio CD. In comes on the heels of the November 16 domestic release of Beggars Banquet (50th Anniversary Edition) on limited-edition vinyl, CD and digital formats.
The SACD package itself is designed to look like a miniaturized replica of the 12" gatefold double-vinyl edition, sized to be a convenient 7" gatefold, and contain 2 hybrid SACDs, a flexi disc and expanded packaging elements exclusive to this edition. This bespoke packaging is manufactured in Japan and is of the highest quality to match the SACD audio.
Special elements of the package include: replica packshots of two Japanese 7" single picture sleeves ("Jumpin' Jack Flash" and "Street Fighting Man") and both versions of the Beggars Banquet sleeve art are included. This SACD set is a Japanese release, which will be imported into North America in a limited quantity.  Continue reading →
50th Anniversary Multi-Format Releases: Super Deluxe Box Set, 1CD, 2CD Deluxe, LP, Digital, MFiT & HD
By Harvey Kubernik c 2018
The Kinks have just released a 50th anniversary special edition of one of the greatest rock albums of all time The Kinks Are The Village
Green Preservation Society on BMG.
This essential album by one of the world's best ever bands is defined by the extraordinary catalogue of Ray Davies' songs, driven by brother Dave Davies' power pop guitar and became the foundation of generations of British guitar pop. The Kinks Are The Village Green Preservation Society cemented Ray Davies reputation as one of Britain's finest songwriters of his and any generation.
"I think The Village Green Preservation Society is about the ending of a time personally for me in my life," says Ray.
"In my imaginary village. It's the end of our innocence, our youth. Some people are quite old but in the Village Green, you're never allowed to grow up. I feel the project itself as part of a life cycle."
Somewhat overlooked upon its release in November 1968, The Kinks Are The Village Green Preservation Society is now regarded as one of the best albums ever recorded.
Created in difficult circumstances by a band on the verge of disintegration and who refused to follow fashion, it is an album of timeless, perfectly crafted songs about growing up and growing old, and the decline of national culture and traditional ways. Enduring and unsurpassed, with its wit, sadness, quiet anger, regret and charm, it is generally considered the high point of The Kinks' outstanding career and Ray Davies' masterpiece. Continue reading →
Set Release Deluxe 5CD, 2 Blu-ray Disc Set Available Friday, November 30
By Harvey Kubernik c 2018
The 50th anniversary of Elvis Presley's groundbreaking 1968 NBC-TV "comeback" special will be commemorated with the release of a deluxe
box set by RCA/Legacy Recordings, a division of Sony Music Entertainment, on Friday, November 30. The set arrives just days before the anniversary of the world premiere broadcast of the original special on December 3, 2018.
Elvis Presley – '68 Comeback Special (50th Anniversary Edition) is the definitive chronicle of one of the greatest rock 'n' roll performances ever televised: Elvis Presley at the peak of his powers. For the first time ever, all previously-released audio and newly-restored video from the taping of the special will be available in one package – including unused performances and studio outtakes that spotlight the real Elvis.   The package contains an entire disc showcasing the legendary sessions for the special recorded with Elvis and the Wrecking Crew.
This 5CD, 2 Blu-ray disc deluxe package also includes an 80-page book featuring rare photographs and ephemera and a new oral history on the special, crafted from interviews conducted for Thom Zimny's 2018 documentary, Elvis Presley: The Searcher. The newly-restored Blu-ray video was also overseen by Zimny. The content from the box set will be released digitally as separate audio and video products on November 30th. Continue reading →