The Soul Kitchen Connection
By HARVEY KUBERNIK  C 2018
Before playing its final show on May 5, 1968 at the Long Beach Sports Arena in Southern California, Buffalo Springfield released three studio albums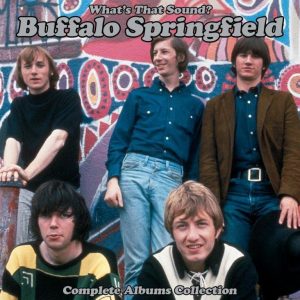 on ATCO during an intense, two-year creative burst.
Those albums – Buffalo Springfield, Buffalo Springfield Again, and Last Time Around – have been newly remastered from the original analog tapes under the auspices of Neil Young for the new boxed set: WHAT'S THAT SOUND? THE COMPLETE ALBUMS COLLECTION shipping from Rhino Records on June 29th
The box set includes stereo mixes of the group's three studio albums plus mono mixes for Buffalo Springfield and Buffalo Springfield Again. There are also CD and limited-edition vinyl sets.
So to acknowledge the 50th anniversary of Buffalo Springfield's last appearance, and Rhino's target retail launch date of this package, earlier this decade I had asked some friends who attended that memorable event.  Chris Darrow: (Musician): By 1968, they had a number of hits with Still's 'Bluebird' and 'Rock and Roll Woman' and Neil Young's 'Mr. Soul,' as well as 'Expecting to Fly' and 'Broken Arrow.'  The band had some tension among the members, both personally and musically, and began to go in opposite directions.  I went to their final concert on May 5, 1968 at the Sports Arena in Long Beach. The set was long and intense and ended with a long 20 plus minute version of 'Bluebird.'  Country Joe and the Fish and Canned Heat were also on the bill." Continue reading →
By Harvey Kubernik
C 2018
Russ Regan, a titan in the record business and a visionary A&R man, died in Palm Springs, California on Sunday, May 27th of cancer, at the age of 89.
His daughter Rachael Grace announced his passing with a Facebook post, "he fought a good fight and had an extraordinary life."
Regan is survived by his wife of 30 years, Sheryl, children Marc, Rachael and Daniel, sister Margaret and son-in-law Eric. Regan's family requested that in lieu of flowers, acknowledgement be given in Russ's name to his favorite charity, the Recording Academy's MusiCares.
Over a 60 year career Regan worked with some of the biggest names in the music business, including the Beach Boys, Hugh Masekela, Neil Diamond, Elton John, Barry White, Olivia Newton-John, and the Alan Parsons Project.
Cave Hollywood asked our resident wordsmith and author Harvey Kubernik to provide a tribute to Russ Regan, a friend of his the last half century. Harvey sent us an archive oral history he had conducted with Russ the last few decades. We're displaying it in full.
Courtesy of Harvey Kubernik Archives
During the last 25 years I conducted a series of interviews with Russ Regan, portions appeared in three of my books: Turn Up The Radio, Pop, Rock and Roll in Los Angeles 1956-1972, 1967 A Complete Rock Music History of the Summer of Love, and Inside Cave Hollywood: The Harvey Kubernik Music InnerViews and InterViews Collection, Vol. 1. Continue reading →
Officially Available For First Time in New Box Set in Latest Volume in Award-Winning Miles Davis Bootleg Series
By Harvey Kubernik c 2018
In March, Columbia/Legacy Recordings, a division of Sony Music Entertainment, released Miles Davis & John Coltrane-The Final Tour: The Bootleg Series, Vol. 6
Available in 4CD boxset and digital configurations, Miles Davis & John Coltrane-The Final Tour: The Bootleg Series, Vol. 6 brings together, for the first time in an authorized edition with state-of-the-art production, five mythic concert performances as heard by lucky audiences during the epochal Spring 1960 Jazz At The Philharmonic European Tour presented by impresario Norman Granz.
Showcasing the musical chemistry shared by Miles and Trane,   Miles Davis & John Coltrane-The Final Tour: The Bootleg Series, Vol. 6 offers five of the best recorded shows from that pivotal 1960 tour (Coltrane's last as sideman): two shows from Paris's L'Olympia Theater on Monday, March 21; two shows from the next night at Stockholm's Konserthuset; and one from Copenhagen's Tivolis Koncertsal three days later, on March 24.
The box set was produced by the multi-Grammy winning team of producers Steve Berkowitz, Michael Cuscuna and Richard Seidel. And mastered by multi-Grammy winning Sony Music engineer Mark Wilder. The set is authorized for official release by the Miles Davis Estate, the John Coltrane Estate, and Columbia Records/Legacy Recordings. Erin Davis, Cheryl Davis and Vince Wilburn, Jr. are Executive Producers.   Continue reading →
HK: In very late March at the Coffee Gallery venue in Pasadena, California, there was an evening of rock 'n' roll and spoken word spotlighting your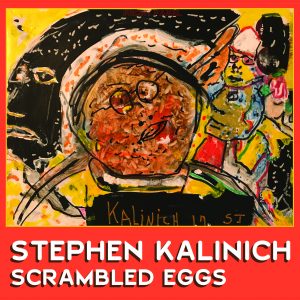 catalog. Rob Bonfiglio led a band with people singing and playing songs you penned for the Beach Boys, including the Honeys, Carnie Wilson of Wilson Philips, Bobby Figueroa, Paul Zollo, and Neil Rosengarden. Tell me about the concept of the show and your reflections on the evening.
SJK: It was one of the greatest evenings of my life.
The concept was to do an evening of some of my song sand poems. Mostly singing. That included Beach Boys Jon Tiven, Rob Bonfiglio Dave Humphries, Jez Graham and some of my other music partners Carnie Wilson and her husband Rob with theit two daughters Lola and Loci did a very moving version of 'Little Bird' so sweet so touching.
The Honeys Marilyn Wilson and Ginger along with Carnie sang a unique and sitting version of 'California Feelin'.' It was incredible. Everyone was great. Rob opened the set with 6 of his own songs. He was my music director a wonderful performer so talented. Also on the bill were Chad Watson, Nick Guzman, and Neil Rosengarten. I cannot put into words how glorious this evening was. Terry Roland the host put it together.  Owen Goldman on drums. Continue reading →
By Harvey Kubernik c 2018  
The epochal and musical genre-breaking Al Kooper-led Blood, Sweat & Tears 1968 debut album Child Is the Father to the Man was released on February 21, 1968.
When KPPC-FM in Pasadena, California first spun the disc I quickly bicycled over to Wallichs Music City in Hollywood to get a copy.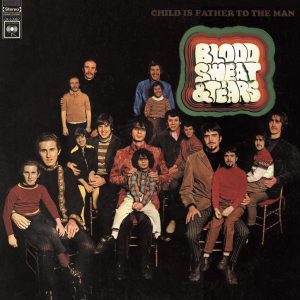 In September of 1967 I witnessed trumpeter Hugh Masekela cutting his live Hugh Masekela is Alive and Well at the Whisky album.
In May 1968 KHJ radio introduced Hugh Masekela's "Grazing in the Grass," recorded at Gold Star studios, and immediately a smash hit on the UNI Records label helmed by visionary A&R man, Russ Regan.
All through the sixties decade, Herb Alpert and the Tijuana Brass were regularly in rotation on the AM radio dial and selling albums and doing concert tours.
Horn players Miles Davis, John Coltrane, Pharoah Sanders, Maynard Ferguson, Don Ellis, Buddy Collette, Charles Lloyd, and Eric Dolphy in 1967 were garnering airplay and exposure on jazz and nascent FM rock underground radio stations.
The groundwork for horn rock or jazz rock, as it was now being heralded, had been forged by the Chess, Motown and Stax record labels and hit singles from the Buckinghams on Columbia Records. Continue reading →