The Soul Kitchen Connection
Johnny Cash Live At San Quentin Album

Johnny Cash "A Boy Named Sue"
The Johnny Cash Show Television Series
New Book The Man Who Carried Cash:
Saul Holiff, Johnny Cash and the Making of an American Icon
By Harvey Kubernik
©
 2018
"A Boy Named Sue," written by humorist, poet, and singer/songwriter Shel Silverstein became a popular hit record during 1969 by Johnny
Cash.
On February 24, 1969, two days before he turned 37, Cash recorded the song live in concert at California's San Quentin State Prison for his Johnny Cash At San Quentin album produced by Bob Johnston, issued on Columbia Records June 26, 1969.
Born Sheldon Allan "Shel" Silverstein in Chicago in 1930, Silverstein was known for his cartoons, songs, children's books and contributions to Playboy magazine.  
During 1969 Silverstein's own recording of "Boy Named Sue," a 45 RPM on the LP Boy Named Sue (And His other Country Songs),was produced by Chet Atkins and Felton Jarvis.     
It has been said that Silverstein's inspiration for the song's title came from a man named Sue K. Hicks, who was a judge in the state of Tennessee. Silverstein heard Hicks speak at an event, and was intrigued by the name of Sue for a man. Apparently it was the father of Sue Hicks who   named the boy after his mother, Susanna Hicks, who died during hospital birth. Continue reading →
Commemorative Releases Available In 3CD/2DVD Box Set, Deluxe and Standard Digital Collections, CD, and Vinyl LP Packages
By Harvey Kubernik c 2018
On November 2, Polydor/Republic/UMe released the 50th Anniversary Deluxe Edition of The Moody Blues' classic third album, In Search of
the Lost Chord.
The deluxe format is a 3CD/2DVD box set, featuring the album's remastered original stereo mix and new stereo mix, plus rare and unreleased tracks, including a never-before-heard mono version of Legend of a Mind. There are BBC Radio One John Peel Top Gear and Afternoon Pop Show sessions, as well as mono mixes of the related Deram single A and B sides.
DVD1 (Audio) contains In Search of the Lost Chord 96kHz/24-bit 5.1 surround mix, new stereo mix, and original stereo mix.
DVD2 (Video) comprises BBC TV Colour Me Pop: In Search of the Lost Chord (14th September 1968); Ce Soir On Danse: The Moody Blues – ORTF French TV (13th July 1968, previously unreleased) and Carte d'Or – ORTF French TV (29th October 1968, previously unreleased).
A 76-page book is also included, with extensive sleeve notes by compiler Mark Powell, plus a host of rare photos and memorabilia images. Continue reading →
By Harvey Kubernik ©
2018
This week the legendary Cleveland, Ohio television personality, Don Webster died at the age of 79. Webster served as host of Upbeat, before embarking on a 35-year career which included a longtime meteorologist spot at News 5 in Cleveland.
Webster was one of the original hosts of the long-running daily talk show The Morning Exchange, a former No. 1 rated program that subsequently influenced the launch of early morning programming like Good Morning America. He later hosted the quiz show Academic Challenge.       
In 1994 the Hamilton, Ontario-born Webster was inducted into the Broadcaster's Hall of Fame.   
In 1964 Webster became the host of the music variety one hour TV program Upbeat that originated from WEWS-TV 5, an ABC-TV affiliate, in Cleveland that was broadcast on Saturdays 5-6:00 pm during 1964-1971 and syndicated in over 100 US markets. It was a black and white show from 1964-1967, and then shot in color from 1967 until the series demise in 1971. Continue reading →
By Harvey Kubernik © 2018   
Neil Young has just issued Songs For Judy on CD and digitally on November 30. A vinyl edition is out December 14.
Songs For Judy is the debut release on Shakey Pictures Records, Young's own imprint distributed by Reprise Records. Songs for Judy is available in hi-res at NYA, Neil Young Archives.com.
Songs For Judy houses live acoustic performances culled from Neil's November 1976 solo tour and features twenty-two songs recorded at various cities along the tour.  Writer and Cameron Crowe and photographer Joel Bernstein curated this collection.
This song cycle of live recordings is particularly unique. Young had spent much of the year traveling around the world on tour with Crazy Horse.
When touring on his own, he recharged and focused on songs that would not surface in recorded form for several years. Of the albums many treasures, "No One Seems To Know" would not see the light of day until now and it remains unreleased in any other iteration.
The raw versions of the tracks found on Songs For Judy find Young allowing the songs to breath and to find their own shape when performed in a solo performance. Continue reading →
Long overlooked, musician, songwriter and now, podcaster, Travis Pike has taken a unique career journey that's worth checking out.
BY HARVEY KUBERNIK ©  2018
I have worked with Travis Pike on my books chronicling The Beatles and The Doors, and he oversaw the layout and design of Inside Cave Hollywood. The Harvey Kubernik Music InnerViews and InterViews Collection VOL 1, published by Cave Hollywood.
Now he's published 1964 – 1974:  A Decade of Odd Tales and Wonders, a revised and much expanded memoir of the first ten years of his 
prodigious and prolific career in music.  Having pulled together the Afterword to this new book, I can tell you it's a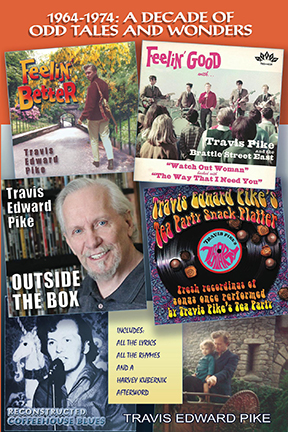 deeper exploration of that era, with many more visuals and artifacts — and I should know.  I pulled together the Introduction to his 2013 Odd Tales and Wonders:  A Decade of Performance.
And in America, he's doing podcasts for Goldmine magazine, Open Mynd Collectibles internet radio, and being featured in articles and reviews on Forgotten Hits and Cave Hollywood, and in Goldmine, Ugly Things and now in Record Collector News.
Travis, in complete control of his legacy and catalog, recording and releasing albums of audience favorites from 50 years ago, now has record labels contacting him to license and lease his master recordings!  
Travis' first movie title song was "Demo Derby," arranged and produced by Arthur Korb at Ace Recording Studios in Boston, and recorded by The Rondels.  That 28-minute action featurette opened in 1964 with Robin and the Seven Hoods and Viva Las Vegas, before being booked as the "second feature" that played on thousands of screens across the U.S.A. with The Beatles Hard Day's Night. Continue reading →