Rock and Roll History
Harvey Kubernik 2002 interview with bassist of the Rolling Stones
C 2017 Harvey Kubernik
The Quiet One, an authorized documentary about former Rolling Stones' bassist Bill Wyman, has been acquired by Sundance Selects for the movie's North American rights.
Oliver Murray is the director. The film in production is a collaboration with the Rolling Stones' founding member, who was with the band
from 1962-1993. In 1997 he formed Bill Wyman's Rhythm Kings.
"My life has been an extraordinary adventure," Wyman said, via Deadline. "The time feels right to delve into the archive and tell my story before I croak."
Bill Wyman, now 80, kept a daily diary, took thousands of pictures and shot hours of film footage and collected vast amounts of memorabilia. He is the author of seven books.
In 2002 I conducted a 45 minute interview with Bill at the Hotel Oceana in Santa Monica, Ca. while he was in Southern California promoting a coffee table book written with Richard Havers, Rolling With The Stones from D.K. Publishing.
Rolling With The Stones, is a definitive real deal inside story of the Rolling Stones presented and explained by one man who was in the inside looking out at us, Bill Wyman. Continue reading →
By Harvey Kubernik c 2017
The Kinks-The Mono Collection, the first 10 albums on vinyl by the Kinks in glorious mono is now out, via BMG,
including the previously out of print in the U.S. mono mix of Live At Kelvin Hall.
The stellar product also includes the bonus double LP compilation The Kinks' (aka 'The Black Album) along with a lavish hardcover 48-page book including never-before-seen photos and new interviews with Ray Davies, Dave Davies and Mick Avory.
With the recent renewed interest in analog recordings in the vinyl format, these essential Kinks albums have been collected together, as their original vintage 1960s equivalents continue to command major sums on the collectors' market. From the real-time invention of the punk and heavy metal riff on "You Really Got Me," "All Day And All of The Night" and "I Need You," the melodic mellotron swirls throughout "Autumn Almanac" and "Days" to the bold brass characterizing "Victoria" and "Shangri-La," the full spectrum of The Kinks In Mono is here to be appreciated and enjoyed anew.
Brash, loud, quirky, reflective – are just some of the opposing adjectives that have been applied to The Kinks. While hailed as one of the great British singles bands of the 1960s, the superlative run of albums they released during those years chart a fascinating career trajectory – from young, white London boys emulating black Chicago R&B on their debut through to ambitious thematic works like The Village Green Preservation Society and Arthur that anticipated Ray Davies' ambitions in film and theatre. Continue reading →
"Never mind 'To Be Loved.' Jackie Wilson was to be reckoned with from the get-go. What on earth was this 'Reet Petite' when we were barely 15 years old? 'Higher and Higher' was his 'My Sweet Lord.' We knew he 'Hadda Move.'
"I never got to see him live- I did get to see Mr. Wilson and Sam Cooke do the cha cha cha on a 1958 TV show. Poetry in motion, and heat.
"One of my particular Jackie faves was a platter groove that barely cracked the top 50, a 45 named '(There's No Pity) in the Naked City.' By then I knew the Apple and it became my New York theme song."  
–Andrew Loog Oldham 2016 email correspondence to Harvey Kubernik
Harvey Kubernik Interviews Brunswick Records' Paul Tarnopol
Paul Tarnopol is the son of "record man" Nat Tarnopol, the work horse behind Brunswick Records and manager and record producer of the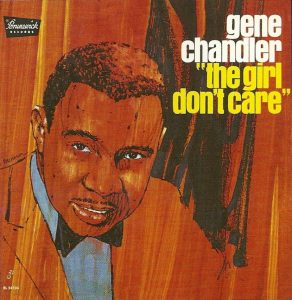 immortal Jackie Wilson.
I've always felt that Brunswick belonged in the pantheon of influential soul labels like Vee-Jay, Motown, and Stax.
Nat Tarnopol, who died in 1987, and his Brunswick catalogue have been generally overlooked by music historians and the pop culture media.
So, I decided to conduct an interview with his son Paul Tarnopol, who has overseen the Brunswick operations for the last 30 years.
Q: Outline to me some biographical information on your father Nat before he became a "record man." Was he from Detroit? Until age 25 he worked in the tire business but frequented music clubs in Detroit.
A: Nat was born in Detroit on January 26, 1931 to Meyer and Pearl Tarnopol, who each migrated to the United States from Eastern Europe as children.  Nat's mother's side of the family (Chimovitz) came from the Baltic country of Lithuania and his father's side came from Russia's Black Sea region of Odessa.  Prior to arriving on Ellis Island, the family's actual name was Baracovich.  Nat was nine years younger than his brother Jerry and spent the majority of his childhood playing baseball and listening to what was known as "race records" and sneaking barbequed spare ribs under the porch of his family's kosher home in Detroit.  Continue reading →
Collector's Edition Scheduled Issued December 9th
By Harvey Kubernik c 2017
On November 11, Rhino Entertainment released four new 40th Anniversary Editions of The Band's The Last Waltz in various CD, Blu-ray, and vinyl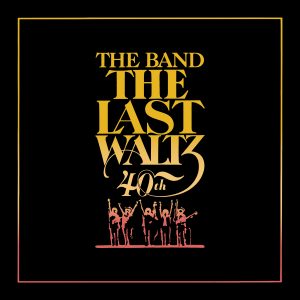 formats. A special Collector's Edition issued on December 9 features a leather-bound, 300-page book with a replication of Martin Scorsese's original shooting script from the film.
On Thanksgiving Day 1976, the Band took the stage for the very last time at the Winterland Theater in San Francisco, California. For the landmark show, Rick Danko, Levon Helm, Garth Hudson, Richard Manuel, and Robbie Robertson were joined by an all-star group of music pioneers and recording artist friends, including Paul Butterfield, Eric Clapton, Neil Diamond, Bob Dylan, Ronnie Hawkins, Dr. John, Joni Mitchell, Van Morrison, Muddy Waters, and Neil Young, among others.
I attended the event.
The evening was caught on film by director Martin Scorsese. Released theatrically in April 1978 to critical acclaim, The Last Waltz is still considered by many to be the greatest concert film ever made.
During pre-production, Scorsese was working on New York, New York.  At the same time I was on his M-G-M movie set in Culver City. I interviewed Robbie Robertson for a Crawdaddy! cover story in Malibu at Shangri-La Studios in 1976 and attended The Last Waltz with 5,000 other people and shown on screen, too. Continue reading →
An interview with Author Jeff Gold
By Harvey Kubernik
Third Man Books has just published a gorgeous coffee table volume on one of the most influential bands of all time… The Stooges. TOTAL CHAOS: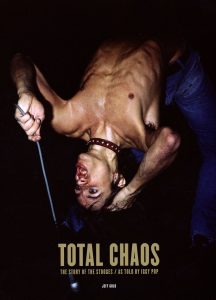 The Story of The Stooges As Told by Iggy Pop is the first time the story of this seminal band has been told entirely in Pop's own words.
Author Jeff Gold and contributor Johan Kugelberg, noted music historians and collectors, jointly interviewed Iggy Pop for two days at his Miami home, sharing with him their extensive Stooges collection and interviewing Iggy.
Editor/contributor Jon Savage collaborated with Gold and Kugelberg on the title. Additional contributors include Ben Blackwell, Dave Grohl, Josh Homme, Joan Jett, Johnny Marr and Jack White.
This is one revealing and candid, bare-all almost unbelievable tale of the band Iggy founded-the alternately tragic and triumphant story of a group who rose from youth, fell prey to drugs, alcohol, and music biz realities, collapsed and nearly 30 years later reformed, recording and touring to great acclaim.
TOTAL CHAOS houses an absolute treasure-trove of unseen photographs and visual ephemera.
"It was a rare privilege to sit with Iggy as he downloaded the story of the Stooges. He's an incredible storyteller with a fantastic memory and a great sense of humor, and he held nothing back. The Stooges were pioneers in sound, look, and live presentation, and along the way invented a genre-punk rock-and influenced countless others that followed. Continue reading →