Rock and Roll History
REISSUED ON VINYL LP
By Harvey Kubernik c 2018 
Elaine Brown, the rare, self-titled album from the first and only female Chair of the Black Panther Party, has just been reissued in late
September by Motown/UMe. 
First issued in 1973 and long out of print, the LP includes the single "Until We're Free." The new 150-gram vinyl edition is presented in a tip-on jacket with replicated original artwork.
Purchase Elaine Brown vinyl LP: https://UMe.lnk.to/ElaineBrownPR
A Motown/Ume press release provided background on Brown's 1973 endeavor.
"The album was the second for Brown, who wrote all nine songs. It was produced by Motown's Freddie Perren and Fonce Mizell, who were then one-half of The Corporation™ production team that had created a string of hits for the Jackson 5; Brown's LP was one of their first projects separate from the group. Elaine Brown was arranged and conducted by Horace Tapscott, a pianist, composer and founder of the Pan-Afrikan Peoples Arkestra. The album art was created by Emory Douglas, the Black Panther Party's Minister of Culture." Continue reading →
AVAILABLE NOW VIA UME     
By Harvey Kubernik c 2018
Record label UMe this summer has released the soundtrack to the official Mick Ronson documentary,  Beside Bowie: The Mick Ronson
Story, with tracks by Mick Ronson, David Bowie, Ian Hunter, Michael Chapman, Joe Elliott (Def Leppard), Elton John and Mike Garson.
This is the first official career retrospective compilation for the guitar virtuoso Mick Ronson. The compilation includes key selections from Ronson's solo records, as well as material from noted collaborations with David Bowie, Elton John, Ian Hunter, Queen and Michael Chapman plus previously unreleased and unheard songs.
The soundtrack is available on CD, Digital & heavy-weight 180-gram vinyl and includes extensive essay and liner notes. The soundtrack accompanies the critically acclaimed film Beside Bowie: The Mick Ronson Story also available on DVD and Blu-Ray. Continue reading →
IN LOS ANGELES OCTOBER 11, 2018
By Harvey Kubernik c 2018
Singer/songwriter/photographer/author and two-time Rock and Roll Hall of Fame inductee Graham Nash will be returning to downtown Los Angeles on  Thursday, October 11th for his intimate song and story tour at The Theater Ace Hotel. Doors open at 7:00 pm, show starts at 8:30 pm.
Guitarist/vocalist Shayne Fontayne and keyboardist/vocals Todd Caldwell join Nash in the stage lineup.
Graham selected the concert repertoire from his catalog which incorporates tunes from the Hollies, Crosby, Stills and Nash, and his solo career.
The tour debuted in his hometown of Salford, England earlier this summer.
Rapt audiences have been devouring musical treats from his stellar songbook:  "Wasted on the Way," "Bus Stop," "King Midas in Reverse," "I Used to Be a King," "Sleep Song,"  "Myself at Last," "Military Madness," "Wind on the Water," "Marrakesh Express," a medley of "On a Carousel / Carrie-Anne," "Immigration Man," and a cover of the Beatles' "Day in the Life." Continue reading →
By Harvey Kubernik c 2018
On September 14, 2018, Eagle Vision released Joni Mitchell Both Sides Now: Live At The Isle of Wight Festival 1970.
In 1970, the Isle of Wight Festival was one of the largest musical events of its time. Bigger than Woodstock and controversial from the get-go, hundreds of thousands of people descended on the island. Many of those without tickets set up camp on a hill overlooking the festival site, opposing the consumerism of the event and intent on "taking the music back" by any means necessary. It was a celebration of hippy counter culture gone awry, and in Joni's words "they fed me to the beast."
Singer/songwriter female troubadour Joni Mitchell took to the stage to deliver an outstanding performance against all odds. At times, it was a battle against the audience, as they tore down barriers and shouted obscenities. Her set was interrupted multiple times, including one man invading the stage trying to address the crowd.
She later commented, "It seemed like an appropriate time to flee…", but still the seemingly fragile folk-rock singer stood her ground. Instead she returned to her piano, sitting on a fold-up wooden chair, and made an impassioned plea for respect from the audience, continuing her set with "My Old Man," she won over the crowd and the atmosphere softened. In response the front page of Melody Maker hailed her with the front page headline, "Joni triumphs!" Continue reading →
By Harvey Kubernik c 2018
On August 24, The Marley Family, Island Records, and UMe celebrated 40 years of Kaya, Bob Marley & The Wailers' historic March 1978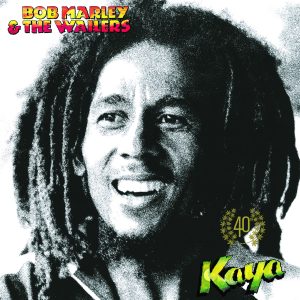 release.
This anniversary edition features Stephen "Ragga" Marley's exciting and vibrant new "Kaya 40" mixes of all ten tracks from the original album alongside its original mixes in 2CD and 180-gram 2LP configurations. (The digital version will be a standalone release of Stephen's mixes only.)
The album is also available as a limited edition 180-gram 2LP green vinyl version exclusively at BobMarley.com
Recorded in London concurrently with the material that ultimately comprised 1977's Exodus — a record proclaimed by Time Magazine in 1999 to be the Best Album of the 20th Century — Kaya is the sonic-sibling bookend that attempts to share all the joy, spirit, and literal DNA of some of Marley's most groundbreaking material.
The album isn't one of my most played Bob Marley discs on planet Kubernik, but Kaya does contain a few of the most enduring songs in the entire Marley catalog, particularly "Is This Love," "Easy Skanking," and "Sun Is Shining." Continue reading →