Rock and Roll History
By Harvey Kubernik c 2017
Saxophonist John Coltrane died on July 17, 1967 in Huntington Hospital in Huntington, New York in Long Island after a brief bout with liver cancer.
"Mourned by as many rock musicians as those from the jazz world, he was a courtly, soft-spoken gentleman from North Carolina, who pursued the roiling, labyrinthine currents of improvisation, from the postwar abandonment of big-band swing in favor of the fractious sounds of bebop and beyond," observed keyboardist and author Kenneth Kubernik.
"In each step of his evolution, beginning with Dizzy Gillespie's orchestra, through his tenure with Miles Davis and his own stentorian 'classic quartet,' Coltrane revised and refined his 'voice,' a burnished, muscular tenor, liquidly velvet on ballads, coruscating on up-tempo numbers.
"Coltrane recognized that music's capacity for astonishment, for both the performer and the alert listener, was much more than diligent practice—his fearsome virtuosity would often lead him into thickets of stifling verbosity, as off-putting as an electric guitar's noxious feedback. The sounds he heard in his head—the quest for pure intent—compelled him to eschew the Great American Songbook, that litany of Broadway standards that were long the heart and soul of jazz, for an unforgiving ascent into cacophony." Continue reading →
2017 Central and Western U.S. tour dates in June
By Harvey Kubernik c2017
British blues rock guitar statesman Robin Trower first achieved commercial and critical success with Procol Harum during the late 1960s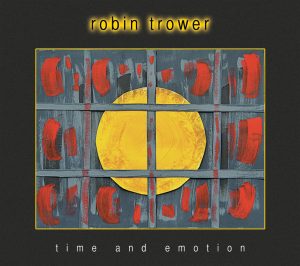 before emerging as the bandleader of his own trio in 1974.
Singer and songwriter Trower has just released an 11 song collection time and emotion on his own V12 label coinciding with a tour of the United States during May and June.
The album features Trower (vocals, guitar, bass); Livingstone Brown (bass, keyboards); Chris Taggart (drums)
"The great joy of having my own label [owned with manager Derek Sutton] is that you haven't got to make music to please some guy behind a desk," Trower told me in an interview on the eve of his U.S. trek. "You can please yourself and make the music you want. It's the best way to make music. On my own schedule.
"I play guitar every day. Quite often ideas come out. I'll spend 2-3 days on a lyric. Eventually 10 or 11 songs are ready for an album. Sequencing was very important and 'the land of plenty' had to be the opener and 'time and emotion' the last track. I did the artwork for the cover of time and emotion. I wanted as much of myself involved with the album as possible."     Continue reading →
HK: Do you think the big, Winter 2016/17 UGLY THINGS MAGAZINE publication of the career and retrospective multi-page spread on you and your music, and the clips from the 1966 movie, Feelin' Good, now viewed as a cult classic, were game-changers?   Here we are, doing another interview for Cave Hollywood, and the February 10, 2017 Forgotten Hits Newsletter contained our lengthy, in-depth interview on your perspective on the 1967 Summer of Love, which I understand is now posted on all your websites in your Online Interviews and Pictorials.
TP: Yes, especially with regard to my music. Between our Ugly Things interview, and the positive Mike Stax review of my book Odd Tales and Wonders 1964-1974 A Decade of Performance, and my CD catalog, I've been rediscovered by some of my old fans, and I'm attracting new ones here, in Canada, Australia, Europe and the U.K.  I never imagined that the Feelin' Good music sequences I posted on YouTube would become so popular.  In the UK, State Records is releasing "Watch Out Woman" and "The Way That I Need You," the two songs I sang on the esplanade on a vinyl 45 in early July, and UK DeeJay Rob Bailey has included "If I Didn't Love You Girl" in his latest compilation album, and will be releasing a vinyl 45 of it and "The Likes of You" later this summer. Continue reading →
ELTON JOHN IS COMMEMORATED AS THE FIRST EVER WORLDWIDE RECORD STORE DAY LEGEND AND WILL RELEASE HIS LIVE ALBUM 17.11.70+ ON RECORD STORE DAY, APRIL 22, 2017, THE TENTH ANNIVERSARY OF RECORD STORE DAY; EXPANDED ALBUM 2 LP 180 GM VINYL WITH 6 PREVIOUSLY UNRELEASED TRACKS
By Harvey Kubernik c 2017
In November 1970, Elton John performed an intimate concert at A&R Studios in New York, recorded for WABC FM. In front of 125 people,
Elton played in his then three- piece line up of himself, Dee Murray on bass and Nigel Olsson on drums. Intended for broadcast only, its pristine quality – engineered by the legendary Phil Ramone (the 'R' in A&R Studios) – meant that the recording of the performance became a fast- selling bootleg. Sales were so swift that it had to be rush-released as 17.11.70 on DJM Records in April 1971, capturing six of the concert's tracks on a single album.
However, 17.11.70 often seemed a footnote in Elton's history, overlooked in contrast to his invincible run of studio albums (and he was productive – this would be his fourth album in two years).
17.11.70 is a very revealing artifact: this is the Elton that America fell in love with at the start of their long affair; it offers pure, stripped back performances of those off-kilter, beautiful songs written with Bernie Taupin.
The album was originally released on May 10, 1971 and entered the Billboard album charts on May 29, peaking at No 11. Elton was the first artist since the Beatles to have four albums charting simultaneously in Billboard's top 100 albums. Continue reading →
By Harvey Kubernik c 2017
Robbie Robertson's contributions to popular music have made him one of the most renowned songwriters and guitarists of his time. In
Canada he was made an Officer of the Order of Canada.
In the 1960s, Robertson achieved worldwide fame and acclaim as a co-founder of the Band, laying a strong foundation for his broad range of five solo albums since the Band's disbandment in 1976. In 2017 Robbie is working on a new album for projected 2018 retail release.
In his captivating memoir, Testimony, published by Crown Archetype in November, 2016, written over five years of reflection, Robbie Robertson employs his unique storyteller's voice to explore the trajectory that led him to some of the most pivotal moments in music history.
Robertson was born in Toronto, Ontario, in 1943. His book recounts the adventures of his half-Jewish, half-Mohawk upbringing on the Six Nations Indian Reserve and on the gritty streets of Toronto; his odyssey at 16 to the Mississippi Delta, the fountainhead of American music; the wild early years on the road with rockabilly legend Ronnie Hawkins and The Hawks; his unexpected ties to the Cosa Nostra underworld; the gripping trial-by-fire "going electric" with Bob Dylan on his 1966 world tour, and their ensuing celebrated collaborations; the formation of the Band and the forging of their unique sound, culminating with history's most famous farewell concert, brought to life for all time in director Martin Scorsese's acclaimed documentary and the Band's timeless concert album, The Last Waltz, filmed and recorded in 1976.  Continue reading →