Record Reviews
FIRST ALBUM OF NEW MATERIAL SUMMER OF SORCERY IN 20 YEARS VIA WICKED COOL/UME Label;  
BY HARVEY KUBERNIK © 2019 
Little Steven and the Disciples of Soul's  Summer Of Sorcery was just released during May on CD, digitally and on vinyl as double LP on 180-
gram black vinyl via Wicked Cool/UMe label.  
A wide-ranging world tour began May 16 at Liverpool, UK's 02 Academy and then made  stops across the United Kingdom, Germany, Denmark, Sweden, Norway, Belgium, the Netherlands, Switzerland, Italy and Spain.
The first leg of the North American tour started July 2 at the London Music Hall in Ontario, Canada and take Van Zandt and band all across Canada and the Eastern U.S., culminating at Outlaw Jam in Annapolis, Md. 
They will return to Europe in August for more shows and return to the US in September for the second leg of the tour that will culminate at New York City's Beacon Theatre on November 6th. 
Each show on the American tour will benefit Van Zandt's TeachRock education initiative and offer an introduction to the Teachrock.org curriculum. Before the show, the TeachRock staff will host free professional development workshops designed to engage educators with techniques and content through which they can comfortably use music to inspire students, even if they've never touched an instrument. 
The free, multimedia K-12 interdisciplinary curriculum meets prevailing standards in English Language Arts, Social Studies/History, the Fine and Performing Arts, and also includes STEAM and advisory material suitable for K-12 teachers of all disciplines, interdisciplinary best practices and group activities.
Summer Of Sorcery – which arrives just two years after Little Steven's acclaimed 2017's solo return, Soulfire, and its 2018 live follow-up, Soulfire Live! – was written, arranged, and produced by Van Zandt at his own Renegade Studios in New York City; the album was co-produced and recorded by Geoff Sanoff and co-produced by Disciples of Soul musical director and guitarist Marc Ribler. 
Summer Of Sorcery was mixed and mastered respectively by Van Zandt's career-long collaborators and friends Bob Clearmountain and Bob Ludwig (. The album – which features an exclusive introduction written by Van Zandt – is adorned with Frank Frazetta-inspired cover art by Steven's longtime art director, Louis Arzonico.
"I know it sounds a bit silly but I do believe Rock 'n' Roll can change the world," Van Zandt volunteered. "It's about bands, and that for me suggests brotherhood, family, friendship, and community" 
In addition to his ongoing role as a touring and recording member of The E Street Band, the past two decades have seen the Rock and Roll Hall of Famer expand his personal parameters to include legendary work as an actor on The Sopranos and Lilyhammer as well as host-creator of Sirius XM's one-and-only Little Steven's Underground Garage creator of Sirius XM's long-running Outlaw Country format).  Continue reading →
FEATURING 180-GRAM VINYL REISSUES OF THE ICONIC LABELS' CLASSIC ALBUMS;    DAVID KESSEL ON VERVE RECORDS FOUNDER NORMAN GRANZ
By Harvey Kubernik © 2019
In 2019 Verve and Impulse! Records, together with UMe, launched their new series Vital Vinyl, a celebration of essential jazz LPs from the iconic labels' enduring catalogs.
Throughout the year, the labels are making some of their most beloved must-have albums from the '50s, '60s and '70s available once again as non-limited editions LPs, pressed on audiophile grade 180-gram black vinyl and showcased with their original cover artwork, track listings and liner notes.
The records will be released in three batches with the first available today followed by the second on May 3 and the final installment on June 7.  Continue reading →
By Harvey Kubernik c 2019
On February 20, 1969, singer/songwriter David Bowie recorded an early studio version of "Space Oddity" for his 1969 promotional film, Love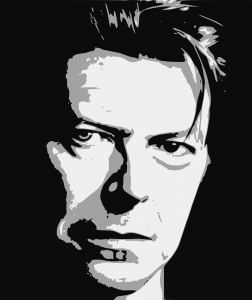 You Till Tuesday.
After departing Deram Records, Bowie then signed to Mercury/Phillips Records in London in the late spring of 1969 by manager Kenneth Pitt to record producer and label executive Lou Reizner.
The Mercury/Phillips studio recording of "Space Oddity" was then cut on June 20, 1969 at Trident Studios in the UK produced by Gus Dudgeon and arranged by Bowie and Paul Buckmaster.
"I met Gus Dudgeon while preparing some arrangements for a female vocalist," explained the late arranger, conductor and composer Paul Buckmaster in a 2014 lecture at the UCLA Herb Alpert School of Music Songwriters On Songwriting: Killer Hooks, Essential Songs & Songwriters of the Rock Era class taught by Professor David Leaf.  
"It wasn't an audition for her so much as for me.  Tony Visconti hired me to work on [David Bowie's] 'Space Oddity.' 
"I was obsessed with Kubrick's 2001. I saw it at least a dozen times and really tried to bring that quality from the movie's score, which featured Richard Strauss and in particular, Gyorgi Ligeti.  Unfortunately, that cheesy mellotron swamped my strings and you can't really hear my work."  
Ken Scott engineered the Trident session. Continue reading →
By Harvey Kubernik © 2019
In January of 1969 Neil Young began recording his second solo album Everybody Knows This is Nowhere with Danny Whitten on guitar;
Billy Talbot, bass; and Ralph Molina, drums at Wally Heider's recording studio on Cahuenga Boulevard in Hollywood.
Young's new trio had toiled as Danny and the Memories and then shape-shifted into the Rockets, who had done an LP on the White Whale label, pure grunge, a loud, sloppy guitar-driven outfit sounding like an open wound, whose backbeat listed like sailors on leave at Subic Bay.
Young saw the Rockets one night in Hollywood on Sunset Boulevard at the Whisky a Go-Go, appropriated some group members and rechristened them as Crazy Horse. They became the blank canvas upon which Neil painted his visceral, unmediated masterworks.  
It was a band only Neil Young could find common cause with, and he went to hell and back with them.
"Danny Whitten, from the day I met Crazy Horse and Neil Young at the Cellar Door in 1969, it was common knowledge, and Neil would be the first to tell you, that Danny was one of his early mentors and influences," Nils Lofgren stressed to me in a 2014 interview. "Danny had that great deep 'Bee Gees' vibrato, with that California soul and lament."   Continue reading →
By Harvey Kubernik
©
 2019
April 7, 2019 marks the 50th anniversary of Leonard Cohen's second Columbia Records album, Songs From A Room in 1969. It reached No.
63 on the US Billboard Top LPs and No. 2 on the UK charts. 
"Initially, Songs From A Room felt like a trespass," suggested writer Marina Muhlfriedel. "How dare Leonard Cohen dilute the sacred incursion his first album, forged into my being? For some reason, I never considered the possibility of a follow-up. Songs of Leonard Cohen was so personal, so monolithic, I assumed it to be a singular event.
"It took a friend planting me on a couch, cranking up the speakers and demanding I listen. Before 'Bird On the Wire' was over, tears flowed. It was so damn beautiful — a hymn, a confession, a deep bow of humility striking a nearly unbearable nerve. Leonard seemed a bit older, wearier, less embellished, but once again that trickster sunk right into my soul."
"Leonard wrote songs because he had to, and because he wanted to get laid," observed author, record producer and deejay Andrew Loog Oldham in a 2014 interview we conducted. "Later he wrote songs because he wanted to get paid. That's when I decided he had something to say."
I was on the UCLA campus in Westwood, California when Cohen debuted in 1970 at Royce Hall. Michelle Phillips of the Mamas & the Papas was one of Leonard's singers that evening. Mama Cass Elliot had already covered "You Know Who I Am" from Cohen's Songs From A Room on her 1968 album Dream a Little Dream.        Continue reading →