Record Reviews
By Harvey Kubernik c 2019
On February 20, 1969, singer/songwriter David Bowie recorded an early studio version of "Space Oddity" for his 1969 promotional film, Love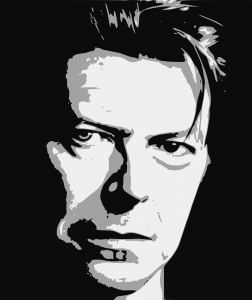 You Till Tuesday.
After departing Deram Records, Bowie then signed to Mercury/Phillips Records in London in the late spring of 1969 by manager Kenneth Pitt to record producer and label executive Lou Reizner.
The Mercury/Phillips studio recording of "Space Oddity" was then cut on June 20, 1969 at Trident Studios in the UK produced by Gus Dudgeon and arranged by Bowie and Paul Buckmaster.
"I met Gus Dudgeon while preparing some arrangements for a female vocalist," explained the late arranger, conductor and composer Paul Buckmaster in a 2014 lecture at the UCLA Herb Alpert School of Music Songwriters On Songwriting: Killer Hooks, Essential Songs & Songwriters of the Rock Era class taught by Professor David Leaf.  
"It wasn't an audition for her so much as for me.  Tony Visconti hired me to work on [David Bowie's] 'Space Oddity.' 
"I was obsessed with Kubrick's 2001. I saw it at least a dozen times and really tried to bring that quality from the movie's score, which featured Richard Strauss and in particular, Gyorgi Ligeti.  Unfortunately, that cheesy mellotron swamped my strings and you can't really hear my work."  
Ken Scott engineered the Trident session. Continue reading →
By Harvey Kubernik © 2019
In January of 1969 Neil Young began recording his second solo album Everybody Knows This is Nowhere with Danny Whitten on guitar;
Billy Talbot, bass; and Ralph Molina, drums at Wally Heider's recording studio on Cahuenga Boulevard in Hollywood.
Young's new trio had toiled as Danny and the Memories and then shape-shifted into the Rockets, who had done an LP on the White Whale label, pure grunge, a loud, sloppy guitar-driven outfit sounding like an open wound, whose backbeat listed like sailors on leave at Subic Bay.
Young saw the Rockets one night in Hollywood on Sunset Boulevard at the Whisky a Go-Go, appropriated some group members and rechristened them as Crazy Horse. They became the blank canvas upon which Neil painted his visceral, unmediated masterworks.  
It was a band only Neil Young could find common cause with, and he went to hell and back with them.
"Danny Whitten, from the day I met Crazy Horse and Neil Young at the Cellar Door in 1969, it was common knowledge, and Neil would be the first to tell you, that Danny was one of his early mentors and influences," Nils Lofgren stressed to me in a 2014 interview. "Danny had that great deep 'Bee Gees' vibrato, with that California soul and lament."   Continue reading →
By Harvey Kubernik
©
 2019
April 7, 2019 marks the 50th anniversary of Leonard Cohen's second Columbia Records album, Songs From A Room in 1969. It reached No.
63 on the US Billboard Top LPs and No. 2 on the UK charts. 
"Initially, Songs From A Room felt like a trespass," suggested writer Marina Muhlfriedel. "How dare Leonard Cohen dilute the sacred incursion his first album, forged into my being? For some reason, I never considered the possibility of a follow-up. Songs of Leonard Cohen was so personal, so monolithic, I assumed it to be a singular event.
"It took a friend planting me on a couch, cranking up the speakers and demanding I listen. Before 'Bird On the Wire' was over, tears flowed. It was so damn beautiful — a hymn, a confession, a deep bow of humility striking a nearly unbearable nerve. Leonard seemed a bit older, wearier, less embellished, but once again that trickster sunk right into my soul."
"Leonard wrote songs because he had to, and because he wanted to get laid," observed author, record producer and deejay Andrew Loog Oldham in a 2014 interview we conducted. "Later he wrote songs because he wanted to get paid. That's when I decided he had something to say."
I was on the UCLA campus in Westwood, California when Cohen debuted in 1970 at Royce Hall. Michelle Phillips of the Mamas & the Papas was one of Leonard's singers that evening. Mama Cass Elliot had already covered "You Know Who I Am" from Cohen's Songs From A Room on her 1968 album Dream a Little Dream.        Continue reading →
Celebrated With New Collection of Recordings
By Harvey Kubernik © 2019    
Columbia/Legacy Recordings, a division of Sony Music Entertainment on November 30, 2018 celebrated the 50th anniversary of Big Brother & The Holding Company's major label debut with the premiere edition of Sex, Dope & Cheap Thrills.  
Released at last under its original title (nixed by the record label as too controversial a half century ago), Sex, Dope & Cheap Thrills restores the band's vision and intent in an essential new collection of 30 rare performances including 29 studio outtakes (25 previously unreleased) from the mythic 1968 sessions that generated Big Brother & The Holding Company's Cheap Thrills, the breakout album that introduced Janis Lyn Joplin to the world. 
Sex, Dope & Cheap Thrills includes liner notes penned especially for this commemorative product by Jefferson Airplane' vocalist/songwriter Grace Slick and Big Brother & The Holding Company drummer David Getz. 
"Then I heard that voice," writes Slick.  "Good Lord–spontaneous explosions of every emotion–no holds barred…. Janis had no trouble sliding from the apron clad fifties into the no bra sixties.  We all took every advantage of the new freedoms, and it was reflected in the music…. This album, because of its worldwide success, made it possible for everybody to hear the phenomenon that was previously limited to the San Francisco Bay Area. Now, a new generation gets the 'Cheap Thrills' experience to enjoy." Continue reading →
Johnny Cash Live At San Quentin Album

Johnny Cash "A Boy Named Sue"
The Johnny Cash Show Television Series
New Book The Man Who Carried Cash:
Saul Holiff, Johnny Cash and the Making of an American Icon
By Harvey Kubernik
©
 2018
"A Boy Named Sue," written by humorist, poet, and singer/songwriter Shel Silverstein became a popular hit record during 1969 by Johnny
Cash.
On February 24, 1969, two days before he turned 37, Cash recorded the song live in concert at California's San Quentin State Prison for his Johnny Cash At San Quentin album produced by Bob Johnston, issued on Columbia Records June 26, 1969.
Born Sheldon Allan "Shel" Silverstein in Chicago in 1930, Silverstein was known for his cartoons, songs, children's books and contributions to Playboy magazine.  
During 1969 Silverstein's own recording of "Boy Named Sue," a 45 RPM on the LP Boy Named Sue (And His other Country Songs),was produced by Chet Atkins and Felton Jarvis.     
It has been said that Silverstein's inspiration for the song's title came from a man named Sue K. Hicks, who was a judge in the state of Tennessee. Silverstein heard Hicks speak at an event, and was intrigued by the name of Sue for a man. Apparently it was the father of Sue Hicks who   named the boy after his mother, Susanna Hicks, who died during hospital birth. Continue reading →