Harvey Kubernik
End of the Century 40th Anniversary Expanded Edition Scheduled  
BY
HARVEY KUBERNIK © 2019 
With the new September 2019 deluxe edition of the 1979 Ramones' tour album, It's Alive, and the planned last quarter 2019/early 2020 40th
anniversary of the original Phil Spector-produced End of the Century, with producer Rick Rubin now involved for an expanded reissue of the initial pressing, multi-instrumentalist David Kessel and his cavehollywood.com website asked me to re-visit End of the Century, cut at the landmark Gold Star Recording Studios in Hollywood. 
I was in attendance at just about all End of the Century sessions, as a food runner, and on occasion, supplied hand claps and percussion, and was credited on a few tracks.  
 I eventually penned the liner notes for a 2002 Rhino Records repackage of the album.  It was an assignment that came just after ownership changes at the label. The late great Gary Stewart graciously insisted that I do them knowing I covered the Ramones/Spector relationship for the London-based Melody Maker.   
So, before we hear the upcoming "revised" Rhino/WMG label End of the Century in a handful of months, cavehollywood.com is displaying portions from my 2002 product text with additional and un-published 2002 interviews with Johnny, Dee Dee and Marky Ramone.     Continue reading →
World Premiere in San Diego California August 2019;
Gold Star/Stan Ross Documentary In Production
By Harvey Kubernik © 2019
33 1/3 – House of Dreams tells the story of the legendary and landmark Gold Star Recording Studios in Hollywood and its co-founder, lead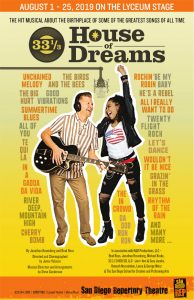 engineer and hit maker Stan Ross. Gold Star was the birthplace of some of the greatest pop and rock hits of all time over a 33 1/3 year period.
Gold Star garnered more Recording Industry Association of America (RIAA) Songs of The Century and Grammy Hall of Fame winners than any other independent studio in America. The Gold Star Recording studio was built in 1950 and lasted until 1984 at 6252 Santa Monica Blvd until a fire destroyed the property in March 1984.
Johnny Mercer, Bobby Troup, Sammy Fain, Eddie Cochran, Jack Nitzsche, Herb Alpert & the Tijuana Brass, Buffalo Springfield, Neil Young, Phil Spector, Brian Wilson with The Beach Boys, Marty Balin, Leonard Cohen, The Who, Ike & Tina Turner, Jackie DeShannon, The Band, Hugh Masekela, Iron Butterfly, Sonny & Cher, Bob Dylan, Allen Ginsberg, Arthur Lee, Jimi Hendrix, The Association and The Ramones along with many other recording artists utilized the famed location.
In June 2019, the San Diego Repertory Theatre (San Diego REP) announced that they will be partnering with the San Diego School of Creative and Performing Arts (SDSCPA) and R & R Productions, LLC for the world premiere musical 33 1/3 – House of Dreams. Written by local San Diegans Jonathan Rosenberg and Brad Ross, with additional contributions by Steve Gunderson and Javier Velasco, the debut production chronicles the success of Gold Star Recording Studios through the history of rock 'n' roll. Continue reading →
CONCERT FILM TO BE RELEASED JUNE 21ST 2019
RESTORED, REMIXED AND REMASTERED SHOW LIVE FROM GERMANY
PREVIOUSLY UNRELEASED CONCERT PLUS FOUR BONUS TRACKS FROM CHICAGO; 
KEITH RICHARDS 1999 INTERVIEW       
By HARVEY KUBERNIK © 2019
As the Rolling Stones' No Filter US tour dates are currently being re-scheduled  Bridges To Bremen was announced today by the Rolling
Stones for release on June 21st.
Presented by Eagle Vision, the previously unreleased concert film has been completely restored, remixed and remastered and will be available on digital, DVD + 2CD, Blu-ray + 2CD, triple vinyl and digital audio formats.
Bridges to Bremen captures a complete September 2, 1998 show at Germany's Weserstadion venue from the final leg of the Rolling Stones' year-long trek that supported their Bridges to Babylon album, which achieved Platinum and Gold status in multiple markets upon the album's original release in 1997.
The Bridges To Babylon tour was the first time the band went on the road with a permanent, and now infamous, B-stage, and also the first time that fans could vote on the band's website for a track they wanted to hear at the show – "Memory Motel" in the case of the Bremen fans, making each show on the tour unique. Continue reading →
Harvey Kubernik Interviews Gene Aguilera
Q:  You hail from East Los Angeles and the landmark Boyle Heights area. Tell me about the region.   
A:  East L.A. is a colorful barrio, proud of its cultural contributions to the world.  I'm from the Boyle Heights neighborhood, almost 100%
Latino population, that has managed to stay united despite being carved up (possibly deliberately) by the arteries of an overloaded freeway system.   Little as it's known, such diverse characters as Lou Adler, Antonio Villaraigosa, Donald Sterling, Oscar Zeta Acosta, Mickey Cohen, and Anthony Quinn are from Boyle Heights.
I feel fortunate to have lived and breathed  the "Golden Age of East L.A. Music" (1960s-1970s); to have witnessed the impact such Eastside groups as Thee Midniters, Cannibal & the Headhunters, the Premiers, the Blendells, and Tierra made on the Billboard Top 100 charts.  
I remember crossing the bridge from East L.A. to reach the Olympic Auditorium.  I grew up collecting the gorgeous floating-head boxing posters from the Olympic which was only four miles away from Boyle Heights.  I used to cut out almost every Mexican American boxing story that came out in the Los Angeles Herald Examiner and the Los Angeles Times.  Boxing and the East L.A. community go hand-in-hand.  
Recently, I saw CNN celebrity chef Anthony Bourdain dedicate an entire episode of his show, "Parts Unknown", to the cuisine of East Los Angeles.  Watching Bourdain make it to Olvera Street to eat taquitos at Cielito Lindo (a favorite haunt of mine) made me proud to see East L.A. on the grand stage, yet sad to realize that Bourdain is now gone.        Continue reading →
FEATURING 180-GRAM VINYL REISSUES OF THE ICONIC LABELS' CLASSIC ALBUMS;    DAVID KESSEL ON VERVE RECORDS FOUNDER NORMAN GRANZ
By Harvey Kubernik © 2019
In 2019 Verve and Impulse! Records, together with UMe, launched their new series Vital Vinyl, a celebration of essential jazz LPs from the iconic labels' enduring catalogs.
Throughout the year, the labels are making some of their most beloved must-have albums from the '50s, '60s and '70s available once again as non-limited editions LPs, pressed on audiophile grade 180-gram black vinyl and showcased with their original cover artwork, track listings and liner notes.
The records will be released in three batches with the first available today followed by the second on May 3 and the final installment on June 7.  Continue reading →