BRIAN WILSON ANNOUNCES 2016 PET SOUNDS 50th ANNIVERSARY WORLD TOUR
By Harvey Kubernik C 2016
Music legend Brian Wilson has announced a 2016 world tour to celebrate and perform the iconic album Pet Sounds for a final time, in honor of its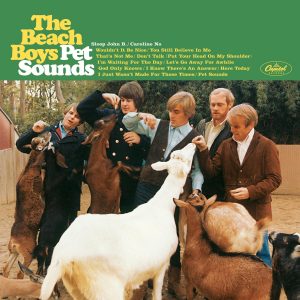 50th anniversary. Dates begin in March.
Originally released on May 16, 1966, Pet Sounds is universally hailed as one of the greatest albums of all time. With more than 70 dates being confirmed, and several previously announced dates selling out in record time, Wilson and his band will be joined by former bandmates Al Jardine and Blondie Chaplin when they kick off the tour this Spring.
Concert stops include dates in Australia, Japan, United Kingdom, Spain, Israel, and Portugal followed by a full U.S. tour later this Summer and Fall.
Fans can expect a live performance of Pet Sounds in its entirety, as well as top hits and fan favorites spanning his 54-year career with The Beach Boys and as a solo artist.
For up-to-date information, please visit www.BrianWilson.com.
In 1965, with the Beach Boys out on tour, Wilson began session work on some of the most deeply personal recordings of his career. Inspired by The Beatles Rubber Soul, he challenged himself to create an immaculate musical masterpiece. A vast departure from the bands' then commercial sound, the resulting "concept album" Pet Sounds achieved great critical success helping usher in a new musical landscape and hit the Top 10 in the US while topping the charts in the UK.
"It's really been a trip to sit here and think about releasing Pet Sounds 50 years ago," says Wilson. "I love performing this album with my band and look forward to playing it for fans all across the world."
It was the Beach Boys' Mike Love who supplied the name Pet Sounds to the Wilson-produced endeavor. "Capitol Records' Karl Engemann, who was a lovely man and a great guy, was an A&R guy, when Brian and I went to present Pet Sounds," Love recalled to me in a 2011 interview.
"I named the album. There was a dog barking at the end of the record, 'so let's call it Pet Sounds.' And I've been given shit about I didn't like Pet Sounds. It's all bull shit," Love maintained.
I asked Mike Love another question about Pet Sounds. If he had any concerns at the time about session musicians primarily providing the musical instrumental tracks for the Beach Boys' during 1965-1966. A practice Brian Wilson has been previously doing for a couple of years.
"No. Not at all. Leon Russell played on our stuff. Hal Blaine, the Wrecking Crew and company played on session stuff.  Glen Campbell was a session player. Who as you know, did a six month stint with us when Brian left in 1965.
"Bruce [Johnston] came on in 1965. In fact, the first song he sang with us was 'California Girls.' And he recalls me going out in the hallway while the track is being done and writing out the lyrics.
"It was a great deal. Because Brian was home and he would use these fantastic session players. Remarkable product coming out of that. We would come home and we were the singing group. We would do our harmonies and our melodies and what have you. So it was a great, great asset," underscored Mike.
Brian Wilson is a Kennedy Center Honors recipient, a Songwriters Hall of Fame inductee, and a U.K. Music Hall of Fame inductee.
As a member of The Beach Boys, Wilson was inducted into the Rock and Roll Hall of Fame in 1988 and honored with The Recording Academy's Lifetime Achievement Award in 2001.
Over the last five decades I have conducted a dozen interviews with Brian.
In 2014, Wilson penned the introduction to a book my brother Kenneth and I wrote on photographer, Guy Webster, Big Shots: Rock Legends and Hollywood Icons, published by Insight Editions.
In 2004, Brian supplied the back cover blurb for my This Is Rebel Music book, published by the University of New Mexico Press.
In 2007 we discussed Pet Sounds as the album was being examined and celebrated during its 40th anniversary ceremonies.
At the time of this landmark sonic and lyrical achievement, record producer and author Andrew Loog Oldham remarked to me, "Brian put his heart in his music at a time when we were all using other muscles."
Below are portions from two of my Brian Wilson interviews done in 2007 and 2011 reflecting on Pet Sounds.
Harvey Kubernik: What about teaming with lyricist Tony Asher for Pet Sounds?
Brian Wilson: A cool kind of guy. A little more soft spoken. His attitude is just right for creativity and just right to work with. I might call him up as a matter of fact. That might be a good bet for me.
"Just before we began collaborating on Pet Sounds I asked him what it was like writing commercials for an advertising company. It seemed like interesting work. I said, "You should be good with words if you can do that." And, he said, "I'm pretty good with words." Out of nowhere I said "Would you like to work with me on some songs and write some lyrics?" "OK, I'll give it a try." Then, Pet Sounds, like that. 1966 was a very big year for the Beach Boys.
Q: I love "Wouldn't It Be Nice" from Pet Sounds. Barney Kessel's guitar introduction on the track is just terrific.
A: Barney Kessel did the introduction to the song and Glen Campbell was also there. And, I said to myself, "I'm going to have these guys play directly into the board instead of going out into the studio." And they plugged their instruments into the recording console direct. That's how we got that sound.
"I also did that on "California Girls." My brother Carl played a 12-string on that and we plugged him into the console and he did his thing. Every now and then I'll do that. It sounds more mellow and it is something I can't quite describe but it is much more mellow than an amp.
Q: "Caroline, No" is your favorite song on Pet Sounds. The recording was pushed up a beat.
A: And guess whose idea that was?
Q: Your father Murry Wilson.
A: Yes. He said to speed it up a half a note and you'll have a real special song. I did it and it worked. What can I say?
Q: I seem to remember you actually wrote and initially recorded the actual instrumental Pet Sounds for a James Bond movie, Dr. No?
A: It got turned down, Harvey. They turned it down! They turned the damn thing down. It got submitted. If you can do the twist then Pet Sounds got turned down. "We don't have any interest in that song."
"'Fuck that shit, I'm gonna put it on Pet Sounds'. That's why it went on Pet Sounds. The James Bond people turned it down. And, when we've played the Pet Sounds instrumental I turn around and face my band and take the piece in.
Q You always include Pet Sounds sections every night you and the band perform "God Only Knows" and the song still gets a standing ovation from everyone in the crowd. Is there a reason why it garners the most applause?
A: Because we've had a little practice, Harvey. (laughs) Second of all, Carl [Wilson] is gone, and third of all, I have to carry what he used to carry. I have to carry the goddamn weight. I have to carry the ball. I don't remember the recording session of it. Too far in the past to remember. I mean, here is your part…OK. Here is your…OK. And, somehow, we got "God Only Knows" done. And, the record spoke for itself. And it was a religious experience. Carl and I were into prayer. We held prayer sessions in our house on Laurel Way. "Dear God. Please let us bring music to people." It happened. A cool trip. A lot of people say to me that Pet Sounds got them through high school or college.
Q: You had a real revelation when you first heard the Beates' "Rubber Soul" in 1965 on some pot. You told me "Norwegian Wood" completely blew your mind. Did marijuana impact or influence the creation of "Pet Sounds?
A: Yes. Listening to music on pot I got more into it than usual. When you really smoke pot you can really get into the music. Well, when I first took it I listened to "Rubber Soul" and then I went to the piano and all I could see were my keys. Only the keyboard and I locked in with it and wrote "God Only Knows."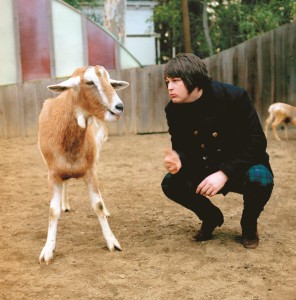 Q: Paul McCartney once told me around a recording session at Capitol Records' Studio B in Hollywood how much he liked the bass lines on Pet Sounds. I know you really dug employing the bass as a principal instrument. Like on "Here Today," you conceived the idea of the bass playing an octave higher on the rhythm bed track.
A: Because the bass parts resound better in a studio and you can take three hours to get one line if you really needed it. You could take forever and get a goddamn line, you know.
Q: When did you start utilizing two bass players on the same music track, like on Pet Sounds?
A: I asked engineer Larry Levine what Phil Spector did with his basses and Larry said Phil uses a standup and a Fender both at the same time. And the Fender guy used a pick. So I tried it out at my session at it worked great! You also get a thicker sound putting the two basses together. I start with drums, bass, guitar and keyboards. Then we overdub the horns and the background voices.
Q: In late 1965 at RCA studios on Sunset Blvd. in Hollywood you met Andrew Loog Oldham when he was producing a session with the Rolling Stones inside RCA's studio A. Andrew mentioned to me that you told him you would one day, "write songs that people would pray too."
A: Yes I did. I don't remember when I first felt that. I know music was more than people applauding and buying records. The most amazing comment I got from one guy who said "that's the most spiritual album I've ever heard."
Q: In 2007 you reinforced to me that you mix in mono.
A: I mixed in mono because I can't hear in one ear. Made me concentrate more and get the best for that one ear. I always loved mono. Transistor radio. With mono you have one single sound source. We were doing stereo but I could only hear the mono and I always put the vocals up front in the mix. Mixing in mono is good for my left ear. My right ear is broke. Done and over with.
"I liked to mix with big speakers. You can hear the overall sound better. I would then take acetates home and play them on my little record player. Dubs.
Q: How about working with engineers like Chuck Britz at Western, Stan Ross and Larry Levine and Doc Siegel at Gold Star. Then, Bruce Botnick at Sunset Sound, along with several engineers at Columbia, including Ralph Balantin and a session for "Vege-Tables" with Armin Steiner at his studio.
A: The best trip is that they know music. They are good at music and engineering, too.
"People like Chuck Britz made suggestions. 'How 'bout if we had a little more pick on the bass?' "How 'bout if the piano had more of a tacky sound." Chuck Britz was like a co-producer but only got credits for being an engineer.
"Western had a good bass sound and a better vocal sound. Sunset Sound also had a great tack piano, too. I did things at RCA with engineer Dave Hassinger. "Help Me, Rhonda." Capitol did have a good violin sound.
Q: You were a regular Gold Star visitor and customer for many years. In that facility you produced The Beach Boys' "Do You Wanna Dance," "I Just Wasn't Made For These Times," "Wouldn't It Be Nice," and the original version of "Heroes & Villains" at Gold Star. As well as a version of "Cabin Essence" earmarked for your SMile album. Let's talk about Gold Star.
A: Basically, it was their echo chamber. More than anything else. I liked their drum sound. I loved their tack piano, too. It was a great studio next to the Musicians Union on Vine. I liked the whole vibe. I liked the owners Dave Gold and Stan Ross and engineer Larry Levine.
Q: What about the implementation of strings in your work, from Pet Sounds to SMiLE.
A: I liked Jack Nitzsche's string arrangements with Phil Spector. Sid Sharp was the guy I called for violins for my sessions. I like strings. It's good to use strings. Strings bring you in more. Like Nelson Riddle and Frank Sinatra. But you need some spaces and holes.  I like horns, too. Brass. I liked to use two saxophones, baritones, and a trumpet.
Q: You brought in the Theremin instrument in Pet Sounds for "I Wasn't Made For These Times."
I know during Pet Sounds you saw the great guitarist Barney Kessel at a session at Western recording with a Theremin player for a science fiction soundtrack. You then requested Barney to do a session the very next day and to bring the Theremin guy. Barney said, "I'll ask him and see if he's available."
A: Yes. I first discovered it when I was a little kid. My mom and dad had a friend who had a thing where you put your hand out and get a sound that goes higher and lower. And then I found out about what they call a band Theremin where you slide your finger across a band. And I used it. It is an instrument that you use sparingly.
Harvey Kubernik has been a music journalist for over 44 years and is the author of 8 books.
During 2014, Harvey's Kubernik's Turn Up the Radio! Rock, Pop, and Roll in Los Angeles 1956–1972 was published by Santa Monica Press.
In September 2014, Palazzo Editions packaged Leonard Cohen: Everybody Knows, a coffee—table—size volume written by Kubernik, currently published in six foreign languages. BackBeat/Hal Leonard Books in the United States.
Harvey and Kenneth Kubernik wrote the text for photographer Guy Webster's first book for Insight Editions published in November 2014. Big Shots: Rock Legends & Hollywood Icons: Through the Lens of Guy Webster. Introduction by Brian Wilson).
In November of 2015, BackBeat/Hal Leonard in the U.S., Omnibus Press in the U.K. and four other foreign language editions published Harvey's book on Neil Young, Heart of Gold.