Both Directions at Once: The Lost Album a New John Coltrane Album
June 2018 Release by Impulse Records;  Sonny Rollins Way Out West 60th Anniversary Edition Now Out on Craft Recordings
By Harvey Kubernik 2018
55 years after it was recorded, John Coltrane's studio album Both Directions at Once: The Lost Album is finally available in June 2018 on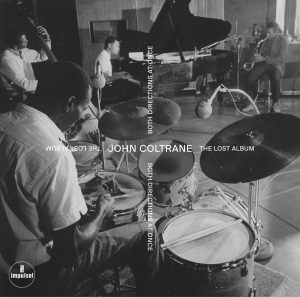 Impulse! (Verve Label Group). Recorded at Van Gelder Studios in New Jersey 1963 with the Classic Quartet (John Coltrane, Jimmy Garrison, McCoy Tyner, Elvin Jones).
Both Directions at Once: The Lost Album is an incredible success for this lost album finally seeing the light of day and released on all streaming partners, and on CD and vinyl in standard and deluxe formats.
Danny Bennett, President and CEO of the Verve Label Group and home of Impulse! Records, offered, "Jazz is more relevant today than ever. It's becoming the alternative music of the 21st century, and no one embodies the boundary-breaking essence of jazz more than John Coltrane. He was a visionary who changed the course of music, and this lost album is a once-in-a-lifetime discovery. It gives us insight into his creative process and connects us to his artistry. This album is a cultural moment and the release coincides perfectly with our relaunch of the iconic Impulse! label."
Both Directions at Once: The Lost Album is a major addition to the Coltrane catalogue and the most important jazz discovery in recent memory. This recently discovered "gift" was sourced from a reference tape that Coltrane had brought to his home in Queens that he shared with his wife Naima. These tapes remained untouched for 54 years until Impulse! approached the family about finally making this lost album available. The master tape was never found-Rudy Van Gelder wasn't one for clutter-however the reference tape was discovered to be in excellent condition.
This historic session resulted in 14 tracks in total. On the standard edition, there are 7 takes, chosen by Ravi Coltrane. The rest of the takes exist on the second disc of the deluxe set. There is a standard CD and LP and a deluxe CD and LP available on Impulse! The deluxe edition will exist on all digital streaming platforms as well.
A very welcome audio valentine from Coltrane and his foursome.
I wasn't even a teenager on March 6, 1963 when Coltrane and his quartet cut this entire studio album at the legendary Van Gelder Studios. At the exact moment when they were tracking, I was preparing for the beginning of the Los Angeles Dodger baseball season that April, which concluded in October '63 with a four game sweep of the New York Yankees.
I know we shouldn't judge art or music, particularly the freedom of expression captured by jazz artists but this spring 1963 lineup that Coltrane fielded that day is one memorable team of talent that scores with this fascinating document.
"Sonny Rollins — tenor sax master and one of Coltrane's very few peers still with us — compares the release of Both Directions At Once to 'finding a new room in the Great Pyramid,'" notes musician and writer Michael Simmons. "It's of particular interest because it allows us to hear Trane and his classic quartet in their transitional phase twixt bop and free."
"Posthumous John Coltrane releases inspire a blend of joy and sadness in me — joy that previously unreleased music has surfaced, sadness that his career was so abbreviated," mused poet and deejay, Dr. James Cushing, who hosts a weekly Friday radio program, Miles Ahead on KEBF-FM in Morro Bay, California.
"I remember feeling this joy-pain of in the late 1970s when Impulse released several LPs of previously unavailable Coltrane — The Other Village Vanguard Tapes, To the Beat of a Different Drummer, Trane's Modes, Jupiter Variation — and more live recordings surfaced over the last 40 years as well. Now, suddenly, seemingly out of nowhere, we have Both Directions at Once, ninety minutes of 'new' John Coltrane Quartet music that everybody concerned seems to have forgotten.
"The element of surprise is the first commanding thing about this release. Who knew? There have been no newly discovered studio recordings of Coltrane since Stellar Regions came out in 1995. The music itself, however, is not surprising for those already acquainted with this group's sound. Both Directions at Once, welcome as it is, does not represent any daring new chapter in Coltrane's development, but reveals how naturally this quartet interacted in a controlled setting.
"The sax/drums conversation on take four of 'Impressions' is thrilling, even though its total timing is 3:40. The shortness of 'Nature Boy' (3:24) and 'Impressions' suggest that somebody may have been thinking of the 45rpm jukebox market. Then the longer cuts, like 'One Up, One Down' or 'Slow Blues,' open up the unique place to which only Coltrane holds the keys — a place we know from albums like Ballads or Crescent, with Both Directions resembling something of a cross between them," described Cushing.
"Impulse did well with the packaging — a one-disc version and a second disc of alternate takes for the hardcore completists. Disc two proves that Trane had a clear concept for these recordings of these tunes — the alternates offer refinement, not revision. The mono sound is never a problem, given the clarity and presence of Rudy Van Gelder's recording, especially Jimmy Garrison's bass.
"Overall, the album blends the surprising (the fact that it exists) with the reassuring (the Quartet sounds much as it always did) in a completely pleasing, but essentially retrospective way. If you want to hear something more forward-looking from sax, piano, bass, and drums, Dave Holland's new 2CD album, Uncharted Territories, with Evan Parker, Craig Taborn, and Ches Smith, goes further in both directions at once."
"Recorded 30 minutes away from where I grew up in West Orange, at the famed Van Gelder Studio in New Jersey (original location was in his family home in Hackensack, before Rudy Van Gelder moved it to Englewood Cliffs where this was recorded), such an incredible group of players, a solid unit, so dynamic, and well mic'd," underscored trumpet player and horn arranger, Sarah Kramer.
"What stood out to me, just as much as Coltrane, was Elvin Jones on drums, the recording quality… and I was blown away by his soloing, especially track 7, 'One Up One Down' – take 1… trading fours with the tenor, both of them were on fire! The whole band is so tight, rhythm section locked in, and as always, John Coltrane dialed in to higher powers. I love the soprano on 'Vilia'- take 5.
"Jimmy Garrison had such a great bass tone and is so well balanced/mixed in. Such a cool bowed bass solo on track 1 ('Untitled Original' – take 1).
"It's neat to hear several takes of the same song (recorded at the same session with the same players). I really dig 'Impressions' – take 2, it's a little more laid back, slightly slower in tempo than the other takes… there are interesting creative solo ideas in the upper register of John's tenor. 'Impressions' – take 4 is more driving, with Coltrane's signature honking horn flares, and is more up tempo.
"'Untitled Original' – take 5, has such a great melody and sounds so good on soprano, other worldly, like East meets West. McCoy Tyner has a great piano solo on this one. Overall, the piano seems subtle on the album, but does so much heavy lifting and supportive carrying, it's nice to have it open up for him in here. There's a beautiful bass solo on this song too.
"I think it's also important to mention producer Bob Thiele, because he was part of the genius in this (and he also produced my most favorite Coltrane album, A Love Supreme)," reinforced Kramer.
"To have scheduled a session like this, at the tail end of a two week stint at Birdland, with all of that energy and creativity culminating into this type of send-off, takes a certain visionary and an understanding of music, improvisation and capturing the height of it all… and in the intimate studio setting with Rudy Van Gelder at the helm… That vision paved the way for such quality and purity, such confidence and unity.
"I've been loving the whole album, I can't believe it's been hiding away unheard for so many years. It's quickly become one of my favorite recordings of Coltrane and this incredible band."
"John Coltrane never toured Australia which was a terrible cultural loss for this country yet he still had so many fans here who were devoted to his music," revealed writer and musician, David N. Pepperell.
"All record shops in the major cities with 'Jazz' sections always had a plethora of 'Tranes Impulse albums which was amazing considering those albums were never pressed in this country! Importing albums into Australia was a complicated process in the early 1960's so the demand must have been substantial for those shops to have gone to such trouble," enthused Pepperell.
"All modern jazz musicians over here were keenly influenced by Coltrane's innovations and several of our prominent players changed their style completely after hearing those albums, especially after A Love Supreme which was a revelation to everybody.
"This discovery of a lost 1963 Coltrane Quartet session has been described by Sonny Rollins as 'like finding another room in the great pyramid.' Whilst agreeing with Sonny I would say it is more akin to the finding of a lost Beethoven or Mozart symphony because 'Trane's influence on Jazz at that time was comparable to those two musical giants. .
"But of course the question remains: is it any good?
"Well it is quite marvelous and fills a space where Coltrane was evolving from his fierce ballad playing on Impressions towards the sublime sounds of Love Supreme and indeed in both 'Untitled Originals,' despite their being played on soprano not tenor, there are the beginnings of the famous riff from that ground-breaking album.
"He is in towering form all over this session and I wonder how on earth it got lost all those years ago. It reminds of the diversity of his Impressions album especially the soprano features which really bring back memories of his glorious India on that album.
"So at last we have it, a kind of holy grail of modern jazz, a lost session from 'Trane's most fertile period and thank you to his family for keeping the tape all these years and for his old label Impulse/Verve to issue it on CD … and vinyl!"
"It can be exhausting to deal with Coltrane, that prodigious, promiscuous voice," stressed author and pianist, Kenneth Kubernik. "Even Miles became exasperated: 'Take the horn out of your mouth,' he barked at his band mate after yet another endless volley of notes.  And now we have this 'discovery' of new old music (or is it 'old new music?').  Whatever it is, it swings like mad.  McCoy is in rippling good form, tamping down that hammer-headed left hand to let some pearly Garner-esque buoyancy carry him forward, muscular and nuanced by turns.  As for masters Jones and Garrison, the pistons are pumping, the engine is revving and all is right in their world.  There is a little glimpse of utopia percolating in that sumptuous pocket.
"The jazz cognoscenti will feast on this album – a 'holy grail' in some folks estimation.  No need to drag Avalon into the discussion; it's enough to say that Both Directions At Once is vintage Impulse! era Coltrane, bouncing between exploration and exultation.  It doesn't extend his vision in the manner of, say, the Temple University recording, so much as a provide a stellar example of his clarity of intention.  At his best (and there's plenty of that here), Coltrane was an inexhaustible force of nature and we're still basking in his afterglow."
Earlier this year in February, Craft Recordings released a deluxe edition of one of the most iconic and enduring records in jazz. Celebrating the 60th anniversary of the recording session in 2017 and the 60th anniversary of the first stereo release of the album in 2018, Way Out West, alongside Saxophone Colossus, cements Sonny Rollins' status as one of the top tenor saxophonists of all-time.
This meticulously compiled package pays appropriate tribute to the importance of the landmark recording with an audiophile-quality pressing of the original album and a second LP of bonus material featuring rare and previously unreleased tracks from the legendary 3 a.m. session with bassist Ray Brown and drummer Shelly Manne. Visionary record producer Lester Koenig oversaw these 1957 session date for his landmark Contemporary Records label.
Both records are pressed at Quality Record Pressings (QRP) on 180-gram vinyl from lacquers cut by George Horn at Fantasy Studios. Rare photos by famed jazz photographer William Claxton round out the collection, which comes housed in a handsome, hinged box with unreleased bonus material.
Over his long and distinguished career, Sonny Rollins has made many dozens of albums. Among those recorded during the '50s — Prestige's Saxophone Colossus, Blue Note's A Night at the Village Vanguard, Riverside's The Sound of Sonny and especially Way Out West, originally recorded for the Contemporary label — qualify as all-time Rollins classics.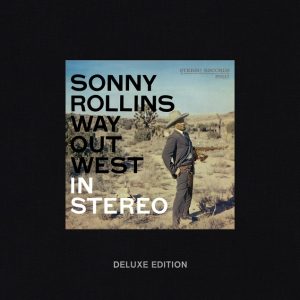 The session for Way Out West, Rollins' first-ever in California, was called for at 3 a.m. to accommodate personnel's busy schedules and included bassist Ray Brown and drummer Shelly Manne. Sonny, who could never be accused of overstatement, announced after four hours of recording, "I'm hot now." What transpired on the date was nothing less than magic, with Brown and Manne effortlessly supporting Rollins and pushing him to new peaks on "I'm an Old Cowhand," "Way out West," "There Is No Greater Love" and "Come, Gone," the latter a cookin' take on the timeless ballad "After You've Gone."
"Dovetailing neatly like strands of DNA, new releases by Coltrane and Sonny Rollins remind us that titans once walked the earth," stressed Kenneth Kubernik.
"Their musical and personal narratives were Homeric in scope; Trane in search of the ineffable, Sonny navigating perilously towards the Williamsburg Bridge.  Both proud, bold thinkers, resolute in bearing, they walked tall in a culture that looked warily askance at their creative urges.
"The Rollins reissue is a comforting reminder of his immense gifts. Way Out West is rife with that palpable, robust tone, crackling with flavor like a juicy rib eye over an open fire.  Sonny doesn't play melodies so much as parse them to their elemental core, then bit by bit, reconstitute them into the most joyful expressions. Even at his most fearsome, most rapturous, Rollins struts with a dancer's command of balance and poise.
"He is aided and abetted here by two consummate pros, Ray Brown and Shelly Manne.  Granted, this recording was made in the wee small hours of the morning so it's not surprising that their accompaniment falls closer to polite rhythmic support than a full out blowing session.  Add to it the whimsical 'Western' motif that informs much of the music's sly cowpoke flavor – Claxton's iconic cover shot of Rollins at his 'Palladin' best – and you've got the makings of a '50s jazz classic.
"Is it pistols at dawn (or more apt, a duel in the sun) for me to suggest that this isn't a 'Great Album.'  It charms rather than compels, it lopes rather than charges.  It has a light touch but it is certainly not lightweight. Considering all his masterworks to come, Way Out West  resides in that hallow of countless ad hoc sessions performed by first rate talent; in this instance a trio of savvy rustlers not taking it way out but rather reining it tastefully in."
Every once in a while, 'it' happens — the just-right blend of venue, musicians, material, moment, mood, microphones and zeitgeist — and the result is an album that seems inevitable, as though it had somehow already existed even before it was recorded," observed Dr. James Cushing. "Kind of Blue and A Love Supreme are examples of this kind of thing in jazz, and so is Way Out West, one of the 1950s albums (along with Saxophone Colossus and Freedom Suite) which made and continues to make Rollins' reputation as the tenor saxophone's great thematic improviser.
"The absence of piano emphasizes the chamber-music element while giving a desert-air transparency to the improvisations, and it's a real treat to hear Ray Brown so clearly. The new double-LP includes a newly released but inessential outtake along with some spoken comments from the all-night session, including Rollins singing the lyric to 'I'm an Old Cowhand' with Western-movie conviction.
"The cover, showing Rollins in a cowboy hat, boots, and a six-shooter, anticipates the cover of Bo Diddley Is A Gunslinger by two years. In 1969, Jimi Hendrix, Noel Redding, and Mitch Mitchell did their own cowboy-themed photo-shoot for the Smash Hits album, saluting Diddley's and Rollins' Western drag. Behind the take-off on cowboy-movie cliches, these pictures stir up ghosts of hundreds of thousands of African-American cowboys, freed slaves who roamed the West after the Civil War, written out of conventional, white-assuming American history books, remembered only here and there."
(Harvey Kubernik is the author of 14 books. His debut literary music anthology Inside Cave Hollywood: The Harvey Kubernik Music InnerViews and InterViews Collection, Vol. 1 was published in December 2017, by Cave Hollywood. Kubernik's The Doors Summer's Gone was published by Other World Cottage Industries in February 2018. In November 2018, Sterling/Barnes and Noble will publish Kubernik's The Band From Big Pink to the Last Waltz.).