Bob Marley: Uprising LIVE!
By Harvey Kubernik c 2014
In late 2014, Eagle Rock Entertainment released Uprising Live! By Bob Marley on DVD, DVD + CD set, and Digital Video.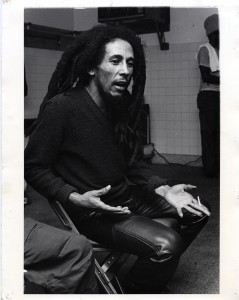 This is the first ever DVD release of this classic concert, which originally aired on the famed German television series Rockpalast, from Marley's final tour. The Uprising Tour ran in Europe from May 30th to July 13th 1980 with five further dates in the USA in September.
It was Bob Marley's last tour before his tragically early death in May 1981 at the age of just 36. The dates were in support of the Uprising album, (released June 10th 1980) and just a few days later, this show would be filmed from Dortmund's Westfalenhalle. Now, Rockpalast is presented here on DVD for the first time, with footage fully restored under supervision of Cedella Marley and Ziggy Marley.
Bob Marley is in superb form on Uprising Live! He delivers a captivating set full of energy and charisma including the songs "No Woman, No Cry," "Exodus," "I Shot The Sheriff," "Redemption Song," "Is This Love," "Jamming," "Get Up, Stand Up," "Could You Be Loved" and many more. The show opens with a short set by the I Threes –Marley's backing vocalists – who traditionally would perform a few songs before Bob entered the stage.
"A crucial record of Bob Marley live at a stage when, knowing his time on earth was tight, he focused even more intently on communicating his message of love and revolution through music," offered Vivien Goldman, author of The Book of Exodus: the Making & Meaning of Bob Marley & the Wailers' Album of the Century (Three Rivers Press/Random House.). Goldman is also an Adjunct Professor of Bob Marley, Reggae and Punk at New York University's Clive Davis Institute of Recorded Music, Tisch School of the Arts.
"And what a treat to have a set from the I Three's Bob's original 'Three Little Birds'! The spirit of Uprising represented in this show, which surveys his long career, is that we must never give up, just as Marley got more and more militant. This music teaches us how to burn down Babylon — in the sense of fighting for change and a more just society, wherever you are, with the best use of your skills as your weapon. Rockpalast was one of Europe's legacy music shows, and captured great artists, with consistency and class."
"Uprising is Bob's farewell," reinforced reggae music scholar and author, Roger Steffens. "He knew he was dying, in fact he prophesied his death at 36 when he was only 24 years old. The titles tell the story: 'Zion Train' (is coming my way); 'Coming in from the Cold'; the heartbreaking 'Redemption Song'; and most of all 'Work.'
"The song was originally conceived by his longtime friend and percussionist, Seeco Patterson, who brought Bob to his first audition for Coxson Dodd's Studio One label in 1964. On his way into town for a rehearsal, Seeco was singing and counting off the miles. When he arrived he sang a bit of the song to Bob and Bob said he'd like to record it, but told Seeco to change the miles into days. And thus, on his final album, Bob is counting off the remaining days of his life. It was also half of a medley with 'Get Up Stand Up,' that was the final song Bob sang live at his last concert in Pittsburgh on September 23, 1980."
Full details of that period of Bob's life are examined in Steffens forthcoming Oral History of Bob Marley from W.W. Norton next spring. February 6th 2015 will be, what would have been, Bob Marley's 70th birthday and, with very few Marley live concerts available on DVD, Uprising Live! is a welcome addition for any fan or collector.
Bob Marley is one of the most important and influential artists of the 20th century. In the digital era, Marley has the second-highest social media following of any posthumous celebrity, with the official Bob Marley Facebook page now surpassing 69 million fans, ranking it among the Top 20 of all Facebook pages and Top 10 among celebrity pages.
His music catalog has sold more than 50 million albums worldwide since 1992 and his accolades continue, including an induction into the Rock and Roll Hall of Fame (1994), a GRAMMY® Lifetime Achievement Award (2001), multiple entries in the GRAMMY® Hall Of Fame and the Hollywood Walk of Fame (2001).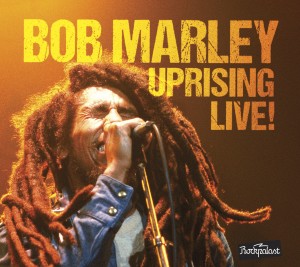 Bob Marley was the first Jamaican artist to gain worldwide fame. A musical, political and even spiritual icon, a figure of almost mystical proportions, no artist has so dominated his genre in the history of modern music as Marley has reggae. For more information on Bob Marley, visit: www.bobmarley.com.
During 2015, the life and times of Bob Marley will be the subject of a Marley musical and a Marley family endorsed marijuana brand.  The official Bob Marley website has recently announced that the Center Stage, the State  Theater of Maryland will produce the world premiere of Marley, the first original musical based  on both the life and music of cultural icon Bob Marley. With a book and direction by Center Stage artistic director Kwame Kwei-Armah,Marley will run from May 6 to June 14, 2015 to close Center Stage's 2014/15 season.
Marley explores a pivotal period in the singer's life. In 1976, Bob Marley finds himself the target of an assassination attempt. Shaken by this act of violence in the country he loves, Marley leaves for London where he spends nearly two years in self-imposed exile. Chronicling the events surrounding this earth-shaking moment, Marley tells the story of a man transformed into one of the 20th Century's greatest musical icons. The musical will of course feature music composed by Bob Marley, including songs – among others – from Exodus, Kaya, and Rastaman Vibration, which were written during the period in which the production is set.
"We are thrilled to be working both with Kwame and with Center Stage to bring part of our father's story to life in a way that has never been done before," Cedella Marley says. "When it comes to our father's work and legacy, we have always been mindful in selecting the artists with whom we choose to collaborate. We couldn't be more excited about the team that is assembled for this project.
"Marley will be a creative collaboration between Baltimore's Center Stage and New York City's Public Theater, with Oskar Eustis, artistic director of the Public Theater, serving as dramaturg for the production. In addition, a November 19, 2014 CNN television news story by broadcaster Virginia Harrison in London reported that Bob Marley's image will become the face of the world's first global marijuana brand. "Marley Natural" will be available in 2015 in areas where cannabis is legal. Marley-branded pot, as well as hemp-infused lotions and creams, could be sold in certain states in the U.S., as well as countries such as Uruguay and the Netherlands.
Harrison on CNN cited Private equity firm Privateer Holdings which invests exclusively in the legal cannabis industry — has worked with the Marley family to create the brand. Before his physical passing in 1981, Bob Marley was a vocal advocate for the benefits of marijuana.
"My dad would be so happy to see people understanding the healing power of the herb," said the musician's daughter, Cedella Marley.
Harvey Kubernik has been an active music journalist for over 42 years and is the author of 8 books. During April 2014, Harvey's Kubernik's Turn Up the Radio! Rock, Pop, and Roll in Los Angeles 1956–1972 was published by Santa Monica Press.
In September 2014, Palazzo Editions BasckBeat Books published Leonard Cohen: Everybody Knows, a coffee-table-size volume written by Kubernik.
Harvey and Kenneth Kubernik have written the text and for photographer Guy Webster's debut book for Insight Editions published in November 2014. Big Shots: Rock Legends & Hollywood Icons: Through the lens of Guy Webster. Introduction by Brian Wilson.