Bob Marley and The Wailers Kaya 40th Anniversary
By Harvey Kubernik c 2018
On August 24, The Marley Family, Island Records, and UMe celebrated 40 years of Kaya, Bob Marley & The Wailers' historic March 1978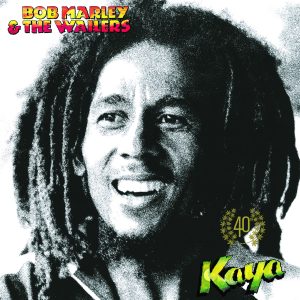 release.
This anniversary edition features Stephen "Ragga" Marley's exciting and vibrant new "Kaya 40" mixes of all ten tracks from the original album alongside its original mixes in 2CD and 180-gram 2LP configurations. (The digital version will be a standalone release of Stephen's mixes only.)
The album is also available as a limited edition 180-gram 2LP green vinyl version exclusively at BobMarley.com
Recorded in London concurrently with the material that ultimately comprised 1977's Exodus — a record proclaimed by Time Magazine in 1999 to be the Best Album of the 20th Century — Kaya is the sonic-sibling bookend that attempts to share all the joy, spirit, and literal DNA of some of Marley's most groundbreaking material.
The album isn't one of my most played Bob Marley discs on planet Kubernik, but Kaya does contain a few of the most enduring songs in the entire Marley catalog, particularly "Is This Love," "Easy Skanking," and "Sun Is Shining."
Kaya was initially released just one month ahead of Bob Marley & The Wailers headlining the legendary One Love Peace Concert at The National Stadium in Kingston, Jamaica on April 22, 1978, an event that featured 16 of reggae's biggest acts. One Love Peace was heralded as Marley's triumphant return to his native soil, following his long exile in London after having fled the country as a result of a December 1976 assassination attempt at his Kingston homestead.
The album was recorded with the then-new configuration of The Wailers that included brothers Carlton and Aston "Family Man" Barrett on drums and bass, Tyrone Downie on keyboards, Alvin "Seeco" Patterson on percussion, and the I Threes — Rita Marley, Marcia Griffiths, and Judy Mowatt — on backing vocals, along with newest member Julian (Junior) Marvin on guitar.
Two of Kaya's songs had previously appeared in different arrangements on 1971's Soul Revolution — the title track, and "Sun Is Shining."
Stephen Marley's goal in mixing Kaya 40 was to create a balance that drew heavily from the original versions. Using Bob's vocals from demos from original Kaya sessions that were recorded at different tempos, Stephen synched the vocals with alternate takes and layered it over different instrumental arrangements.  Stephen tried to keep the flavor as authentic as possible. To mix the album, he used a similar minimal approach, basing his version heavily off the classic analog concepts they used in the 1970s.
Bob Marley's artistic legacy forever endures, and the 40th anniversary edition of Kaya only serves to reinforce just how much we all share the shelter of this music.
Bob Marley & The Wailers KAYA 40 [2CD & 2LP & Digital**]
Easy Skanking
Kaya
Is This Love
Sun Is Shining
Satisfy My Soul
She's Gone
Misty Morning
Crisis
Running Away
Time Will Tell
Digital version with Stephen Marley Kaya 40 Mixes only
Easy Skanking (Stephen Marley "Kaya 40" Mix)
Kaya (Stephen Marley "Kaya 40" Mix)
Is This Love (Stephen Marley "Kaya 40" Mix)
Sun Is Shining (Stephen Marley "Kaya 40" Mix)
Satisfy My Soul (Stephen Marley "Kaya 40" Mix)
She's Gone (Stephen Marley "Kaya 40" Mix)
Misty Morning (Stephen Marley "Kaya 40" Mix)
Crisis (Stephen Marley "Kaya 40" Mix)
Running Away (Stephen Marley "Kaya 40" Mix)
Time Will Tell (Stephen Marley "Kaya 40" Mix)
"Kaya is the straw in a mattress, and a metaphor, of course, for herb, head-resting with Jah," suggests reggae music activist and author, Roger Steffens, whose riveting 2017 book, So Much Things to Say: The Oral History of Bob Marley will be published in paperback this October.
"In Ghanaian kaya means stay and don't go back and in Navajo it means Elder Sister. A South African reviewer noted that 'kaya in some languages of the African continent's black people, means home.'
"Kaya features songs of exile and songs of home and hope.  It's an album about flight, an artist's desire to withdraw and find himself and discover small pleasures in the midst of encroaching despondency.
"Reactions varied, from Perth, Australia's Ralph Nicholson calling it Bob's best album yet, to a rave in The New York Times," remembers Roger.
"Bob told one English reporter, 'I listen to things. To other musicians. But most of all to the sound of things like rain on a roof. That's God's music.'
"In Kaya, the rain represents the hardships of life, from which art keeps us separated.
"Iconoclastic crank Lester Bangs savaged the album in Rolling Stone, saying it was filled with 'tepid clichés and tourist bait…This is quite possibly the blandest set of reggae music I have ever heard.' And then, astonishingly, 'This man wants to be a superstar at all costs and will sell out his music, his people, his religion and his politics to get there.'
"Side one on the initial vinyl edition describes the arc of a relationship. 'Sun Is Shining' is a remake of the Lee Perry-produced 1971 classic, with reorganized lyrics. In it he is a man coming to the rescue; almost an order to the depressed to get up and face the day. The rainbow symbolizes the covenant with God. So he is a personification of this covenant with his people, with his woman and with his country – a covenant of art.
"On 'Time Will Tell,' the gloriously spiritual album closer, all the voices are male. 'Run come crucify the dread,' he sings, referencing Bob himself, Emperor Haile Selassie and Rasta in general. Can't crucify them without facing retribution from Jah. 'Back them up,' he commands, force them to step away. He blames the people who set up the shooters who came to kill him in December of 1976, like the sheriff vs. the deputies, who merely carry out orders. It remains one of the most haunting works of his entire career, especially in the much barer version contained on the soundtrack to the film Countryman.
"Four of the songs were previously released," Steffens stresses. "According to Brit writer Vivian Goldman, 'Bob confided to friends that he was rehashing old tunes not just because they hadn't received the exposure they deserve, but also because England's dearth of sun and ganja had dried up the song-writing juices.'
"In the end Goldman, a huge fan and close friend of Bob's, was forced to admit that Kaya 'cannot accurately be regarded as any kind of statement from one of the world's most influential musicians, or even as a new release,' thanks to the four tracks reworked within."
(Harvey Kubernik is the author of 14 books. His debut literary music anthology Inside Cave Hollywood: The Harvey Kubernik Music InnerViews and InterViews Collection, Vol. 1 was published in December 2017, by Cave Hollywood. Kubernik's The Doors Summer's Gone was published by Other World Cottage Industries in February 2018. In November 2018, Sterling/Barnes and Noble will publish Kubernik's The Band From Big Pink to the Last Waltz.).