BANG! The Bert Berns Story Out This Fall
Harvey Kubernik interview with BANG! co- director and editor Bob Sarles
© 2017 Harvey Kubernik
"BANG! The Bert Berns Story is the best music doc that I have seen. There is enough stuff for the geeks and for the newcomers to Bert Berns' music.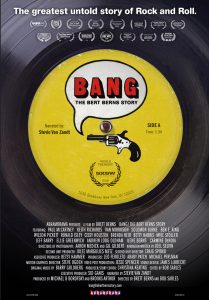 Seen it 4 times, could dig to see it a 100 more times." —Paul Body
"Must see" – Billboard Magazine
"The new high-water mark for music documentaries" – Glide Magazine
"A remarkable story of hustle and heartache." – Best Classic Bands
Abramorama and filmmakers Brett and Cassandra Berns recently announced that BANG! The Bert Berns Story is coming exclusively to Apple Music. Following BANG!'s successful film festival run and North American theatrical release, a fall 2017 global release is planned on Apple Music followed by a global offering via iTunes Movies.
Abramorama originally released the film theatrically in April, and it played to enthusiastic crowds in theaters across the country.
Music meets the Mob in this biographical documentary about the life and career of Bert Berns featuring Van Morrison, Paul McCartney, Andrew Loog Oldham, Keith Richards, Ronald Isley, Doug Morris, Brooks Arthur, Jeff Barry, Richard Gottehrer, Bob Feldman & Jerry Goldstein, Carmine "Wassel" DeNoia,  Ben E. King, Mike Stoller, Wilson Pickett, Cissy Houston, Betty Harris, Garry Sherman, Jerry Ragovoy, Solomon Burke, Charlie Thomas, Ellie Greenwich, Don Drowty, Brenda Reid, Joel Dorn, Ilene Berns and many more. 
BANG! The Bert Berns Story tells the story of one of the most important songwriters, producers and label chiefs of the 1960's that you've never heard of whose hits include "Twist and Shout," "Hang On Sloopy," "Brown Eyed Girl," "Here Comes The Night," "Tell Him," "A Little Bit of Soap," "Are You Lonely For Me Baby," and "Piece Of My Heart."
Bert Berns, unlike his music business contemporaries, was equally at home producing American soul artists in New York as he was working in London during the height of the British Invasion where his songs were covered by the Beatles, Rolling Stones, Animals and Them.
Berns founded Bang Records, which was acknowledged as the hottest label in the business and the home of hits by Neil Diamond, the McCoys, Strangeloves and Van Morrison.  Bang's Shout subsidiary label yielded hits for Freddie Scott, Erma Franklin and other R&B artists.
Born in the Bronx on November 8, 1929 during the Great Depression to Jewish immigrants, a bout with childhood rheumatic fever damaged Bert Berns' heart – creating a sense of urgency and instilling a relentless and impassioned drive to make the most of his life. Bert's love for the Mambo took him to Havana before the Cuban revolution, where he converted a whorehouse into a nightclub and ran guns for Castro's rebels.
Upon his return to New York's Brill Building / 1650 Broadway milieu, Berns began a meteoric seven year run that saw him bring Latin rhythms into Rock and Roll and become one of the founding fathers of Uptown Soul music. Atlantic Records made him their staff producer in 1963 and he formed his own BANG Records label in 1965.
He infused his songs with autobiographical lyrics and produced hundreds of sessions. His ambition was so great that, from the age of 31 to 38, he created 51 pop chart hits before succumbing to his damaged heart in New York City on December 30, 1967.
The sudden death of Bert Berns is the final scene in my book 1967 A Complete Rock Music History of the Summer of Love.
"One of the side benefits of America opening its doors to our version of their music was we got to meet our heroes and villains," volunteered record producer, author, and deejay, Andrew Loog Oldham in the same pages. "Bert Berns was a hero."  Oldham managed the Rolling Stones and produced their studio recordings during 1963-1967.
One disc on the Bang label made a big impact on Staff Sergeant Roger Steffens in Vietnam, who had been shipped off to military service in November 1968.
"Michael Herr's Dispatches understood better than anyone that it was a rock 'n' roll war," Steffens explained in 1967 A Complete Rock Music History of the Summer of Love.
"Among the albums we heard in Vietnam that helped put our shituation into perspective was Van Morrison's 1967 Blowin' Your Mind, produced by Bert Berns," reinforced Roger. "People primarily bought it because of 'Brown Eyed Girl.' But they weren't ready for 'T.B. Sheets.' Here was a real flat out rock 'n' roller, who had been in Them suddenly making poetry.  Blowin' Your Mind was the trailer for Astral Weeks."
The Bert Berns saga is not just another feel good immigrant son's success story. It is also the harrowing tale of a fighting Jew who surrounded himself with some of the most feared men in the Italian mafia and fought epic battles to maintain control over his destiny.
His relationship with the mob made him a controversial figure even before his untimely death in 1967.  A slew of reissue CD's of his monumental catalog have been available for decades, but until recently, I always got the sense that Berns' literary and sonic contributions were marginalized by the record industry, largely neglected by the pop culture music media, and pretty much whitewashed from its history books.
BANG! The Bert Berns Story, was produced by Michael B. Borofsky and Brooks Arthur.     The film was executive produced by Sid Ganis and directed by Brett Berns, Bert's son, and co-directed with Bob Sarles who also edited the film.
Sarles co-edited the Peabody Award winning documentary series Moon Shot and directed and edited Sweet Blues: A Film About Mike Bloomfield; Fly Jefferson Airplane; John Lee Hooker: Come And See About Me; Feed Your Head: The Psychedelic Era and Soulsville. He was consulting producer on the PBS television V documentary Respect Yourself: The Stax Records Story.  Sarles edited and co-directed the concert film Phil Lesh & Friends Live At The Warfield, directed and edited the concert film Elvis Costello & Clover: Our Aim Is True.
Stevie Van Zandt, who inducted Berns into the Rock and Roll Hall of Fame earlier this year, provides the film's narration which was written by Joel Selvin, author of Here Comes the Night: The Dark Soul of Bert Berns and the Dirty Business of Rhythm and Blues (Counterpoint Press).
"I made BANG! The Bert Berns Story because this extraordinary untold story needed to be told by the people who worked alongside my father as he created his vast and unique body work," said director Brett Berns, a graduate of  the University of Virginia and veteran of the Israel Defense Forces Paratrooper Brigade.
"Bert Berns was one of the greatest music men of the twentieth century, yet he was also the most obscure. His death at a young age, combined with the neglect of powerful figures intent on burying his legacy, caused him to virtually disappear from the history of rock and roll. It thus became my life's ambition to champion my father.
"I was only two years old when my dad died in 1967. Knowing that his rheumatic heart would take his life, he would tell my mother, 'my children will know me through my music.' In tandem with my sister Cassandra, I set out to learn the meaning of this riddle and what we discovered was a revelation so great that it called for historical revision. For buried beneath the sands of time was a unique canon of music and a story greater than fiction.
"My greatest personal realization was that only through the telling of his dramatic life story would my father be recognized for his part in our musical history. He had been so utterly forgotten that only a multi-media barrage would make people take notice of this lost icon. Leading the way was Joel Selvin's epic biography Here Comes The Night, and the Off-Broadway [Signature Theatre] in 2014 and 2018 Broadway bound musical Piece of My Heart. Now BANG! The Bert Berns Story completes the trilogy.
"I began interviewing subjects for the film nearly a decade ago. Being a first time filmmaker, I partnered with seasoned veterans and spared no expense on production. I personally conducted every interview and learned the fundamentals of editing. One door opened the next, and the greatest legends of rock and roll fell into the project along with a number of characters never before seen on film.
"It wasn't until world class editor and director Bob Sarles joined the project that the film truly took flight. A brilliant documentary filmmaker, Sarles reshaped the film, brought his best people on board to conduct B roll and re-creation shoots, orchestrated animations and graphics, and used Joel Selvin's biography as the bedrock for the film's narration. Musician, actor and deejay Stevie Van Zandt's narration brings the voice of Bert Berns into the film.
"What began as a passion project designed to introduce the world to Bert Berns has evolved into both an important historical document and an inspirational example of how to live life with courage and create art with passion, love and collaboration. With my father entering the Rock and Roll Hall of Fame in 2016, my greatest ambition is to share BANG! The Bert Berns Story with the world.
"When Abramorama came on board with a vision to release the film theatrically, their efforts built an awareness that exceeded our most optimistic expectations. I know my dad would be proud to be with Apple Music, who like him have always been fair to the artist."
BANG! The Bert Berns Story debuted this past spring at SXSW and was screened at numerous festivals including Boston Film Festival, where it won the Best Music Award, as well as Chicago's CIMMFest (Best Soundtrack), Seattle International, Athens International, UK's Doc 'N Roll, Vancouver International Film Festival, Buffalo Film Festival, Mill Valley Film Festival and others.
BANG! The Bert Berns Story tailer: https://www.youtube.com/watch?v=aDBuIhj8AWM
This is a terrific movie and a love letter to the work of "the greatest songwriter and record man you never heard of."
Filmmaker Bob Sarles, co-director and editor of the film has his movies on permanent display at the Rock and Roll Hall of Fame in Cleveland, Ohio, Experience Music Project in Seattle Washington, and the Stax Museum of American Soul Music in Memphis, Tennessee.
Harvey Kubernik Interview with BANG! The Bert Berns Story co-director/editor Bob Sarles.
Q:  How did you enter this project?
A: I was introduced to Brett by my friend, longtime San Francisco Chronicle music critic Joel Selvin, who wrote the definitive biography about Bert Berns and the recording business in New York City in the early to mid-60s. Brett Berns initially hired me to edit the film, and for my filmmaking partner, Christina Keating to work as story editor and to oversee production of the post production, including deep research for archival materials.  As the post production of the film came together we found the story and structure of the film.
In addition to a lot of vintage archival materials being discovered, we found that we also needed essential recreation footage and B-Roll to be produced. Over the year we were involved in the production of the film Brett recognized my contribution as being much more than what is usually involved in being an editor of a film and shared his director's credit for the film with me.  I won't argue that the credit wasn't deserved, but it shows a lot of class on Brett's part that he did that. Not many in the business would.
Q:  What drew you to the saga of Bert Berns?
A: Frankly, first and foremost it was a paid gig. As much as this was a labor of love for Brett, it was a professional job and opportunity for me. And that drew me to the Bert Berns story. Before I read Selvin's biography, I knew nothing about Berns, except a vague recognition of the name as a songwriting credit. But, often, Berns used different alias names on song credits so there was no way to tie all these amazing songs to one person. So, I learned everything I know about Bert Berns from Joel's book and from what I learned working on this film. Once I was in it, I was fully immersed in the subject, and found it to be an inspiring, compelling, entertaining and tragic story. I used the skills that I have to help make the story in the film convey all of that. I think we were pretty successful.
Q:  You obviously viewed Brett Berns-shot footage and then the documentary went into another direction. Did you know early on the story and film would mix music and the music business?
A: Well, Brett certainly knew he was not going to shy away from the story of the music business, as that would have to be the spine of the story of the film. And, of course, the film would have to mix the big hits from his catalogue. What surprised me, and this was a lot of Brett's impact during the editing: the amount of rare deep tracks that we needle dropped to use as score for the film. Brett really pushed me to do that, and informed me of a lot of rare records Bert was involved with that I had never heard of.
I'm not sure I went in another direction when I came on so much as I viewed what Brett had been working on, something that was far from finished but very informative as to where some of the best interview material was, and visualized what it could be once a lot of elements that were then missing were found and included. One of the most important elements that was initially missing was a compelling, satisfying story arc and working narrative. That, more than anything, is what the work that Christina and I did that made the film work as well as it does.
Q:  Did you realize that the songs he wrote and the productions were inherently cinematic in nature? Joes Selvin on screen underscores the pain aspects of the tunes.
A: That's an interesting question. I'd have to say yes, and that seems almost self-evident, upon reflection. I've been a filmmaker since I was thirteen or fourteen. I've been into music, big time, since The Beatles first appeared on The Ed Sullivan Show. So, I've probably always thought of great music in cinematic terms. That's kind of how my brain works.  Many of the songs Berns wrote came from his own personal pain and anxiety, the uncertainty of when his short life may end due to his heart condition. The songs worked perfectly as the soundtrack of the film.
Q:  Do you have any concrete concepts about lensing interview subjects?
A: That was mostly Brett's domain, and the excellent cinematographers he worked with. I really only helped produce the Keith Richards interview, so I had some input into how that particular interview looked. Overall, I think the interviews were professionally shot and had excellent production value for a doc film of this nature.  A decision was made to shoot the interviews with two cameras on the subject, a common practice these days. That gave me more flexibility in the editing.
Q:   How did you collaborate with Brett and his sister Cassandra during the process?
A: Cassie always had a voice, which was often more directly expressed with Brett, who would pass on her notes to us.  Christina and I worked most directly with Brett and mostly on the phone as he was often in New York moving forward on work for his upcoming Broadway play while we worked out of our house in Sherman Oaks California.  Brett left us alone for periods of time and I'd try to add another ten minutes to the timeline each week until we completed our first cut.  I'd post the latest version cut every few days on a private link for Brett to view on his computer and we'd have a dialog about the cut.
Brett was great to work with because mostly he simply said, "This is great. I see what you are doing. Keep going." Which isn't to say he didn't give us important feedback and make excellent suggestions. But, there was a lot of trust with how we were putting the film together.
At first I used a "rip-o-matic" approach to cutting the film together. Which is to say I found representative footage in other films and TV docs that had been previously produced that were a part of our initial research.  This put us in the direction of some of the archival footage we ultimately found on our own, and gave us some workable B-Roll and "re-cre" footage that we had not yet produced.
Once we had a cut together, we hired my friend Craig Spirko, a wonderful director in his own right, to shoot our own original B-Roll and re-creation footage. I've done a lot of work with Craig in the past, and he has a long history of shooting for Morgan Neville (20 Feet From Stardom), so he was a perfect fit for our project. I brought on my longtime colleague Julee Metz to produce our B-Roll and re-cre shoots, and she did a fantastic job.
Perhaps the only thing Brett and I disagreed on till the end of the editing process was not including a funny story Mike Stoller told about Bert's toupee. It would have gotten a big laugh, but Brett and Cassie objected to it, I think for their father's vanity. I found it interesting that they did not object to stories of mob guys beating up people up in Bert's presence, but pointing out the rug on his head was going too far.
In the end they were probably right, as pointing out Bert's rug early in the film would have been a distraction every time a photo of Berns appeared in the film. Stoller told me he didn't miss the story in the film. At the time I hated the idea of giving up a sure laugh, but in the end I think the Berns kids were right.
Q:  You also had the budget to implement many archive sources. And in the trek it became a story about New York. Was that a luxury to think big in expanding the traditional music documentary you've done in the past?
A: It certainly was helpful to have the budget to include the archival materials needed to flesh out the story. After reading Selvin's biography about Berns it was clear to me that New York City in the 30s – 60s had to be a character in the film. The luxury was having a great researcher, my filmmaking partner Christina Keating, on our team to help us locate and license this amazing footage.
Q:  Some of the archive sources you located were terrific. The footage of young Bill Graham at a Mamba club was a great find. How 'bout some of the other archive items that ended up displayed on screen.
A: Christina located some wonderful color and black and white footage of New York City that helped us tell the story. At the eleventh hour of editing the film Brooks Arthur made available some 8mm B+W home movies he took in the recording studio, footage that included Jeff Barry, Jerry Ragovoy, Garnett Mimms, Cissy Houston, Gary Chester, Eric Gale and others. That wonderful footage really was really a godsend for us.  Christina also tracked down the original mambo footage used in the National Archives. We had that material in the cut for months before Joel Selvin pointed out that one of the mambo fans in the club was indeed a young Bill Graham.
Q:   It is very apparent so many people, Brooks Arthur, Jeff Barry and Doug Morris, really wanted to be in this movie and really went the extra mile for you and the cameras. Is there a sense that they all continued to have music business careers fifty years after encountering Berns and want to acknowledge his influence and mentorship?
A: No doubt that is true! Doug Morris began his career as Bert's gofer and wound up being one of the most powerful men in the music business. All of these heavy hitters worked with Bert early in their careers and attribute much of their success in the business stems from that early association.
Q: Talk to me about editing. How do you weave the narrative tales with the music?
A: I have directed and produced a ton of music related film and television content, but I also edit all of my own films, and continue to edit projects for others. It is the filmmaking craft that I have the most experience at, so I always look at a project from the editing standpoint. I have learned from decades of editing documentaries and television shows how to construct a compelling story out of the materials I have at my disposal.
In this case, and in much of the music related films I've made, the most important element in telling the story is the music of the era. The initial cut Brett was working on usually started with a song, but because Brett lacked the experience of an established editor, he would often let the song play until it ended or the story he was telling was completed. Sometimes I cut songs sometimes to use a lyrical hook, whereas other times I used a musical break to score an emotional scene. Everything was done in service of the story we were trying to tell.
I look at the music first as score, and try and edit with the music to maximize its emotional impact on the story. Clearly, if you are telling the story of the recording of 'Twist & Shout' you are going to use the appropriate version of that song in that part of the film. Brett, with his great knowledge of his father's output, was incredibly helpful in suggesting the lesser known songs in the Bert Berns cannon for emotional hooks, even if that song may have been produced at another part of the timeline. Fortunately, we had a very deep well of amazing music to draw from.
In the few instances where we needed original music created for the film I turned to my old friend Barry Goldberg, the great organist from Electric Flag (currently in band The Rides with Stephen Stills and Kenny Wayne Shepard) who has scored a lot of film and television, to compose and produce those interstitial music cues which integrated seamlessly with the needle-drop Bert Berns music cues that made up the majority of the film's soundtrack. Barry brought some of the greatest Los Angeles studio musicians into the process to create the original music used in the film. He was a joy to work with.
Q:  What is the challenge of telling a story about someone who left the planet 50 years ago but the catalog continues to be utilized and inspire.
A: The single biggest challenge we had, and one that is rarely noted, is the fact that we did not have a single frame of film or video footage of Bert Berns himself. Any home movies of Bert were lost over the years. That was a tremendous handicap. But, but by utilizing photos we had of Bert and augmenting them with other archival footage, we were able to disguise that fact. That the Berns kids controlled a good portion of the publishing made using Bert's music easier. Neil Diamond's decision to not participate in the film meant we had to work around not having his catalogue available to us. In the end that wasn't nearly the problem we originally thought it might be, as the film is the Bert Berns story, not the Neil Diamond story.  The easy part is that many of the songs used in the film's soundtrack are recognizable, and trigger an automatic emotional response in the audience. This is why these songs are still around. So many of them remain timeless.
Q: When you first began the venture, to now viewing the finished product, what were your initial impressions about Bert Berns and what did he become to you after you completed the portrait?
A: I initially thought of Bert Berns as a talented guy with an ear for great pop music. After immersing myself in the subject and the music I came to learn that he was a tremendously soulful guy and was responsible for helping to create some of the deepest soul music ever produced. He was a lot more than 'Twist & Shout,' 'Tell Him' and 'Hang On Sloopy.'  The sides he recorded with Solomon Burke, Betty Harris, Freddie Scott and Erma Franklin and so many others are simply sublime and right up there with the greatest soul records ever made.
Q: Can you compare or contrast Bert Berns and Michael Bloomfield? I would think they were polar opposites. One was a driven character and the other was very talented but lazy, partially owing to a trust fund and not wanting to be in the music or record business.
A: One interesting thing is that they, like myself, were both Jewish. Bert was a depression era kid, even though he grew up in relative middle class affluence. Bloomfield was raised with great wealth, and was pretty much of the boomer generation, so there was a different attitude towards money and success. Bert Berns knew he would die young because of his heart condition. He was driven to succeed, and prestige in the music business and accumulation of wealth and status was, I think, quite important to him.
Michael Bloomfield was a musician, and for him it was all about the music. The fact that he had a modest trust fund to pay his basic bills took away much of his incentive to monetize his musical gift. He had little interest in achieving stardom or the workings of the music business, do he pretty much self-destructed in terms of pushing a successful career in terms of accumulating money. Bloomfield was content to play his guitar for himself. He, too, died young. But that was a result of self-destructive drug habits that likely had their roots in mental health issues. Bloomfield had no idea he would die young, although when it happened few were very surprised. With the course he was on at that point it was inevitable. But, to contrast the two, I think Bert Berns was a musically talented person who thrived on the challenges of the music business.
Mike Bloomfield on the other hand, passionately hated the music business, and tolerated it as much as he had to in order to express himself as a musician. In the end, both men were incredible artists in their own right.
Q: Tell me about your Michael Bloomfield documentary I have seen in the Sony/Legacy box set. I imagine you toiled for decades. I interviewed Michael and saw him play with the Paul Butterfield Blues Band and the Electric Flag.
A: I began working on the Mike Bloomfield documentary in the mid-80s, just when I was starting to get some traction in my own career as a film and television editor. The untimely death of Paul Butterfield in 1986 motivated me to start getting interviews in the can before I lost more potential interviews. Over the years, as I worked on other projects, I began collecting interviews a little at a time with the likes of B.B. King, Bill Graham, Carlos Santana, Chet Helms, Bob Weir, members of Quicksilver, Jefferson Airplane, Barry Goldberg, Al Kooper, Mark Naftalin, Sam Lay, Elvin Bishop, Yank Rachell, Barry Melton, Charlie Musselwhite, John Hammond, Jr., Joe Louis Walker, GE Smith, Jimmy Vivino, Country Joe McDonald, Norman Dayron, Michael's ex-wife, mother and brother.
The one person who took 25 years to finally say yes to an interview for the film was Nick Gravenites, who ultimately gave us a beautiful interview. I negotiated the right to use an audio interview conducted with Michael by his friend Dan McClosky and a music journalist Walter Rimler made available the audio of a taped interview he had conducted with Michael in the early 70s. These interviews provided the narrative of the film I wanted to make. My original intention was to make a feature length film, something around 90 to 120 minutes long that included a fair amount of live footage of Michael in performance. I was never successful in raising the amount of money I required to complete the film I had envisioned, which would require a sizable budget for the licensing of music, archival footage and photographs. So, with all of these interviews gathered in every video format that evolved over the decades, the film remained unfinished.
Eventually my friend Al Kooper called me one day and said he was producing a boxed set of Michael's music for Sony/Legacy. He asked if I would be willing to put together a short DVD with excerpts of my interviews and perhaps a clip of Michael in performance for inclusion in the boxed set. I was happy to do this, and negotiated a stipend for my time from Sony and a very modest clearance budget so I might include some photos and a performance clip.  I sat down at my editing machine and quickly came up with much more than what I was contracted to do and delivered a 60 minute documentary that included two complete songs being performed, as well as other archival footage that we unearthed and a ton of photos from the Jim Marshall estate.
I squeezed a few more dollars out of Sony to cover the modest amount that I went over budget from the original concept and we were able to put out this version of the documentary, which we titled Sweet Blues: A film about Mike Bloomfield. I purposefully subtitled it "a film about…" because it is by no means the definitive story, and I retain the right to my original materials and still hold out hope that someday I'll be in the financial position to complete the film as originally intended, with a fuller telling of the story and a considerable more amount of live performances. In the meantime, I'm proud of the film and if Sweet Blues is all that I am able to ever complete on the subject I can sleep easy with that, knowing that the film we did complete is a good telling of the story as is. I've screened it in theaters with full audiences at a number of film festivals across the country, including showings at the Rock and Roll Hall of Fame and Levon Helm's Studio, and the film is always very well received.
Q: Talk to me about Stax Records and Otis Redding. He is a thread in my 1967 Summer of Love book and this is the 60thanniversary of the Stax label. You have directed and edited Stax/Redding related items.
A: Christina and I got very involved in the Stax story when we were hired to be the principal filmmakers creating content for the Stax Museum of American Soul Music that was built on the original footprint of the Stax Records Studio in Memphis. We produced and edited eight short films about Stax Records, Hi-Records and the artists who recorded there. We made films about Otis Redding, Sam & Dave, Booker T. & The MGs, Rufus & Carla Thomas, Isaac Hayes, Al Green, Ann Peebles, Willie Mitchell, the Staples Singers and a film that traces the roots of soul music and culminates with a history of Stax Records that serves as the introductory film to all who visit the museum.
Christina and I also contributed our research for this project to Morgan Neville and Robert Gordon's Stax Records documentary that they made for PBS a few years later. I also contributed a new music video for Otis Redding's 'Sittin' On The Dock Of The Bay' for an Otis Redding documentary that David Peck of Reelin' In The Years produced. When you are working with footage of Otis Redding performing at his peak, its not work, its pure joy.
Q:  Why do you like, let alone continue in the music documentary world?
A: To be clear, first and foremost I am a documentary filmmaker, and a working film and television editor and I do not exclusively work on music related content. Although that is probably what I am most well known for. But, I've edited all kinds of unscripted television shows going back to the earliest seasons of Real World on MTV. Years ago I edited a Peabody Award winning documentary about the U.S. space program leading up to the Apollo moon missions.  I've just recently completed editing a documentary film about the life, trial and execution of Mata Hari, the notorious exotic dancer and WWI era spy.  I am attracted to interesting stories, and they certainly don't have to be about music.
That said, I grew up in the 60s when music was much more than entertainment. Music, in many ways, defined my generation, and had a profound impact on my life. I went to a ton of concerts, read a lot of music biographies and I've been a record hound since my youth. I scour record shops where ever I go and keep collections of LPs in both cities that I live in, San Francisco and Los Angeles.
The Rock and Roll Hall of Fame has been a client since the museum first opened in Cleveland, and over the years I've been fortunate to produce number of films for display at the museum, tribute films for the induction ceremonies, and have produced on-camera oral history interviews with people including: Al Kooper, Barry Goldberg, Eric Burdon, Frankie Valli, Paul Kantner, Sam Cutler, Stewart Copeland, Wayne Kramer and many others. I've produced and edited scores of hours of in studio video guitar lessons with Jefferson Airplane and Hot Tuna guitarist Jorma Kaukonen and other artists.
Q:  Do you have a theory or insight(s) about why the record catalogues of Chess, Motown, Brunswick, Bang, Vee-Jay and Stax have been re-discovered and chronicled in documentaries? My theory is that the music is inherently cinematic, plus, the internet has allowed kids and boomers to learn about the musicians on the tracks and the records are really potent.
A: From the market research I've been privy to it seems the key audience for this content are boomer men, between the ages of 55-75.  I'm right in that demo myself. We are the ones with the interest, the money and the time to invest in these films. Still, I'm sure you are right, that these new content portals are helping this content reach a new, younger audience that could be ripe for digging this timeless music and the subjects surrounding them. The hipster crowd seems to be embracing the "retro-chic" appeal. I hope that is the case, and the music lives on for generations to come. Jazz was once popular music, and now it is a very small niche. I don't expect the music that I grew up on to be popular as it once was, but at the very least I hope it always finds its niche.
As for why a number of films on this subject? I think that they are just great stories that filmmakers invest the time to tell. The success of one or two films (Searching for Sugarman, 20 Feet From Stardom) encourage many others to try and duplicate that success. There are many more films made than are financially successful, so it's still a tough road regardless. The content portals cherry pick a couple films to support, the rest get scraps and eventually all wind up on the content graveyards for pennies on the dollar to the content creators.
You see, even though I am ever the optimist, I am a cynic at heart.
(Harvey Kubernik has been a music journalist for over 44 years. He is the author of 12 books, including Leonard Cohen, Everybody Knows, and Neil Young, Heart of Gold. Both titles have been published in 6 foreign language editions.
In April 2017, Sterling published Kubernik's acclaimed 1967 A Complete Rock Music History of the Summer of Love.
Harvey Kubernik is currently writing and assembling his debut literary music anthology and a book on the Doors both scheduled for publication last quarter 2017).