Harvey Kubernik
Greg Franco Interview by Harvey Kubernik C 2013
Rough Church have just released a double LP vinyl called Aloha Mijos and will be headlining a December 20th show at Taix in Echo Park and returning to the same venue on January 24th.
Please visit www.roughchurch.com
Q: Where were you born and raised? What got you started on this journey with music? 
A: Born in Hollywood, but I'm a Van Nuys Valley dude too, I'm also from Burbank and went to high school there. Radio in LA was good in the 1970's and 1980's. It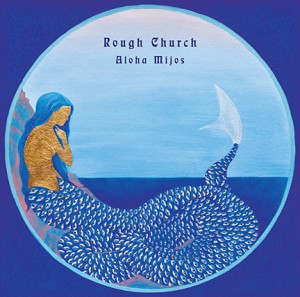 started at KHJ then went to KROQ and Rodney , etc. Also, thank goodness there were great record stores in nearby Pasadena like Pooh Bah's. Growing up in LA in the early 80's, was great! I had a 1964 Mercury Monterey convertible, and access to everything. We could go see X and Wall of Voodoo. In the early 80's I had a girlfriend when I was 17 and she was 16, we saw everything, and it was cheap. We saw Gary Numan, Lene Lovich, and Siouxsie. I also got exposed to the local music via KXLU-FM. And only a few years later, while at UCLA with my brother Daniel I started my first band Blasphemous Yellow.
We had a Minutemen/Violent Femmes kinda thing going on and a bit of King Crimson too! We started playing at The Anti-Club with Uh,(Ethan Port from Savage Republic) his side project. Also we played with Tex and the Horse heads, (they scared the crap out of us) Debt of Nature go us gigs, and that later became Medicine. We met Psi-Com, which was Perry Farrell's first project, later he formed Jane's Addiction. The Minutemen and The Dream Syndicate were also playing on the scene back then, and we worshipped both of them. That was 1983-1985. What a great scene! I would later say the same thing about the 90's Silverlake scene when I was in my band Ferdinand. LA always has good music, sometimes you just need to find it in odd places. Continue reading →
Sound Remixed and Remastered by Bruce Botnick
(Interviews with Ray Manzarek, American Bandstand  host/producer, Dick Clark, Doors' Engineer/Producer Bruce Botnick, 1970 Isle of Wight Filmmaker Murray Lerner, Doors' photographer Guy Webster)
On December 3rd, Eagle Rock Entertainment will release R-Evolution from the Doors on DVD, Blu-ray and Digital Formats.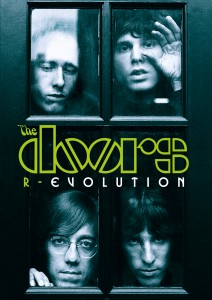 Combining early TV appearances with the Doors' own music films, R-Evolution illustrates how the band evolved from the constraints of mid-sixties television to a point where they had the creative input and power to shape how they were portrayed on screen. R-Evolution shows the growth of the Doors from being forced to accept the formulaic television approach to taking control of the medium.
R-Evolution brings together a wealth of previously unreleased footage of The Doors. This compilation contains "Light My Fire," "People Are Strange," "Hello, I Love You," "Crawling King Snake," "L.A. Woman," "Moonlight Drive," "Break On Through (To The Other Side)," and many more.
Housed in the collection is a performance of "Break On Through (To The Other Side)" from the Isle Of Wight Festival 1970 by director Murray Lerner, a 45-minute documentary entitled "The Doors – Breaking Through The Lens," "Love Thy Customer," a never-before-seen 1966 Ford training film with music by the Doors, their television appearances on Dick Clark's American Bandstand and one from the Clark-produced TV show, Shebang, Finally, the DVD has a section of outtakes from the band's appearance on the US TV show Malibu U in 1967.
In 1978, the famed DJ Murray The K was a guest on my television show 50/50, broadcast on Z Channel, Public Access and Manhattan Cable. I had unearthed from Murray's own archives a copy of the Doors doing "People Are Strange" from his Murray The K in New York 1967 TV series and screened it. Continue reading →
Bill Mumy has just released on the Global Recording Artists label a new solo album, Illuminations
Harvey Kubernik talked to him for Cave Hollywood.
Q: Although you've released close to a dozen solo albums, the new Illuminations is sort of a continuation of your last three albums in terms of the musical format. Can you
elaborate? 
A: I don't consciously decide on a style or any specific type of songwriting arena to work in when I record. I usually wait until several new songs start coming to me, and they tend to come in bunches. What I do decide to do is use a sonic palette, when I feel like I'm working on an album; a core handfull of guitars, amps, etc… a specific amount of reverb and room ambience, to give a cohesive feel to each project. The last several albums, although they're each very different to me, do share similar tones in terms of instruments, mics, and amps.
Q: Can you discuss each track on the new album.
A:Illuminations as an album is more of a reporting type songwriting, thoughts on what is seen and known, and thoughts on things that are unseen and generally unknown.
Q:  MAN WITH A GUN: 
A: In wake of all the insane shootings over the last few years in the USA, this song had to be written. It looks at multiple perspectives on the subject.  Continue reading →
Producer John McDermott Interview  c 2013
Experience Hendrix LLC and Legacy Recordings, the catalog division of Sony Music Entertainment, has just released on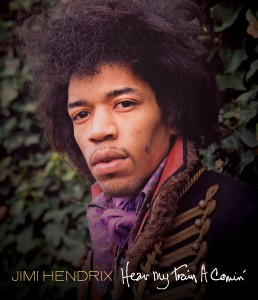 DVD and Blu-ray, the expanded home video edition of the American Masters documentary Jimi Hendrix – Hear My Train A Comin', combined with a host of never-before-released special performance features, that was broadcast on Tuesday, November 5, 2013.

   Also issued at the same time in November is Jimi Hendrix Experience: Miami Pop Festival, the first-ever release of one of the guitar virtuoso's most sought-after performances, as originally recorded on site by Hendrix's long term sound engineer, Eddie Kramer. Never available in any form, Miami Pop Festival is being released as a single CD and a limited edition numbered double 12″ audiophile vinyl set (all analog cut by Bernie Grundman, pressed at QRP on 200 gram vinyl).

     Jimi Hendrix Experience: Miami Pop Festival introduces the first recorded stage performances of "Hear My Train A Comin'" and "Tax Free" while showcasing live takes on such selections as "Fire," "Hey Joe," "I Don't Live Today" and "Purple Haze."
The package includes never before published photos taken at the festival and an essay by award-winning music journalist and Grammy Museum Executive Director Bob Santelli. Continue reading →
Harvey Kubernik interviews filmmaker Jonathan Holiff on his documentary My Father and the Man In Black.
Harvey Kubernik interviews author Robert Hilburn on his definitive biography JOHNNY CASH: THE LIFE;
Inducted into both the Country Music Hall of Fame and Rock and Roll Hall of Fame, winner of a Grammy Lifetime Achievement Award, and a Kennedy Center Honor, Johnny Cash on September 12, 2003 left the physical planet at the age of 71. His status in the last decade has only grown as a musical, spiritual, literary and retail influence. Cash and I have the same February 26th birthday.
The 2005 biopic on his life Walk The Line grossed more than $300 million and his posthumous albums have totaled over $130 million.
In 2006 his final studio album, American V: A Hundred Highways, went to #1 on both the Pop and Country charts.
In the summer of 2013 the U.S. Post Office selected Johnny Cash as one of the three musicians chosen to inaugurate the new Music Icons stamp series.
"It just truly embodies my father's spirit, who he was," his son John Carter Cash said. "It's different. That's one thing: It stands out to me as being unique. It's very commanding when you see the stamp." Continue reading →