ABKCO SETS 50th ANNIVERSARY RELEASE FOR SYMPATHY FOR THE DEVIL (ONE PLUS ONE);
JEAN-LUC GODARD'S FILM CHRONICLES POLITICAL AND SOCIAL UPHEAVAL AS THE ROLLING STONES RECORD ONE Of THEIR SIGNATURE TRACKS IN THE STUDIO
By Harvey Kubernik c 2018
On October 5, ABKCO Films will release a 4K restoration of Sympathy for the Devil on DVD, Blu-ray and through digital services in celebration of its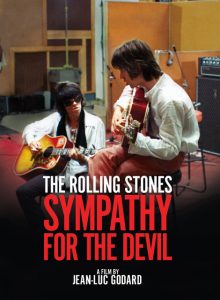 initial release 50 years ago. One of the landmark new wave films of the late '60s, directed by the celebrated Jean-Luc Godard, Sympathy for the Devil alternates between reflections on contemporary politics and social issues of the late 1960s as well as giving the audience an unprecedented view of The Rolling Stones creative process in the recording studio working on what would become one of the band's defining tracks.
The Rolling Stones original line up of Mick Jagger, Keith Richards, Brian Jones, Charlie Watts and Bill Wyman were joined by Nicky Hopkins, Rocky Dzidzornu, Marianne Faithfull, Anita Pallenberg and James Fox in the landmark session that took place at Olympic Sound Studios in London in June 1968.
The new edition of Godard's Sympathy For The Devil is a 4K restoration of the film from the original 35mm camera negative that was initially released in 1969. The color grading has been supervised by the original cinematographer, Tony Richmond BSC, ASC. Richmond holds dozens of credits as cinematographer including Let it Be, and Nicolas Roeg's Don't Look Now for which he won BAFTA's Best Cinematography award in 1973.
The expanded rerelease of the film includes numerous extras including the entirety of One Plus One (Godard's director's cut) as well as Voices, a 1968 documentary on the making of Sympathy For The Devil, along with a 2018 documentary featuring interviews with Tony Richmond and Mim Scala, one of the film's producers.
Additional extras include a full-length commentary track by Godard authority David Sterritt, former Chairman of the National Society of Film Critics, and the physical package showcases an essay by author Danny Goldberg (In Search of the Lost Chord: 1967 and the Hippie Idea, Dispatches From The Culture Wars).
One Plus One was shot in May 1968 and completed that year, premiering at the November 1968 London Film Festival. After that screening, a furious Goddard reportedly arose from his seat and physically assaulted one of the film's producers at Cupid Productions who had changed the ending of the movie without his consent and hurriedly left the cinema.
In 1970, when the film was released in the U.S., Roger Greenspun reviewed it for The New York Times remarking, "the meaning of Godard's film depends not only upon a cause but also upon the camera's eye; not only in sympathy, but in objectivity as well."
Andrew Hussey, writing more recently on the film for The Guardian noted, "This is one of those rare and unsettling examples of a rock film which has the all the immediacy of reportage from a distant war-zone." He added, "It's all great stuff: a snapshot of a far-off, lost world where rock music is still a redemptive and revolutionary force."
In conjunction with the new ABKCO release of Sympathy for the Devil, special screenings have been set for both coasts. The film will be shown at The American Cinematheque's Egyptian Theater in Hollywood on Friday, September 7 at 7:30 pm and it will have a week long run at New York's Museum of Modern Art Thursday, September 13 through Friday, September 19th.
Tony Richmond will be in attendance at the Egyptian on September 7th and MoMA on Thursday, September 13th for post screening conversations.  Peter Rainer, film critic for the Christian Science Monitor and president of the National Society of Film Critics will moderate the discussion at the Egyptian while Josh Siegel, curator of the department of film at MoMA, will moderate the post screening conversation on September 13th.
Tickets: https://www.fandango.com/egyptian-theatre-hollywood-aaofx/theater-page
MoMA screening schedule:
Tickets: https://www.moma.org/calendar/events/4615?locale=en
I remember going with my brother Ken to see the movie in 1970 in the Los Angeles area at the Los Feliz Theater. At the time I was still recovering from two November 1969 Rolling Stones' concerts in Inglewood at The Fabulous Forum where the band played a monumental rendition of "Sympathy for the Devil."
"For no good reason I can clearly remember standing in front of the Los Feliz Theater, chuffed at the prospect of seeing what was then titled: One Plus One," remembers author Kenneth Kubernik. "I was what, 16ish, and anything to do with the Stones was my highest priority.
"Jean-Luc Godard meant nothing to me; I was a bit of a pencil-necked geek and hadn't got hip to foreign cinema…yet. (This same theater soon became a hub for every European import and I became a regular, so maybe this was a back door introduction to the Nouvelle Vague et al).
"Frankly, it was an exasperating experience, wading through the bloated, faux Marxist flapdoodle for any glimpse of the boys in action.  It was a charge to see them at work in the studio – inside the fabled Olympic in Barnes – and picking out the various amps, guitars, keyboards that had, by this time, became as iconic as Excalibur.
"Look, there's Nicky Hopkins at the piano, the organ, Keith on P-bass, Brian strumming a sunburst J-200 (no matter how many times I've played 'Sympathy' I've never heard him, confirming, alas, the story that they probably never turned his mic on).
"The mind-blower was the 'whoo whoo' chorus; any prospect of seeing Anita and Marianne was the pop culture equivalent of the moon shot.  It was all a big tease, enervating and titillating by turns.  It doesn't hold up as a piece of film making; rather, have one of your digitally gifted kids re-cut it so it's just Stones footage and link it to the promo clip for 'Child of the Moon.'  Now THAT's entertainment…"
"Sympathy for the Devil" is a Rolling Stones song written by Mick Jagger and Keith Richards. The samba-driven recording initially appeared as the first track on their epochal November 1968 released album Beggar's Banquet.
In the 2012 Rolling Stones documentary, Crossfire Hurricane, directed by Brett Morgen, produced by Mick Jagger, Victoria Pearman, Keith Richards and Charlie Watts for the production company Milkwood Films and Tremolo Productions, Jagger acknowledged that his  influence for the composition was informed from French poet Pierre Baudelaire and the Russian author Mikhail Bulgakov's novel The Master and Margarita. An English translation was made available in 1967.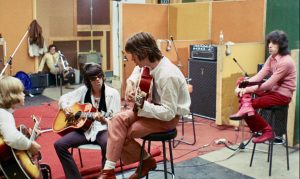 It was singer and recording artist Marianne Faithfull, Jagger's girlfriend and muse at the time, who gave Mick the book which inspired "Sympathy for the Devil."
Beggar's Banquet was produced by Jimmy Miller and engineered by Glyn Johns and Eddie Kramer in London at Olympic Sound Studios. "Sympathy for the Devil" started on June 4, 1968 and continued the next day. Overdubs were added during June 8th-10th.
Session personal for those dates were: Mick Jagger, lead vocals; Keith Richards; bass guitar, lead guitar, backing vocals; Bill Wyman, maracas and background vocals; Brian Jones, acoustic guitar and background vocals; Charlie Watts, drums, cowbell and backing vocals; Rocky Dzidzornu, congas; Nicky Hopkins, piano and backing vocals,  Anita Pallenberg and Marianne Faithfull, backing vocals.
In 2004 I interviewed Marianne Faithfull at the Chateau Marmont in Hollywood just after Little Brown published her memoir Faithfull: An Autobiography, written with David Dalton. We discussed her relationship with the Rolling Stones and the influence of LSD in 1967 and '68 on their creative endeavors.
In her book, Faithfull wrote that some of the Rolling Stones characters in their songs came to audio life partially owing to acid.
"Of course they did," Marianne reinforced. "I don't think acid is relative or relevant anymore. I wouldn't do it again. But I think that it was important then, and I think it taught us a lot.
"They were all very much in love with me at that time. Not only me, but I was one of the many women they were in love with. Keith and I are still very close. I'm under his wing and I know I will always be under his wing.
"Brian wasn't as bad as everybody thinks. Well Brian was a genius but he was a very irritating person. Keith really loved Brian.
"I use Brian. I have a whole lot of friends on the other side that I call up when I need them. I use Brian, Janis and now I've got Tony Secunda and Denny Cordell."
In the 2003 book According to the Rolling Stones, published by Chronicle, Charlie Watts commented on "Sympathy for the Devil."
"'Sympathy' was one of those songs where we tried everything. The first time I ever heard the song was when Mick was playing it at the front door of a house I lived at in Sussex…He played it entirely on his own…and it was fantastic. We had a go at loads of different ways of playing it; in the end I just played a jazz Latin feel in the style of Kenny Clarke who would have played on [Dizzy Gillespie's] 'A Night in Tunisia'-not the actual rhythm he played, but the same styling."
"Sympathy for the Devil" became the title of the 1968 Jean-Luc Godard movie, originally theatrically released as One Plus One.
In "Mick Jagger Remembers," published in the December 14, 1995 issue of Rolling Stone, Jagger reflected on the session with filmmaker Godard to interviewer and Rolling Stone publisher, Jann Wenner.
"It was very fortuitous, because Godard wanted to do a film of us in the studio. I mean, it would never happen now, to get someone as interesting as Godard. And stuffy. We just happened to be recording that song. We could have been recording 'My Obsession.' But it was 'Sympathy for the Devil,' and it became the track we used."
Who even knew at the time when the world first discovered "Sympathy for the Devil" and the entire Beggar's Banquet LP that it had been mixed at Sunset Sound in Hollywood by engineer Gene Shiveley and mastered at Sunset Sound?  The cover photo on the ABKCO CD reissues by Barry Feinstein was taken in Los Angeles. Sunset Sound isn't namechecked.
It took me 50 years to actually meet sound engineer and record producer Gene Shiveley.
When I first saw the back cover credits on the original LP pressing of Beggar's Banquet: Engineers: Glyn Johns, Eddie and Gene, I had no idea that the Eddie listed was Eddie Kramer, and the Gene cited was the sole engineer and re-mix engineer at Sunset Sound with producer Miller collaborating with Jagger on this epic sonic adventure. Shiveley earlier learned his trade at the famed King Records studio in Cincinnati working with Syd Nathan and James Brown.
"Jimmy Miller and the Stones had done some rough mixes in England at Olympic when the Brian Jones thing was coming down. He had gotten busted and could not come into the United States," recalled Shiveley in a 2017 interview we did in Sherman Oaks, California.
"Jimmy wanted to mix it here to get a fresh sound. Because Beggar's Banquet would be a turn for the Stones, it was really a rhythm and blues album.
"I met and knew Sir Edmund Lewis of Decca Records in London who came to Sunset Sound all the time.  He would come to the U.S. and knew Tutti Camaratta very well, owner of Sunset Sound. The Stones were on Decca label in the U.K. and London in the U.S.  Mick came into Sunset Sound and Tuti introduced me to Mick. And he and Mick decided we should immediately work together
"Mick then heard an album I produced by Touch done at Sunset Sound and wanted me to work together with him.
"Many tapes and tracking sessions from Olympic studio in London of the Beggar's Banquet sessions had just arrived to Sunset Sound. Jimmy Miller had sent the tapes over. Keith could not get into the country because of a drug thing. They sent everything to Sunset. Jimmy and I probably spent two weeks going over the batch of tapes that were on all kinds of formats. Some of the things weren't finished.
"So we started to organize all the various pieces. There were some things recorded on cassette! Tape speed differences. Before we really got going we put everything on four-track.
"Then, Sunset Sound got an 8-track machine. 'Mick and Jimmy. Would you like to use this 8-track machine out?' Mick was like 'wow!' His eyes lit up.
"Sunset Sound had custom speakers that Tuti Camaratta had built. JBL components.  It was as state of the art as you could get,"
"At that time it was about microphone placement and mikes. You had to really work with that. You had to know that.
"Altec had these little EQ's then. Just a knob that you could put high or roll off and you could put bass. When we were transferring and bouncing from one track to another, we would take the highs and boost them wide open and going over so they were printed with an extreme amount of high end. And then when you played it back you rolled it off and there wasn't any tape noise," explained Gene.
"Mick and Marianne Faithfull were going together at that time. She was there on an off, and Mick and I ended up co-producing Marianne, including 'Sister Morphine' together. This turned into a pretty long relationship. We later worked with Ry Cooder on all of his parts. Marianne was gorgeous.
"We went out quite a few times and I went up to the house Mick was renting up above Sunset Strip. One Saturday morning he called me and asked me to come up and wanted to listen to some things. Mixes and other things that he had. We had a lot of other pieces of material that didn't make Beggar's Banquet. So we were sifting and making a production that was just all coming together.
"To be really honest as far as working and knowing him during Beggar's Banquet, I would drive and go pick Mick up and take him to the studio. He didn't have a car. I had a blue Volkswagen bug. They had just come out. We would stay at the studio until we dropped. And then go back. There wasn't a lot of partying going on.
"Jimmy was the right producer for the Rolling Stones because he understood the ear for making a hit record. He understood feel. He understood what it takes to get the kick drum at the right place. He understood all of those things and how to build a record.
"I remember with Jimmy the first rough mix I threw up. He was floored. Because of the way I mixed was brilliant. Because bass and kick predominant and then the back beat filling everything around it.
"To that point it was more like acid music," underscored Shiveley. "Thinking let's 'put the vocal up and mix everything around that.' I'm coming from funk. I'm looking at it from a very different way. So Jimmy is hearing this whole thing develop and that was what he was looking for. That is why he pretty much wanted to get out of England. To get the kind of bottom that you can get here.
"The minute Jimmy and I actually started working Mick was there. We had a lot of things to do before we even started mixing.
"Marianne Faithfull. Wonderful. A very smart girl. I remember Jimi Hendrix, Grace Slick and Ringo [Starr] coming to the studio. I later met Anita Pallenberg when the Beggar's Banquet project was over. She was very opinionated about everything. (laughs).
"It was mastered at Sunset Sound. It really was the equipment and you could get things louder and it was just the state of the art."
"'Sympathy for the Devil' made an impression on me. (laughs). But you know where it really makes an impression on me? Everywhere I hear it. At a theater when you're sitting there. Or at an airport. And how it transposes to everywhere. And has the same impact. No matter if you are in a complete Dolby Sound theater and when it is playing in a restaurant."
"The line in 'Sympathy for the Devil' that always blew me away was the one about the Kennedys," disclosed writer Daniel Weizmann. "If you see the ascent of the Beatles as a direct result of the assassination of JFK, as an attempt to replace the joy of Camelot as so many have suggested, then this line is an incredible attack on Boomer Consciousness. A total reversal.
"Who killed them? Not 'The Man.' Not the bad guys, the CIA, the Mob. The ones who offed them are you and me–we share in the wickedness, the corruption of the spirit. Literally: in Satan's work. In one flying leap–Jumpin' Jack Flash-style–rock music lost a whole new layer of innocence."
In 1997 I interviewed Keith Richards after attending a slew of Bridges to Babylon recording dates at Ocean Way studios and before a concert in San Diego, California.
Then, and in more recently 2018, "Sympathy for the Devil" still remains a staple in the Stones' show repertoire.
I asked Keith about translating or transporting their studio creations to performing them in music venues.
"In a way, maybe when you write songs without even knowing it you're kinda saying, 'Can I do this live?'  And so in a way you add that in. You don't know if it's gonna work, but I guess you keep in the back of your mind is 'We're making a record here.  What happens if they all like it and we gotta play it live?' So in a way, that maybe in the back of the mind it sets up the song to be playable on stage."
(Harvey Kubernik is the author of 14 books. His debut literary music anthology Inside Cave Hollywood: The Harvey Kubernik Music InnerViews and InterViews Collection, Vol. 1 was published in December 2017, by Cave Hollywood. Kubernik's The Doors Summer's Gone was published by Other World Cottage Industries in February 2018. In November 2018, Sterling/Barnes and Noble will publish Kubernik's The Band From Big Pink to the Last Waltz.).