60s POP LEGENDS THE TURTLES COME OUT OF THEIR SHELLS WITH LONG-AWAITED REISSUES OF THEIR CLASSIC '60S ALBUMS ON AUGUST 19
The Complete Original Albums Collection  is a six-CD box set;
two-CD  All the Singles  collects the A and B sides
of every original 1965-1970.
Compilations overseen by Howard Kaylan and Mark Volman.
By Harvey Kubernik c2016
During their original 1965-1970 run, the Turtles led a musical double life, scoring a lengthy run of unforgettable pop hits —  such as "It Ain't Me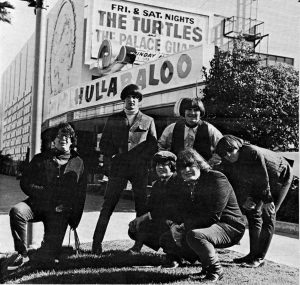 Babe," "Let Me Be," "Happy Together," "Elenore," "You Baby" and "She'd Rather Be With Me" — while making albums that were among the era's most distinctive, inventive and gently subversive.
From 1965-1970 the band was booked on television programs like the nationally syndicated The Lloyd Thaxton Show, as well as a career-defining appearance on the legendary The Ed Sullivan Show.
Today, the West Los Angeles and Westchester High School-birthed musical vision of Kaylan and Volman continues to carry the Turtles' legacy forward, leading the band's present-day incarnation on their successful annual Happy Together tours.
This year's Happy Together Tour 2016 with the Turtles featuring Flo & Eddie, Chuck Negron of Three Dog Night, the Spencer Davis Group, the Cowsills, Gary Puckett & the Union Gap, and Mark Lindsay, formerly the lead singer of Paul Revere & the Raiders launched June 3 in Biloxi, Mississippi and continues starting July 13th in Santa Barbara through September.  http://theturtles.com/tour/
Beyond the hit singles and the radio turntable favorites, the Turtles might be one of rock's most misunderstood and yet beloved bands.
With co-frontmen Howard Kaylan and Mark Volman providing heavenly harmonies, infectious sonic craft and effervescent humor, the Turtles were a ubiquitous presence on Top 40 radio for much of the '60s, while earning their counterculture credentials with such adventurous LPs as the Ray Davies-produced Turtle Soup and the wildly eclectic The Turtles Present the Battle of the Bands, on which they impersonated a different fictional act on each track.
"Unmoored from the pop singles charts after a couple of sub–Top 40 releases, the Turtles turned their ambitions album-length for November 1968's Battle of the Bands, a conceptual nod to their incarnations past (surf rock, folk), present (sunshine pop, psychedelia), and future (hard rock, comedy)," stresses writer Joseph McCombs. "Howie, Mark, Johny, Jim and Al played dress-up for a dozen or so pastiches of genre workouts and stoner inspiration. It didn't give them the album-rock credibility they desired, peaking at a mere #128 on Billboard — but it did return them to the pop Top 10 with a pair of enduring singles: the languidly pumped-out "You Showed Me" and the smirking-but-taken-at-face-value 'Elenore.' And it gave us one Bill Martin–penned 'Earth Anthem' that we all really should be listening to and heeding today."
Originally released on the small independent White Whale label, the Turtles' initial albums have remained stubbornly out of print for many years, leaving fans with various greatest-hits collections that only scratched the surface of the band's deep and rewarding catalog.
That situation changes on August 19, 2016, when the Turtles' label FloEdCo, in association with Manifesto Records, celebrates the band's 50th anniversary with the release of a pair of definitive CD packages that encompass, for the first time, the whole of the Turtles' recorded output from 1965 to 1970. 
Before the official August 19th retail release, the two products are available for sale at their Happy Together Tour 2016 stops.
The Complete Original Albums Collection is a six-CD box set of the six albums that the Turtles released between 1965 to 1970, plus a wealth of rare bonus material. Each of the band's first three albums —  It Ain't Me Babe,  You Baby  and  Happy Together  — is presented in its original mono and stereo mixes, while each of the remaining three —  The Turtles Present the Battle of the Bands,  Turtle Soup  and Wooden Head  —  provide  a generous assortment of rare bonus tracks, including some previously unreleased material.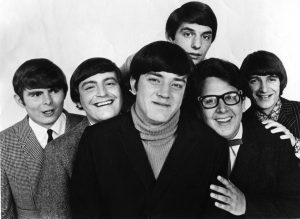 The two-CD All The Singles collects the A and B sides of every original 1965-1970 Turtles 45, with the tracks presented in the same mono or stereo mixes that were heard on the original singles. All The Singles also incorporates several tracks that were prepared for singles release but not issued at the time.
"We were thought of as a hit-making machine, but buried in there was a very thought-provoking group," Mark Volman notes. "We really cared about what was going on … We were never really afforded the credibility of bands like the Byrds."
The Turtles, Volman points out, were "making records that made it to the radio, but were still challenging and adventurous records. Experimental, but at the same time full of commerciality. The Turtles were really walking on a fine edge. We were only two years out of high school and we were making some pretty challenging music."
After the Turtles disbanded at the end of the decade, Howard Kaylan and Mark Volman maintained their partnership, serving a five-album stint as members of Frank Zappa's Mothers of Invention before releasing several albums as Flo and Eddie.
They also had an extended run as FM rock DJs, provided voices for animated films and became in-demand studio singers, lending their trademark harmonies to a wide range of acts from T. Rex, Alice Cooper, Todd Rundgren to Bruce Springsteen, Blondie, the Psychedelic Furs, Duran Duran, and the Ramones.
Harvey Kubernik Interviews Mark Volman (2016) and Howard Kaylan (2013).
Harvey Kubernik: You've just embarked on the second leg of your annual Happy Together touring package.
Mark Volman: We're doing our Happy Together tour and we're seeing a huge amount of artists out in the marketplace. It makes the competition harder, but we've been fortunate that we have built a fan base. It's been doing really well.
HK: Talk to me about assembling these definitive anthologies. First the six-CD package.
MV: As far as The Complete Original Albums Collection. First of all, when we took over the ownership of the recordings there were years of clean up that was needed to be done.
"One of the issues was the original record companies, White Whale Records, one of the issues around the country and the world, they had licensed the music of the Turtles and when we got the ownership back, we spent years trying to shut down all the un-authorized recordings around the world, 'cause we were never able to get away from bootlegging and things of that nature. It took a long time to shut down everybody. 5 or 6 years of reaching out to the stratosphere of released versions of Turtles' records.
"We didn't know what people were listening too. Master recordings that were being re-mastered third or fourth generations. That was one of the initial issues that Howard and I had to deal with our attorneys was going out and shutting down companies we remember from the sixties. Labels with cheap vinyl and cheap CD's going out. That was the first thing to do.
"I mean when we put The Complete Original Albums Collection together and the 2-CD All The Singles set it was in the hope that we would accumulate everything in one place. For the initiated and the un-initiated. We never really did the bootleg stuff and the crazy thing. That's such a small marketplace. We learned from Flo & Eddie that it's hard to support if it's just for the initiated.  For us, it was very important that we made a complimentary set that reached both.
"You can't just put out a set for the die-hard fans. You have to put out a set that hopefully will encompass the new fan and the die-hard fan. That's our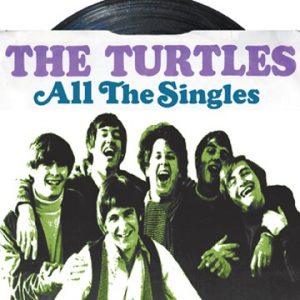 appraisal of things. We wanted to have something that we could do one time and then from here we can move on to a whole other. That was important to us.
HK:  The Turtles played the instruments on all their studio albums and not assisted by the Wrecking Crew. I think Lee Michaels played keyboard on "Buzz Saw."  Which brings us to All The Singles 2-CD release.
MV: All the Singles. We were on a very small independent record label. And they couldn't compete with Paul Revere & the Raiders or Byrds who had Columbia. We couldn't compete with the Beach Boys and the Beatles on Capitol. And we always said how fortunate it was with a record like 'Happy Together' we were able to knock the Beatles out of number one.
"But if you don't know the history of records, and how White Whale Records were able to compete. There are things on the set people didn't hear. Not because they weren't good records but they didn't hear them because our record company didn't have the financial fire power to work the promotion and marketing.
"In our five year run and now on the 2-CD All The Singles compilation, what is so neat about it, besides really known hit singles like 'It Ain't Me Babe' and 'Happy Together,' are records like 'You Know What I Mean' and 'She's My Girl,' that Joe Wissert produced, 'Elenore,' 'Somewhere Friday Night' and 'You Don't Have To Walk In The Rain," which Ray Davies produced on our Turtle Soup. And tunes written by P.F. Sloan: 'Eve of Destruction,' 'You Baby,' 'Let Me Be,' 'Can I Get to Know You Better,' along with Harry Nilsson's 'The Story of Rock & Roll.'
"Chip Douglas was now our producer. 'The Story of Rock & Roll' might be one of the greatest productions we have ever done and a powerful arrangement. Unbelievable. That whole high voice thing that we would eventually use on T-Rex records like 'Bang a Gong (Get It On)' and even with Zappa and Flo & Eddie.
HK: As you and Howard know, as a teenager I saw the Turtles quite often during 1965-1968, and still might claim to be the President of your fan club. I've logged 44 years touting your achievements, yet when playing these authorized reissues, I was just blown away listening again to "The Story of Rock & Roll." The pure joy, exuberance and fun on display.
I also suggest the influence and impact of this performance can be attributed years earlier to all those 10-cent hamburgers at Hamburger Handout and the 19-cent tacos you, me and Howard as kids devoured in the very late fifties and into the mid-sixties at Airport Village food court in Culver City.
MV: I still dream of those tacos once a week…
"'The Story of Rock & Roll' was the best recording we ever made. Put it on. We were creating Flo & Eddie with that recording. The songwriting and production. It also showcased for the first time the way sharing our vocals. Howard always had that control and that was the way it worked. You can argue that Howard is one of the best singers of that era or any era. Still. A great singer.
HK: Both new product compilations reinforce your own role in the support and group sound vocals. Did you have a specific philosophy in creating the secondary and colorful vocals that augmented and enhanced the lead voice of Howard Kaylan?
MV: As far as the vocals and particularly the background vocals on the recordings of the Turtles, the basic overall philosophy of the vocal sound of the Turtles, and this goes back to the four of us:  Chuck Portz, Jim Pons, Howard and myself. And then narrowed down to the three of us, Jim, Howard and I. It was necessary to have complementary voices. Jim Pons really brought a lot to the table.
"One of the things that we learned going as far back as Westchester High School was that it was important for the sound quality of the group for all of the second tenor parts, which basically brought the melody, it was left to Howard and I. A lot of times when we would do the record, before Pons became such an integral part of the singing, the backgrounds were done by me, Howard and Al Nichol.
"Howard knew my strengths were in the quality of my voice. My voice got much more familiar to the Flo & Eddie fans, going back to the early Flo & Eddie records. I think there was always something about how we put together first and second tenor, a baritone and bass. I think there was a lot of thought in those background parts. A natural thing. As we became more and more in charge of our records and in arrangements the stuff that we brought became more and more obvious. We were pretty much the ship in terms of production of the sound. A lot of different things.
"But, you know, Howard understood that we had the songs and a friendly voice when we made records in the sixties. We had records and a lead singer from song to song on the radio. That was very valuable. A familiar sound. Howard Kaylan of the Turtles or Micky Dolenz of the Monkees. We understood how important Howard was as a lead singer.
HK: "Elenore" followed the massive hit single "Happy Together."
MV:  The recording of 'Elenore.' We were being badgered by the record company for about a year to come up with another song that was gonna have the airplay power as 'Happy Together.' It was pop music that the Turtles had been a part of going all the way back to the beginning. 'Elenore' was written by Howard in a hotel room in Chicago as they [White Whale Records] wanted another 'Happy Together.' We sat down and shaped that song into a record that would eventually come out. Check out the second chorus. Chip Douglas produced it.
Sidebar: 
Greg Franco bandleader of Rough Church:
I'm 50 years old, and I have Punk Rock roots. So, in the early 90's I took a solid 2 years to seriously case 60's music. Not that I hadn't been familiar with 60's music, I was, but I wanted to dig deeper than the radio allowed: The Turtles, Pet Sounds Beach Boys, Simon and Garfunkel, Joni Mitchell, Neil Young, Zombies, Walker Brothers, Byrds, Seeds, Tim Buckley, Judee Sill, and Laura Nyro were all like new music to me!
What a joy! I The Turtles are the biggest joy to me. 'Elenore' maybe was written as a pure pop song with silly lyrics, to follow up a big hit, and it's a bit tongue in cheek, But in my retrospect it's about a transformation, that moment where a time in your life is cruel mundane, but then you meet a girl that puts the life back in your heart. I love that moment.
"It's endearing that her name is like your great aunt's name, not a common name for girls at that time, it seems kind a dowdy, so the fact that Howard Kaylan sings it with so much conviction means that this is a transcendent woman that he's willing to go the extra mile for. 'Even though your folks hate me' is the lyric I like the most.  It has an edge to it that is so different from the sentiment of it.
"The music is sublime, the chords a strange enough and the payoff is so big. 'Elenore' is my favorite Turtles song, It went to #1 in only one place, New Zealand. This is my adopted home over the last 12 years.  It makes sense it has landscape of love. At the end, a vocal that soars way up high over a rainbow. I just want to stay there forever.
 End of Sidebar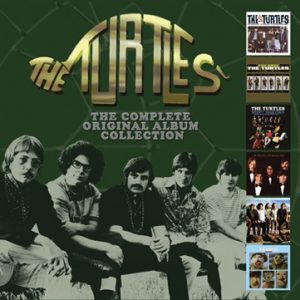 Harvey Kubernik: Howard, in the Turtles you vetted a lot of material presented to you. Did you have one motive as a vocalist which made you select tunes to record?
Howard Kaylan: The only agenda I had as a singer, in the early days, to be as much "Colin Blunstone" oriented as a possibly could. That was my mission. It was to emulate that guy with his soft and loud minor major series of hits with the Zombies. Other than that, the only thing I was looking for, and it gave me much pleasure, or more pleasure, to find a song that the Vogues passed on. Or that Gary Lewis passed on. Or that everybody and their brother passed on. And then turn it into something they could all listen to. 'Son of a bitch. What did he hear that I didn't hear?' For that, maybe it takes A&R ears.
"I've been wrong as often as I've been correct. Often times I've come out of a studio thinking the record that we made wasn't going to be a big hit record.  An example is 'Hungry Heart.' We sang on the Springsteen record and it sounded like one of those songs to me just that just sounded to me it wasn't going to work.
HK: 'Happy Together' has become an anthem and you have to sing it at every show.  Back in 1999, that recording was named by BMI as one of the top 50 songs of the 20th century, garnering over 5 million radio plays.
HK: In the Turtles, I knew 'Happy Together' was going to be a big hit but not an anthem. We honed and developed it over months on the road. Wonderful fate. It was a luxury and it's appreciated. I've never had the luxury to take something on the road for eight months and work it, re-work it and just fine tune it.
"And certainly when we came back from an early tour was the demo of 'She'd Rather Be With Me.' I was really disappointed. There were no other choices in a stack of acetates with that one on the top. The only record we ever received was the new [Garry] Bonner and [Alan] Gordon, 'She'd Rather Be With Me' song, and we were now the new Koppleman-Rubin (music publishers). And you better be careful what you wish for. We wanted to be the new Lovin' Spoonful and have everything written for us and just sort of presented to us on a silver platter, so we could be those good time guys from the west coast, like the Spoons had been for the east coast.
"Fortunately, we got Bonner and Gordon and it could have been a lot worse. And, of course, 'She'd Rather Be With Me' could have stiffed and proven me right. But I just thought after the magic that was in the grooves of that 'Happy Together' single, 'She'd Rather Be With Me' was a vaudeville razzmatazz.
"I remember when Chip [Douglas] told us he was leaving to produce the Monkees. Yes, it was after our appearance at the Whisky. I know [Mike] Nesmith saw him. I'm not sure that he saw him on stage and that's what did it. Or he just heard 'Happy Together' and knew despite the credits saying Joe Wissert was the producer, that Chip Douglas was largely responsible for the arrangements, both vocally and instrumentally on that song. Mike knew his work from Col Gems Music.
HK: You told me a story a couple of years ago that had something to do with why "Happy Together" was part of your live repertoire with Zappa and captured on the album Fillmore East-June 1971.
HK: We were trading stories about girls. Because that's what we did. This was a real story that happened to me and it was after some show where I had gone to a bar. I then met a girl and she asked me what I did for a living. 'Oh yeah. I recognize you. My God! You're the guy from the group. Where are you staying?'
"I told her and took her back to the room. Before I could do anything heinous to her, she said, 'You know, I don't think I can go all the way with you unless you sing me 'Happy Together.' 'Cause I just melt when I hear it…'
"'Come on, baby. You know, I'm down to like third base here. Come on…' And she held out. …Sure enough, I sing 'Imagine me and you I do…'
"There comes a time when the blue balls win. And it worked. And that night it won. So I told the story to Frank and he cracked up. 'That sounds like something that would happen.' 'It did happen!'
Q: Your Shell Shocked book also tells us about the Turtles first visit to England.  Pretty memorable.
A: In my book I talk about the Turtles first trip to England. We met the Beatles. Graham Nash took us to The Speakeasy Club. Lennon and McCartney sang 'Happy Together' at the table. Before that John went under the table taking Polaroid pictures up the skirts of his female companions. Paul lent a helping hand to "illuminate the proceedings with a disposable lighter" as Jane Asher, his girlfriend at the time, split in disgust.
"I met Jimi Hendrix. He got me so high on grass in a club that I puked on his suit. But he did come to see our show that the Turtles did The Speakeasy. I left the club and wanted to go back home. 'I gotta get out of this country. I gotta go back home where somebody is waiting for me and they know who I am.' Brian Jones then asked me for an autograph and I signed it. I didn't really look up when I did it. I almost did one of those double takes where you look behind you to see who he is really talking to. 'Cause I didn't think it was me. He was so sincere I was very shocked. I didn't realize he was a fan of west coast pop music. Or that he cared at all about harmony stuff, let alone that he was a collector of it.  And really big into the Mamas and the Papas and the Association. Anybody on the west coast singing harmonies he knew their stuff backward and forward. I know you told me he loved Jewell Akens, 'The Birds and the Bees' that was done at Gold Star. He was the only guy in the Rolling Stones besides Andrew Loog Oldham, who was into west coast music.
"Andrew I love. I love Andrew Loog Oldham. His books are phenomenal. His liner notes on the Stones albums I loved from the get go even more than I loved the records. And I knew there was something deeper in the man that heard a different Stones that I was hearing. Truly. I was hearing the pop stuff. He was hearing the deep cuts and loving them. I guess you have to be in his position. When we were on his Immediate label, briefly in the sixties with 'You Baby,' we had no contact with him.
"He was and still is supporting the music. I think he's brilliant. I think there isn't a person on the planet that wouldn't agree, including the guys in the Stones. Their growth had nothing to do with him. I really believe they would have gone off and persuade their passion with whomever. The Glimmer Twins were always gonna be those two guys. You can't control rushing water. And those guys were a force of nature.
HK: You've always cited the Walker Brothers out of your vast record collection. Scott Walker attended Los Angeles High School and you went to Westchester High, both located in Southern California. Scott briefly worked at Gold Star and was involved with the Routers' instrumental "Let's Go." You and Mark were in the Cross Fires instrumental group before the Turtles. Later,  in the Turtles, you recorded in Gold Star. Walker saw foreign movies on Hollywood Boulevard like we all did in the early and mid-sixties and you even wrote a song about the same cinematic street, "Somewhere Friday Night."
HK: I love the Walker Brothers records but for different reasons I love Scott records. The Walker Brothers were in my Spector and Righteous Brothers wheelhouse. And I understood them for the pop that they were. And kids for the Americans they were. Strangers in a strange land and just kind of accepting their position. We always thought of the Walker Brothers as ex-pats that had just kind of turned into that country's Righteous Brothers. But after that era disappeared nobody in this country bought the Scott albums. Nobody knew he was this incredible balladeer with an eye for the continental music. Nobody knew who he was at all. They didn't fuckin' care. And I was one of those people who wrote off the Walker Brothers too. Night Flight with the Scott stuff is the only Walker Brothers record I can listen too. I can't listen to 'The Sun Ain't Gonna Shine Anymore" because I realize that's a kid on his way to finding his truth.
"How come nobody has heard Scott fuckin' Walker? Am I the only guy in America who knows there is this genius living in England. And he is probably my favorite living artist. Having discovered Scott Walker so late in my life after Station to Station by maybe 25 years. It's a slap in the face to me. It's the realization that my Thin White Duke also had his influences and beyond them.  I think if you listen to 'Tilt,' 'Drift' and 'Who Will Go to the Ball' I think that is the genius right there. My jaw hit the ground when I heard Tilt. I had never heard anything close to that in my life. And by the time he got Drift I understood what he was doing. I totally understand what he is doing.
"He is doing the most conventional pop music I ever heard. He is just doing it as if he was observing it from outer space and then trying to tell you what he saw as an alien. You don't really look at it as a repeatable rock 'n' roll thing you can sing along too. But in structure it is. It is very conventional.  You just have to kind of break it down more than listening to it as an observer and saying, 'This guy's nuts. He shouldn't have that sound. My ears hurt and now he is blasting me with a live dying goat. What the hell am I supposed to make of this?' Sing along, pal.
"I get him and I don't totally understand why America doesn't get him. They don't get him because they don't get Frank.  They don't take the time. This is such a disposable instant gratification culture.
HK: The Turtles cut at landmark Gold Star studios and other regional facilities.
HK: Gold Star felt and sounded different from any other L.A. studio. You could literally smell the tubes inside the mixing board as they heated up. There was a richness to the sound that Western and United, our usual studios, never had. Those two rooms sounded clean, while Gold Star felt fat and funky. Perhaps we were all reading too much of the Spector legacy into the room, but I don't think so. Our recordings from Gold Star always just sounded better to me. I miss that room.
HK: You have always hailed and endorsed Phil Spector's music and productions. You've recorded his songs and sung them on stage. Why does his catalog resonate with you and countless others?
HK: I think Phil, and it's talked about often, that Wall of Sound shit, there's a certain frequency to Phil's records that does something to me on a gut level. The sound he gets fills the room differently than other producers I have heard. For the same reason that vinyl sounds different than CDs.
"I think Phil Spector records sound different than anybody else's records. There's more air in them. He records the room every time he puts on a part. So you are not just getting a guitar player. You are getting the guitar player  sitting in this big empty room that has a sound of its own. Now you put singers into that very same empty room they are going to sound differently. But as long as it is the same room your head can't tell the difference. And it all sounds like it is a cathedral by the end of it. There's a certain effect that he gets. Not just by layering not just notes on notes but room sound on room sound that turns it into a larger room.
"He made that little Gold Star studio sound like Grand Central Station. And it wasn't because he added effects after the fact. It was because he knew the sound of the room he was working in so well that he wanted to put that sound on a record. And he did it. If it were just white noise and it was recorded in that studio by Phil Spector I think I would have recognized it.
(Harvey Kubernik has been a music journalist for over 44 years and is the author of 8 books. During 2014, Harvey's Kubernik's Turn Up the Radio! Rock, Pop, and Roll in Los Angeles 1956–1972 was published by Santa Monica Press. 
In September 2014, Palazzo Editions packaged Leonard Cohen: Everybody Knows, a coffee—table—size volume written by Kubernik, currently published in six foreign languages. BackBeat/Hal Leonard Books in the United States.
Harvey and Kenneth Kubernik wrote the text for photographer Guy Webster's first book for Insight Editions published in November 2014. Big Shots: Rock Legends & Hollywood Icons: Through the Lens of Guy Webster. Introduction by Brian Wilson.
In November of 2015, Back/Beat/Hal Leonard published Harvey's book on Neil Young, Heart of Gold).
During first quarter 2017, Sterling will publish Harvey's book on 1967 and the Complete Rock Music History of the Summer of Love).