By Harvey Kubernik  c  2016
Fans of classic rock and soul rejoiced when the legendary concert Steve Binder-directed film T.A.M.I. Show made its DVD debut on Shout! Factory in 2009.
Now that landmark film made its Blu-ray debut, along with its long-lost—and much requested—follow-up, The Big
TNT Show, directed by Larry Peerce, on December 2, 2016, as part of the 2-disc Blu-ray set T.A.M.I. Show / The Big T.N.T. Show Collector's Edition, from Shout! Factory. The Big T.N.T. Show was also released as a standalone DVD on the same day.
The package contains all the bonus features from the T.A.M.I. Show DVD, plus new interviews with The Big T.N.T. Show performers Petula Clark, Henry Diltz and John Sebastian. The product is mastered from a High-Definition transfer.
The Big T.N.T. Show was filmed in Hollywood on Sunset Blvd. on November 29, 1965 and stars some of the biggest acts of the day, including the Byrds, in their original line-up of Gene Clark, David Crosby, Chris Hillman, Michael Clarke, and Roger McGuinn, perform two # 1 hits, "Mr. Tambourine Man" and "Turn! Turn! Turn! (To Everything There Is A Season.")
One of the most acclaimed rock events ever captured on film, the 1964 concert known as T.A.M.I. Show [Teenage Awards Music International] presented a lineup like no other, the Rolling Stones, James Brown, the Beach Boys, Marvin Gaye, the Miracles, the Supremes, Chuck Berry, Lesley Gore and other acts took the stage one after another rehearsed and recorded over two days and nights on October 29 and 30th on Pico Blvd. at the Santa Monica Civic Auditorium. Marshall Berle, Howard Wolf, John Landis and David Cassidy were in the audience.    Continue reading →
Double LP includes 19 cuts from guitar icon's brief, but powerful career with session work for fellow legends and historic moments with The Allman Brothers Band, Eric Clapton
By Harvey Kubernik c 2016
Few artists have had as large an impact on popular music in such a short period of time as legendary guitarist Duane
Allman. In just four years, Allman laid down session tracks for some of music's most important stars, founded one of rock 'n' roll's most influential collectives and redefined the lead guitar, spawning multiple generations of guitar heroes who continue to rediscover his genius 45 years after his tragic death at age 24.
On October 28, Mercury/UMe reissued Allman's long-out-of-print 1972 double LP, An Anthology, on standard 120-gram vinyl. The career-defining retrospective was released in two installments shortly after Allman's death in a 1971 motorcycle accident in Macon, Ga. The release coincided with the October 29 anniversary of his death and comes about a month before he would have turned 70, on November 20.
The record is available as a limited edition run on heavyweight 180-gram vinyl complete with a reproduction of the 20-page booklet that accompanied the LP's original release. A special bundle pairs the album together with a vintage feel t-shirt of the LP cover. These audiophile must-haves are available directly via: http://flyt.it/DuaneAllman Continue reading →
By Harvey Kubernik c 2016
Multi-instrumentalist Leon Russell, the former Claude Russell Bridges, left the physical world on November 13th, dying of a heart attack in Nashville, Tennessee.
I met Leon in 1978. I spent six weeks at his Paradise recording studio in North Hollywood. There were times during sessions where he had a typewriter on top of a keyboard and would write a lyric on the spot. I later learned Leon was a onetime state typing champion in Oklahoma. During breaks we would talk about records he guested on or tunes he penned for the Carpenters, Joe Cocker, Bob Dylan and Gene Clark. Some tracking and overdubbing on Love's Forever Changes was done at his home studio in 1967.
My friend, journalist Michael Macdonald worships Russel's arrangements on the Clark and Gosdin Brothers' collaboration, Echoes. Leon played piano on a project I produced.
I felt it was very appropriate to offer a tribute to "Brother Leon," who played keyboards on many inspirational and landmark West Coast recordings with guitarist Barney Kessel, father of David Kessel, guiding light of the Cave Hollywood portal.
Over the decades I asked three musicians about Leon Russell's highly influential piano and songwriting abilities: Jack Nitzsche, Jim Keltner and Ian Hunter. Continue reading →
Author and rock music historian Harvey Kubernik is our resident wordsmith and pop culture chronicler at www.cavehollywood.com
Two years ago Harvey penned a critically acclaimed book on Leonard Cohen, Everybody Knows.  It traces the artistic journey of Cohen the young poet and author in his home town of Montreal and ending with his 2012 release – Old Ideas – and recent awe-inspiring live performances.
On the very recent physical passing of Leonard Cohen, we thought it was appropriate to ask Harvey to give us a sense of Cohen's life and work.
He sent us two interviews he conducted with Leonard for the now defunct Melody Maker from over 40 years ago-long before Leonard's commercial renaissance this century.
Harvey Kubernik was there when it really counted…      Continue reading →
A Monumental 36 CD Box featuring Every Known Recording from the Artist's Mythic and Controversial 1966 Tour of the US, UK, Europe and Australia
By Harvey Kubernik c 2016
Bob Dylan: The 1966 Live Recordings- a highly-collectible 36CD box set containing every known recording from the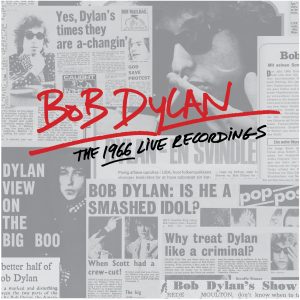 artist's groundbreaking 1966 concert tours of the US, UK, Europe and Australia–will be issued on Friday, November 11 by Columbia Records and Legacy Recordings, the catalog division of Sony Music Entertainment.
The collection commemorates, in stunning sonic vérité, the 50th anniversary of the electrifying live performances that would forever change the sound and direction of rock and pop music around the world.
"While doing the archival research for The Cutting Edge 1965-1966: The Bootleg Series Vol. 12, last year's box set of Dylan's mid-60s studio sessions, we were continually struck by how great his 1966 live recordings really are," said Adam Block, President, Legacy Recordings in a press statement from the Columbia/Legacy label. Continue reading →