CELEBRATED WITH REMIXED AND EXPANDED 50TH ANNIVERSARY EDITION RELEASES ON AUGUST 31st
BY HARVEY KUBERNIK C 2018
On July 1, 1968, The Band's landmark debut album, Music from Big Pink, seemed to spring from nowhere and everywhere. Drawing from the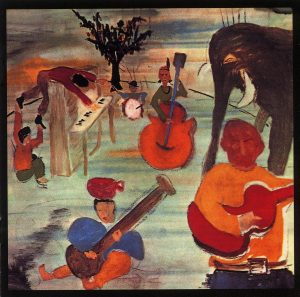 American roots music panoply of country, blues, R&B, gospel, soul, rockabilly, the honking tenor sax tradition, hymns, funeral dirges, brass band music, folk, and rock 'n' roll, The Band forged a timeless new style that forever changed the course of popular music.
Fifty years later, the mythology surrounding Music from Big Pink lives on through the evocative storytelling of its songs including "The Weight," "This Wheel's On Fire," "Tears of Rage," and "To Kingdom Come," its enigmatic cover art painted by Bob Dylan, the salmon-colored upstate New York house – 'Big Pink' – where The Band wrote the songs, and in myriad descendant legends carried forth since the album's stunning arrival.
On August 31, Capitol/UMe will issue Music From Big Pink in newly remixed and expanded 50th Anniversary Edition packages, including a Super Deluxe CD/Blu-ray/2LP/7-inch vinyl box set with a hardbound book; 1CD, digital, 180-gram 2LP black vinyl, and limited edition 180-gram 2LP pink vinyl packages. Continue reading →
Love's 1967 Masterpiece Celebrated With A 4CD/DVD/LP Collection Packed With Various Mixes Of The Original, Rare And Unreleased Tracks, Plus A 1968 Promo Video
By Harvey Kubernik C 2012, 2017
Love's FOREVER CHANGES is the psychedelic R&B folk-rock pioneers' finest achievement. Mostly overlooked when it was released in 1967, today the album is considered an indispensable masterpiece.
In 2008, it was inducted into the Grammy Hall of Fame, and – in 2012 – the Library of Congress added it to the National Recording Registry.
Rhino Entertainment has touted the acclaimed album's golden anniversary with an extensive 4CD/DVD/LP collection housed in a 12 x 12 hardbound book that features a newly written essay and track-by-track notes by music historian Ted Olsen.
The package features the CD-debut of a remastered version made by its original co-producer and engineer Bruce Botnick, as well as the first-ever release of the mono version on CD.
Also included are alternate mixes of the album, as well as a selection of rare and unreleased singles and studio outtakes. Botnick's stereo remaster of the original album also makes its vinyl debut on the LP included with this set. It was cut from high resolution digital audio by veteran audio engineer Bernie Grundman at his Hollywood facility.   Continue reading →
June 2018 Release by Impulse Records;  Sonny Rollins Way Out West 60th Anniversary Edition Now Out on Craft Recordings
By Harvey Kubernik 2018
55 years after it was recorded, John Coltrane's studio album Both Directions at Once: The Lost Album is finally available in June 2018 on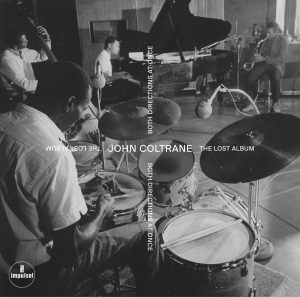 Impulse! (Verve Label Group). Recorded at Van Gelder Studios in New Jersey 1963 with the Classic Quartet (John Coltrane, Jimmy Garrison, McCoy Tyner, Elvin Jones).
Both Directions at Once: The Lost Album is an incredible success for this lost album finally seeing the light of day and released on all streaming partners, and on CD and vinyl in standard and deluxe formats.
Danny Bennett, President and CEO of the Verve Label Group and home of Impulse! Records, offered, "Jazz is more relevant today than ever. It's becoming the alternative music of the 21st century, and no one embodies the boundary-breaking essence of jazz more than John Coltrane. He was a visionary who changed the course of music, and this lost album is a once-in-a-lifetime discovery. It gives us insight into his creative process and connects us to his artistry. This album is a cultural moment and the release coincides perfectly with our relaunch of the iconic Impulse! label."
Both Directions at Once: The Lost Album is a major addition to the Coltrane catalogue and the most important jazz discovery in recent memory. This recently discovered "gift" was sourced from a reference tape that Coltrane had brought to his home in Queens that he shared with his wife Naima. These tapes remained untouched for 54 years until Impulse! approached the family about finally making this lost album available. The master tape was never found-Rudy Van Gelder wasn't one for clutter-however the reference tape was discovered to be in excellent condition. Continue reading →
By Harvey Kubernik c 2018
The last quarter of 2018 will bring the Apple Corps. Universal Music 50th anniversary expanded and revised configuration of The Beatles aka The White Album.
I remember hearing about the winter 1968 LP release. I read in one of the English music weeklies in May '68 the Beatles had met at George Harrison's bungalow home in Esher, Surrey and the lads recorded demonstration tapes of 27 tunes written during their trip to India. George owned an Ampex four-track reel-to reel machine.
During late November '68 I saw the double pocket White Album LP initially stocked in a slew of record stores all over the Southern California basin: The Frigate, The Music Revolution, Phil Harris Records, Rancho Music, and Canterbury, and head shops named The Psychedelic Supermarket and The Third Eye.   I purchased my first mono copy that November at Wallichs Music City on Sunset and Vine. I bought an English import at Lewin Record Paradise on Hollywood Blvd.
In 2014 I wrote the book, It Was Fifty Years Ago Today The Beatles Invade America and Hollywood. It examines the Beatles' musical relationship and songwriting legacy to Los Angeles and the rarely chronicled-at-length historical influence of Southern California and Hollywood on them. Continue reading →
New Biography and Bowie Celebration Tour in 2018 and 2019
By Harvey Kubernik c 2018
"It is pointless to talk about his ability as a pianist. He is exceptional. However, there are very, very few musicians, let alone pianists, who naturally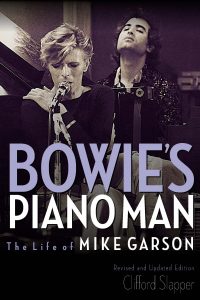 understand the movement and free thinking necessary to hurl themselves into experimental or traditional areas of music, sometimes, ironically, at the same time. Mike does this with such enthusiasm that it makes my heart glad just to be in the same room with him." — David Bowie on Mike Garson
Pianist Mike Garson was David Bowie's most frequent musician, on record and onstage, throughout Bowie's life. They played over a thousand shows together between 1972 and 2004, and Garson is featured on over 20 of Bowie's albums. In November 2006, Garson accompanied Bowie and Alicia keys for a rendition of "Changes" in New York City at an AIDS benefit which was Bowie's final public performance in the U.S.
Around his teaching, performance and recording work, Garson is serving as the pianist, bandleader and stage emcee who anchors the well-received A Bowie Celebration spotlighting a flexible touring lineup.
The current touring ensemble is Garson, who was Bowie's musical director with Luther Vandross and David Sanborn on the Young Americans 1974 tour, longtime Bowie veteran Earl Slick guitar, Gerry Leonard guitar, Mark Plati guitar, Carmine Rojas bass, drummer Lee John Madeloni, who is Slick's son, and vocalists Bernard Fowler, Cory Glover, Joe Sumner and Gaby Moreno. Continue reading →