By Harvey Kubernik © 2019 
The 5 CD deluxe box set edition of COUNTRY MUSIC – A Film By Ken Burns (The Soundtrack)  (Legacy Recordings, a division of
Sony Music Entertainment, in association with Universal Music Group ), which chronicled the diverse roots, evolution and stylistic diversity of 20th century American country music is the companion to the 8-part (16.5 hour) documentary which premiered during September on PBS-TV. 
The collection and television broadcast further reinforced the influence and impact of this musical genre that continues to inform pop, rock, jazz artists and Americana catalogues.       
COUNTRY MUSIC – A Film By Ken Burns (The Soundtrack) followed the 2006 2-disc DVD set of The Best of the Johnny Cash Show, hosted by Kris Kristofferson distributed by CMV/Columbia Legacy, a division of Sony BMG Music Entertainment. 
The Johnny Cash Show debuted on June 7, 1969 and ran until March 31, 1971 which exposed the Cash invited country, pop, jazz and rock artists to new ears.  Continue reading →
Linda Ronsdadt 1969-1974  
Chris Darrow The Real-To-Reel
By Harvey Kubernik © 2019 
On July 19th, music journalists, record reviewers, writers, online bloggers, influencers, radio programmers and deejays started touting and
praising the 50th anniversary of James Taylor's landmark Sweet Baby James album that is housed with five other Taylor titles as both 6-CD and 180-gram, 6-LP sets, as well as digitally. The Warner Bros. Albums: 1970-1976.   
Potential chroniclers and targeted consumers for this Taylor package that implements Sweet Baby James, nominated for two Grammy Awards, including Album of the Year, should know additional information and regional facts pertaining to this landmark SBJ disc, the nascent Southern California folk and country-rock genre, and Linda Ronstadt's 1969-1974 touring and album repertoire multi-instrumentalist Chris Darrow unselfishly helped establish and develop.  
I recently glanced at James Taylor: Long Ago and Far Away, the first definitive biography of the singer-songwriter by Timothy White published in 2001. A writer and critically acclaimed author, White was editor-in-chief of Billboard magazine from 1991 until 2002. 
I was miffed that noted songwriter Chris Darrow, a co-founder in 1966 of the influential eclectic psychedelic world beat band Kaleidoscope and a contributing force in creating the 1968-1972 SoCal folk and country rock/soft rock sound in Sweet Baby James mentioned only as "a nifty fiddle player."   Continue reading →
Abbey Road Presented with New Mixes in Stereo, 5.1 Surround, and Dolby Atmos; Expanded with Previously Unreleased Session Recordings and Demos 
By Harvey Kubernik © 2019 
It was 50 years ago today, on August 8, 1969, that the world's most famous band stepped out from London's EMI Recording Studios to
stride, single-file, across the black and white stripes of Abbey Road's nearby zebra crossing. With photographer Iain Macmillan balanced on a stepladder and one policeman stopping the street's light traffic, The Beatles crossed back and forth three times, led by John Lennon, followed by Ringo Starr, Paul McCartney, and George Harrison. Just six photos were taken, with the fifth selected as the cover shot for The Beatles' penultimate studio album, Abbey Road, named after the tree-lined street in which the studios are located. 
Released September 26, 1969, Abbey Road was not The Beatles' final album, as Let It Be followed in 1970, but it was the last one John, Paul, George, and Ringo recorded together as a band. The Beatles will celebrate Abbey Road's anniversary with a suite of beautifully presented packages to be released worldwide on September 27 by Apple Corps Ltd./Capitol/UMe. the album's 17 tracks are newly mixed by producer Giles Martin and mix engineer Sam Okell in stereo, high res stereo, 5.1 surround, and Dolby Atmos, accompanied by 23 session recordings and demos, most of which are previously unreleased.
This is the first time Abbey Road has been remixed and presented with additional session recordings and demos. The album's sweeping new edition follows the universally acclaimed remixed and expanded anniversary editions of Sgt. Pepper's Lonely Hearts Club Band and The BEATLES ('White Album') released in 2017 and 2018, respectively. To create Abbey Road's new stereo, 5.1 surround, and Dolby Atmos mixes, Martin and Okell worked with an expert team of engineers and audio restoration specialists at Abbey Road Studios. All the new Abbey Road releases feature the new stereo album mix, sourced directly from the original eight-track session tapes. To produce the mix, Giles was guided by the album's original stereo mix supervised by his father, George Martin. Continue reading →
End of the Century 40th Anniversary Expanded Edition Scheduled  
BY
HARVEY KUBERNIK © 2019 
With the new September 2019 deluxe edition of the 1979 Ramones' tour album, It's Alive, and the planned last quarter 2019/early 2020 40th
anniversary of the original Phil Spector-produced End of the Century, with producer Rick Rubin now involved for an expanded reissue of the initial pressing, multi-instrumentalist David Kessel and his cavehollywood.com website asked me to re-visit End of the Century, cut at the landmark Gold Star Recording Studios in Hollywood. 
I was in attendance at just about all End of the Century sessions, as a food runner, and on occasion, supplied hand claps and percussion, and was credited on a few tracks.  
 I eventually penned the liner notes for a 2002 Rhino Records repackage of the album.  It was an assignment that came just after ownership changes at the label. The late great Gary Stewart graciously insisted that I do them knowing I covered the Ramones/Spector relationship for the London-based Melody Maker.   
So, before we hear the upcoming "revised" Rhino/WMG label End of the Century in a handful of months, cavehollywood.com is displaying portions from my 2002 product text with additional and un-published 2002 interviews with Johnny, Dee Dee and Marky Ramone.     Continue reading →
World Premiere in San Diego California August 2019;
Gold Star/Stan Ross Documentary In Production
By Harvey Kubernik © 2019
33 1/3 – House of Dreams tells the story of the legendary and landmark Gold Star Recording Studios in Hollywood and its co-founder, lead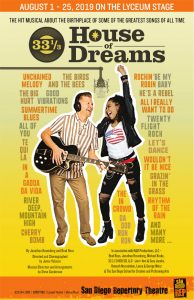 engineer and hit maker Stan Ross. Gold Star was the birthplace of some of the greatest pop and rock hits of all time over a 33 1/3 year period.
Gold Star garnered more Recording Industry Association of America (RIAA) Songs of The Century and Grammy Hall of Fame winners than any other independent studio in America. The Gold Star Recording studio was built in 1950 and lasted until 1984 at 6252 Santa Monica Blvd until a fire destroyed the property in March 1984.
Johnny Mercer, Bobby Troup, Sammy Fain, Eddie Cochran, Jack Nitzsche, Herb Alpert & the Tijuana Brass, Buffalo Springfield, Neil Young, Phil Spector, Brian Wilson with The Beach Boys, Marty Balin, Leonard Cohen, The Who, Ike & Tina Turner, Jackie DeShannon, The Band, Hugh Masekela, Iron Butterfly, Sonny & Cher, Bob Dylan, Allen Ginsberg, Arthur Lee, Jimi Hendrix, The Association and The Ramones along with many other recording artists utilized the famed location.
In June 2019, the San Diego Repertory Theatre (San Diego REP) announced that they will be partnering with the San Diego School of Creative and Performing Arts (SDSCPA) and R & R Productions, LLC for the world premiere musical 33 1/3 – House of Dreams. Written by local San Diegans Jonathan Rosenberg and Brad Ross, with additional contributions by Steve Gunderson and Javier Velasco, the debut production chronicles the success of Gold Star Recording Studios through the history of rock 'n' roll. Continue reading →